Surprise Your Friends with a Fun GIF: Learn How to Convert Video to GIF Now!
"I really like to use GIF stickers from popular movies and TV shows when chatting with my friends, they even express my feeling better than words. How to convert a clip of video to GIF?"
GIFs have become an integral part of our digital lives. They're used in social media, messaging apps, and even on websites. GIFs are snippets of a video that can be used to express emotions, reactions, and more. They're also a great way to stand out on social media and draw attention to your content. If you've ever wanted to surprise your friends with a funny GIF from a movie or TV show, then learning how to convert video to GIF is a must.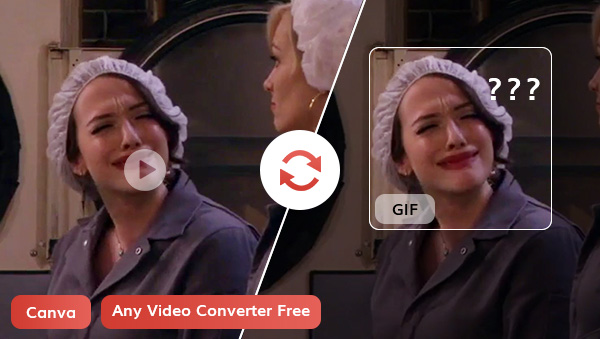 In this blog post, we'll cover what is GIF, how to convert a video to GIF step-by-step, and show you how to transform a GIF into a WhatsApp sticker. So if you want to surprise your friends with a unique and eye-catching GIF, just read on to learn how to convert video to GIF now!
Part 1: What is GIF
A GIF, which stands for Graphics Interchange Format, is a type of image file. It's a short, looped animation that can be used to express emotions and reactions, or simply to entertain. GIFs can be created from existing videos, pictures, or even by combining multiple images.
GIFs have been around for almost 30 years, but they've only recently become popular. They're used everywhere, from social media platforms like Twitter and Instagram to messaging apps like WhatsApp and Slack. GIFs are also used on websites to animate certain elements and draw attention to certain areas.
---
Part 2: Convert Video to GIF with Any Video Converter
Any Video Converter is a comprehensive free toolbox for video downloading, conversion, and editing. Different from its last version, the latest version of Any Video Converter has integrated many other features like video clipping, video cropping, video merging, audio filter, video downloading, and more while retaining the video format conversion of previous versions.
Features of Any Video Converter
Convert videos or images to GIFs
Convert videos between any formats freely.
Download videos and music from 100+ sites.
Cut or trim a video into segments
Crop video file to delete unwanted portions
Merge multiple clips into one video
Adjust audio volume and add audio effects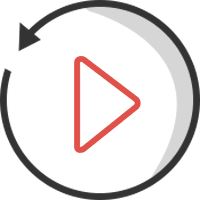 Steps to Convert Video to GIF with Any Video Converter
Step 1
Download and Run Any Video Converter
Download Any Video Converter following the instruction and launch it.
Step 2
Take a Clip from the Whole Video
To make a GIF from a video, the first step is to select the part of the video you want to use. If the clip is already prepared, you can simply upload the file to the GIF Maker. If not, here are three tools at your disposal to use.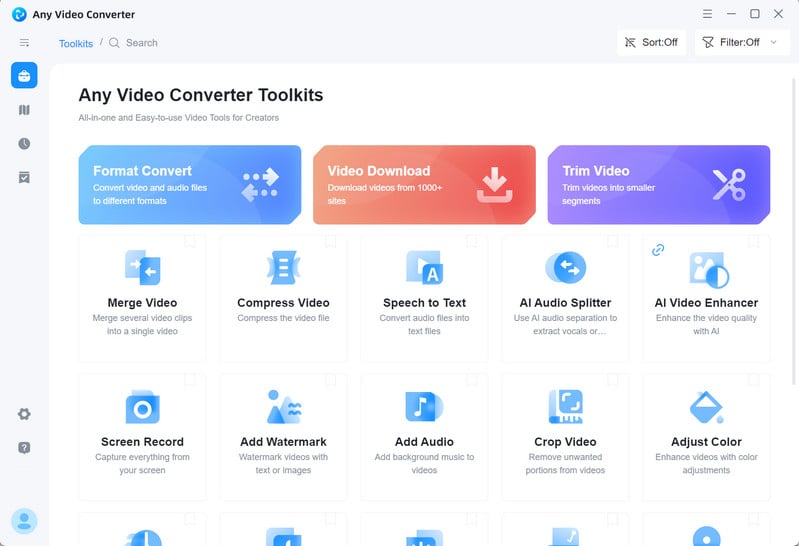 The Video Downloader allows you to download videos from various websites for free by copying and pasting the URL. The Video Cutter allows you to cut the clips you need to convert into GIFs. And the last one, the Video Cropper supports cropping the video and removing the unwanted portion.
Step 3
Upload the Fragment to GIF Maker
Click the GIF Maker and upload the file. It is important to remember that if you are uploading a video, you must first change the format to the video files or you may not be able to locate the MP4 file on your computer.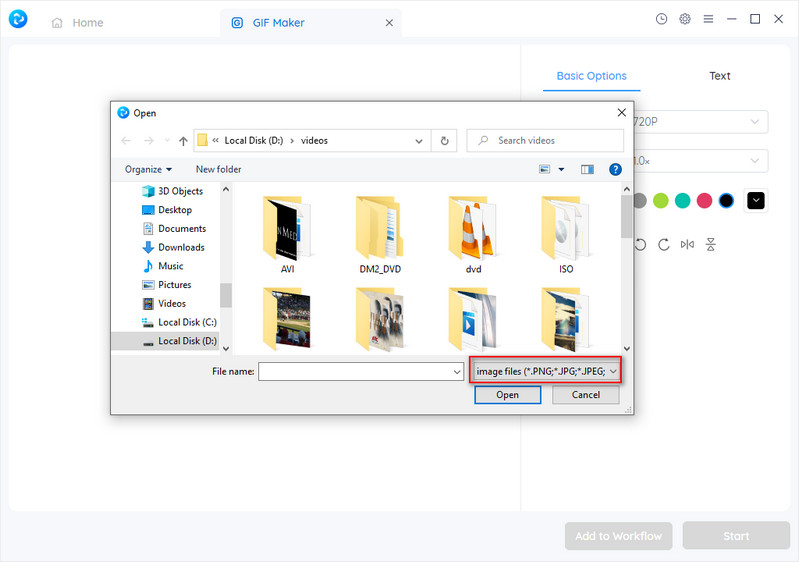 Step 4
Add Effects to the GIF and Export the GIF
After uploading the video to the GIF Maker, you can now implement the effect according to your preference. There are some primary options that let you adjust the size, velocity, and background color of the GIF, along with the ability to turn and mirror it, as well as incorporate text.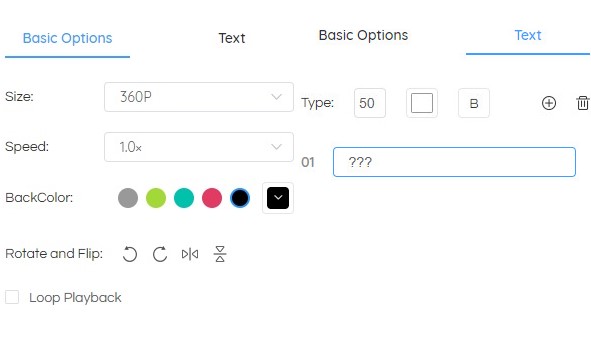 Finally, you can start to convert your video clip to GIF and save it to your phone.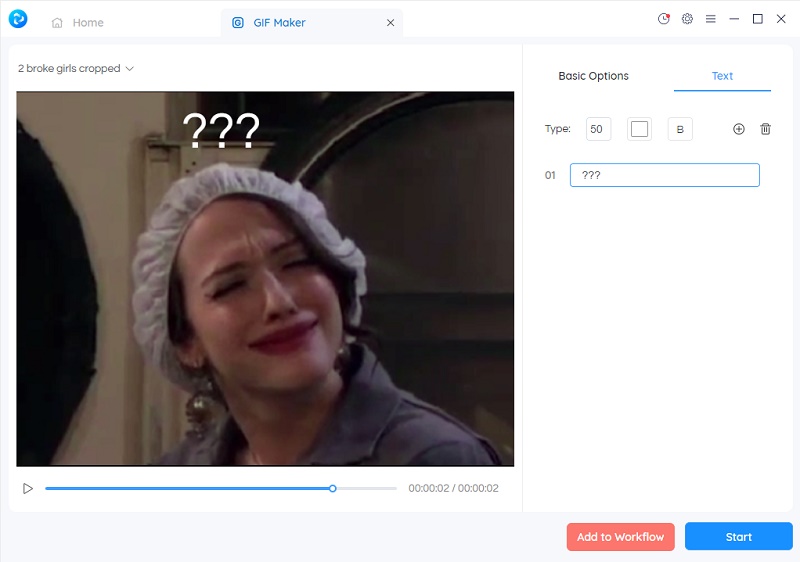 Video Tutorial: How to Convert Any Video to a GIF?
---
Part 3: How to Transform your GIF into a WhatsApp Sticker
Everyone knows how to search and send existing GIFs in WhatsApp, but you may not know how to transform your self-made GIF into a WhatsApp sticker so that you can send it to your friends and family at any time in WhatsApp, rather than select it from your camera roll or folder.
Step 1: First download a sticker maker app called Sticker.ly. It is available to both iPhone and Android Phone users.
Step 2: Select the plus icon on the lower section of the app and choose "Animated Sticker". Then you will see the GIF saved in your phone.
Step 3: Type the GIF you want to add to the WhatsApp sticker and keep typing the "Next" button. Then the app will convert the GIF to a WhatsApp sticker. After the conversion is finished, click the "Save" button.
Step 4: Create a new pack and name it as you wish. After this, click Add to WhatsApp button and hold your GIF until the window appears. Finally, click "Add to your Favorite" from the pop-up window.
Now go back to your WhatsApp, click the sticker button, and you will see the GIF made by yourself has been saved to your favorites.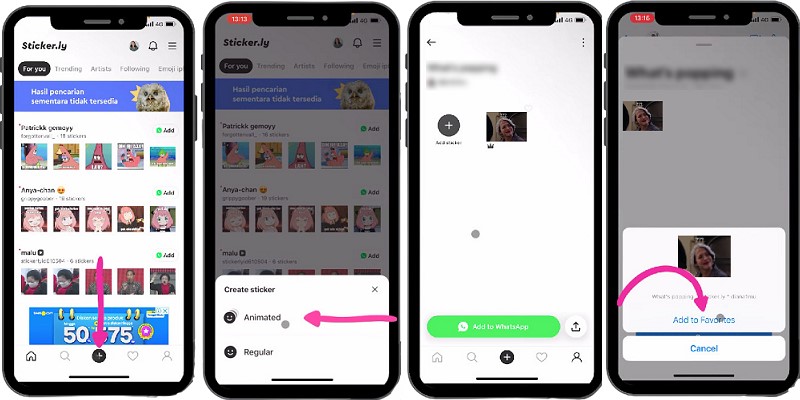 ---
Conclusion
Now you have known how to convert video to GIF and how to transform a GIF made by yourself into a WhatsApp Sticker. With the right tools and know-how, you can create fun and engaging GIFs from movies and TV shows quickly and easily. Any Video Converter is highly recommended because it is completely free and can convert not only videos but also pictures to GIFs. So, if you're ready to surprise your friends with a fun GIF, what are you waiting for? Get started now, take a clip of the video, and convert it to GIF.
---
Highly Recommended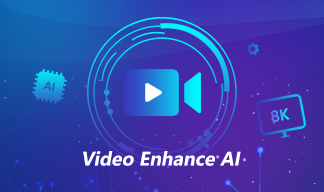 AVCLabs Video Enhancer AI
AVCLabs Video Enhancer AI is an AI-based video enhancement software to upscale video from 480p to 1080p, 1080p to 4K, and up to 8K. With AVCLabs Video Enhancer AI, you can upscale low-res videos to high resolution and bring your old videos a stunningly new look.
Learn More


Video Converter

DVD Converter

Video Editor

Enhance Video Quality

Enhance Image Quality

Remove Objects