10 Best Free YouTube to MP3 Converters: How to Download YouTube Videos to MP3 Files
YouTube is a video-sharing platform owned by Google that allows people to create, watch, and share videos from around the world. Most people usually watch videos or listen to music on YouTube online, but sometimes, you may want to save the audio of a video in an MP3 format to store it on your device and play it offline while on a plane, or if you are a YouTuber, you may need a lot of background music. So how to download YouTube videos to MP3? With the help of the best free YouTube to MP3 converters, it is now easier than ever to save songs and audio files from YouTube in just a few clicks.
With so many different options available online, finding the right converter can be a challenge. To make things easier for you, we have tested and compiled a list of the 10 best free YouTube to MP3 converters to help you quickly locate the one that meets your demand.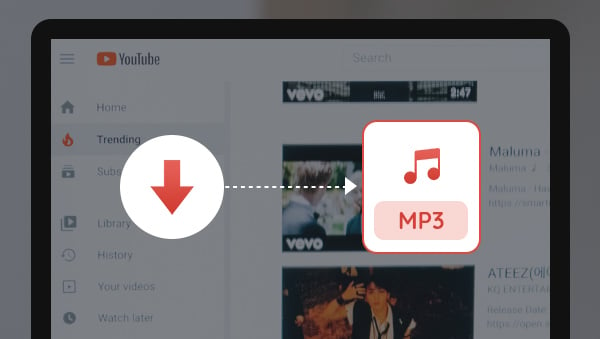 If you simply want to download YouTube videos to MP4 or MKV, there is also a guide for you.
Part 1: Legal Warning
It's important to note that there are legal issues surrounding YouTube to MP3 downloaders. You can download and convert your own personal YouTube videos, as well as public domain and non-copyrighted content. For copyrighted videos, YouTube has very strict rules. No content may be copied, distributed, sold, or otherwise exploited without the prior permission of YouTube or the content owner. However, considering fair use, which permits limited use or reproduction of copyrighted work for educational, research, and other noncommercial purposes, you can convert YouTube to MP3 for non-profit-making activities. No matter what, obeying the rules and respecting the creative content of others can help you effectively avoid legal risks.
---
Part 2: Different types of YouTube to MP3 converters
There are a variety of different types of YouTube to MP3 converters on the market, each of which has its own unique features and benefits. Some of the most popular types of YouTube to MP3 converters include:
Desktop YouTube to MP3 converters: software programs that you can download and install on your computer. These programs are generally more powerful than online converters and may offer a wider range of features. However, they can be more difficult to use and may require more technical knowledge.
Online YouTube to MP3 converters: web-based tools that allow you to quickly and easily download and convert YouTube videos into audio files. These tools are incredibly easy to use, as they generally require only a few clicks to convert a video. However, they can be limited in terms of features and may not offer the same quality and safety as other types of converters.
Browser Extensions: small tools that extend the functionality of your web browser. They can do anything from customizing the look of your browser to downloading YouTube videos or audio as MP3 files. Extensions make the process much faster and easier, allowing users to quickly find and download their favorite content without having to worry about downloading complicated software packages. However, they may not always be secure, leaving users vulnerable to malicious software downloads.
---
Part 3: YouTube to MP3 Converters for your Desktop
1. 4K YouTube to MP3
4K YouTube to MP3 is a reliable software that allows users to quickly download audio files from YouTube at high quality. It supports converting full YouTube playlists and channels to MP3, M4A, and OGG. And can save audio content not from YouTube alone, but from a plethora of other sources. It is available on Windows, macOS, and Ubuntu. 4K YouTube to MP3 offers a free trial, while there are some limitations to the free version. It limits you to 15 single audio conversions per day, 10 audio tracks per list, and 1 audio track download at the same time.
To download YouTube videos to MP3, simply copy and paste the link to an audio track you want to download into the application, choose the output format as MP3, then it will start downloading and converting.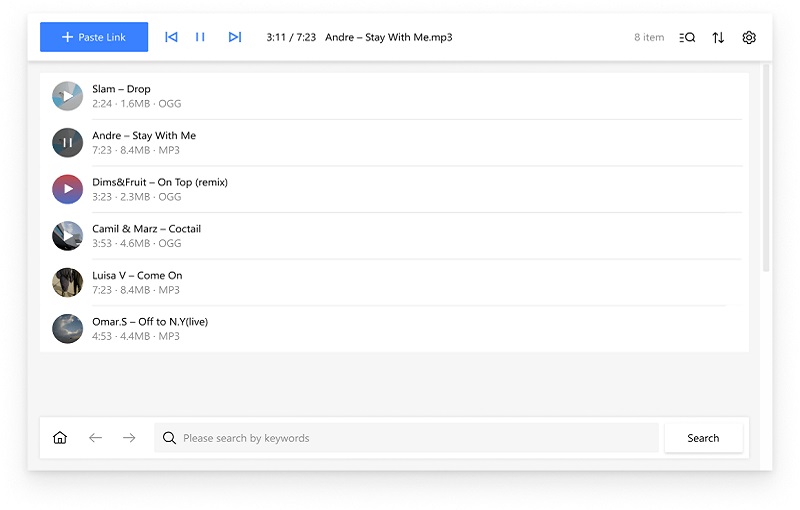 Pros:
• Most popular websites support.
• Built-in music player.
Cons:
• Limitations to the free version.
---
2. 4K Video Downloader
4K Video Downloader and 4K YouTube to MP3 are part of the same website. The difference is that 4K Video Downloader is a software designed to help you download videos from YouTube, Vimeo, and other streaming video websites. It supports the highest-quality video formats and allows you to save them in various file types for easy playback. With the 4K Video Downloader, you can also get access to high-quality audio files for your favorite songs or podcasts. The program is compatible with both Windows and Mac operating systems, making it accessible to a wide range of users. Likewise, its free version also has many limitations.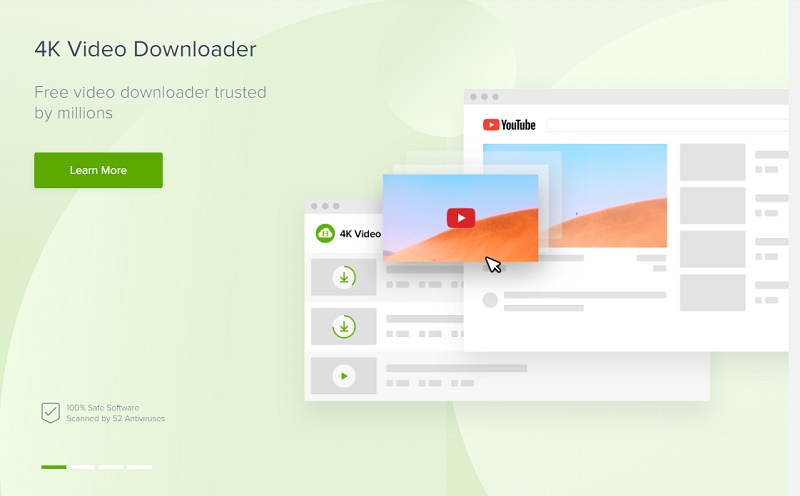 Pros:
• Work on multiple websites.
• Support downloading playlist.
Cons:
• Limitations to the free version
• Too similar to other 4K Download tools.
---
3. YTD Video Downloader
YTD Video Downloader enables you to download video, audio, and playlists for later watching from numerous well-known video-sharing sites in high-definition quality. The videos you download through YTD Downloader can be changed over to different video files formats such as .mp4, .mov, .wmv, .avi, .mp3, and .3gp. It is available on Windows, Mac, iOS, and Android devices. It is free to download but only supports a 7-day free trial.
The initial step for converting YouTube video to MP3 with the YTD Downloader is to get the application installed. After the download process is done, you simply need to copy the URL of the video that you want to download and paste it into the YTD Video Downloader. Afterward, select "MPEG Audio Layer 3 (MP3)", decide where it should be stored, and click "Download". Once the video is downloaded, it is possible to convert the audio or video to another file format for use with other devices or media players.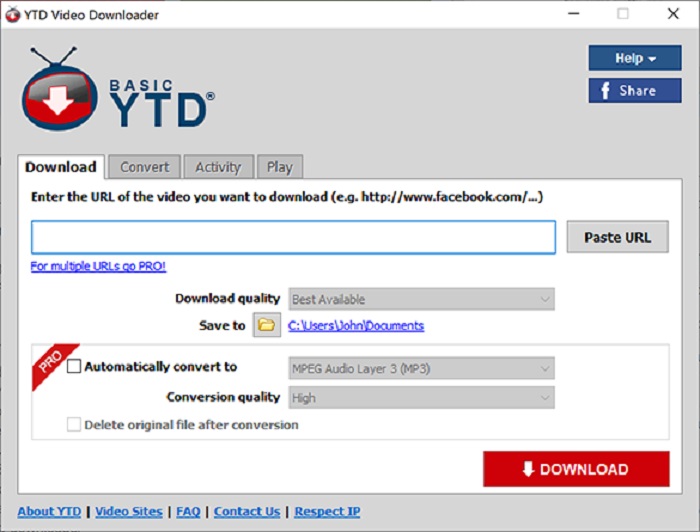 Pros:
• The ability to download, convert, and play files altogether.
Cons:
• Only free for 7 days.
• Audio conversion is limited to the Premium upgrade
---
4. Snap Downloader
Snap Downloader allows you to download or convert YouTube videos to MP3 audio files in just a few steps. Like most downloaders, Snap Downloader supports downloading MP3 audio or video from online sites and converting it to other formats. It is equipped with an in-built video cutter that lets you trim any online video and download only the portion of the video or audio that you care about. Users can get a free 48 hours trial which allows accessing all features when downloading and installing this program. It is compatible with: Windows 11/10/8/7 and macOS 10.10 and higher.
To download YouTube videos to MP3 files with Snap Downloader, simply open the app and paste the URL of your desired video into the search bar. Select either the 'MP3' or 'Video' option, depending on your preference. Then click the 'Download' button and wait for Snap Downloader to finish processing the file before it begins downloading automatically. Once completed, you can access the downloaded files from the app's download list.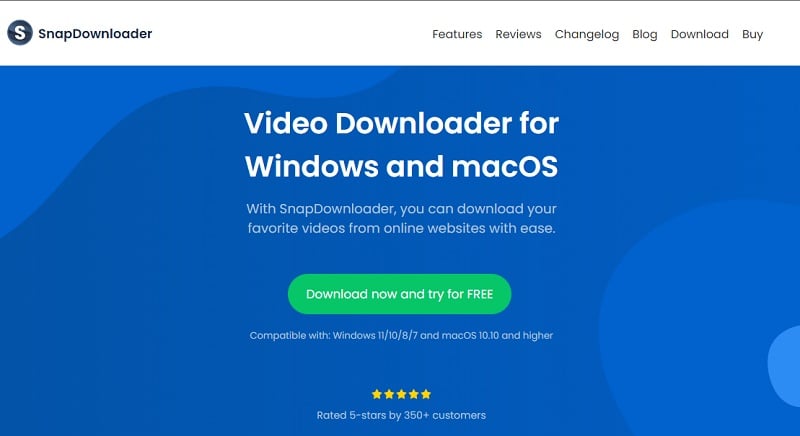 Pros:
• Support downloading videos in 8K.
• In-built video trimmer.
Cons:
•Only 48-hour free trial.
---
Part 4: Online Free YouTube to MP3 Converters
1. Y2Mate
Y2Mate is a powerful online YouTube to MP3 converter that can be used to quickly and easily download and convert YouTube videos into audio files. It is compatible with all web browsers such as Firefox, Chrome, Safari, Opera, etc. Although it claims that it will support converting YouTube video to MP3 with a bitrate up to 320kbsps, it actually now only supports a bitrate up to 160kbps.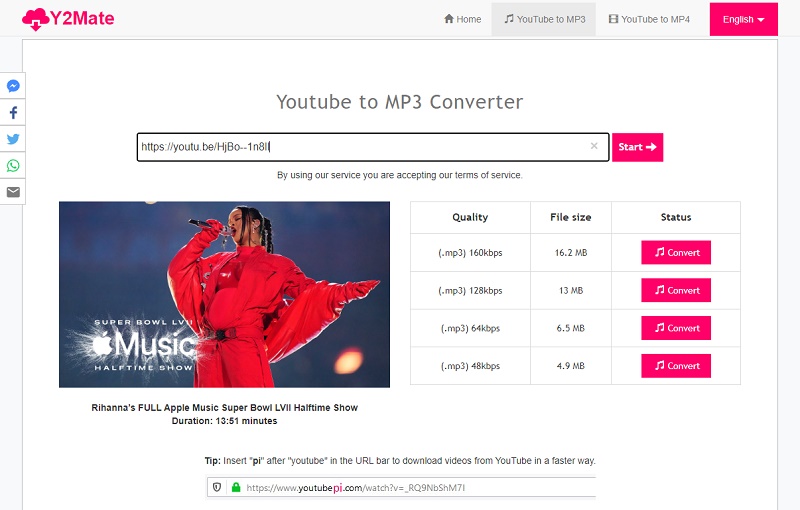 Pros:
• Totally free.
• Compatible with all web browsers.
Cons:
• Limited to 160kbps MP3 files.
---
2. ToMP3.cc
ToMP3.cc is another free online YouTube to MP3 converter. It supports download MP3 files with the highest quality up to 320kbps. The unique feature of this tool is that when you paste a link to a music video into the search box, it will bring up not only the video you want to convert to MP3 but also other recommendations related to the content of that video.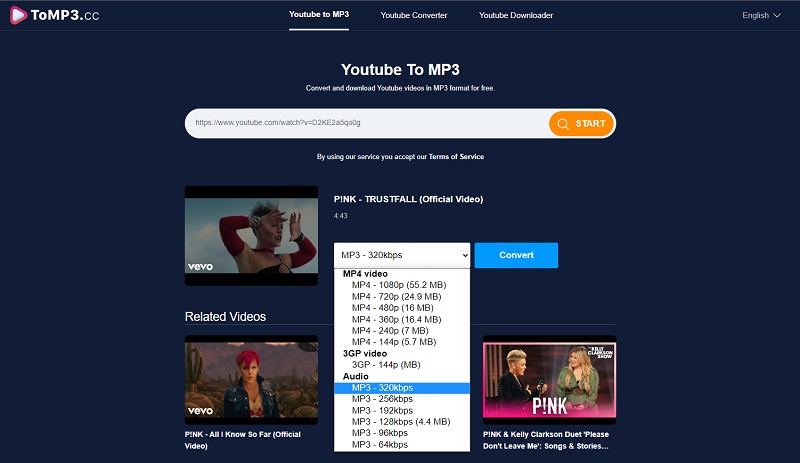 Pros:
• Totally free.
• Up to 320kbps.
• Related videos' recommendation.
---
3. AceThinker
AceThinker supports downloading videos in MP3 and M4A formats. When you paste the video link into the search box of AceThinker, click the download button and two options will appear, namely download video or audio. The resolution of the downloaded video can be up to 1080P, and the quality of converting to MP3 format can be up to 320k. However, if you want to save with the highest quality, you must first install its software AceThinker Music Keeper. In other words, free audio downloads can only go up to 128k using online tools.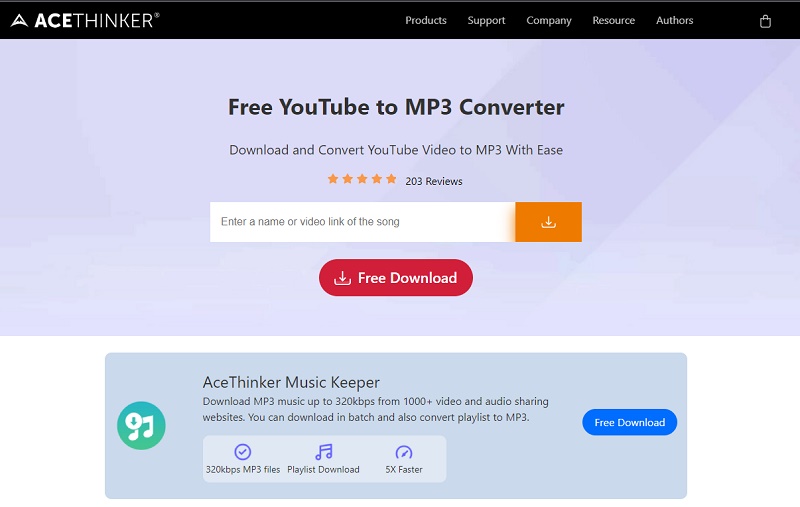 Pros:
• Ads-free.
Cons:
• Limitations to the quality of the free version.
---
4. OVC
Different from those desktop video converters reviewed above, OVC, whose full name is Online Video Converter, actually doesn't support converting videos to other formats except for MP3. In addition to the online version, there is also an OVC extension. By installing the extension, you can immediately download the music you like from YouTube, Instagram, Facebook, and TikTok to mp3.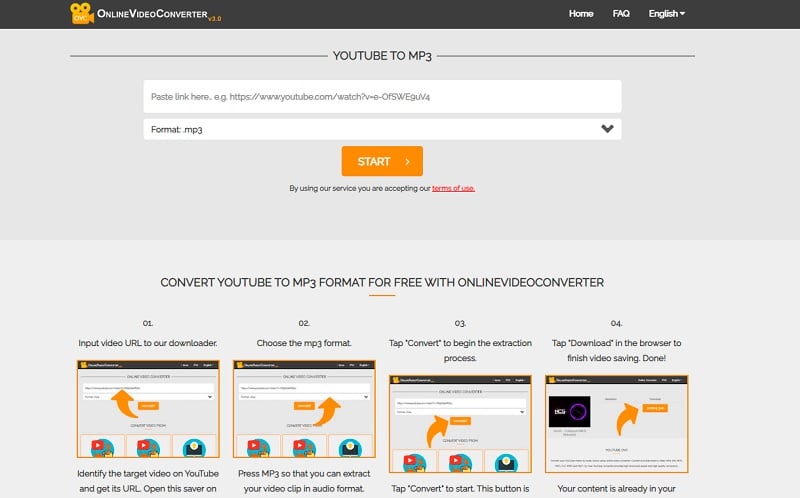 Pros:
• Ads free.
• Totally free to use.
Cons:
• No information about the quality.
---
Part 5: Browser Extensions to Download YouTube to MP3
Browser extensions allow you to start converting videos by clicking on the download button immediately after viewing them, which eliminates the need to download software or open another web page and then copy and paste the link. However, these extensions are not very stable and may not work. Here are two recommended extensions that are still available until now.
1. Addoncrop YouTube Video Downloader
Addoncrop's YouTube Video Downloader is a free extension that allows users to download videos and shorts in 4k HD quality. It can also convert videos to other formats such as MP3 and MP4 without compromising the quality, as well as extract audio and video from the YouTube platform. This extension can be used on Windows, Mac, and Linux operating systems.
2. Easy Video Downloader
Easy Video Downloader is a browser extension that helps you quickly download video, audio, and image resources used in web pages. This extension works with both internal browser download managers and external download managers.
How to Use Browser Extensions to Convert YouTube to MP3
Now take Addoncrop as an example to show you how to convert YouTube to MP3.
Step 1: Access to the Addoncrop.
Step 2: Click Add to Chrome and or install to another browser following the guide.
Step 3: Reopen the YouTube website and visit a video, you will see a row of tools beyond the title.
Step 4: Click the MP3 Converter button and choose the bitrate, then start to download.
---
Conclusion
This article reviews three main categories, ten MP3 converters in total, and each one has different advantages and disadvantages. Overall, desktop converters are the most secure and stable, but most of them can be tried for free for a period of time. Next is online tools, which are usually free, but some can have limitations. Extensions, although the most convenient, is not stable and the least secure. Hope this list of solutions will give you a good idea of which converter to choose and just try it right now.

Download
---
Highly Recommended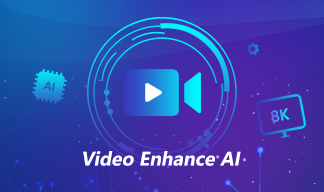 AVCLabs Video Enhancer AI
AVCLabs Video Enhancer AI is an AI-based video enhancement software to upscale video from 480p to 1080p, 1080p to 4K, and up to 8K. With AVCLabs Video Enhancer AI, you can upscale low-res videos to high resolution and bring your old videos a stunningly new look.
Learn More


Video Converter

DVD Converter

Video Editor

Enhance Video Quality

Enhance Image Quality

Remove Objects