SameMovie All-in-one Video Downloader vs AnyStream: Which One is Better?
An all-in-one video downloader is an ideal download assistant for people with numerous streaming service subscriptions. Users don't need to utilise several programmes to download videos individually because it integrates the popular streaming service platforms into one programme, which makes the download process much simpler. This article will introduce two leading programs: SameMovie All-in-one Downloader and AnyStream, and compare them from multiple perspectives and ultimately conclude which one is better.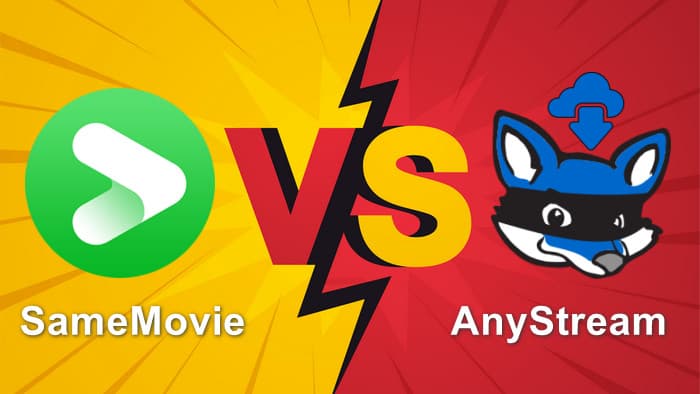 1. What is SameMovie All-in-one Video Downloader?
SameMovie All-in-one Video Downloader is a versatile video downloader that supports downloading videos and movies from over 50+ streaming services and social platforms. It has a concise and clear interface that makes it easy to get started even if you are using the program for the first time. You can watch the downloaded videos anytime and anywhere.
2. What is AnyStream?
AnyStream is a software developed by RedFox that allows users to download their favorite movies and TV shows from multiple streaming service platforms for offline viewing. It only takes several steps to download the videos on your Windows computer. The program offers a variety of subscription plans to meet the needs of different users.
Comprehensive Comparison: Compatibility, Price, Functions
Compatibility
SameMovie All-in-one Video Downloader: Windows 7, 8, 10, 11 and macOS 10.15-14
AnyStream: Windows 7, 8, 10, 11 with minimum 2 GHz Processor and 1 GB RAM (No Mac version)
Price
SameMovie All-in-one Video Downloader: $99.9/year; $199.9/lifetime
SameMovie offers a free trial that allows you to download the first five minutes of the videos. There is no limit to the number of times you can download when using the free trial, and you can enjoy all the same features as the paid version. Furthermore, SameMovie offers a 5-day and 30-day money-back guarantee for added peace of mind.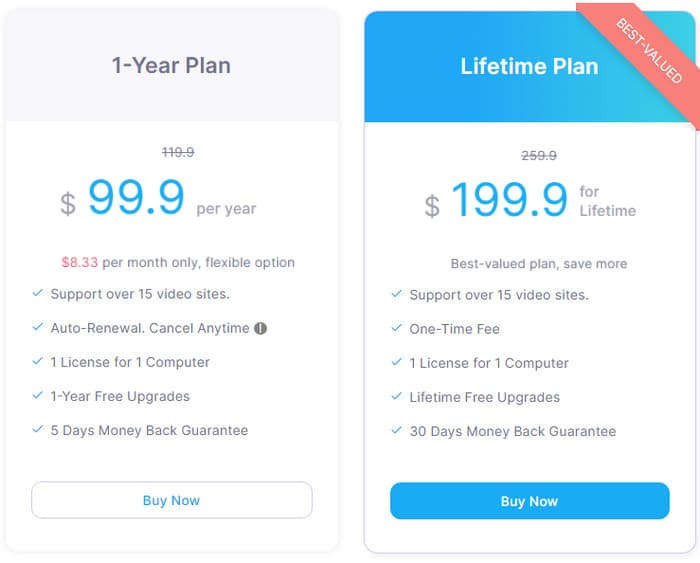 AnyStream: €59/year; €75/2 years;€89/3 years; €109/lifetime
AnyStream Plus: €109/year; €125/2 years;€139/ 3 years; €159/lifetime
AnyStream offers a 21-day free trial for you to fully experience the features of their products (but some features are only available after payment). They have a "try before you buy" service that allows you to make a purchase after you are satisfied with their product, which is why they do not offer a money back guarantee. However, you should note that the 21-day free trial only allows about 10 downloads.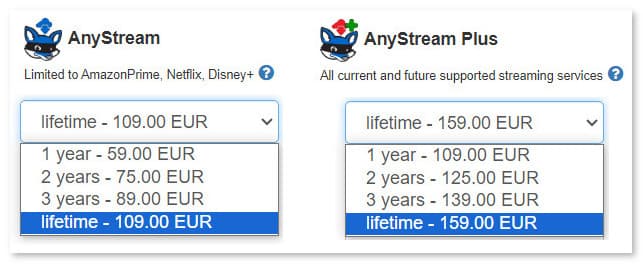 Functions
SameMovie All-in-one Video Downloader

Support downloading ad-free videos and movies from Netflix, Amazon, Disney+, HBO Max, Hulu, and Paramount+.

Download videos from YouTube, Facebook, Twitter, Vimeo, Dailymotion and other social networking sites for free.

Save 720p, 1080p, 4K or even 8K video, depending on the specific platform and the resolution provided by the video itself.

Save videos in compatible MP4 or MKV format.

Preserve original audio and subtitles in multiple languages.

Offer three subtitles types: internal, external, and hardcode subtitles.

No limit on the number of downloads.

Batch download the TV series with one click.

Support two video codecs: H.265 and H.264.
AnyStream

Save videos from Netflix, Amazon, Disney+, YouTube, and CWTV (If you purchase AnyStream Plus, more platforms are available, like HBO Max, Hulu, Paramount+ and more).

Support downloading videos up to 1080p without advertisement.

Download videos in MP4 format only.

Supports Dolby Digital Surround Audio 5.1.

Provide embedded text, image subtitles or external subtitle files (TTML or SRT format) options.

Batch download function (only available for AnyStream Plus).

The number of downloads per week is limited to approximately 280.

Control the download speed.

The website has a forum for users to discuss.
Which One is Better?
Through the comparison of the above aspects, we can draw the final conclusion: SameMovie All-in-one Video Downloader wins in every way! Even though SameMovie is slightly more expensive than AnyStream, SameMovie All-in-one Video Downloader is on top when it comes to both the number of supported platforms and the number of downloads.
VidiCable All-in-One Downloader
Download Videos from over 50+ sites.
Output downloads as MP4 or MKV format.
Keep audio tracks and subtitles.
Two video codec options and three subtitle modes.
Fast download speed and batch download mode.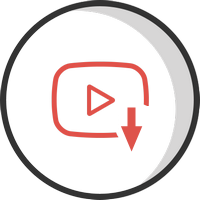 Here is the tutorial on how to use SameMovie All-in-one Video Downloader.
Run the program and first select the target website where you want to download the video. Then, the program will restart automatically and jump to the corresponding website.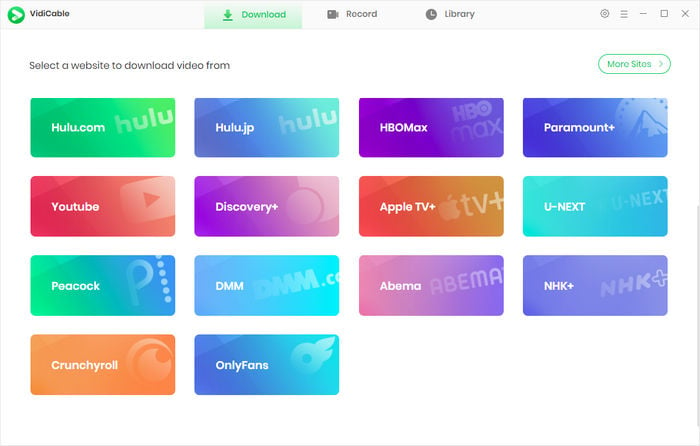 When downloading videos from streaming services, you need to sign in with your account in order to access the library. There will be a "Sign In" button on the main interface of each streaming service. Click on and it will jump to the login interface.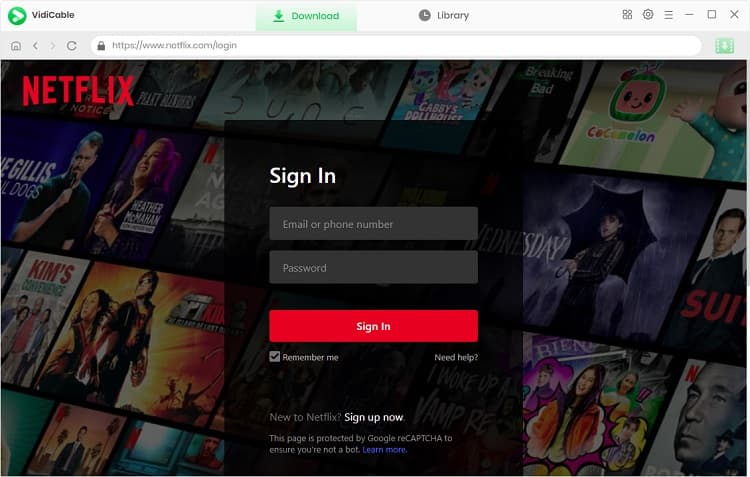 You can browse its vast library in its built-in browser to find the videos you want to download. Or directly enter the name or keywords of the desired video in the search box to find the video.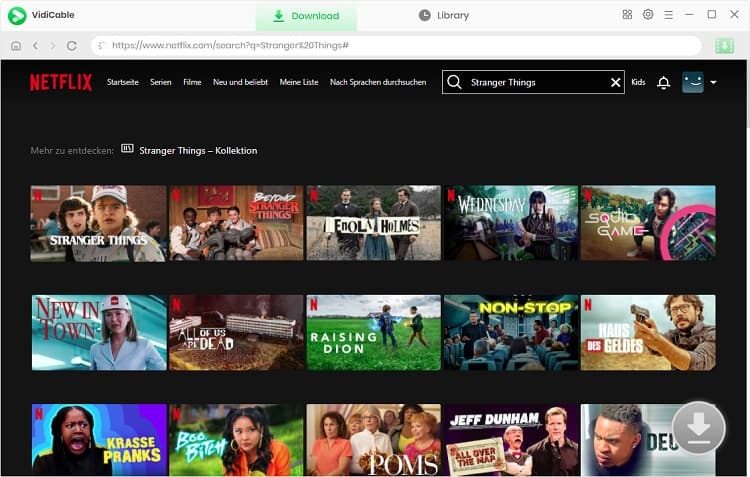 You can choose the general settings in advance in the "Settings" window. Or just go to the "Advanced Download" window to customize the specific video quality, audio, and subtitles.
When downloading movies, just click the Download icon to open the "Advanced Download" window. For TV series, click the Download icon first to select seasons and titles, and then tap the Advanced Download button.
Note: The Download icon will become available when you click on a specific video and open its details page.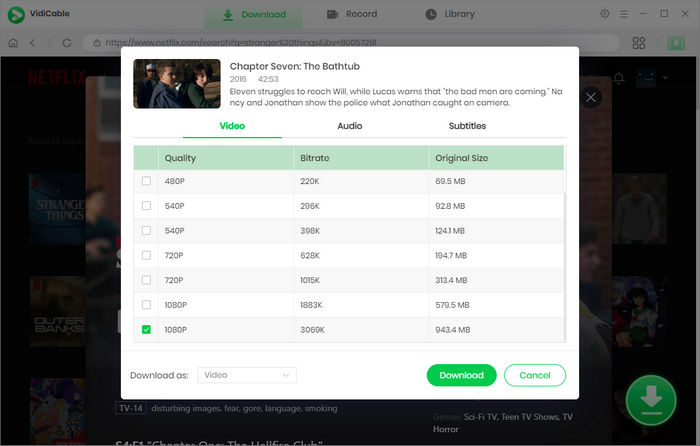 Step 5
Download Movies and TV Shows
Click the Download button to start downloading videos. When finished, find the downloads in the "Library".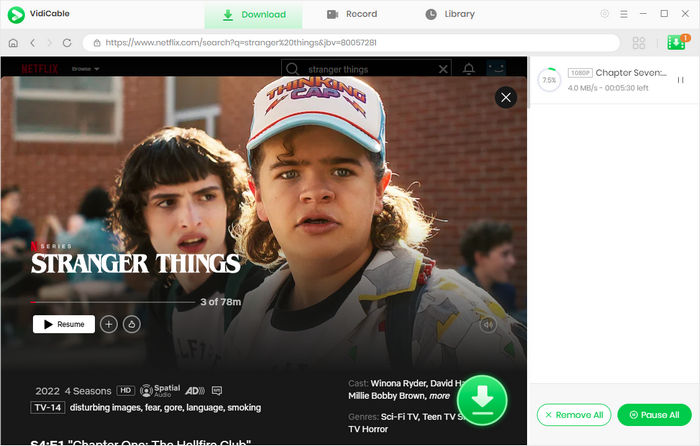 If I only have a subscription to one platform, is there a downloader for individual products?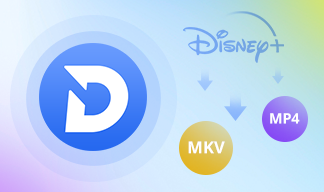 Download Videos from Disney+ to MP4
To download videos from Disney+ for offline listening on various media players and portable devices, you can use DispCam Disney+ video downloader to download Disney+ videos in MP4 format. This Disney Plus Video Downloader adopts the innovative and unique recording technology which allows users to save a collection videos from Disney+ so as to watch them offline on more devices.
Read More

---

Video Converter

DVD Converter

Video Editor

Enhance Video Quality

Enhance Image Quality

Remove Objects