FlixiCam Netflix Video Downloader: A Comprehensive Review
Among the numerous Netflix video downloaders available, FlixiCam stands out for its excellent features. You might have come across FlixiCam through various sources, but this article aims to provide you with a comprehensive understanding of it. From compatible devices, pricing to output quality, you'll find all you need to know in this article.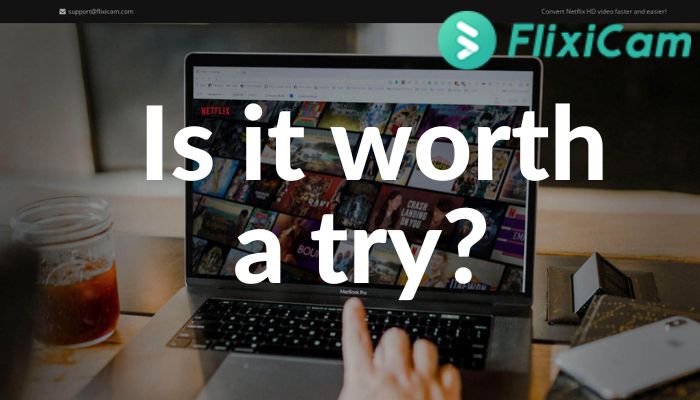 1. What is FlixiCam?
FlixiCam is a versatile tool that allows you to download Netflix videos to your computer. It can store Netflix content into MP4 and MKV formats, allowing you to transfer the files to other devices and stream them anywhere anytime.
2. Is FlixiCam Legal?
FlixiCam adheres to legal regulations and is completely ad-free and safe. It does not contain any malware or harmful viruses, and there is no requirement to download additional bundled software.
3. Features of FlixiCam
Superior video quality:
FlixiCam supports downloading videos up to 1080p (FHD), providing an immersive and visually pleasing viewing experience. It also offers options for lower quality and smaller file sizes to suit different needs. With FlixiCam, you can enjoy high-definition videos without lag, even in areas with no network connection.
Compatible output format
If you want to use the Netflix app to download videos, the downloaded videos can only be played in the Netflix app and cannot be transferred to other devices. However, FlixiCam is capable of downloading videos in the universally compatible MP4/MKV format, so that you can transfer the downloads to other devices for offline viewing.
Multilingual audio tracks and subtitles
FlixiCam provides an extensive selection of multilingual audio tracks for your selection, and you have the flexibility to customize the output settings to your preferences. It also supports downloading a separate audio or subtitle file. Additionally, it allows you to preserve AAC and EAC-3 5.1 surround sound audio, guaranteeing a rich and immersive audio experience for viewers.
FlixiCam offers three subtitle modes for you to choose from: internal subtitles, external subtitles, and hardcore subtitles. Internal subtitles are seamlessly embedded within the video itself, becoming an integral part of the video frames. It enables you to easily turn them on or off and switch languages. External subtitles enable you to store subtitles as SRT/VTT files and personalize their font, color, and other parameters. Hardcore subtitles are burned onto your video, avoiding the problem of subtitles and video being out of sync.
User-Friendly interface
FlixiCam boasts a user-friendly interface designed to simplify the downloading process, making it easy to use for beginners. With just a keyword typing into the search bar, you can locate your movie or TV show, with results appearing in seconds. The added videos will be displayed in the sidebar, and the download progress will be clearly marked. Thanks to the batch download feature, you can effortlessly download an entire season of a TV series in just a few clicks. Furthermore, you have the flexibility to add or remove videos from the download list while downloading.
5X Download Speed
FlixiCam utilizes an advanced download core, resulting in significantly faster download speeds. This allows you to access and use the downloaded content more quickly. The batch download mode further accelerates the download speed for Netflix movies or TV series, reducing your waiting time.
4. Plans and Pricing of FlixiCam
FlixiCam provides you with a free trial with no time limit. This trial enables you to download the first five minutes of a video and experience the same functions as the paid users. If you are satisfied with FlixiCam during your trial, you can subscribe to it. FlixiCam provides three subscription options: monthly, yearly, and lifetime plans for Windows and Mac users. And their price are $39.95, $49.95, and $99.9 respectively.
Each of the three subscription options comes with free customer support and free updates. Both the monthly and annual subscriptions are available to cancel at any time. Additionally, the lifetime version allows for refunds within 30 days.
Guide: How to Use FlixiCam to Download Videos from Netflix
Step 1
Launch FlixiCam and log into Netflix
Download the latest version of FlixiCam on your computer. After that, open the app, and log in to your Netflix account. As the Netflix web player is embedded in the program, logging into Netflix from the app is the same as logging in directly to Netflix.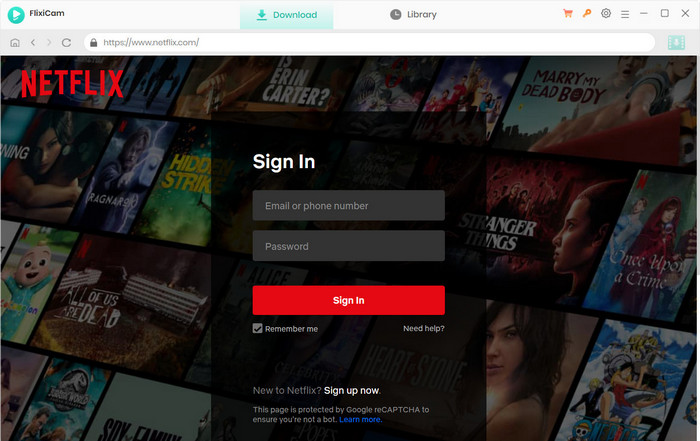 Step 2
Customize Download Settings
Navigate to the upper right corner and click on the "Settings" button. From there, you can choose the output path, audio and subtitle languages, output quality (High, Medium, Low), video output format (MP4 or MKV), as well as various other options.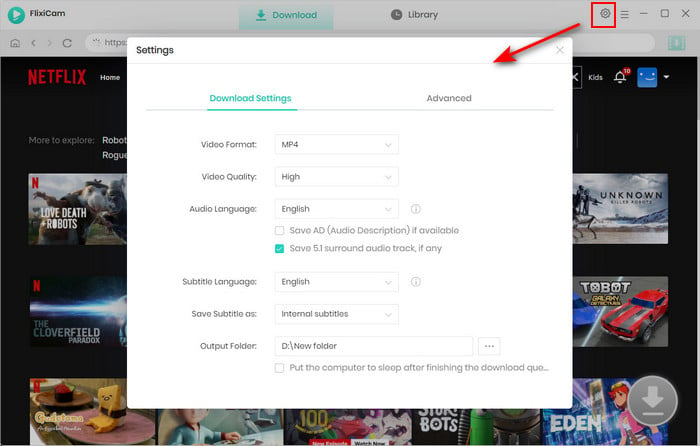 Now you can locate the video you want to download. On the search bar, you can enter the video's title or keywords.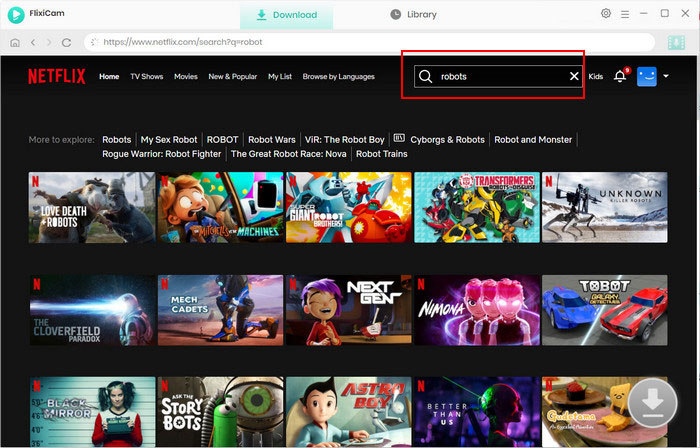 Step 4
Select Audio Track and Subtitle
To start downloading, you are required to click on the video. After that, you'll see a change in the color of the Download icon located in the lower-right corner, changing from grey to vibrant green. By clicking on this icon, you can then choose the specific season and title you'd like to download.
Once you've chosen the content you want to download, click the "Advanced Download" button. This step enables you to customize the video quality, audio tracks, and subtitles.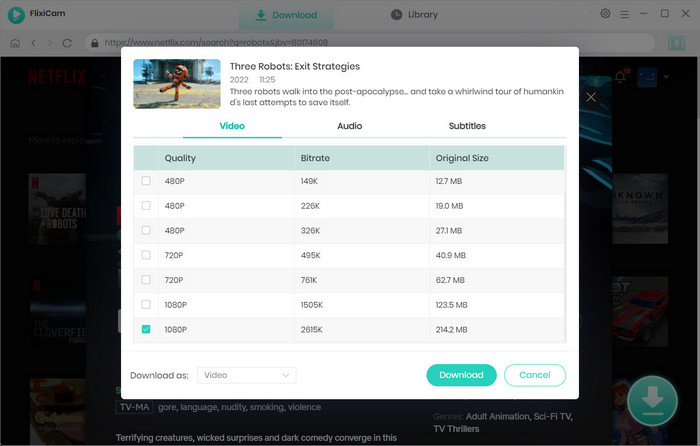 Step 5
Start to Download Netflix Videos
Simply click the "Download" button to start downloading the Netflix titles you've chosen. Once the download is complete, you can access your downloaded files by clicking on "Library."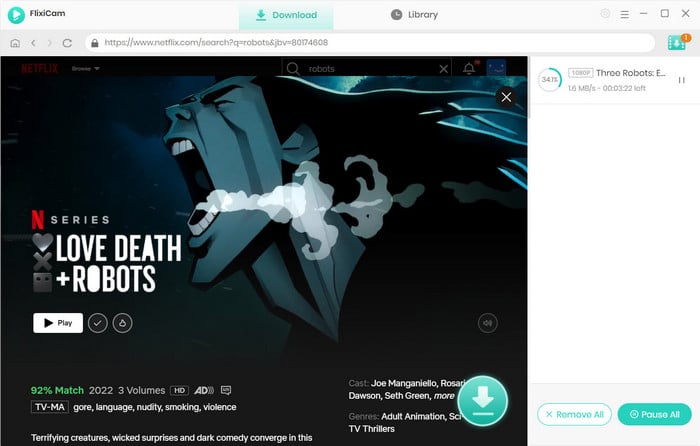 FAQs about FlixiCam Downloads

1. How to get a free trial?
Simply download the app from FlixiCam's official site. Open the app on your computer, and you can sign into Netflix and start searching videos you want to download. You don't need to register the program with the license key before using the free trial.

2. Is there a limit for downloads per day?
The daily download limit is set at 500 downloads. For subscribers, this means you can download up to 500 complete TV episodes or movies each day. Trial users also have 500 downloads, but they can only access the first five minutes of each video.

3. Will downloaded videos be saved permanently?
Yes, the downloaded videos will be kept locally forever. Unlike videos downloaded on the Netflix app will expire, videos downloaded using FlixiCam are permanently stored on your device unless you delete them. In addition, videos downloaded by the Netflix app can only be viewed on the device where they were downloaded, while FlixiCam allows you to transfer the downloads to other devices, or share them with others.

Want to Learn more Review?
Conclusion
FlixiCam Netflix Video Downloader stands out as a dependable choice in many aspects, providing outstanding features for downloading Netflix videos. In conclusion, it is worth trying.
---

Video Converter

DVD Converter

Video Editor

Enhance Video Quality

Enhance Image Quality

Remove Objects