[Review] Everything You Need to Know About DispCam
"Is DispCam safe to use?" This is a concern for many people. This article will go over this video downloader in detail, listing its main features, pricing, subscription plans, and a guide on how to use it. And finally draw a conclusion to tell you whether DispCam is safe to use and worth using.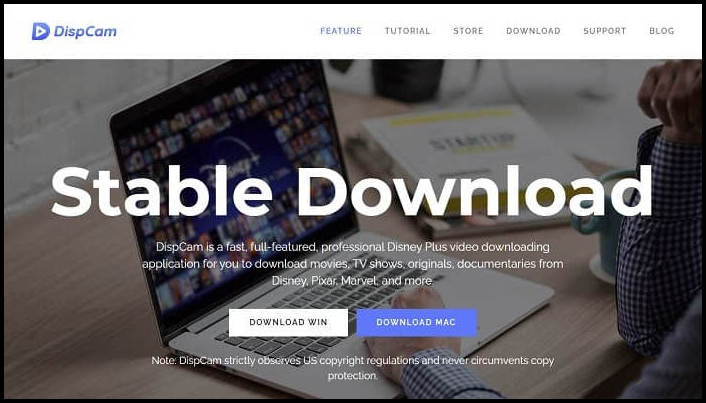 1. What is DispCam?
DispCam is one of the top-notch Disney Plus video downloaders on the market, which has received a lot of high ratings and positive reviews from users. It makes the downloading becomes a breeze and is committed to providing a hassle-free watching experience for its users.
2. Is DispCam Safe to Use?
DispCam is 100% clean and free to download to your computer without malware or harmful viruses. It works on Windows 11/10/8/8.1/7 and macOS 10.15 - macOS 14. No ads or plug-ins will appear during use.
Not only that, copy regulation is strictly observed by DispCam, and it never circumvents copy protection on any occasion.
3. Key Features of DispCam
Download HD Videos Without Ads
It supports downloading high-resolution videos and movies from Disney Plus to deliver a better viewing experience. Even if you are a Disney+ Basic subscriber who is unable to download videos, DispCam allows you to download Disney+ content to watch offline freely without the internet. All the videos downloaded by DispCam are ad-free, so you won't be disturbed by ads while watching them.
Preserve Multilingual Audio (5.1 Audio Included)
DispCam offers a wide range of multilingual audio tracks to choose from. The availability of these options may vary depending on the country/region and the specific movie being streamed. It also allows you to save AAC and EAC-3 5.1 surround sound audio (If provided). This ensures an immersive and high-quality audio experience for the viewers.
Preserve Multilingual Subtitles, Offer Three Subtitle Modes
In terms of subtitles, DispCam not only can keep subtitles in many languages but also offers three different subtitle modes to meet your preferences. Internal subtitles are embedded within the video stream itself, making them easily accessible without the need for external files. External subtitles, on the other hand, can be downloaded separately and added to the video playback. Additionally, DispCam also supports hardcode subtitles, where the subtitles are permanently displayed on the video.
If you prefer to have more control over the subtitles, DispCam allows you to save them as SRT files under external subtitles. This feature enables you to edit the subtitles according to your preferences or make any necessary adjustments.
Watch Video in MP4 or MKV Format on Any Device
It is capable of saving videos in two widely used MP4/MKV formats, allowing you to easily transfer Disney Plus videos between devices. Sharing the downloaded video with friends or uploading it to the cloud can be achieved now as the videos are no longer saved in the encrypted format.
Batch Download Function
DispCam offers a convenient batch-download function that allows users to download entire seasons of Disney Plus TV series with just one click. This feature is designed to save you valuable time and effort, eliminating the need to individually download each episode. Whether you're planning a binge-watch session or prefer to have offline access to your favorite shows, the batch-download function streamlines the process and enhances your overall viewing experience.
Fast Download Speed
DispCam prides itself on its fast download speed, thanks to the implementation of cutting-edge technology. With this advanced technology in place, downloading a full-length movie can now be completed in a mere 20 minutes, while a TV episode takes just 10 minutes. This impressive speed ensures that you can quickly access your desired content without experiencing frustrating delays. Whether you're in a hurry or simply eager to start watching, DispCam's fast download speed will not disappoint.
Easy to Use
DispCam is designed with user-friendliness in mind, boasting a simple and intuitive interface. Navigating through the platform is a breeze, as it clearly indicates where to log in, how to set up your preferences, and where to download videos. Even if you are a first-time user, you can easily get started without any confusion or complications.
4. Plans and Pricing of DispCam
DispCam offers 2 subscription plans - yearly and lifetime plans, and distinguishes between Windows and Mac versions. Before you purchase a plan, you can take advantage of the free trial, which allows you to download the first five minutes of the video as well as enjoying the same functions to the subscription.
The annual subscription versions are automatically renewed. If you need to cancel your auto-renewal subscription, you can contact customer service via email to help you cancel your auto-renewal subscription to prevent being charged again. Details about refunds can be found here.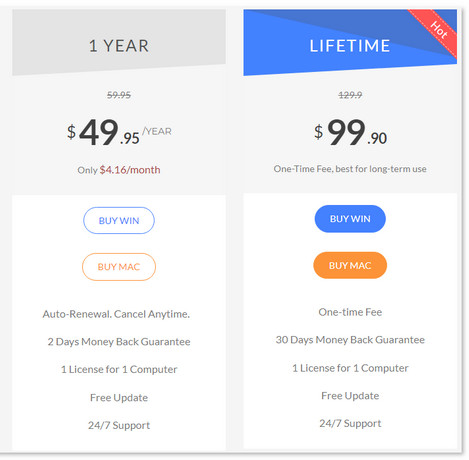 Guide: How to Use DispCam to Download Disney Plus Videos and Movies
Step 1
Launch DispCam and log into Disney+
Download and install the latest version of DispCam on your computer and run it. Click the "LOG IN" button and use your login credentials to sign into Disney+.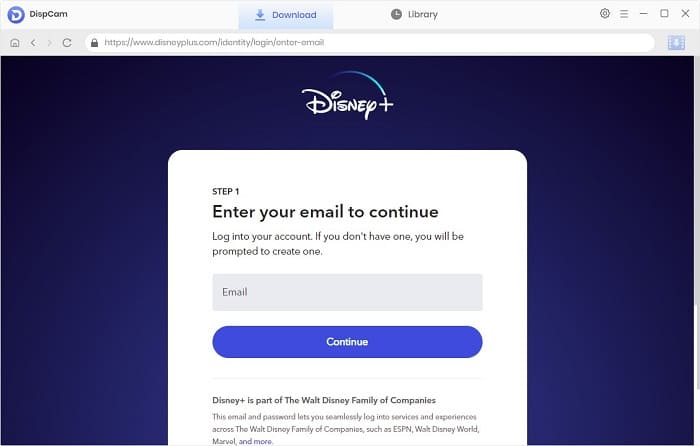 Step 2
Choose the Output Settings
DispCam allows you to select the video quality, video format, audio languages, subtitles languages, and more in the "Settings" window.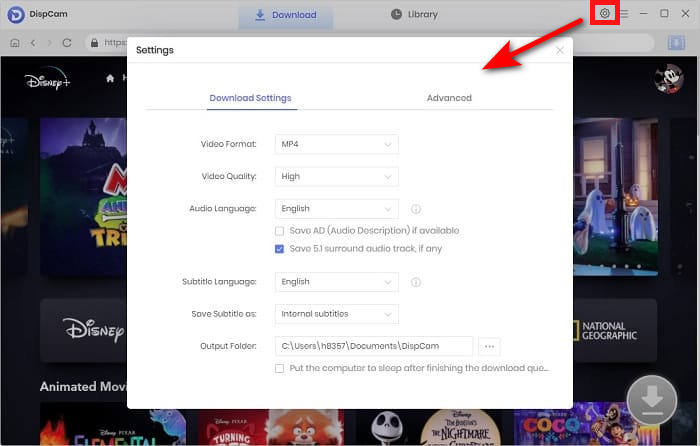 Directly enter the name or keywords of the video into the search box to search for the video, and DispCam will show other related videos.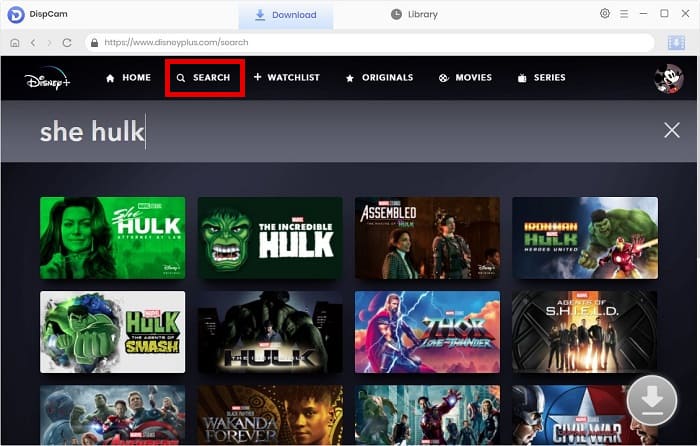 Step 4
Customize Advanced Download Settings
If you want to choose more specific video quality, audio and subtitles, go to the "Advanced Download" settings window by clicking the "Download" icon when downloading a movie.
When downloading TV series, click on the "Download" icon first and then you can select the title you want. The "Advanced Download" button is located at the bottom left of the window.
Note: The Download icon becomes available (blue) only when you select a specific video and open its details page.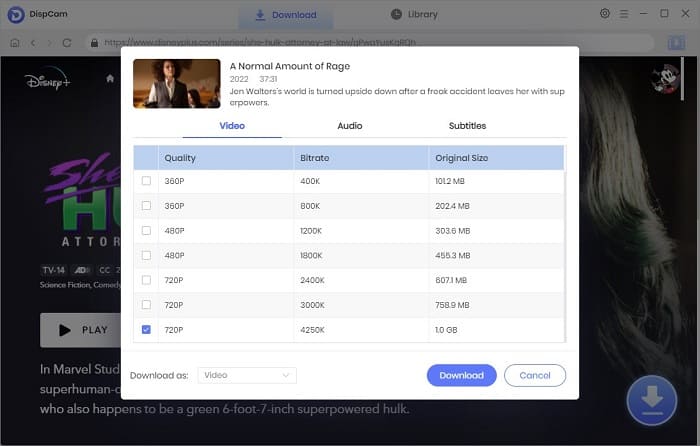 Step 5
Download Disney+ Video on Computer
Click on the "Download" button to start downloading the video. Find the downloads in the "Library" or in the output folder.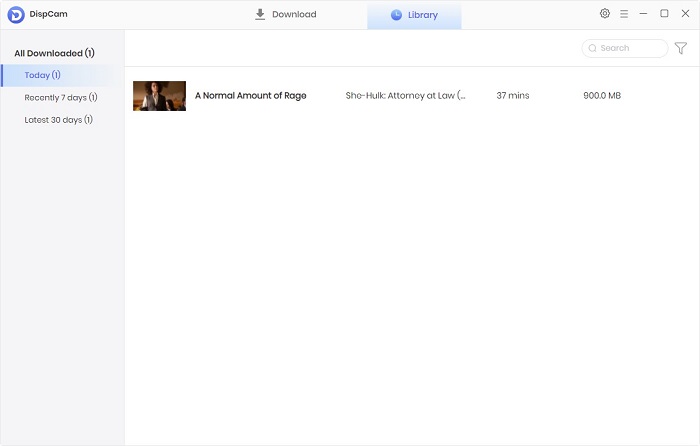 Now, you can watch the video offline without the internet anytime and anywhere.
FAQs about DispCam Downloads

1. How long will downloaded content remain on my device?
When you use the Disney Plus app to download the shows, you must first be an active Disney+ subscriber and connect to the internet through your device at least once every 30 days for the downloaded content to remain on your device. But that doesn't preclude Disney Plus from taking some videos down at times, then even if you download the video, the video will become inaccessible.
When you download Disney Plus content with DispCam, the downloads remain permanently on your device, except that you manually delete them yourself. Therefore, for those who want to save their Disney+ downloads forever, DispCam is what you are looking for.

2. Is there any alternative to DispCam?
There are several good Disney Plus video downloaders available, such as TunePat DisneyPlus Video Downloader and SameMovie DisneyPlus Video Downloader. They have similar features and are both safe and reliable software. And there are someexcellent all-in-one downloaders on the market, such as VidiCable, which supports downloading videos from multiple platforms, including Netflix, Disney Plus, YouTube, TikTok, and more.

Want to Learn more Review?
Conclusion
Combining ratings from major review sites and our own experience with it, we give DispCam a rating of 4.8 out of 5. In terms of its features and its subscription price, DispCam is superior to other Disney Plus video downloaders on the market. Customize and download your favorite videos with DispCam in just a few simple steps and keep them permanently on your device to watch anytime. Try it now.
---

Video Converter

DVD Converter

Video Editor

Enhance Video Quality

Enhance Image Quality

Remove Objects