Best Free MP3 Converter: How to Convert Videos in Any Formats or Online Videos to MP3
The MP3 format has undoubtedly become the preferred choice for audio files, enabling seamless sharing and enjoyment of music and podcasts. However, as the internet is inundated with a plethora of video content, the need for a reliable and free MP3 converter has become increasingly evident. This article will explore the best MP3 converter solutions available, empowering you to effortlessly transform videos of any format, including online videos, into high-quality MP3 audio files. Whether you aspire to extract the captivating soundtrack from a music video or convert an informative tutorial into an engaging podcast, our comprehensive guide will equip you with the necessary tools and techniques to achieve this seamlessly.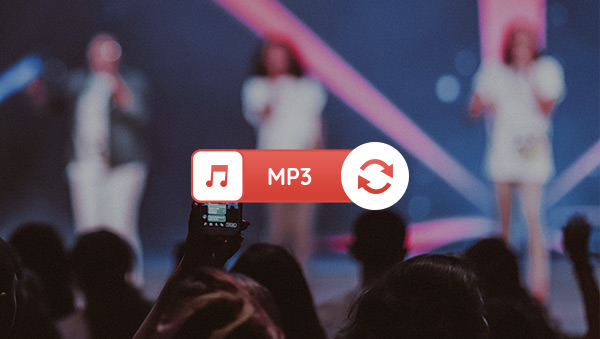 Part 1: What is the Best MP3 Converter
When it comes to finding the best MP3 converter, Any Video Converter Free stands out as a top choice. It offers a comprehensive solution for converting videos of any format into high-quality MP3 audio files. With its user-friendly interface and powerful conversion capabilities, Any Video Converter makes the process quick and hassle-free.
One of the standout features of Any Video Converter is its wide range of supported video formats. Whether you have AVI, MP4, WMV, MOV, or even online videos from platforms like YouTube or Vimeo, it can handle them all. This means you can convert your favorite music videos, movie clips, or educational content into MP3 files effortlessly.
In addition to its conversion prowess, it offers several other useful features. It allows you to trim and cut videos, adjust audio settings, and even merge multiple videos into one. This makes it a valuable tool for not only converting videos to MP3 but also for basic video editing tasks.
---
Part 2: How to Convert Videos in Any Formats to MP3 with MP3 Converter
Step 1
Install this Free MP3 Converter
Download and install Any Video Converter, and then launch it.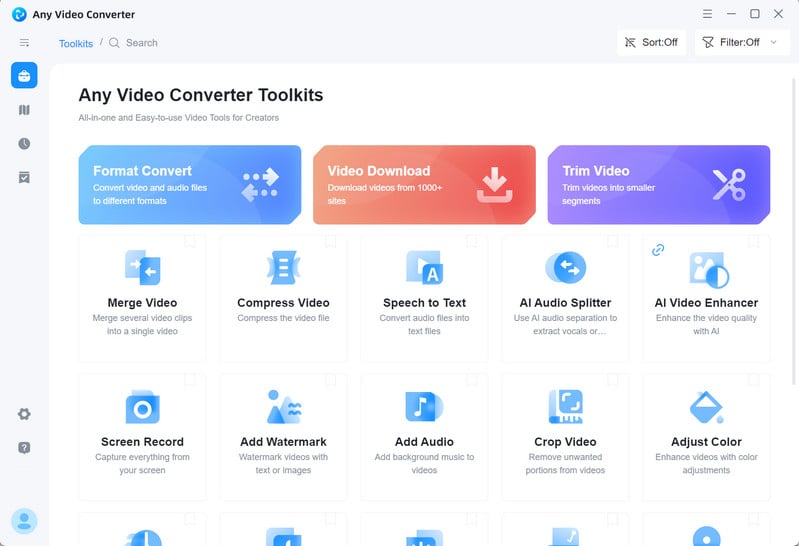 Step 2
Upload Videos and Set Output Format to MP3
Click on the Video Converter option and upload the videos you want to convert. It supports batch processing, enabling you to upload multiple videos simultaneously by selecting them all at once or clicking the Add button later.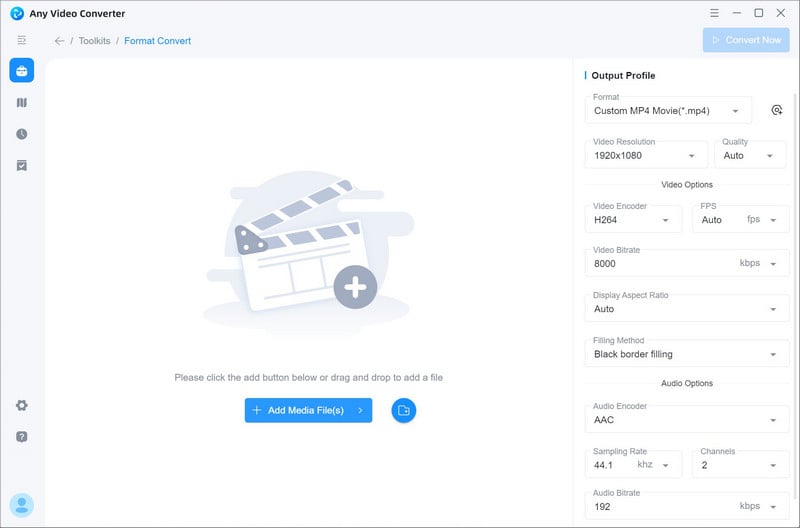 After uploading videos, you need to set the output format to MP3. In the Basic Options section, locate the video format drop-down menu. Scroll down until you find MP3 Audio (*.mp3), and select it as the desired output format. You can also explore other advanced settings, such as video resolution, frame rate, encapsulation, and bit rate.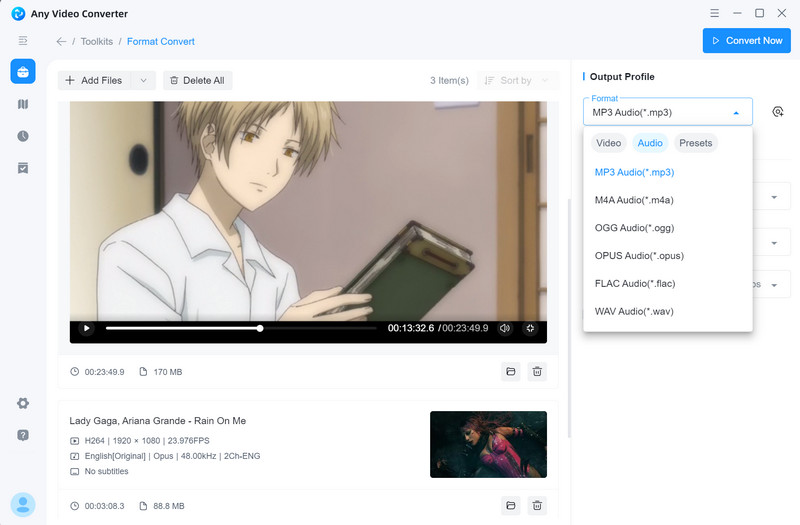 Step 3
Start Converting Videos to MP3
After completing the necessary settings, simply click the Start button to initiate the conversion process. This MP3 converter will efficiently convert your videos to MP3 format, preserving the audio quality.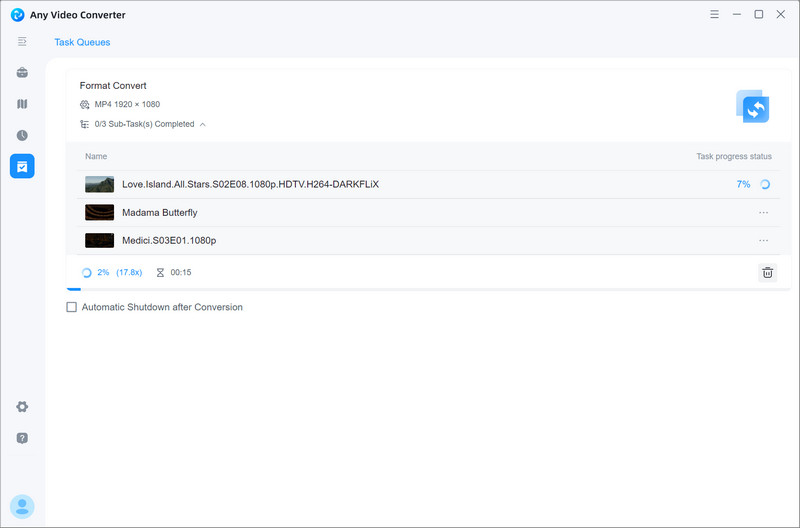 ---
Part 3: How to Convert Online Video to MP3 with MP3 Converter
An effortless method for converting videos to MP3 is to directly save them as MP3 files during the download process. With Any Video Converter, you not only have the capability to convert local videos to MP3 but also access a powerful MP3 Converter that allows you to download online videos as audio files.
Step 1
Access Video Downloader and Input Online Videos
Go to the homepage of Any Video Converter Free and click on the Video Downloader feature.
Visit the website hosting the desired video, such as YouTube, Vimeo, etc, and copy the video's URL. Paste the URL into the search box and click the Analyse button. You can input multiple video URLs simultaneously for concurrent conversion.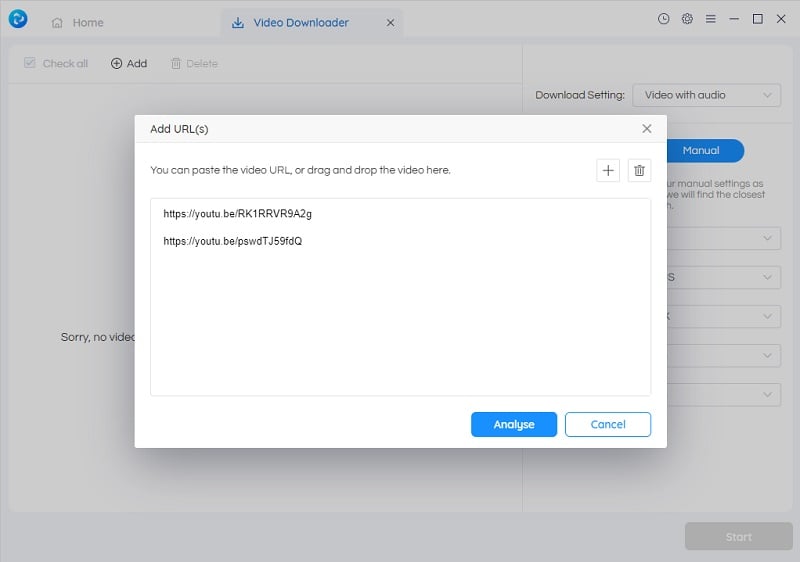 Step 2
Configure Conversion Settings
Choose "Audio only" from the Download Setting drop-down menu to convert videos to MP3.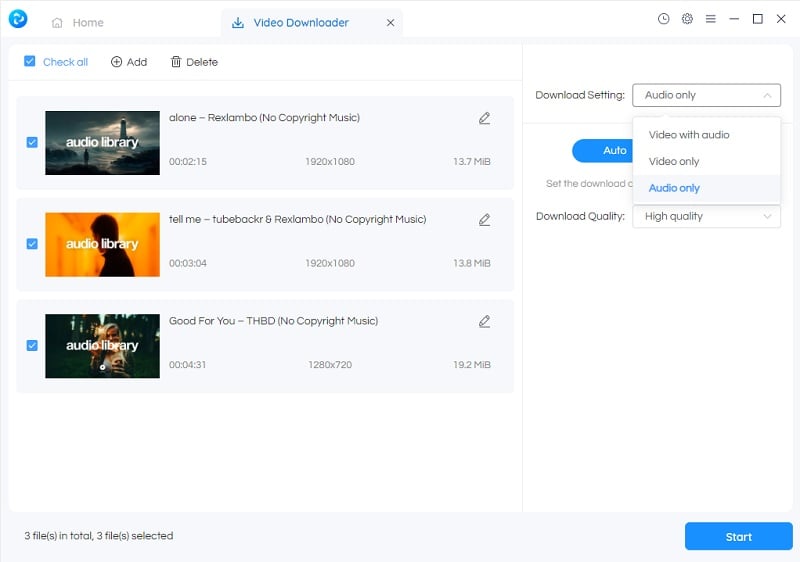 With the Auto setting, you can select the desired download quality (High-320kbps, Medium-128kbps, Low-64kbps). On the other hand, the Manual setting allows you to specify the Audio Format (MP3, M4A, OPUS) and Audio Bitrate according to your preferences.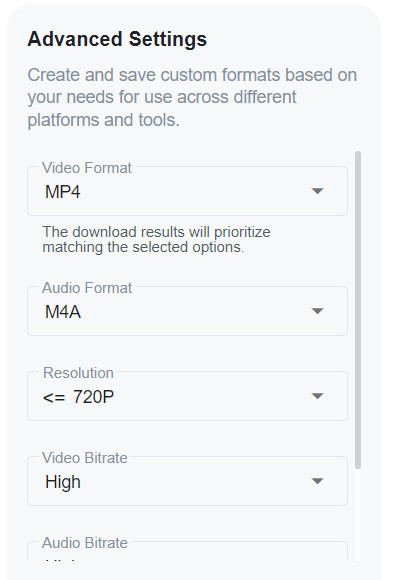 Step 3
Start Converting Online Videos
Once all settings are configured, simply click the Start button to begin the conversion process and download the online videos to MP3 format.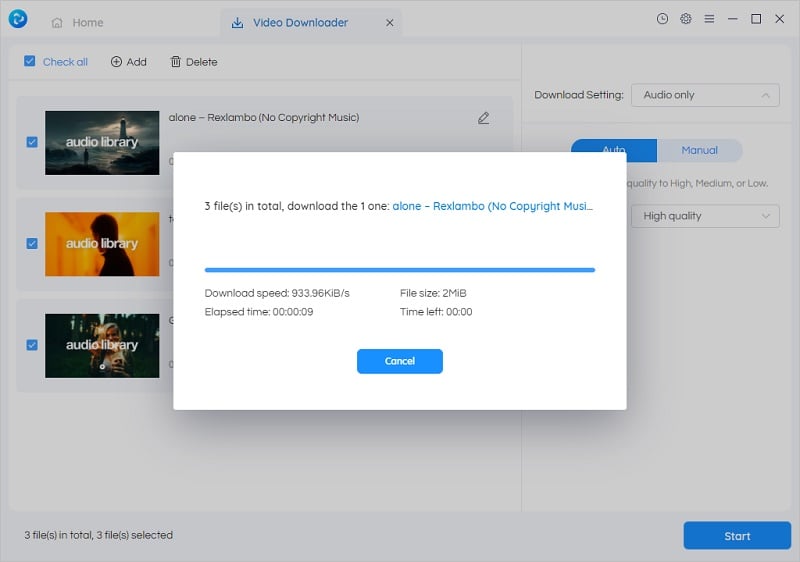 ---
Part 4: Frequently Asked Questions about MP3 Converter
1.What does MP3 stand for?
MP3 stands for MPEG-1 Audio Layer 3. It is a popular audio file format that uses compression to reduce the file size while maintaining decent audio quality.
2. What is the best quality to download MP3?
The best quality to download MP3 depends on your preference and the available options. Generally, a higher bitrate (e.g., 320kbps) will result in better audio quality, but it also means larger file sizes. It's recommended to choose a bitrate between 192kbps and 320kbps for good audio quality while balancing file size.
3. Which is the best audio converter?
Any Video Converter is not only a good video converter, but also the best audio converter. As a free audio converter, it empowers users to effortlessly convert videos to popular audio formats such as MP3, M4A, and OPUS. Additionally, it boasts the ability to download and convert online videos, including those from platforms like YouTube, directly to MP3 format.
4. Can MP3 sound as good as CD?
MP3 audio can sound quite good, but it may not match the quality of a CD. CDs typically offer uncompressed audio in formats like WAV or FLAC, which provide higher fidelity compared to MP3's compressed format. However, with high-quality MP3 files (e.g., 320kbps) and a good audio playback system, the difference in sound quality between MP3 and CD may be difficult to discern for most listeners, especially in everyday listening scenarios.
---
Conclusion
A reliable and free MP3 converter is crucial for converting videos into the popular MP3 format. This article discovered the best MP3 converter option-Any Video Converter and learned how to effortlessly convert downloaded videos and online videos into high-quality MP3 audio files. By following the provided step-by-step instructions, you can now unlock the potential of your video library, whether it's for enjoying music on the go or creating podcasts. Start converting your videos to MP3 and enjoy the convenience and flexibility it offers for your audio needs.
---
Highly Recommended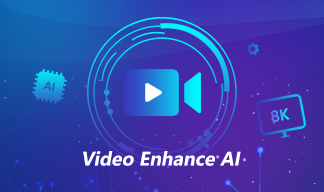 AVCLabs Video Enhancer AI
AVCLabs Video Enhancer AI is an AI-based video enhancement software to upscale video from 480p to 1080p, 1080p to 4K, and up to 8K. With AVCLabs Video Enhancer AI, you can upscale low-res videos to high resolution and bring your old videos a stunningly new look.
Learn More


Video Converter

DVD Converter

Video Editor

Enhance Video Quality

Enhance Image Quality

Remove Objects