Top 10 HD Video Converters in 2023 Review: How to Convert SD Videos to HD Quality
In the fast-paced world of digital media, high-definition (HD) video has become the norm, offering viewers a visually captivating experience. However, what about those older standard-definition (SD) videos that still hold sentimental value? Fortunately, with the right HD video converter, you can now breathe new life into those SD videos by converting them into stunning HD quality.
This article will compile a list of the top 10 HD video converters of 2023, offering you a comprehensive guide on how to convert SD videos to HD quality. Whether you're a videographer, an avid content creator, or simply someone looking to enhance their media collection, these powerful converters will help you unlock the true potential of your videos.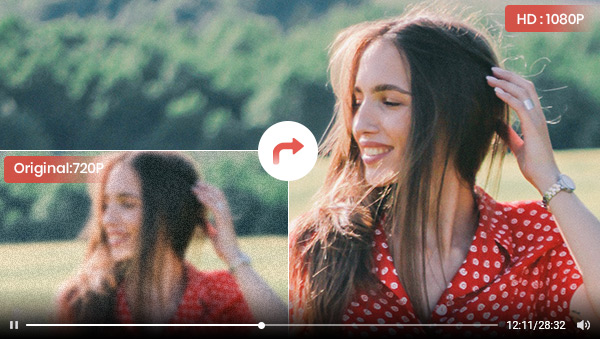 Part 1: What is HD Converter Used for?
An HD video converter is a software tool used to convert standard-definition (SD) videos into HD quality or degrade 4K video to HD quality. It is used to enhance the resolution, clarity, and visual appeal of videos, bringing them closer to the vibrant and detailed quality associated with HD content. The most common HD resolution is 1280 x 720 pixels and Full HD is 1920x1080 pixels, often referred to as "720p", and "1080p". HD content is widely used in various forms of media, including television broadcasts, movies, online streaming, and digital video formats.
---
Part 2: 5 Best HD Video Converters for Windows and Mac
1. AVCLabs Video Enhancer AI
AVCLabs Video Enhancer AI is the most recommended HD video converter among the ten. It is a tool designed to enhance and upscale video quality using advanced artificial intelligence (AI). Its functions include upscaling videos to HD or 4K and even 8K resolution, fixing blurry videos, reducing noise, colorizing B&W videos into color, and converting videos to higher frame rates. This AI-based HD video converter offers a user-friendly interface with intuitive controls, allowing users to preview the enhancements before applying them permanently.
AVCLabs Video Enhancer AI
Upscale videos from SD to HD, HD to 4K.
Convert video to 60, 90 and even 120 FPS.
Sharpen faces from blurry video.
Colorize B&W videos to make revive again.
Support GPU & TensorRT acceleration.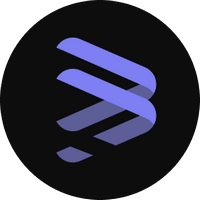 How to Convert Video to HD Quality with AVCLabs Video Enhancer AI
Step 1
Download HD Video Converter
Open the AVCLabs Video Enhancer AI software on your computer.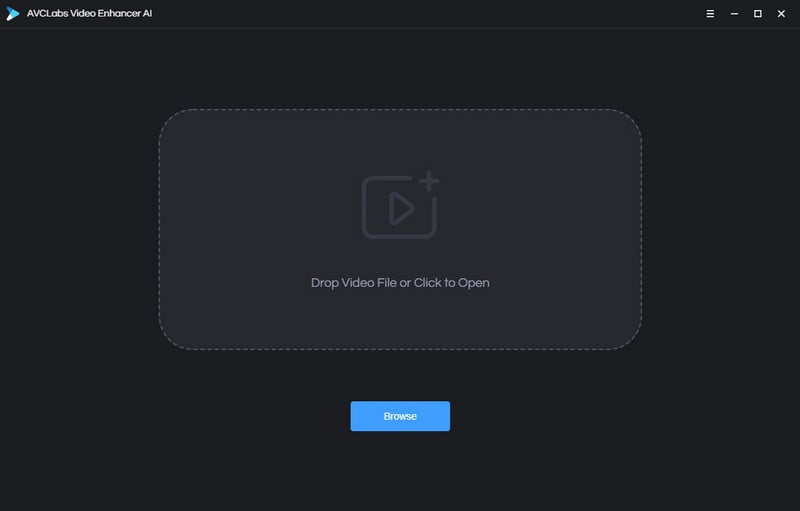 Either click the "Browse" button to upload SD videos that need to be converted to HD, or simply drag and drop them directly into the designated workspace. You are allowed to process 3 videos for free.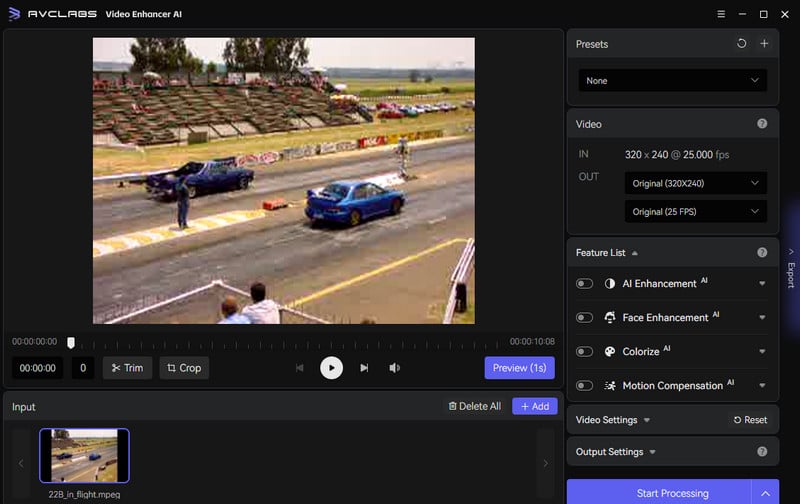 Step 3
Select HD Output Resolution
Enable the AI Enhancement feature in the Feature list. If there are other quality issues you want to address, simply enable the relevant AI features. These AI features can be used simultaneously, but keep in mind that it may result in a longer processing time.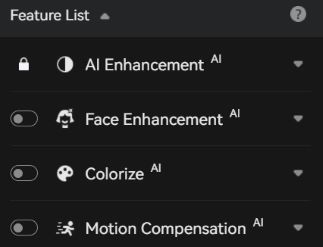 Next, navigate to the Video section and choose the desired HD or FHD resolution in the OUT part to specify the output resolution for the enhanced video.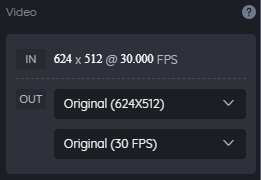 Step 4
Configure Video and Output Settings (Optional)
Video Settings: Manually adjust the contrast, brightness, and saturation.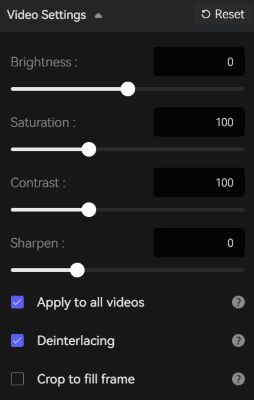 Output Settings: Select the output format, output path, codec, and audio settings.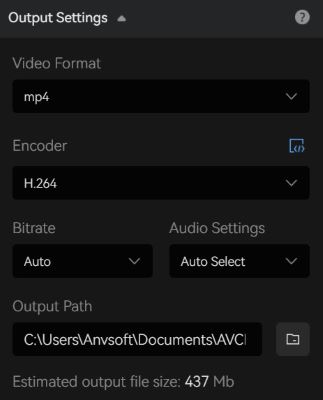 Step 5
Start Converting SD Videos to HD
Click the Eye button to preview 30 frames. If you are satisfied with the final results, click the Start Processing button to convert SD videos to HD.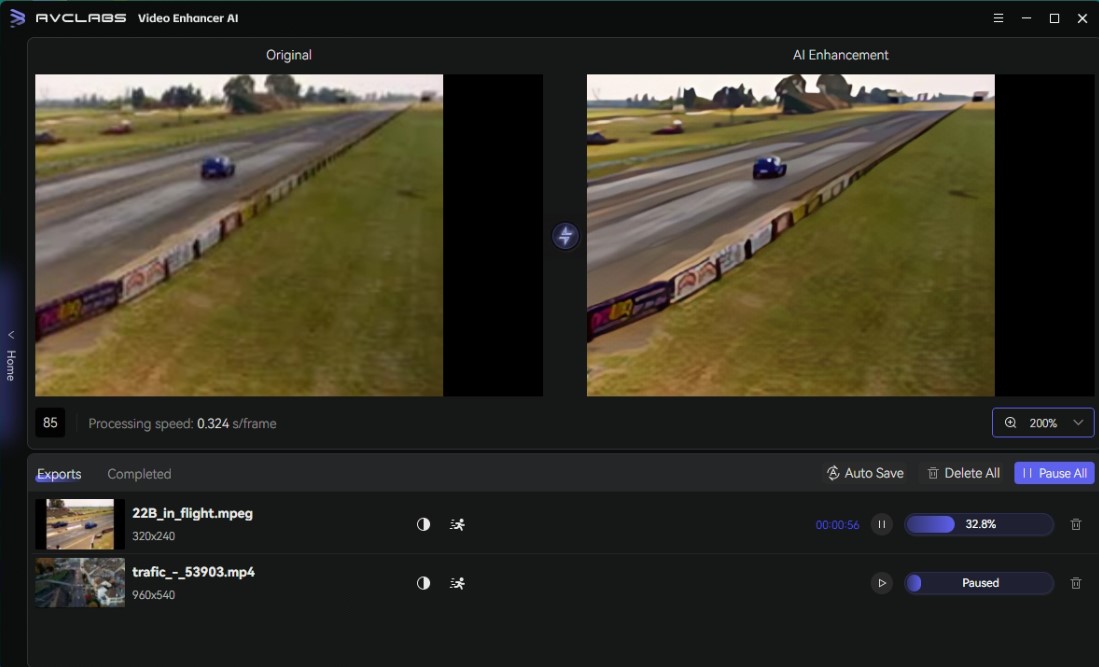 Available: Windows and macOS
Reasons for Recommendation:
• Offers flexible and affordable pricing plans.
• Minimal learning curve and does not require advanced editing skills.
• A free trial is available for users to test all the features.
• Provides powerful functions that cater to various video quality enhancement needs.
• Incorporates OpenVINO acceleration to improve processing speed and overall performance, making it easier to utilize on machines with Intel-integrated graphics and CPU.
Cons you need to consider:
• Has specific system and hardware requirements to ensure optimal performance.
• A watermark on the processed videos under the free version.
---
2. Any Video Converter
Any Video Converter another highly recommended free HD video converter that allows users to convert video files between two formats. For example, converting MP4 to MP3, MPEG to MP4, etc. When converting videos to other formats, it also provides some advanced settings like changing the video resolution to HD or FHD. It is a multilingual and all-in-one video processing software, allowing users to trim, crop, and merge videos, add subtitles and audio tracks, convert videos to GIF as well as download online videos to MP3, MP4, and other formats.
Features of Any Video Converter
Convert videos to 60fps and HD video quality.
Convert videos between any formats freely.
Download videos and music from 100+ sites.
Edit video clips with cut, crop, and special effects.
Adjust the audio volume and add audio effects.
Support NVIDIA NVENC hardware acceleration.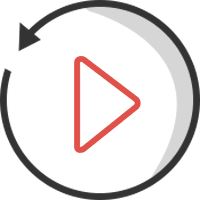 How to Convert Videos to HD Quality with Any Video Converter
Step 1
Download and Launch Any Video Converter
Install Any Video Converter and launch it.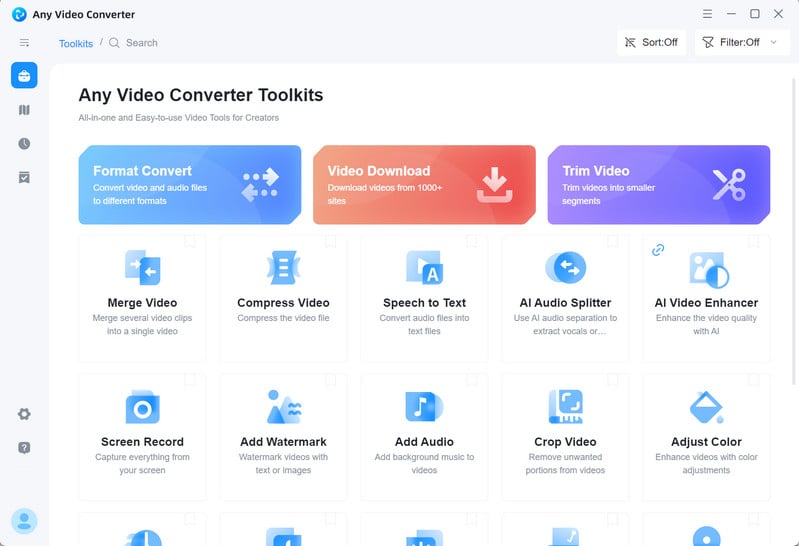 Click the Video Converter option and import the videos you want to convert.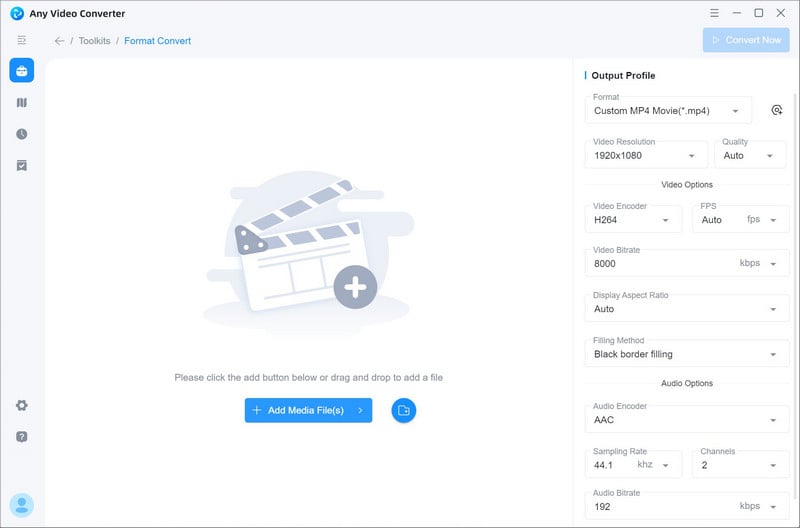 Step 3
Set HD Output Resolution
In the Basic Options section, you can specify the video format and resolution for the conversion process. By accessing the drop-down menu for video resolution, you can select resolutions such as 1280 x 720, 1920x1080, or higher, based on the desired Width & Height.
If there is a need to modify additional settings such as video encoder, bitrate, frame rate, or audio settings, you can navigate to the Video, Audio, and Subtitle sections to make the necessary adjustments.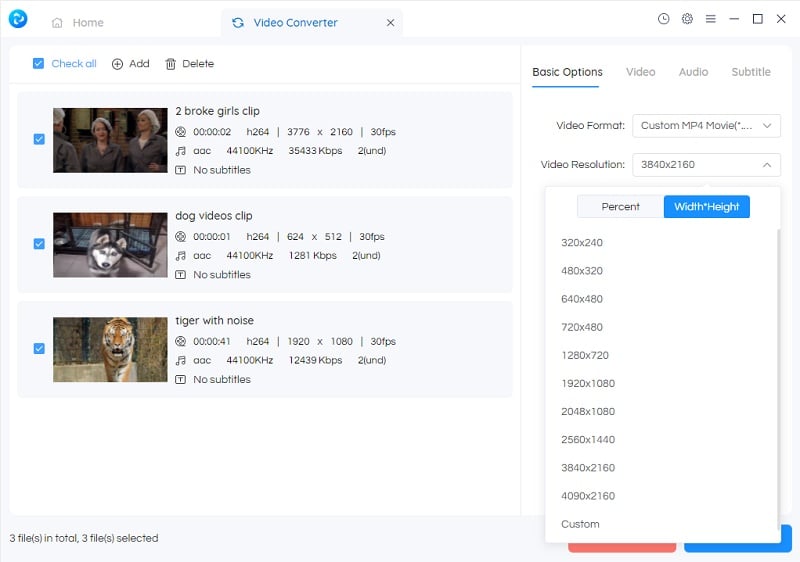 Finally, click the Start button to convert videos to HD Quality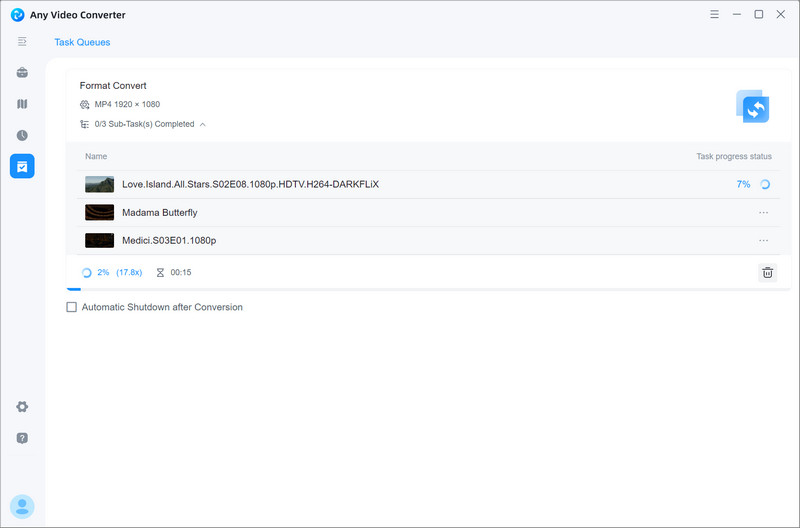 Available: Windows Only
Reasons for Recommendation:
• Free to use.
• Supports batch processing.
• Feature-rich, covering from formats conversion to video and audio downloading and edition.
Cons you need to consider:
• Only available to the Windows.
---
3. Freemake Video Converter
Freemake Video Converter is another absolutely free HD video converter. Its main function is actually similar to Any Video Converter, including converting between different formats to achieve multimedia playback, ripping and burning DVDs, uploading clips to YouTube as well as converting HD films without quality loss.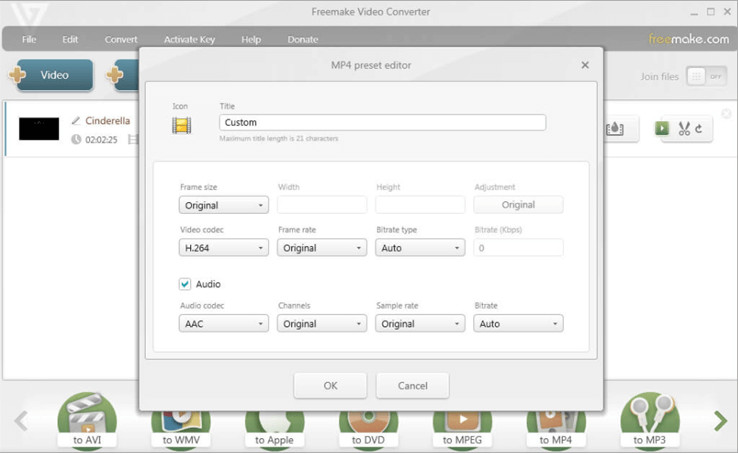 Available: Windows 7/8/10
Pros:
• Absolutely free to use, with no trials or limitations.
• Supports converting between 500+ formats.
Cons :
• Available to Windows only.
• The conversion is slow.
• The feature is single, just focusing on a basic video conversion.
---
4. VLC
VLC media player is a widely used multimedia player known for its versatility and compatibility across various platforms. It supports a wide range of media formats, including video and audio files, and can play physical discs and streaming content. As open-source and free software, it is a popular choice for users seeking a reliable and feature-rich media player. In addition to its basic playback function, VLC offers advanced features like codec support, conversion tools, video and audio effects, and streaming capabilities.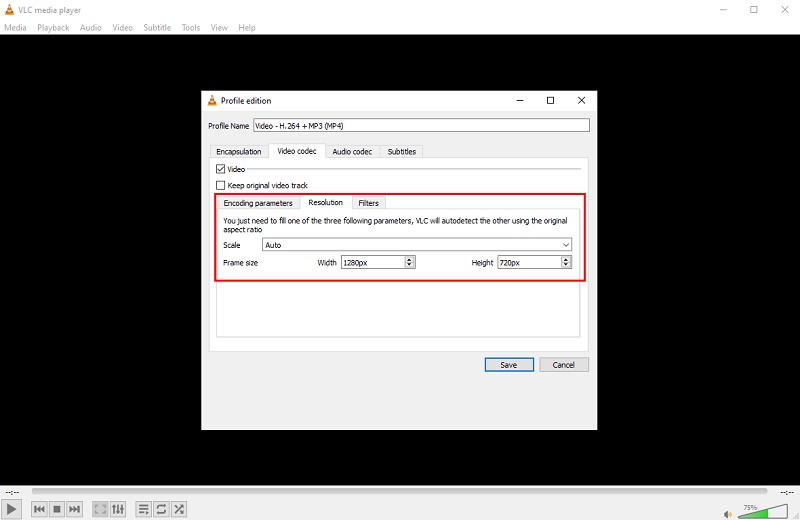 Available: Windows, macOS, Linux
Pros:
• Free and open-source.
• Supports a wide range of media formats and can play various types of files.
• Cross-platform compatibility, allowing users to use it on different devices
Cons :
• Not a dedicated HD video converter, thus lack of some conversion features.
• The interface is less intuitive and less visually appealing.
---
5. HD Video Converter Factory Pro
WonderFox HD Video Converter Factory Pro is a comprehensive HD video converter that supports a vast array of formats and devices. It stands out for its advanced encoder support for H.265(HEVC) and VP9, as well as its ability to convert multi-track HD videos, general videos, and audio codecs. The exclusive video encoding technology employed by HD Video Converter Factory Pro ensures superior output quality compared to its competitors. It also offers a wide range of presets and the capability to convert videos up to resolutions like 720P, 1080P, and 4K.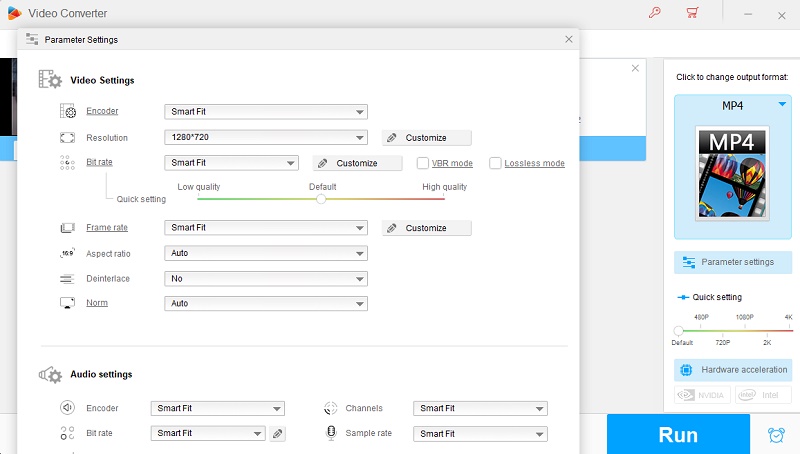 Available: Windows 11/10/8/7 and lower
Pros:
• Easy to use.
• All-in-one video processing software.
Cons :
• Available to Windows only.
• The conversion is slow.
• The feature is single, just focusing on a basic video conversion.
---
Part 3: 5 Best Online HD Video Converters Available
1. FlexClip
FlexClip is an online video editing and creation platform that allows users to create professional-quality videos quickly and easily. It provides a range of tools and features to edit and customize videos, including changing video format and converting video to HD resolution. It is accessible through web browsers, eliminating the need for complex software installations. Users can export their videos in various formats and resolutions, making them suitable for different platforms and devices.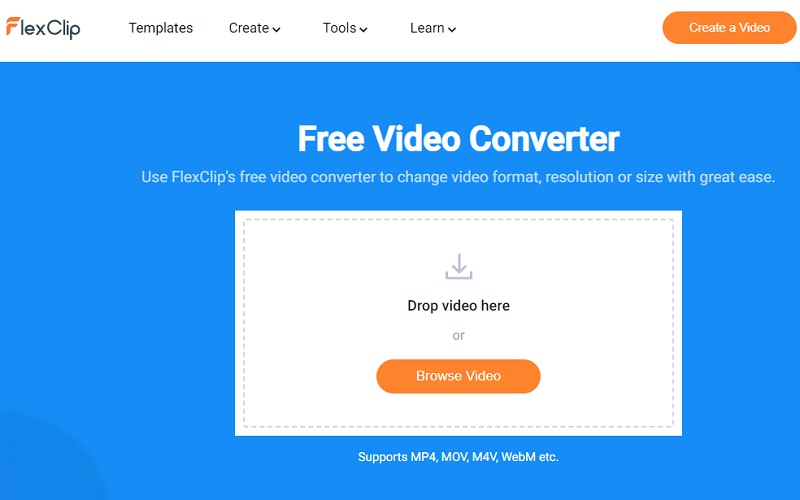 Pros:
• Free to use.
• No watermark and file size limitations.
Cons :
• The highest output resolution is limited to 1080P.
• Only support outputting MP4 video.
---
2. FreeConvert Video Converter
FreeConvert.com is a comprehensive online platform that offers a wide range of conversion tools for various file types. With its video converter, audio converter, image converter, and document & ebook converter, users can easily convert files to their desired formats. Specifically, as an online HD video converter, FreeConvert.com provides advanced options that allow users to adjust video codec, screen size, aspect ratio, and more, ensuring high-definition quality for their videos.
Pros:
• Affordable and varied subscription plans.
• Support uploading files from the device, Dropbox, Google Drive, and URL.
Cons :
• Not ads-free.
• Max file size is 1GB.
---
3. HD Convert
HD Convert, different from other online tools, is a cutting-edge online HD video converter working with AI. Users have the ability to upload low-quality SD videos with low bitrates to the cloud servers, where the software enhances and upscales the video quality to impressive HD or even 8K resolutions, reaching up to 40MBit/sec. Additionally, HD Convert supports a variety of popular output formats, ensuring compatibility with different devices and applications.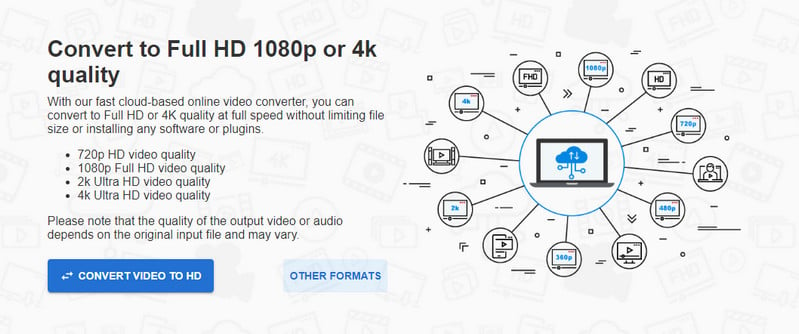 Pros:
• Convert videos to HD quality with AI.
• Supports converting to 8K resolution.
Cons :
• The enhancement process itself is relatively slow.
• Only can enhance the first 5 seconds of the video under the trial version.
---
4. ANYMP4
At Anymp4.com, you can access a no-cost online HD video converter that enables you to enhance your video's resolution to HD quality. It supports the conversion of videos across 300+ formats with customizable parameter settings. The website itself is user-friendly and guarantees a secure browsing experience, free from intrusive advertisements.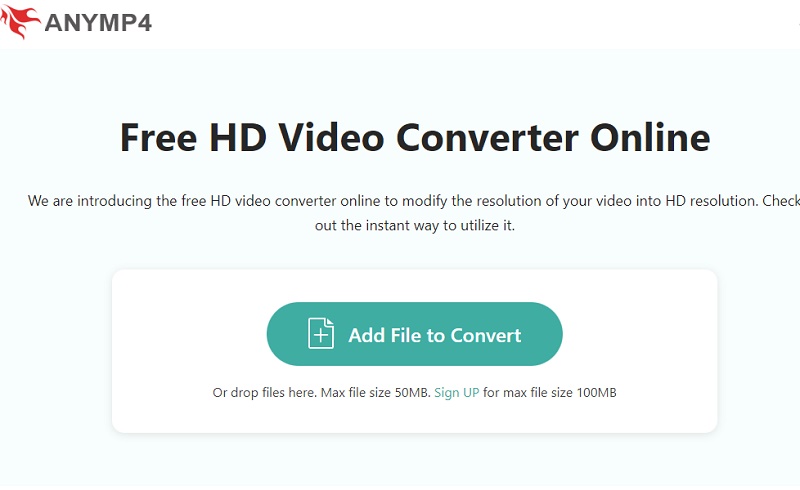 Pros:
• Ads-free.
• Easy and free to use.
Cons :
• Max file size 50 MB and sign up for max file size 100 MB.
---
5. Convertio
Convertio is an online file conversion platform that allows users to convert various types of files from one format to another and offers various customization options for the output files. It offers both free and paid versions, with the latter providing additional features such as larger maximum file size and priority support.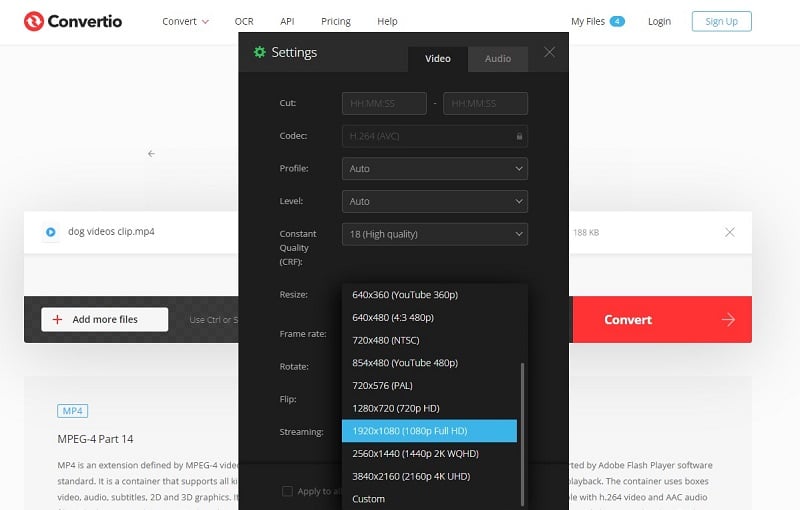 Pros:
• The pricing plan is affordable.
• Easy to use.
• It Offers free trial.
Cons :
• 100 MB maximum file size.
• 2.Ads on the interface.
---
Conclusion
The list of 10 HD video converters mentioned above offers a combination of free and paid options, with the paid ones often providing trial versions. Most of them have similar functions. However, AVCLabs Video Enhancer AI stands apart as it not only alters the video's resolution but also enhances its visual quality when converting to HD. Among the other video converters with comparable features, Any Video Converter stands out due to its extensive functionality and free availability. Ultimately, the best choice varies for each individual, so it's recommended to try them out personally and determine which one suits your needs and preferences the most.
---

Video Converter

DVD Converter

Video Editor

Enhance Video Quality

Enhance Image Quality

Remove Objects