3 Different Ways to Erase Text from Images without Affecting Background
"How do I erase text from an image (to reveal the background)? - u/m72con form Reddit"
Have you ever experienced the frustration of capturing a flawless photograph, only to have its perfection marred by distracting text? Whether it's an obtrusive watermark, an unsightly date stamp, or intrusive signage, unwanted text can significantly detract from an image's visual appeal. If you want to use the image for your own purposes, such as editing, sharing, or printing, you might want to erase the text without affecting the background. Fortunately, there are several effective methods for removing text while preserving the integrity of the background. In this article, we'll explore three effective techniques for achieving this task.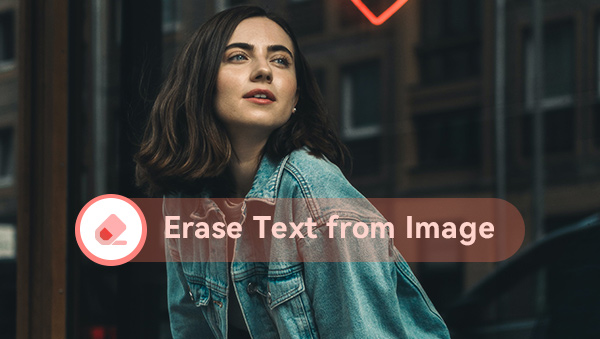 Part 1: How to Effortlessly Erase Text from Images on Desktop? - AVCLabs PhotoPro AI
When it comes to the most powerful and versatile method of removing text from an image, utilizing AI-driven photo editing software is the way to go. These sophisticated programs offer an array of tools and features specifically designed for precise text removal, even from complex backgrounds. One remarkable software in this category is AVCLabs PhotoPro AI. Available for both Windows and Mac platforms, this AI-powered photo editing application streamlines the process of editing images. It provides an assortment of selection tools, such as the brush tool and object selection tool, allowing you to accurately isolate the text you wish to erase.
Key Features of AVCLabs PhotoPro AI
Remove unwanted objects, text, watermarks.
Upscale photos up to 3x, 4x without losing quality.
Enhance photo quality with advanced technology.
Colorize B&W photos to make it come to life again.
Change the style of image to create unique look.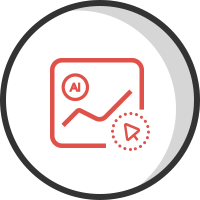 ---
Step-by-step Instructions on How to Erase Text from Images using AVCLabs PhotoPro AI
Step 1
Install AVCLabs PhotoPro AI
Start by downloading AVCLabs PhotoPro AI from the official website. Then run the installer and follow the on-screen instructions to install the software on your PC.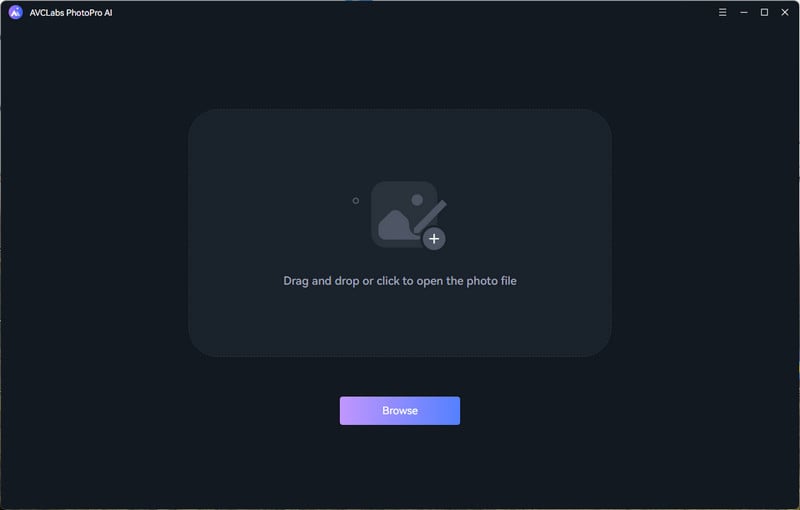 In the software's main interface, upload the image containing the unwanted text. You can do this by either clicking the "Browse" button or simply dragging and dropping the image into the application.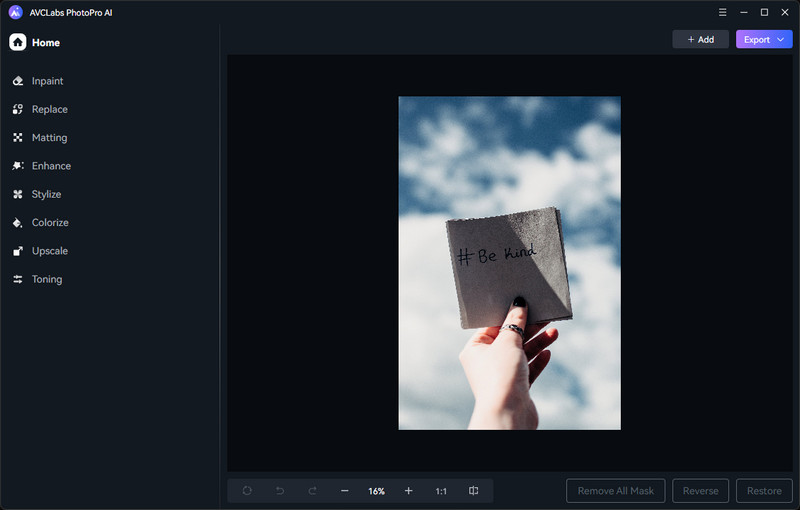 Utilize the selection tools within the software to precisely choose the area containing the text you want to erase.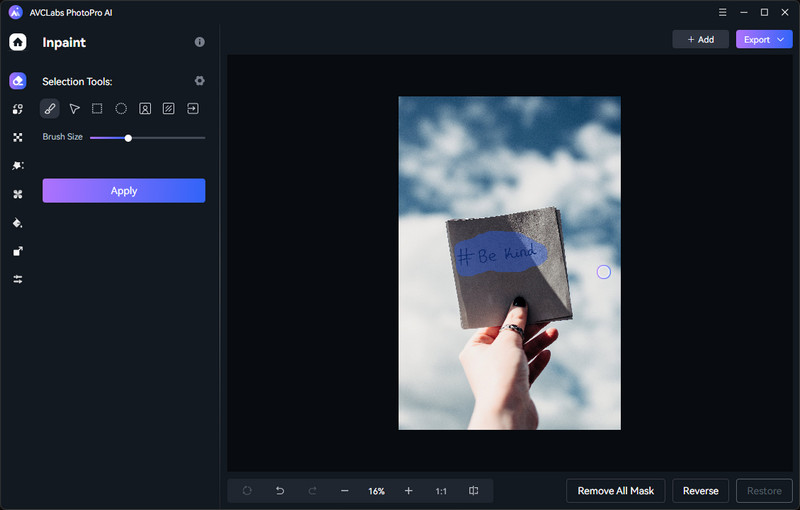 Click the "Inpaint" option and wait briefly as the software automatically erases the selected text. Once you are satisfied with the result, click "Save" to store the edited image in the appropriate folder.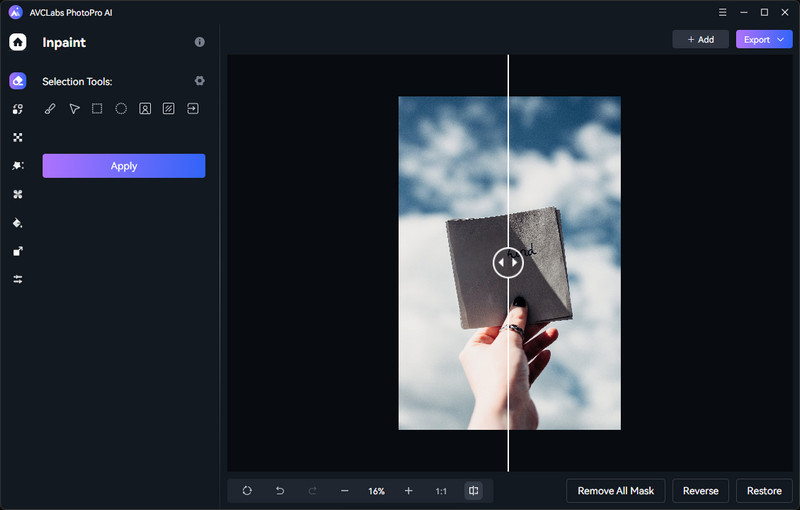 ---
Part 2: How to Remove Unwanted Text from Images Online for Free? - AVC AI
If you are seeking a quick and hassle-free solution for text removal, online editing tools are an excellent choice. These web-based services typically feature user-friendly interfaces and a comprehensive suite of tools tailored for text elimination, making them particularly suitable for beginners. AVC AI, an online platform, offers a wide array of AI-powered features designed to enhance the quality of your photos. What sets it apart is the AI Remover function, which empowers users to erase various elements from their images, including objects, text, watermarks, individuals, and more, all without any detrimental impact on the image's background.
Steps to Erase Text From Images Online for Free with AVC AI
Step 1: Visit AVC AI's website and select the Remove Objects model.
Step 2: Click the Upload Image button or drag and drop your images to the interface.
Step 3: Mark the text area for removal using the red marker tool. You can adjust the marker's size and hardness using the slider on the left.
Step 4: Click the Remove button and wait a few seconds for the tool to process your image.
Step 5: To review the image before and after processing, click the Contrast button in the upper left corner. If you're satisfied with the result, click Export to save your edited image.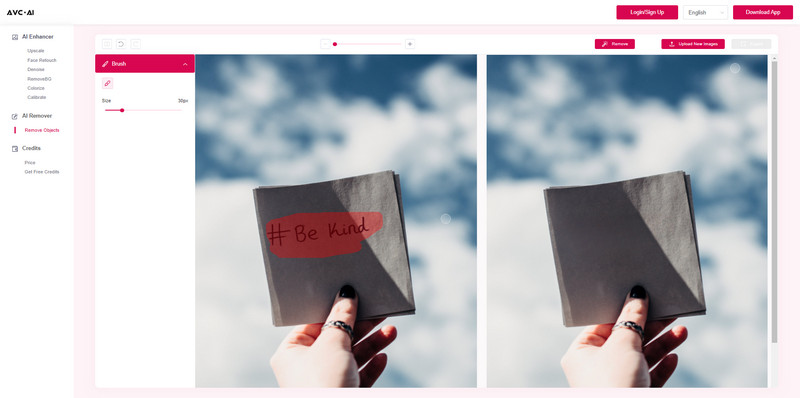 ---
Part 3: How to Delete Text from Images on Your Phone? - TouchRetouch
Mobile app offers a quick and easy way to remove text from images on your smartphone or tablet. TouchRetouch is a powerful and user-friendly mobile photo editing application, offers a comprehensive solution to this issue. TouchRetouch simplifies the process of erasing text from your images directly on your smartphone or tablet. Its intuitive interface, combined with a limited yet effective set of tools, making it ideal for quick edits on the go.
Steps to Erase Text From Images with TouchRetouch
Step 1: Download and install TouchRetouch on your smartphone or tablet from the App Store or Google Play.
Step 2: Open your image in TouchRetouch and tap on "Object Removal".
Step 3: Use brush tool to select the text area that you want to remove.
Step 4: Tap on "Go" and wait for the app to process your image and remove the text automatically.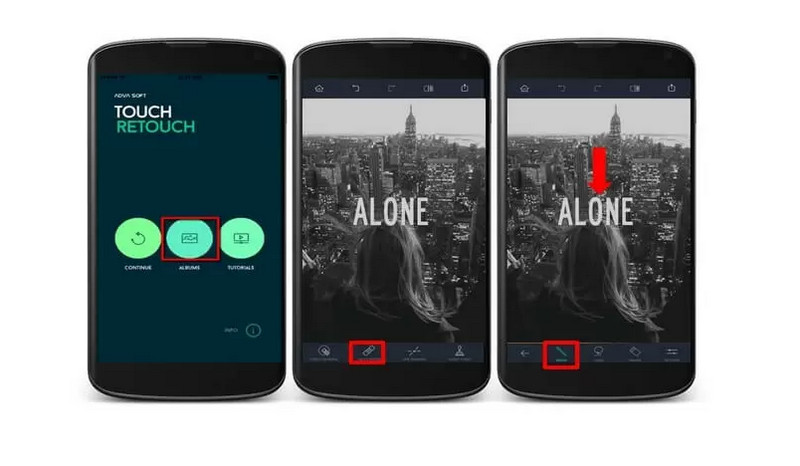 ---
Conclusion
In this article, we have introduced three ways to erase text from images without affecting the background. If you want a quick and easy solution, you can use online tools and mobile apps. If you want more control and precision, you can use desktop like AVCLabs PhotoPro AI. The best way to erase text from image without affecting the background depends on your scenario or preference.
Photo Editing Software Free Download
---

Video Converter

DVD Converter

Video Editor

Enhance Video Quality

Enhance Image Quality

Remove Objects