The Best AI Photo Editors for Every Skill Level and Budget in 2023
AI photo editors have been quietly advancing alongside the headlines-grabbing AI image generators. Nowadays, photo editors seeking improvement and technological evolution are embracing AI technology. These intelligent tools leverage artificial intelligence and machine learning algorithms to automate and streamline the editing process.
Not all AI photo editors are created equal, and the needs of photographers vary widely based on their skill level and budget. Some require simple, user-friendly tools for quick fixes, while others demand advanced features for intricate and professional-grade edits. Recognizing these diverse needs, this article aims to provide a comprehensive guide to the best AI photo editors, catering to every skill level and budget.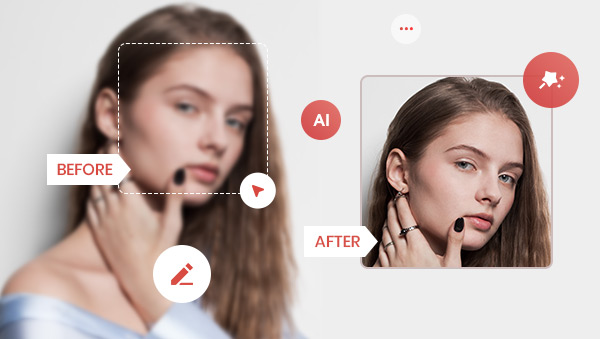 Part 1: Basics About AI Photo Editor
Before delving into the specific recommendations, let's demystify some basic information about AI photo editors.
1.1 What are AI photo editors?
AI photo editors, also known as AI-powered photo editing software, are digital tools that leverage artificial intelligence and machine learning algorithms to enhance, manipulate, and retouch digital photographs. These editors can automatically analyze images and apply a range of adjustments, from color correction and exposure balancing to object removal and style transfer.
1.2 How do AI photo editors work?
AI photo editors work by training on vast datasets of images to learn patterns, styles, and editing techniques. Once trained, they can recognize elements in photographs, such as faces, landscapes, and objects, and make intelligent adjustments based on user preferences and the desired outcome. This technology allows for quicker and more precise editing than traditional manual methods.
1.3 Advantages of using AI photo editors
The adoption of AI photo editors offers several advantages:
Speed and Efficiency: AI-powered editing can significantly reduce the time required for post-processing, making it ideal for busy photographers.
Consistency: AI editors can maintain a consistent style across a series of photos, ensuring a cohesive look.
Accessibility: These tools are accessible to photographers of all skill levels, from beginners to professionals.
Automation: AI editors can automate repetitive and time-consuming tasks, allowing users to focus on creative aspects.
Smart Enhancements: They can intelligently enhance images, fixing issues like underexposure, noise, and red-eye.
---
Part 2: Best AI Photo Editors for Every Skill Level and Budget
2.1 Best AI Photo Editor for Beginners — AVCLabs PhotoPro AI
AVCLabs PhotoPro AI is the best AI-based photo editing software for beginners. Whether you want to remove unwanted objects or backgrounds, enhance photo quality or upscale resolution, colorize black-and-white photos, retouch portraits, or stylize photos with artistic effects, AVCLabs PhotoPro AI can do it for you with just a few clicks. It uses advanced artificial intelligence algorithms to analyze and improve your photos automatically or with minimal input.
What distinguishes AVCLabs PhotoPro AI from other AI photo editors is its level of control. It not only provides one-click editing options but also gives you control over how strong certain edits are and what areas of your image are affected. 
Key Features of AVCLabs PhotoPro AI
Colorize B&W photos to make it come to life again.
Erase background from image with selection tool.
Enhance photo quality with advanced technology.
Remove unwanted objects, people, watermarks.
Change the style of image to create unique look.
Upscale photos up to 3x, 4x without losing quality.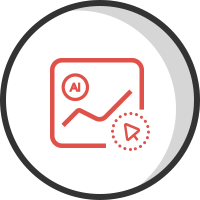 Compatibility: Windows & macOS
Price: Free trial, 39.95 $/ Month, 89.95$/Year, 169.90$/Perpetual
Pros:
• Affordable subscription plans.
• Simplifies photo editing for beginners.
• Offers a variety of AI models for quick adjustments and enhancement.
• Lets users change the intensity of edits and pick particular parts of the image to modify.
Cons:
• Watermarked under free trial.
How to Edit Photo With AVCLabs PhotoPro AI?
Step 1
Launch AI Photo Editor and Upload Image
Download and install AVCLabs PhotoPro AI. Click the Browse button to upload the image you want to edit or drag and drop the file into the program directly.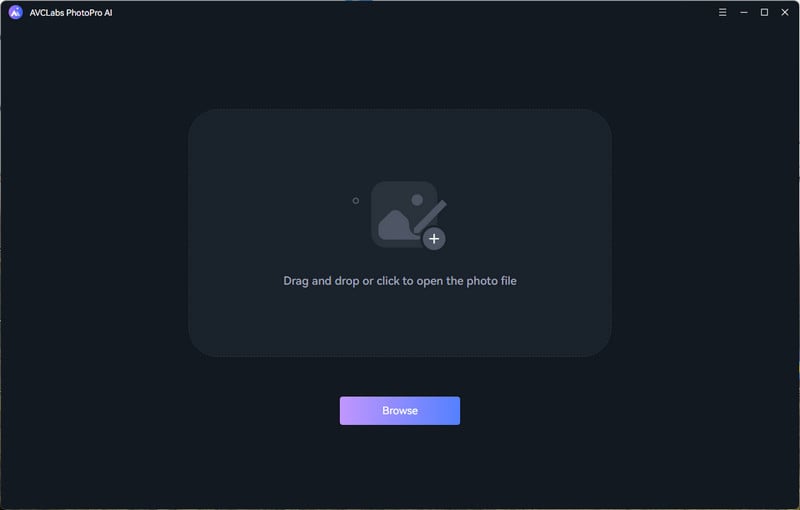 Step 2
Select the Part You Want to Edit
Edit Specific Parts: This AI photo editor provides 6 convenient selection tools. Depending on your needs, you can pick the tool that suits you best to choose the specific area you want to edit. These selection tools work with a left-click to select and a right-click to erase approach, allowing you to make adjustments as you go along.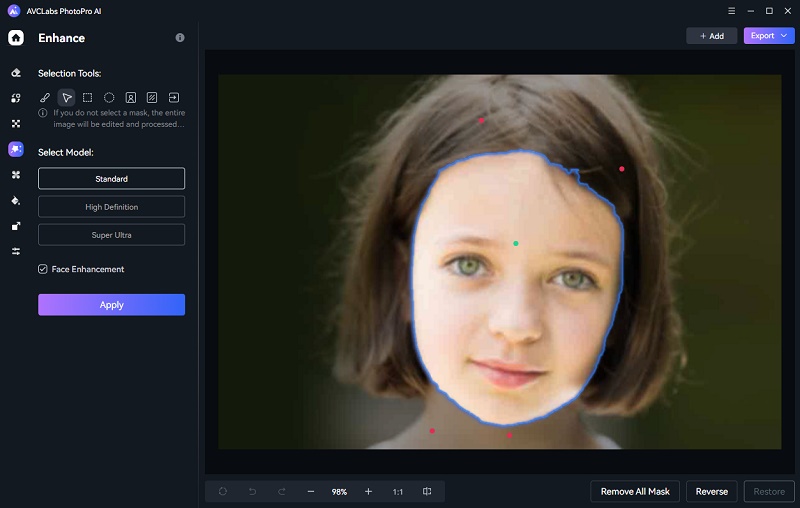 Once you have selected the desired part of the image, you can apply the AI feature located at the top of the program.
When using Inpaint AI or Matting AI, the process always starts with making a selection. For other AI features, you can choose between editing only part of the image or the entire image, depending on your preferences. (Please note: Upscale can only be applied to the entire image.)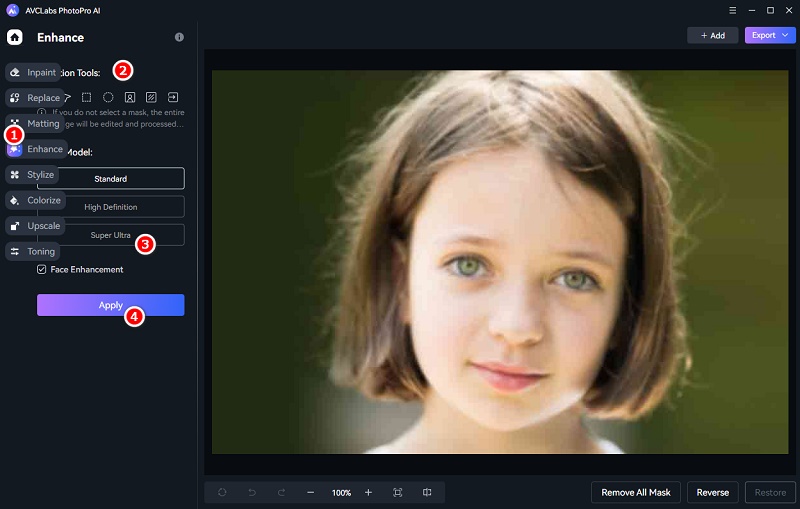 After the process is finished, you can contrast the before and after effects. Finally, you can download the edited image or save it as a mask. Let's see some examples:
1). Enhance Quality
2). Upscale resolution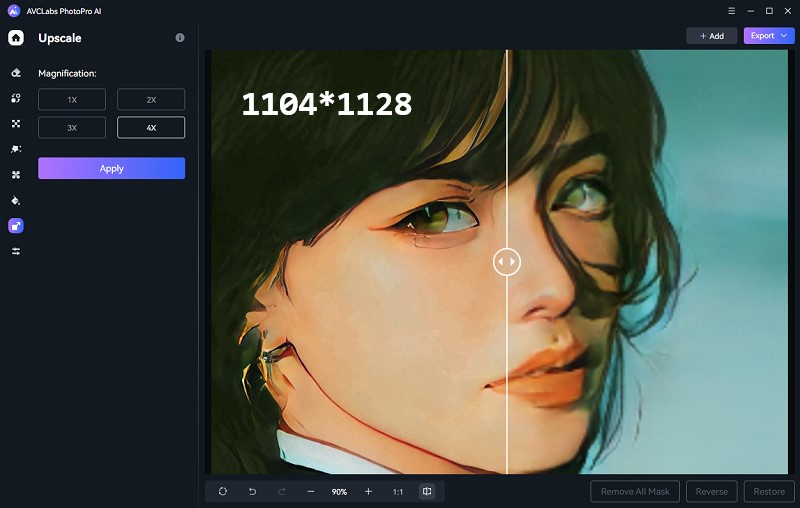 3). Coloriz B&W Photo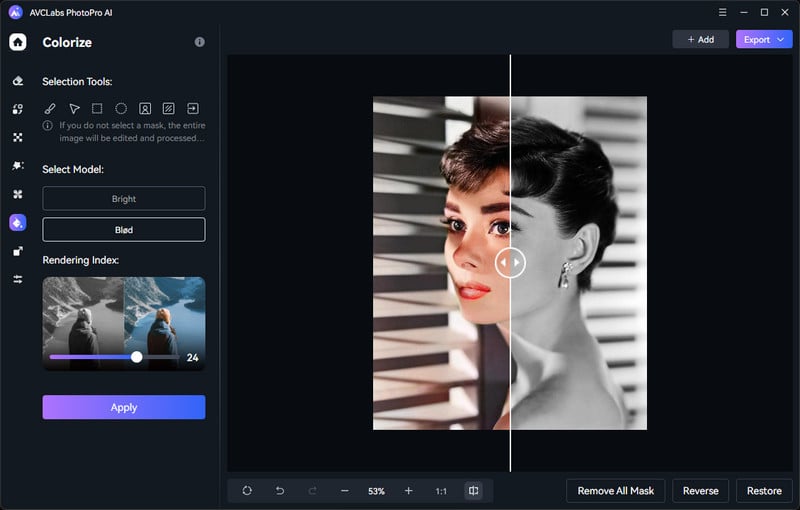 ---
2.2 Best Free Online AI Photo Editor — AVC.AI
AVC AI is an online AI photo editor that supports batch processing. Powered by artificial intelligence, it can automatically identify and rectify various imperfections in your photos, including the removal of skin blemishes, watermarks, and unwanted objects using Inpaint technology. It also enhances lighting and color balance. What sets this tool apart is its unique utilization of seven AI models: Upscale, Face Retouch, Denoise, Remove BG, Colorize, Color Calibrate, and Remove Object. These models can be used individually or combined.
This online AI photo editor is particularly well-suited for beginners looking to simplify photo editing without breaking the bank. While it operates on a credit system, both new and existing users can utilize it to process multiple images for free without any limitations. New users receive an initial allocation of free credits upon login, and both newcomers and long-time users can partake in various activities to earn additional credits in the future. So, in a way, this tool is completely free.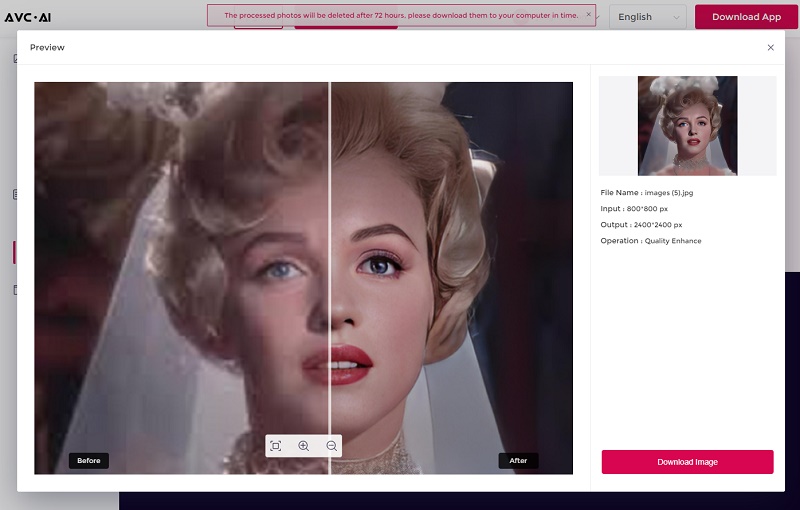 Compatibility: Web-based (Also mobile-friendly)
Price: Free credits, 100 credits -9.95$/Month, 300 credits- 25.95$/Month, 500 credits-39.95$/Month, Custom.
Pros:
• Completely free to use.
• Supports batch processing.
• Ideal for quick edits and sharing on social media.
• No software downloads or installations required.
Cons:
• No control over the edited areas and intensity of the model.
---
2.3 Best Full-featured AI Photo Editor for Professional-Level Editing — Adobe PhotoShop
Adobe Photoshop is widely regarded as the industry standard for professional-level photo editing, and its integration of AI features has only solidified its position as the best full-featured AI photo editor for professional-grade editing. With constant updates, it now has many AI features that help users edit images more efficiently. Here are some of the AI features in Photoshop that you can use now:
Generative Fill: This is an advanced iteration of the content-aware fill feature. Powered by machine learning AI, it generates image segments or even complete composite photos with minimal effort. For instance, you can choose a specific area in your image, and describe the desired replacement in a text prompt, and Generative Fill will seamlessly create the replacement, meticulously matching lighting, perspective, color, and shadows for a stunningly realistic result by analyzing each pixel of an image.
Resize and Extend the Photo: You can easily resize or extend photos while preserving their original appearance using Generative Fill. The AI generates intricate details and extends content seamlessly to maintain the image's current look and even generate the none-existed par.
Removing Object and Background swapping and more: Remove objects naturally with the Spot Healing Brush Tool, try different backgrounds in seconds, apply unique artistic styles with the AI Style Transfer,etc.
With an extensive array of advanced tools and capabilities, Photoshop caters to the needs of photographers, graphic designers, and visual artists.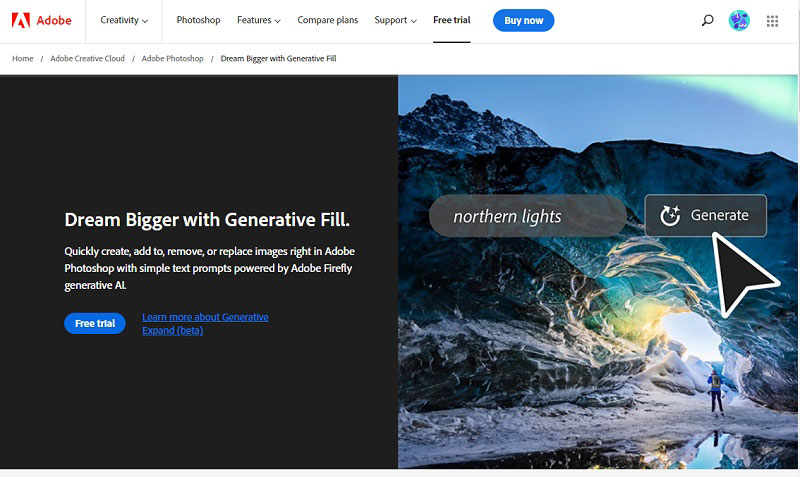 Compatibility: Windows, macOS, iPad
Price: Photoshop Plan- 20.99$/Month, Photography Plan (Ps+Lr) -19.99$/Month, All Apps Plan - 54.99$/Month
Pros:
• Unparalleled editing control and customization.
• Suitable for a wide range of photography genres.
• Extensive community support and tutorials.
• Integration with other Adobe creative software.
Cons:
• Substantial learning curve, especially for beginners.
• Higher price point compared to other editors.
• May require a powerful computer for optimal performance.
---
2.4 Best Design Platform With an AI Photo Editor — Canva
Canva is a versatile design platform that includes an AI photo editor, making it the top choice for those seeking an integrated design solution with powerful editing capabilities. While it primarily focuses on graphic design, Canva's AI-driven photo editing tools are robust and user-friendly, catering to a wide range of creative needs.
Canva's AI features include:
Magic Edit: Brush over a specific area in your image and either add something new or replace it using a text prompt. While it shares similarities with Photoshop's Generative Fill, the results produced by Canva's Magic Edit may not always be completely satisfying.
Magic Eraser: All AI photo editors recommended in this article support erasing clutter and removing backgrounds.
Auto Adjust: Automatically detects the foreground and background and allows you to adjust each of these areas independently.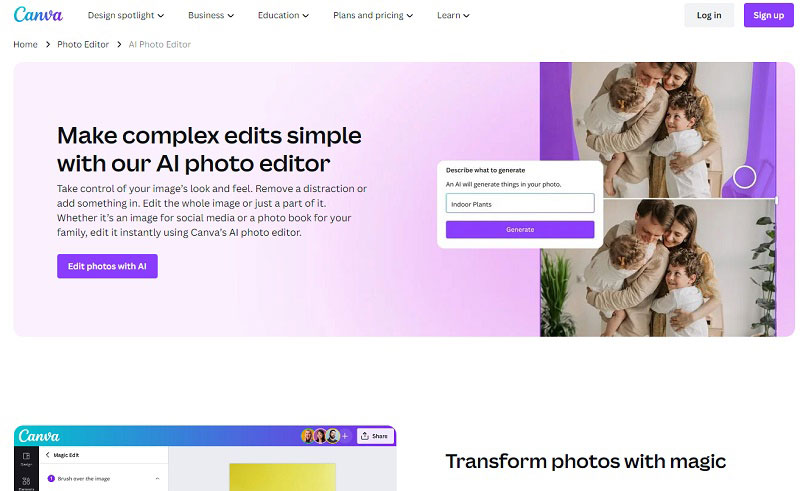 Compatibility: Web, iOS, Android
Price: Free with limited access to AI tools, Pro - 14.99$/Month for one person, Team - 29.99$/ Month for the first 5 people
Pros:
• Great for both photo editing and graphic design.
• Suitable for businesses, marketers, and content creators.
• Offers a wide range of design templates.
• Streamlines the design and editing process.
Cons:
• May lack some advanced photo editing features found in dedicated editors.
• Free version has limitations, with premium features requiring a subscription.
---
2.5 Best Mobile AI Photo Editor — Fotor
Fotor is a versatile AI photo editor app that offers a comprehensive suite of features, including photo editing tools, a design maker, and a photo collage maker. Its AI functions encompass a range of capabilities such as One-Tap Enhance, AI Magic Remove, AI Retouch, AI Background Remove, AI Enlarger, and AI Art Effects.
With Fotor, you can perform tasks like cropping, resizing, retouching, sharpening, denoising, colorizing, and stylizing your photos by applying various filters, effects, frames, stickers, text, and more. Additionally, the app empowers you to create diverse visual content like collages, posters, cards, banners, logos, and social media posts through its design templates and layouts.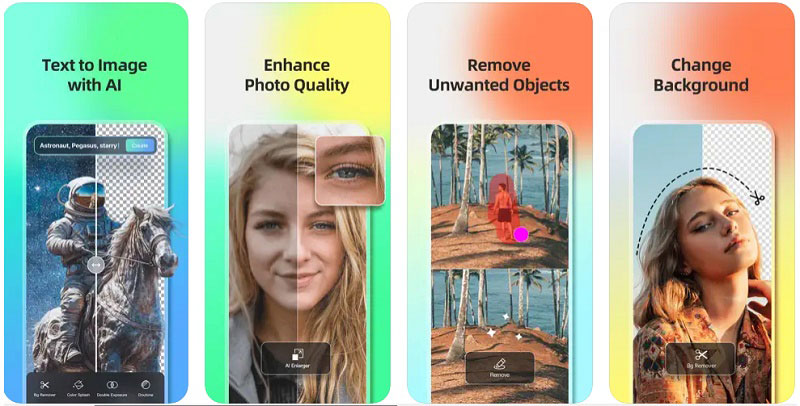 Compatibility: Web, iOS, Android
Price: Free with limitations, $0.99 - $99.99 per item
Pros:
• Comprehensive features.
Cons:
• Around 60% of the tools and features aren't available in the free version
---
Part 3: Additional Resources
To further explore AI photo editing and refine your skills, here are some recommendations for online communities and forums for photo editing enthusiasts:
1. DP Review: a website for all photography-related questions, including information regarding camera gear, tips for beginners, advanced technique advice, and more.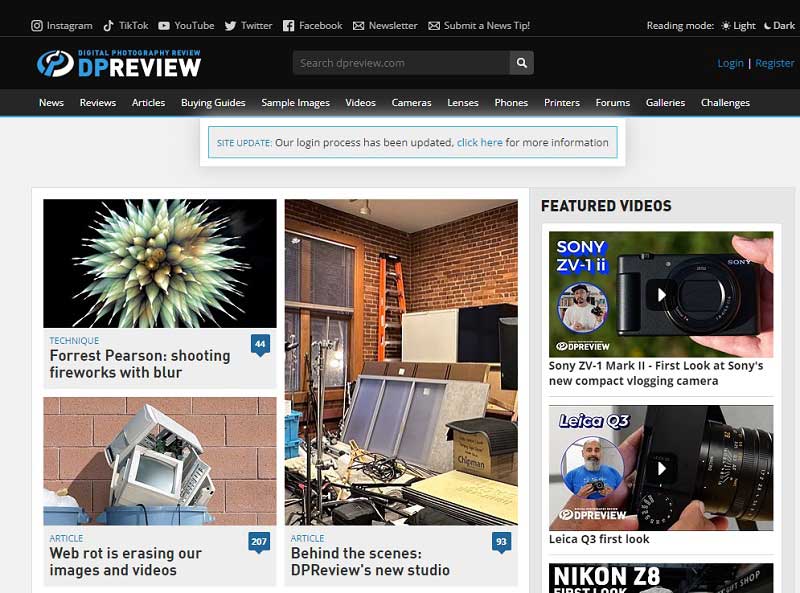 2. Light Stalking: a website that offers articles, guides, and tutorials for photographers of all levels.
3. Photography Forum: a website designed to answer all your photographic questions, an ideal place to get tips and advice.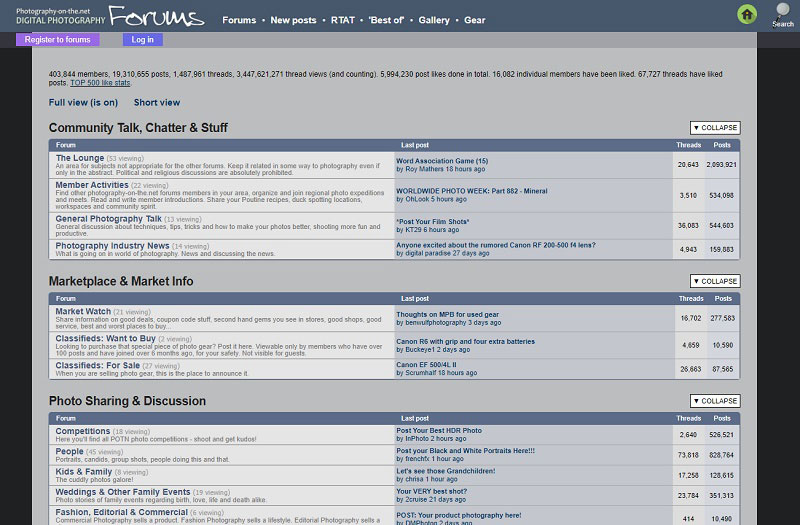 ---
Final Words
Determining the best AI photo editor depends on various factors, including your skill level, budget, specific editing needs, good results, and effective and intuitive experience. While there isn't a one-size-fits-all solution, the ideal editor should strike a balance between ease of use, affordability, and advanced features. After reviewing this article, choose the one that suits you best and try it now.
---
Highly Recommended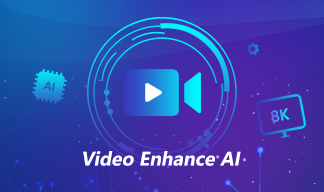 AVCLabs Video Enhancer AI
AVCLabs Video Enhancer AI is an AI-based video enhancement software to upscale video from 480p to 1080p, 1080p to 4K, and up to 8K. With AVCLabs Video Enhancer AI, you can upscale low-res videos to high resolution and bring your old videos a stunningly new look.
Read More