Black and White Image Converter: How to Convert Images Between Color and Black & White
Photography and image manipulation have become an integral part of our lives. People capture moments, express emotions, and convey messages through the art of visual storytelling. While the world is awash with vibrant color images, there's a timeless allure to black and white imagery.
Colorful and black-and-white images have their own merits, and this article will introduce you to how to transform images from color to monochrome with the black-and-white image converter, and how to colorize them with image colorizer.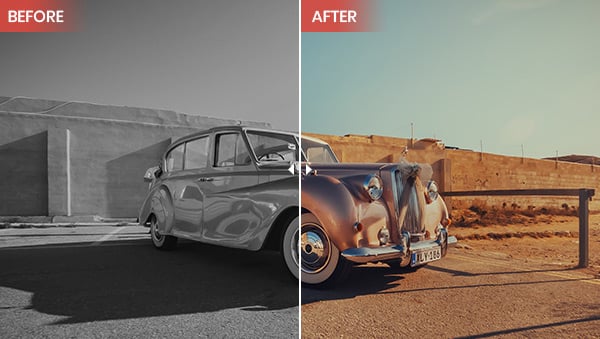 Part 1: How to Convert Images to Black and White?
1. Automatic Black and White Image Conversion Online for Free
There are numerous online tools available for converting color images to black and white for free. Most of these tools utilize preset mono filters to achieve this transformation. Typically, when you upload a color image to a black-and-white image converter online, the conversion is performed instantly, ensuring a fast and efficient process. However, a top-tier converter offers a more versatile experience, and among them, Canva is an option that is worth trying.
Canva, a renowned online design platform, also provides a range of photo editing features. Some of these features can be used without any limitations, including the capability to convert images to monochrome. Canva offers six different mono filter options, allowing users to adjust the intensity to their preference.
To convert images to black and white using Canva, follow these steps:
1. Upload the image file to Canva, then drag and drop the image onto the layout.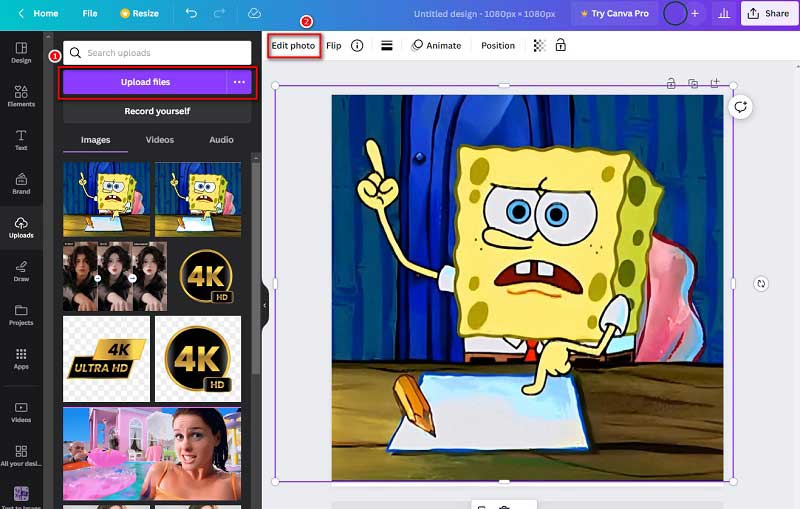 2. Select the image and click on Edit Image in the toolbar
3. Go to Effects->Filters, and scroll down to find Mono. Here, you can select a filter and fine-tune the intensity.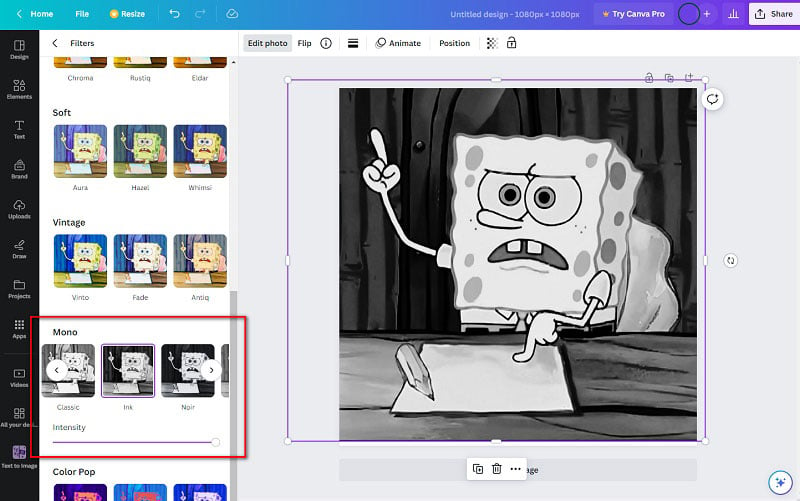 4. Finally, click the "Share" button and opt to "Download" to save the newly converted image to your local disk.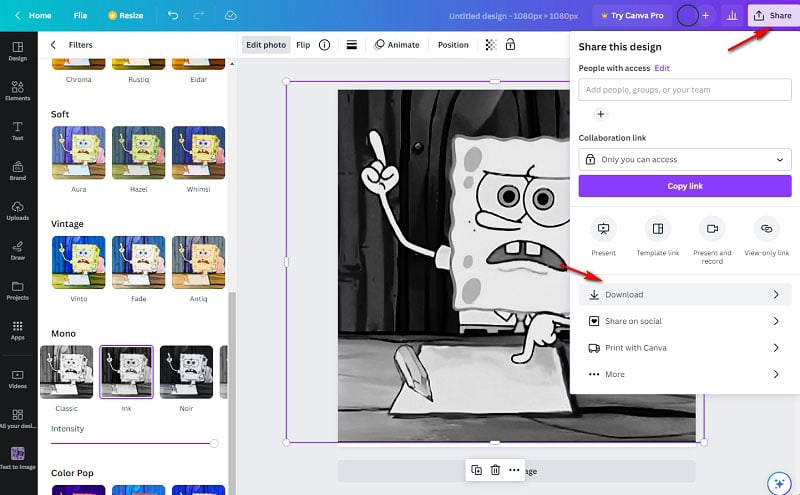 ---
2. Maul Black and White Image Converter
A different approach to converting an image into black and white is by fine-tuning various parameters such as contrast, brightness, exposure, and HSL (Hue, Saturation, and Lightness). Most photo editing software applications, including Photoshop, Lightroom, and Snapseed, offer this functionality.
The advantage of using this method for black-and-white image conversion lies in the high level of control it provides. You can tailor the image precisely to your preferences. However, it's important to note that this process demands more time and may require some experience in photo editing, especially if you aim to create more intricate and advanced black-and-white images.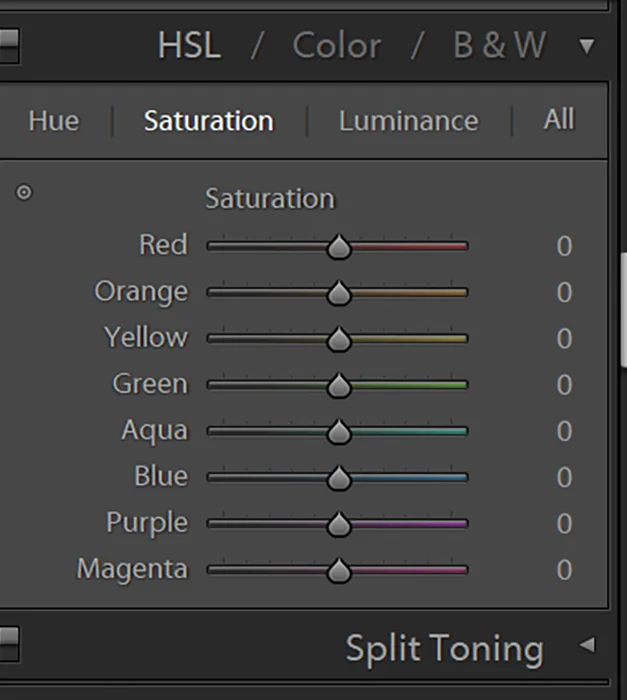 ---
Part 2: How to Convert Black and White Images to Color with AI?
Converting a black-and-white image into color poses a more complex challenge compared to the process of rendering it into grayscale. Typically, achieving this transformation requires harnessing the capabilities of AI technology. AVCLabs PhotoPro AI is a versatile black-and-white image converter that excels in both tasks.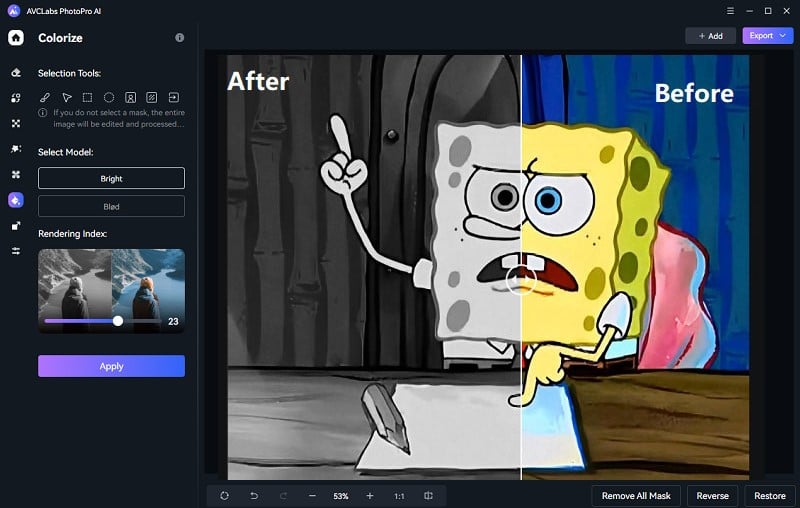 On one hand, it facilitates the conversion of images to monochrome by allowing users to adjust critical parameters like brightness, saturation, and contrast. On the other hand, it boasts an AI Colorize model that simplifies the colorization process with just a few clicks. What sets this software apart from other AI image colorizers is its incorporation of quick selection tools. Users can choose to colorize entire images or selectively recolor specific segments. Additionally, it empowers users to fine-tune the rendering index, enabling the creation of vibrant images tailored to individual preferences.
Key Features of AVCLabs PhotoPro AI
Colorize B&W photos to make it come to life again.
Erase background from image with selection tool.
Enhance photo quality with advanced technology.
Remove unwanted objects, people, watermarks.
Change the style of image to create unique look.
Upscale photos up to 3x, 4x without losing quality.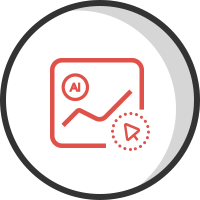 Stpes to Colorize Black-and-White Images with AVCLabs PhotoPro AI
Step 1
Upload the Black and White Image
Download and install AVCLabs PhotoPro AI, which is available for free with a trial period. Once installed, launch the software and select your black-and-white image. You can do this by clicking the "Browse" button and choosing the image or simply dragging and dropping it into the program.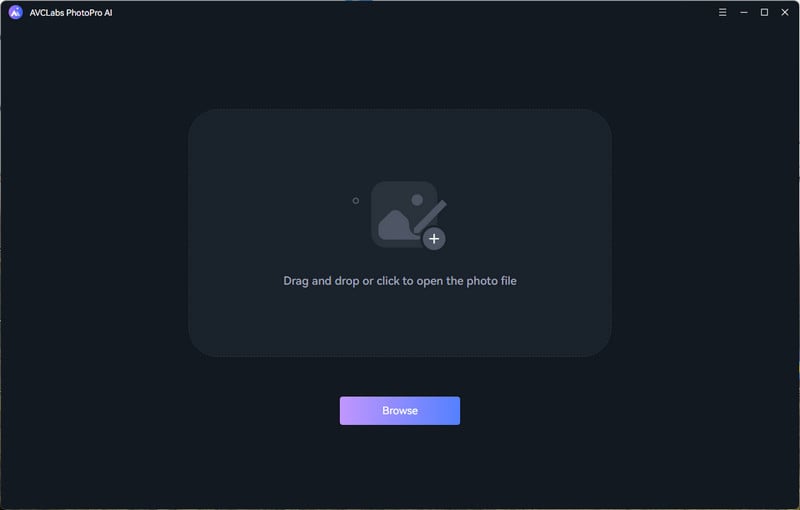 Colorize only part of the image: If you want to add color to a specific part of your image, use the selection tools on the left side to choose the area you want to colorize. Select the Colorize model and adjust the rendering index to your desired level. Then, click the "Apply" button to begin the coloring process.
Colorize the entire image: Directly apply the Colorize model. It's recommended to start with the default rendering index, but you can adjust it higher or lower if needed to achieve your desired result.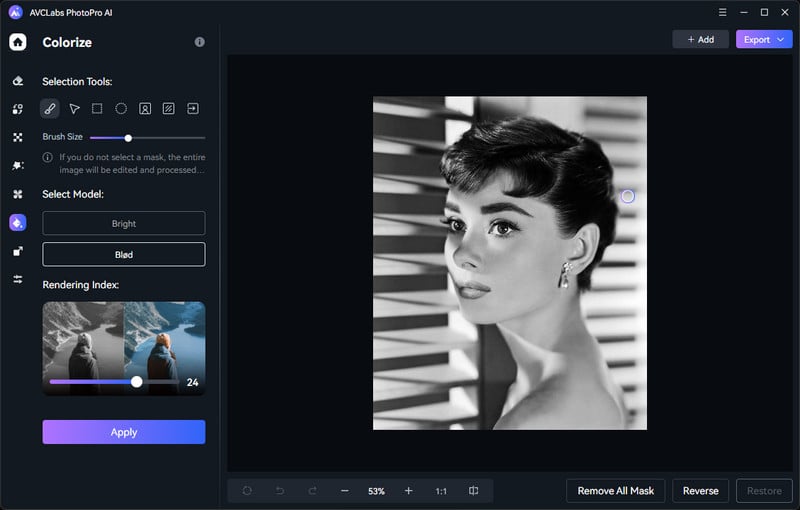 Step 3
Preview and Save the Colorized Image
Once the colorization process is complete, you'll see both the original black-and-white image and the newly colorized version side by side. To save your colorized image, click the "Save" button and choose your preferred location on your computer to download the files.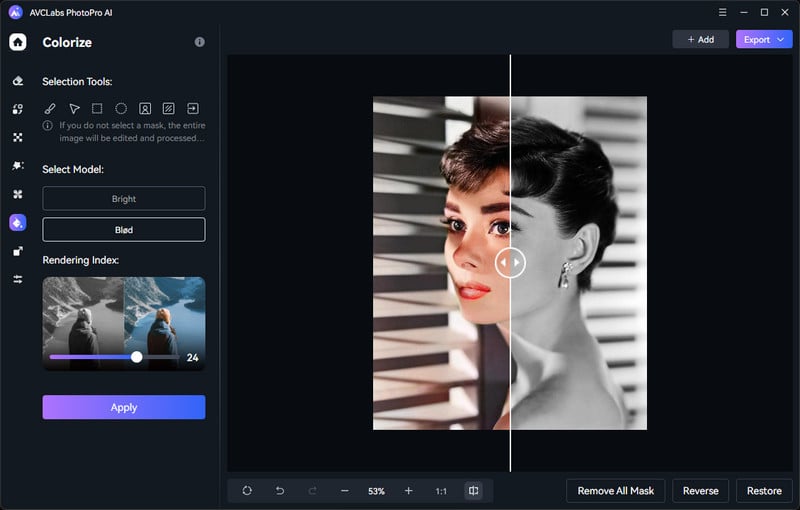 Video Tutorial: How to Colorize an Image?
---
Bonus: How to Convert Black and White Video to Color?
Converting black and white videos to color might seem impossible, but thanks to AI technology, it's now quite achievable. AVCLabs Video Enhancer AI is the software that can help fix various video quality issues. It uses advanced algorithms and deep learning to intelligently add color to old black-and-white videos, enhance resolution, sharpen images, correct blurriness, and even change video frame rates. They offer a free trial, so if you want to improve your home videos or restore old footage, give it a try.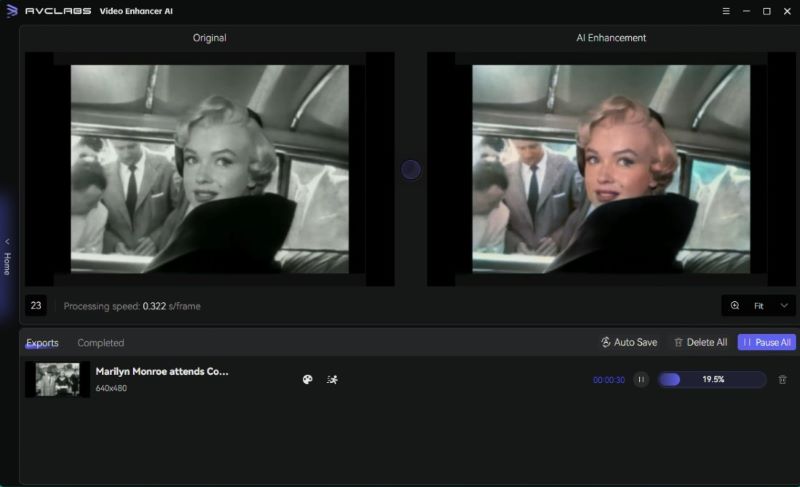 ---
Conclusion
Now, you've learned how to effortlessly switch between color and black & white. This article has discussed multiple conversion methods, catering to your preference for user-friendly online tools or precise manual adjustments. If you're looking for a versatile black-and-white image converter, consider giving AVCLabs PhotoPro AI a try. It not only converts images to monochrome but also streamlines the colorization process, making it a valuable tool to explore.
Download and Try AI Black and White Image Converter For Free
---
Highly Recommended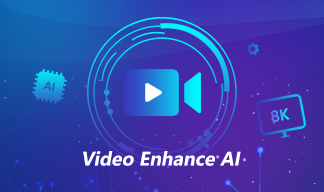 AVCLabs Video Enhancer AI
AVCLabs Video Enhancer AI is an AI-based video enhancement software to upscale video from 480p to 1080p, 1080p to 4K, and up to 8K. With AVCLabs Video Enhancer AI, you can upscale low-res videos to high resolution and bring your old videos a stunningly new look.
Learn More


Video Converter

DVD Converter

Video Editor

Enhance Video Quality

Enhance Image Quality

Remove Objects