6 Best Websites to Watch Cartoons Online Free in High Quality
Cartoons or animes are not only designed for children but are a popular form of entertainment for people of all ages. They can be funny, heartwarming, and educational. Watching cartoons online is a cost-effective way to relax and unwind, or to bond with your children. There are many websites that offer free streaming of cartoons. However, not all of them offer high-quality video or a wide selection of cartoons. This article will list the best websites to watch cartoons online for free and in high quality.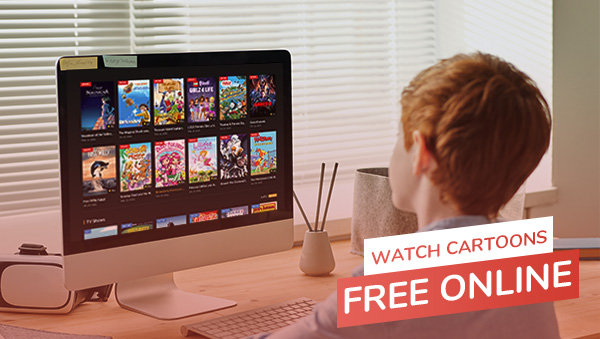 Part 1: Copyright Reminder
The legality of watching cartoons online for free hinges on several factors, such as the specific website you're using, your geographic location, and the copyright regulations applicable in your region. Generally, viewing copyrighted content, including cartoons, without the copyright holder's permission is considered illegal. However, there are exceptions to this rule. For instance, it is legally permissible to watch cartoons that fall into the public domain category. The public domain encompasses works that are no longer protected by copyright.
Furthermore, some websites provide free cartoons under legal agreements with copyright holders. Nonetheless, it is essential to exercise caution as not all websites offering free cartoons are operating within the bounds of the law. Some of these platforms may be engaged in piracy and could host copyrighted content without the proper authorization from the copyright holders.
---
Part 2: Free Websites to Watch Cartoons Online in HD
The following websites are accessible at the time of writing, but the possibility that they may lapse and shut down later cannot be ruled out.
1. WCO.tv
WCO, short for Watch Cartoons Online, is a leading and freely accessible platform found at the top of Google's rankings that offers a wide selection of cartoons to choose from, including dubbed anime, cartoons, subbed anime, movies, and Ova series. Each category list has a built-in search bar, providing three search methods to help users quickly locate the cartoon they want to watch, namely, by initials, full name, genre, and applicable age. Different from other free websites that are full of annoying ads, WCO has a very clean and straightforward interface. Although there may be some ads on the right side of the play interface, these can be blocked. It's worth noting that these ads are a part of how the website sustains its free services.
Watching cartoons on WCO doesn't require you to log in unless you want to support this free website and hide ads.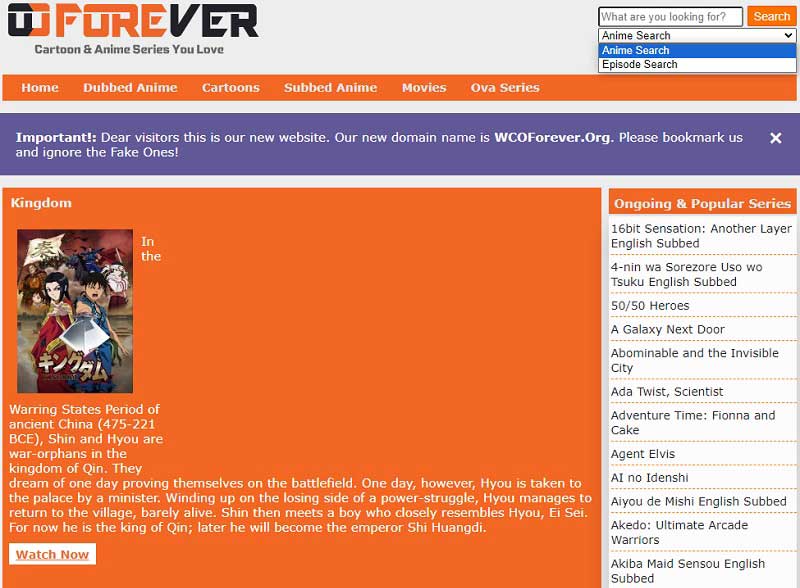 Available Quality: SD or HD.
Play Settings: Adjustable playback rate, full screen or picture-in-picture playback, adjustable picture quality.
---
2. GOGOAnime
GoGoAnime is another website to watch cartoons free online. Its layout and UI design are similar to WCO, but it stands out with an appealing design featuring cute anime figures. This website categorizes the available anime into an Anime List, New Seasons, Movies, and Popular, with each category quickly locatable by first letter. There is also a search bar located at the top for users to search by the full name of the cartoons they desire.
What distinguishes GoGoAnime from other free anime platforms are several features. Firstly, it supports video playback and downloads in resolutions ranging from 360p to 1080p, providing users with flexibility. Additionally, it allows users to switch between different playback servers. However, it's important to note that this platform does not offer the option to adjust the playback speed. Users should exercise caution when navigating the site, as clicking on a blank space may inadvertently redirect to a new page.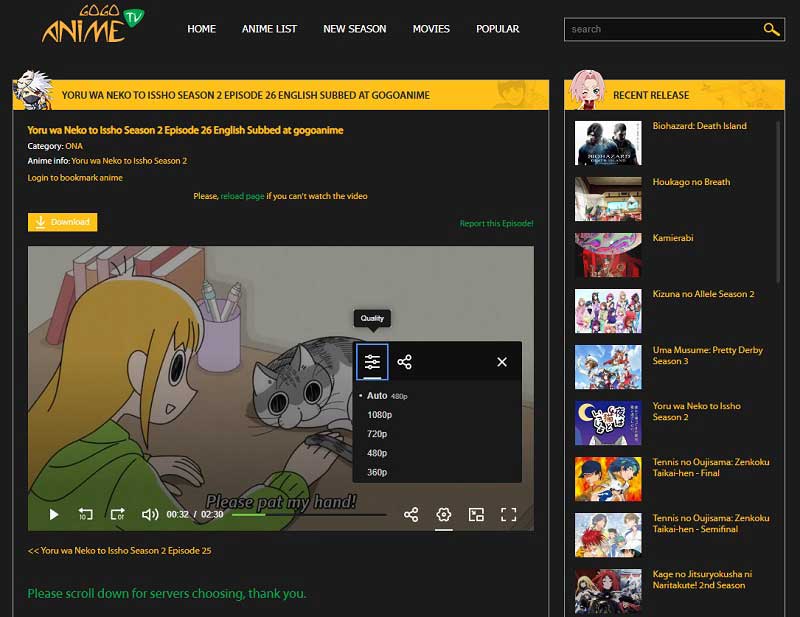 Available Quality: 360p, 480p, 720p, 1080p.
Play Settings: Full screen or picture-in-picture playback, adjustable picture quality, cartoon download options.
---
3. KissCartoon
KissCartoon is a specialized platform with an extensive collection of cartoons. This website offers search functionality exclusively by the full name of the cartoon. Like GoGoAnime, KissCartoon permits users to change the server. However, it lacks information regarding the resolution of the playing cartoon and does not provide an option to adjust the resolution. Additionally, there is no support for altering the playback speed.
Notably, the website features a portal to KissAnime at the top, which may be more renowned than KissCartoon. KissAnime is an anime streaming website that offers free access to anime episodes and movies. It boasts a vast library of anime titles, encompassing both new releases and classics, spanning various genres and languages. While it has been hailed as "one of the world's biggest streaming anime websites," it primarily appears to emphasize Japanese anime, as indicated by its homepage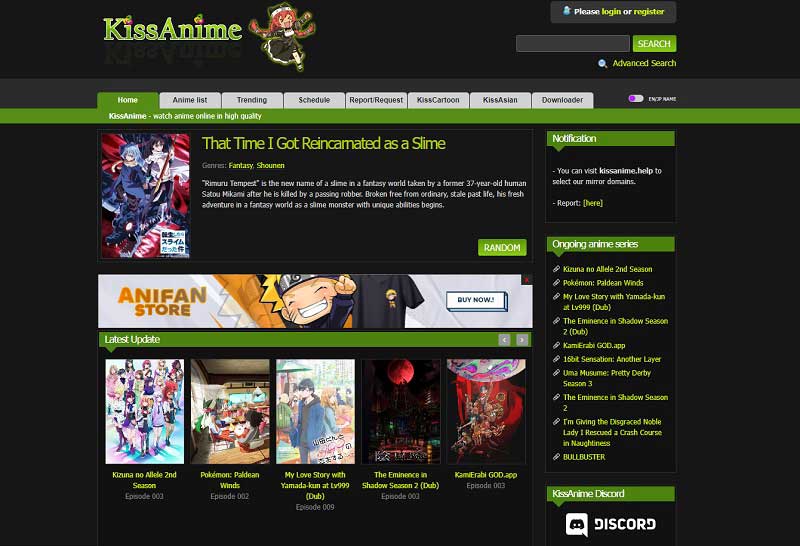 Available Quality: No option to choose a different resolution, but it looks like in high-resolution.
Play Settings: Full screen and picture-in-picture playback.
---
Part 3: Safer Websites to Watch Cartoons Online in HD
1. YouTube
YouTube, a renowned and widely-used video-sharing platform, offers users the opportunity to watch, upload, and share a diverse range of videos. It stands as one of the most popular websites globally, boasting an impressive user base of over 2 billion active individuals. Basically, you can find all types of videos on YouTube, cartoons are no exception. It is an excellent resource for free online cartoon streaming. Numerous cartoon studios and individuals upload complete series and compilation videos to YouTube, ensuring a wide variety of content. Users can quickly find matching cartoon channels and videos with ease. And it offers a user-friendly watching experience that often surpasses other websites.
For those seeking a clean and safe environment for children to watch cartoons and other videos, YouTube proves to be a suitable choice. YouTube Kids provides a controlled and child-friendly setting, making it easier for parents and caregivers to supervise their children's online experiences.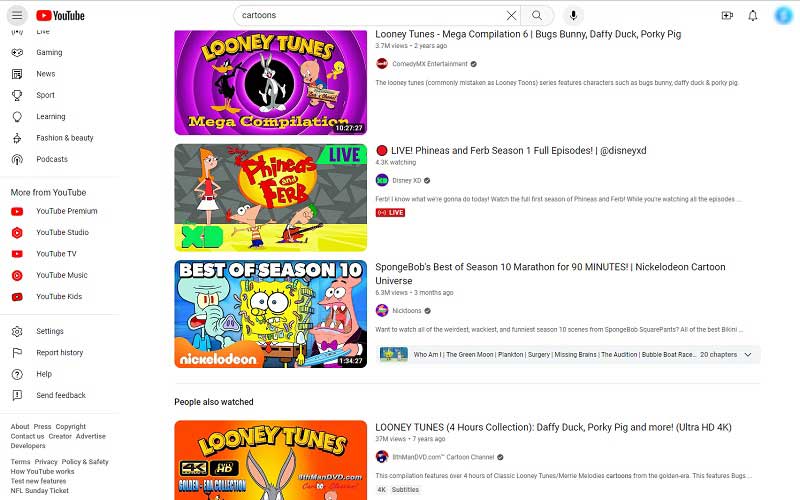 ---
2. Bilibili
Bilibili, established in 2009, has transformed into a significant Chinese online entertainment and video-sharing platform. It initially focused on anime and manga content but has since diversified its offerings, emerging as a prominent hub for animation, gaming, and various subcultures within China. Similar to YouTube, Bilibili hosts content from both cartoon studios and individual creators, including complete cartoon series. It goes beyond this by providing a wealth of anime resources from different countries that are licensed by the respective copyright holders.
Typically, Bilibili allows users to watch the first three episodes of an anime for free, with membership required for continued access. Regular users can enjoy quasi-HD videos after logging in, while members have the privilege of viewing content in 1080p, including high-bitrate videos. Occasionally, Bilibili offers the opportunity to watch entire anime series completely free for a limited time, enriching the viewing experience for its diverse user base.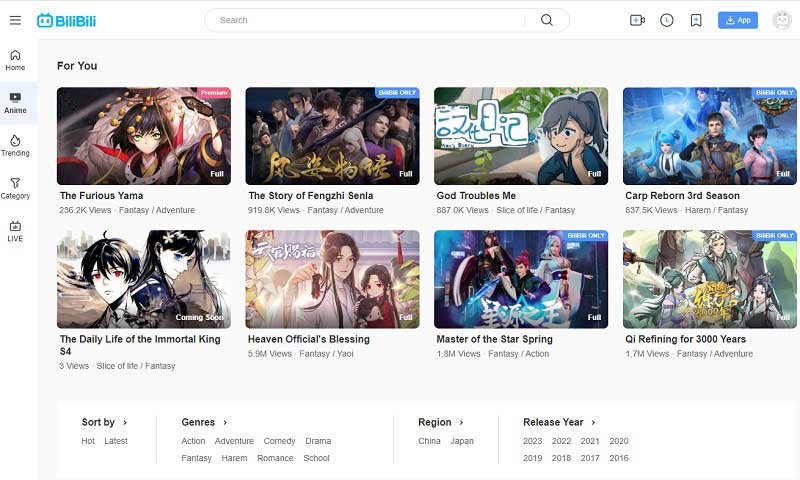 ---
3. Crunchyroll
Crunchyroll is a popular online streaming platform that specializes in anime, manga, and East Asian content. Launched in 2006, it has become a leading destination for anime enthusiasts around the world. Crunchyroll offers a vast library of anime series, manga titles, and East Asian dramas, making it a go-to source for fans of these genres.
Crunchyroll operates on a freemium model, which means it offers both free and premium subscription options. The free version provides access to a wide range of anime and manga content, but it comes with certain limitations. Free users may experience ads during their viewing, and they may have to wait longer for the latest episodes, which are typically available to premium subscribers first. Premium subscriptions, on the other hand, offer an ad-free experience, earlier access to new episodes, and additional benefits. Users can choose the option that best suits their preferences and budget.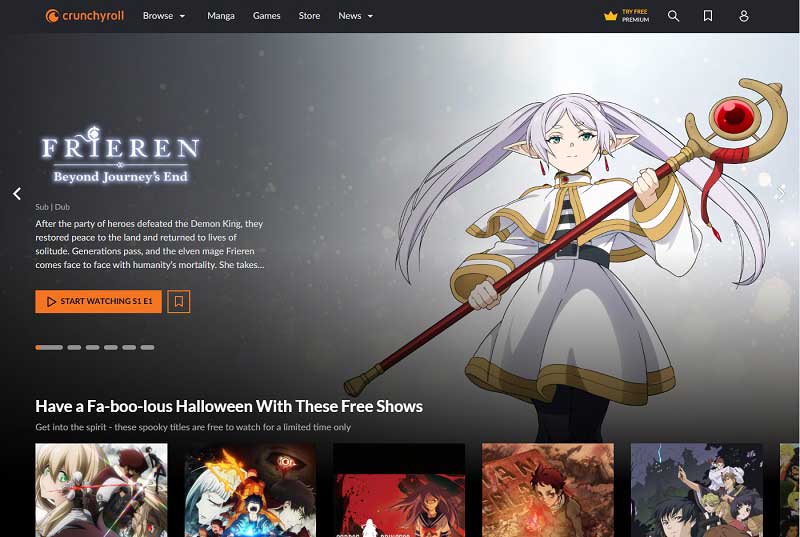 ---
Part 4: How to Download Online Cartoons/Videos for Free
Apart from watching cartoons online, downloading them for offline viewing is a popular choice due to its convenience in providing a seamless and uninterrupted experience, free from buffering and lag. However, most online free websites do not support this feature, with only a few exceptions.
Fortunately, there are tools like Any Video Converter, a free and efficient solution for downloading online videos, converting between file formats, and editing videos. This tool supports video downloads from a wide array of websites, including popular platforms like YouTube, Facebook, and Vimeo, allowing users to save videos as video-only, audio-only, or videos with audio. Furthermore, Any Video Converter excels in handling batch downloads of 4K videos, offering significant time savings for users working with multiple files. What you users need to do just copy and paste the link, choose output settings, and start the downloading process.
Features of Any Video Converter
Download videos and music from 100+ sites
Compress video size without losing quality
Convert videos to higher resolution
Convert videos or images to GIFs
Cut or trim a video into segments
Crop video file to delete unwanted portions
Adjust audio volume and add audio effects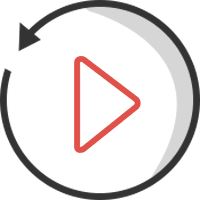 Steps to download Online Cartoons/Videos with Any Video Converter
Step 1
Download and Launch Any Video Converter
Download Any Video Converter and launch it. Then click the Video Download option.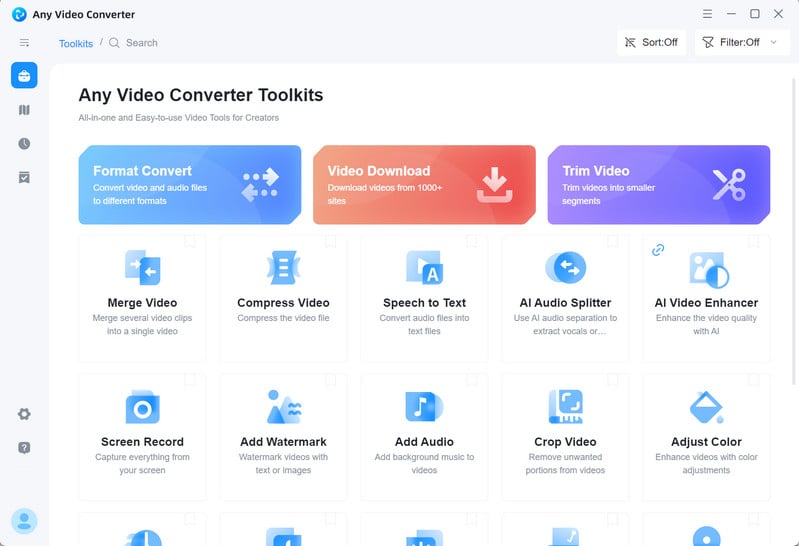 Step 2
Copy and Paste the Links (Take YouTube As an Example)
Copy the video URL from the browser's address bar and paste it into the dialogue box.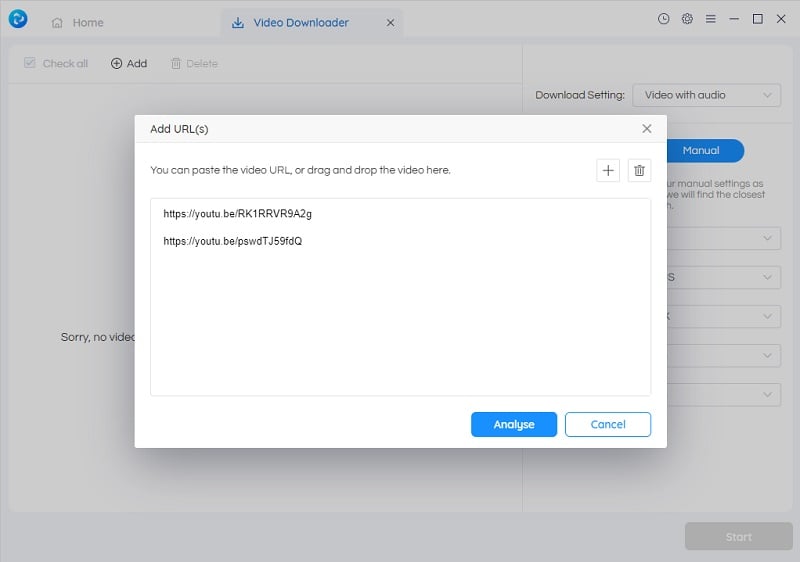 Step 3
Configure Downloading Settings
In the Download Setting drop-down menu, you can choose whether to download the video with audio or opt for video or audio-only downloads. Your choice here will impact the parameters that need adjustment. For instance, if you select video with audio, proceed to manually set the output video format (MP4, WEBM), audio format (M4A, OPUS, MP3), as well as resolution, video bitrate, and audio bitrate. Note that the maximum resolution available depends on the source video's highest resolution.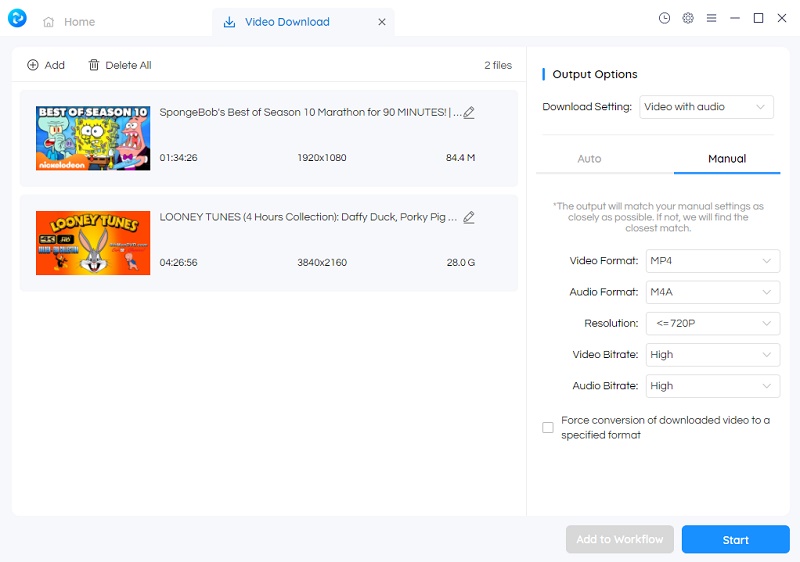 Step 4
Start Downloading Online Cartoons
Once all the settings are complete, click the Start button to download cartoons.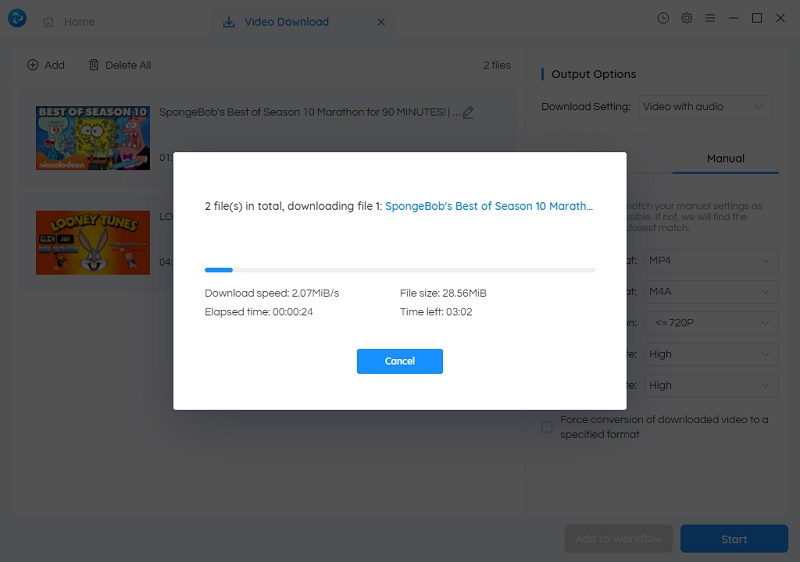 ---
Bonus: How to Increase the Quality of Cartoons with AI
Some classical cartoons produced long ago or downloaded from websites that lack HD quality support, may suffer from subpar viewing and downloaded quality. However, thanks to technological advancements, there's a straightforward method to enhance the quality of these older or low-quality cartoons.
AVCLabs Video Enhancer AI, as its name suggests, is AI-powered software designed to address various video-quality issues. It can effectively remove blurriness, colorize black-and-white videos, restore facial details in blurry videos, create slow-motion effects, and upscale videos to higher resolutions, such as 4K or even 8K. What sets this software apart is its user-friendliness, making it suitable for beginners without any video editing expertise. While it's not available for free, it does offer a trial version that allows users to enhance three videos at no cost.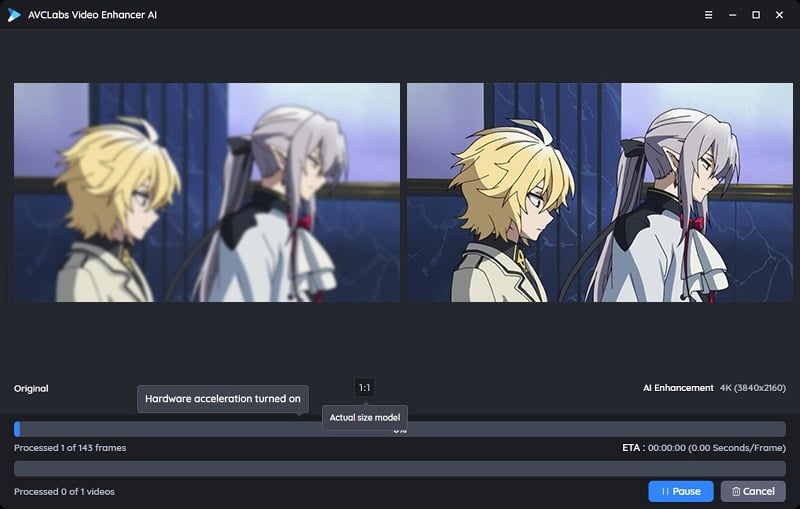 AVCLabs Video Enhancer AI
Stabilize shaky videos without efforts.
Sharpen faces from blurry video.
Upscale videos from SD to HD, HD to 4K.
Convert video to 60, 90 and even 120 FPS.
Colorize B&W videos to make revive again.
Support GPU & TensorRT acceleration.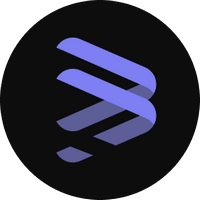 Video Tutorial: How to Increase the Quality of Downloaded Cartoons
---
Conclusion
Online cartoon streaming offers a fantastic way to revisit your favorite childhood memories. Our list of the best websites to watch cartoons online for free in high quality gives you a valuable resource to indulge your inner child. The first three platforms offer entirely free cartoon streaming services, although not all content may possess proper copyright permissions. On the other hand, the last three sites are more secure, but certain animations may require a membership purchase. If your budget permits, it's advisable to opt for the official websites for an enhanced viewing experience. Always prioritize legal and safe platforms while enjoying your cartoons.
Download Online Cartoons for Free
---

Video Converter

DVD Converter

Video Editor

Enhance Video Quality

Enhance Image Quality

Remove Objects