Unlocking the Secrets: 14 Best Tools to Remove Watermark on Photos without PhotoShop
Are you tired of watermarks spoiling your perfect photos? Look no further! Instead of complex software like Photoshop, here curate a comprehensive list of the 14 best tools available that can effectively remove watermarks from your images. Whether you're a professional photographer, a social media enthusiast, or simply someone who wants to preserve the integrity of the pictures, these powerful tools will come to your rescue. Say goodbye to distractions and hello to watermark-free images!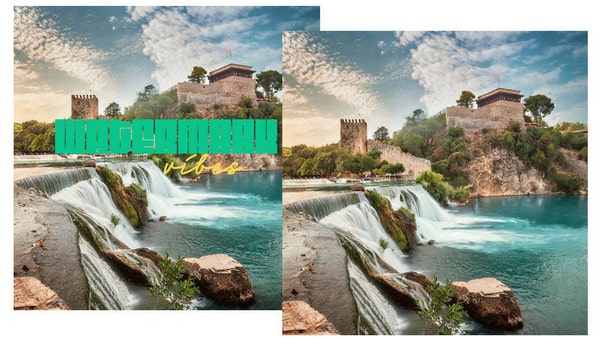 Part 1: Best Online Tools to Remove Watermark
If you're looking for a hassle-free solution to remove watermarks from your photos, online watermark removal tools are your best bet. These tools are specifically designed to streamline the process and deliver fast results. They are incredibly convenient, as they can be accessed from any device with an internet connection. Here are some recommended options to get you started.
1. AVC.AI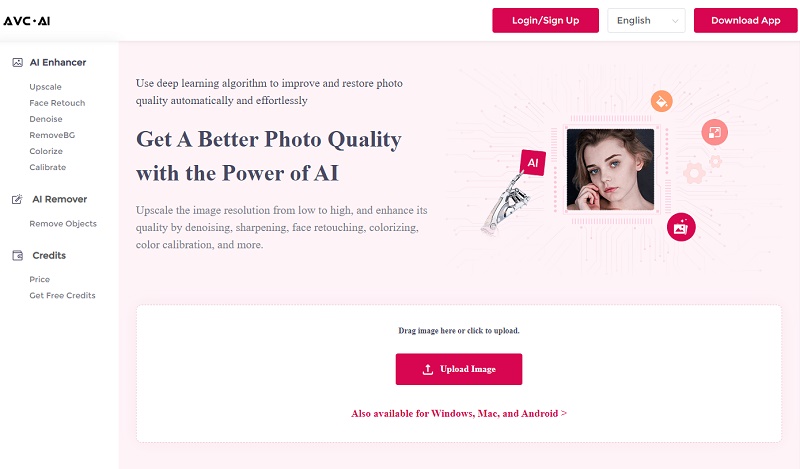 AVC.AI is an amazing online tool that allows you to effortlessly remove unwanted objects from your photos. With the power of AI technology, it quickly and effectively removes watermarks or any other elements you wish to eliminate. Not only that, but it also has additional features like reducing digital noise, correcting color and white balance issues, enhancing sharpness, and fixing dark corners. This tool ensures that your photos have natural color rendition and high levels of detail.
The best part is that it's completely free to use and doesn't require any registration. You can easily upload your image on the website (https://avc.ai/remove-objects), select the area you want to remove, and click the "Remove" button. Then you will get your photo watermark-free. You can then export and download the watermark-free photo to your Android/iOS phone or computer. It's as simple as that!
Key Features
* Completely Free
* Does not require registration
* Compatible with popular image formats
* Supports removing watermark&unwanted objects on photo
* Fast and efficient
---
2. Online Watermark Remover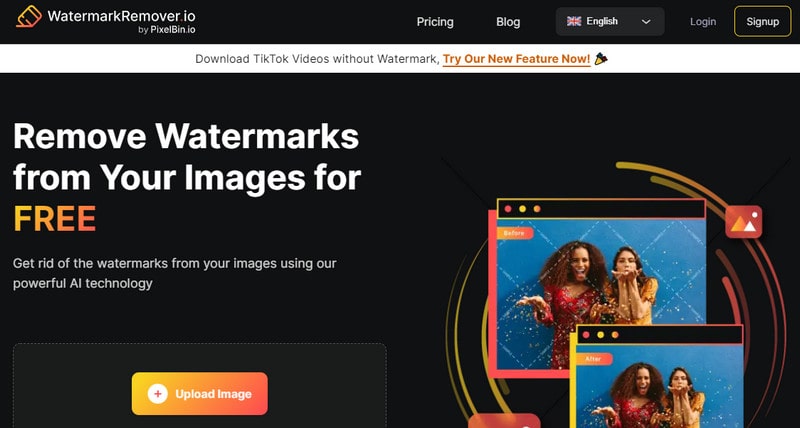 This convenient web-based tool provides users with a seamless way to remove watermarks from their images, all without the hassle of installing any software. It can be accessed from any device connected to the internet, making it easily accessible for everyone. The tool supports various image file formats, including JPG, PNG, BMP, GIF, and TIFF, ensuring compatibility with a wide range of images. Furthermore, there is a free trial version available, allowing users to remove watermarks from a limited number of images before deciding whether to make a subscription purchase.
Key Features
* Online tool
* Wide range of image formats
* Simple and user-friendly interface
* Watermark removal
* Limited number of images for free trial

---
3. PicWish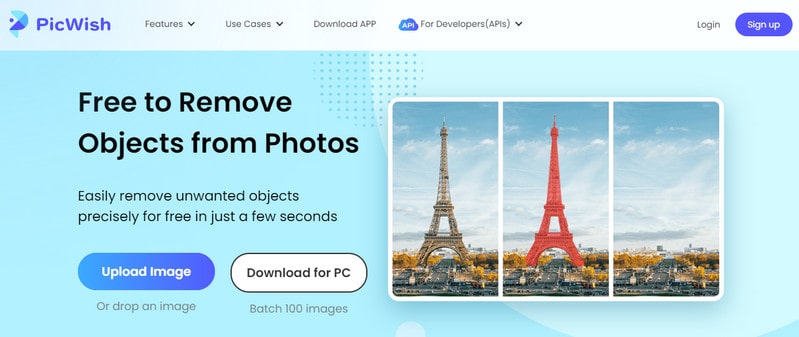 PicWish is an online platform that empowers users to effortlessly edit their photos by removing undesired objects or elements, including Instagram Reel watermarks. Accessible from any internet-connected device, simply upload your pictures and utilize the tools available on our website to remove unwanted objects with ease. The platform incorporates advanced features like artificial intelligence and advanced algorithms, ensuring a seamless and efficient object removal process.
Key Features
* Online tool
* Watermark removal
* Advanced algorithms and Artificial Intelligence
* User-friendly interface
* Need to register an account to download the processed image

---
Part 2: Best Apps to Remove Watermark
Here are some of the most popular apps available for removing watermarks from photos on both mobile phones and computers. These apps are designed to help you restore the beauty of your photos effortlessly. With these convenient tools, removing watermarks has never been easier.
1. AVCLabs Photo Pro AI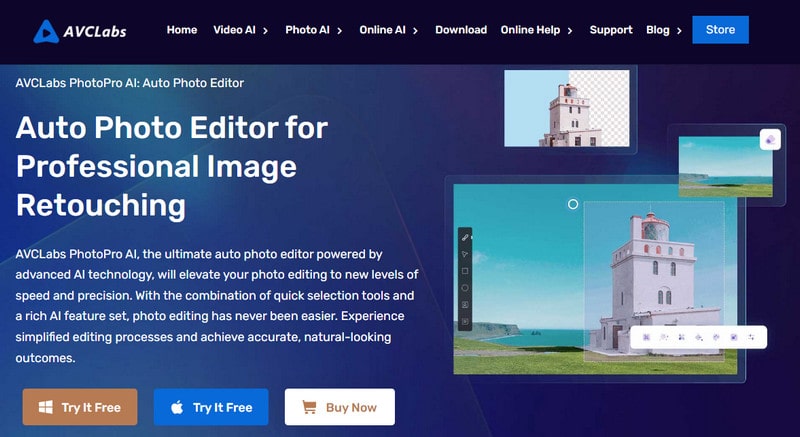 AVCLabs Photo Pro AI is a photo AI editing tool that utilizes advanced AI technology to provide a wide range of professional photo editing features. Among its capabilities include removing unwanted elements and backgrounds from photos, enhancing image quality, boosting photo resolution, colorizing monochrome images, retouching portraits, and stylizing photos.
Key Features
* Remove unwanted watermark from photos
* Reduce unwanted noise and graininess in photos
* Enhance image sharpness and improve clarity
* Increase image resolution to 2x, 3x, 4x
* Remove blemishes, wrinkles, and unwanted objects from photos

---
2. InShot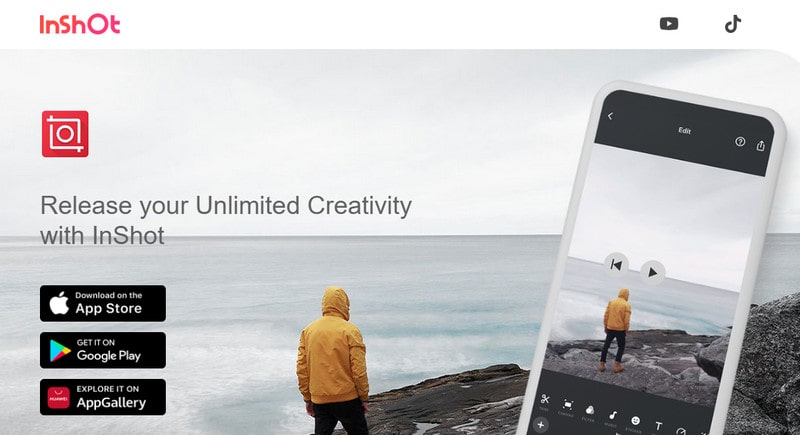 InShot is an incredibly popular photo and video editing app that you can easily download on your Android or iOS smartphone. This app is designed to be user-friendly, allowing you to effortlessly edit your photos and videos directly on your mobile device. One standout feature of InShot is its ability to remove watermarks from photos, which is perfect for those who want to share their creations on popular social media platforms like Facebook, Instagram, and YouTube. With InShot, you can enhance your media and make it ready for sharing.
Key Features
* Video editing
* Photo editing
* Social media support
* Text and stickers
* Video and Photo Ratio

---
3. Remove & Add Watermark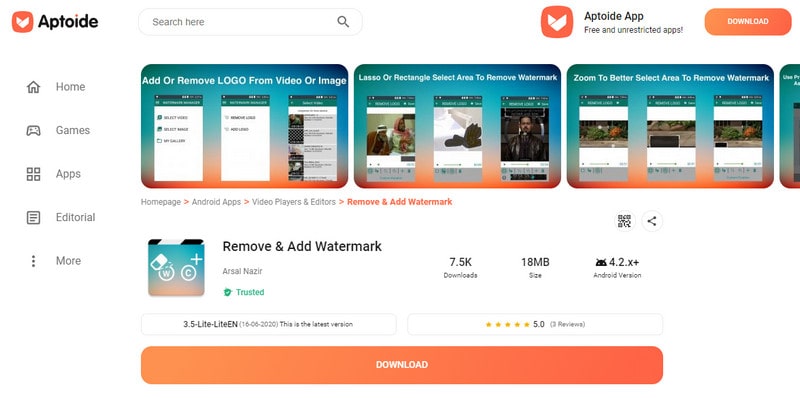 Remove & Add Watermark is a convenient app available for installation on Android devices. It empowers users to effortlessly add or remove watermarks from their images and videos. You can access the app through third-party app stores like Aptoide. With its user-friendly interface, the application allows users to easily remove watermarks by selecting the specific area of the image or video where the watermark is located. Additionally, the app provides a Watermark Manager feature, enabling users to add their own watermarks to their media. This feature can be useful for branding purposes or protecting their content.
Key Features
* Watermark removal
* Watermark addition
* Support multiple file formats
* User-friendly interface
* Fast processing

---
4. Photo Retouch-Object Removal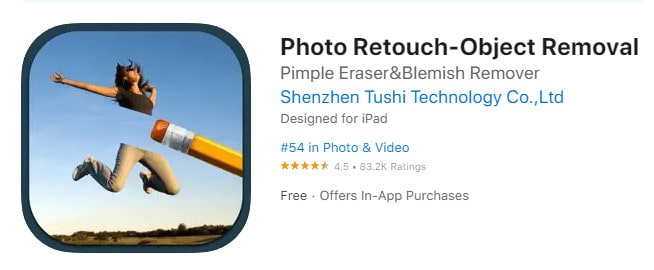 With the watermark remover feature of this app, you have the incredible ability to easily and manually remove watermarks from your photos. All you need to do is use the object remover tool and simply drag your finger over the watermark you want to eliminate. The app will work its magic and seamlessly remove the watermark for you, leaving your photo looking clean and watermark-free.
Key Features
* Very simple to use.
* Simply paint the items you want to remove, and touch run erase.
* Remove unwanted people.
* Remove unsightly pimples.
* Clean up the perfect shot.

---
5. PicLab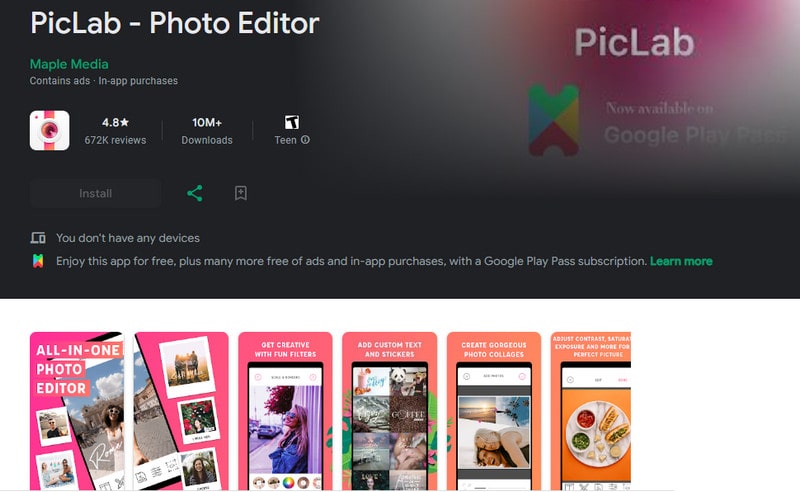 PicLab is a highly regarded photo editing app available for both Android and iOS devices. With its user-friendly interface and a wide range of features, it provides a seamless experience for removing watermarks from images. Whether you're on Android or iOS, PicLabs offers numerous options to effectively remove watermarks from photos.
Key Features
* Use the crop function to edit out the watermark from the image.
* Create collages of your memorable photos.
* Offers 20 different photo filters.
* Beautiful combination of stickers using the robust app.

---
6. TouchRetouch
With TouchRetouch, you can effortlessly clean up your images and remove watermarks from your photos. Using its advanced object removal feature, TouchRetouch intelligently detects the shape of the watermark and effectively removes it. From lines to intricate patterns, TouchRetouch's edge-aware object removal can seamlessly eliminate any unwanted elements from your entire photo.
Key Features
* Remove unwanted objects
* Line removal
* Photo retouching in a click
* Crop and edit photos
* Magic color correction
---
7. AirBrush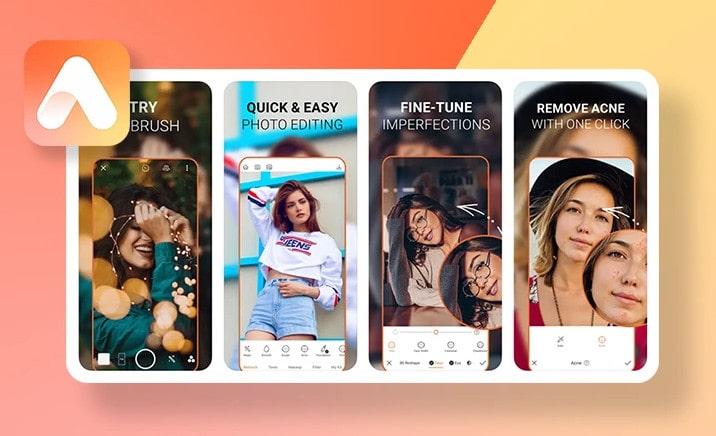 The Erase tool in AirBrush is a fantastic feature that allows you to easily highlight and remove any unwanted watermarks from your photos. The app itself has a clean and user-friendly interface, making it a breeze to navigate. While the watermark remover isn't automatic, you can still utilize the app to touch up your photo and achieve the desired results. It only takes a minute to familiarize yourself with the tool and start using it effectively.
Key Features
* User-friendly interface
* Let users edit the selfie using real-time editing tools before taking the picture.
* Can eliminate unwanted spots on people's face.
* Free of charge for Android and iOS smartphones.

---
8. Facetune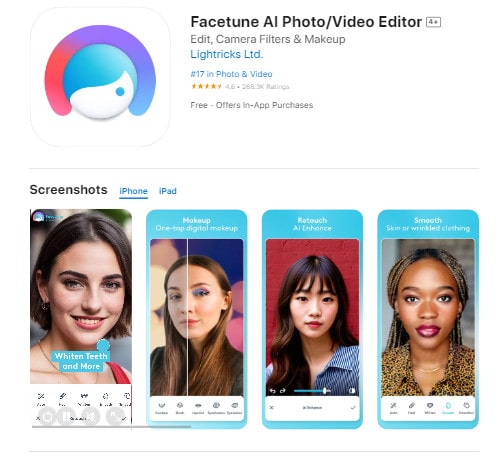 Facetune is a fantastic selfie app that also offers an object removal feature, which can come in handy for removing watermarks that may obstruct your face in photos. While it's worth noting that Facetune's object removal feature may not be as advanced as some other apps, it still provides a useful solution. It's important to mention that certain features within Facetune may require a payment to access. Nonetheless, it remains a popular choice for enhancing selfies and removing unwanted elements from your photos.
Key Features
* Clean up your photos from unwanted objects.
* Remove people from photos.
* Remove text and distracting elements from images.

---
9. Snapseed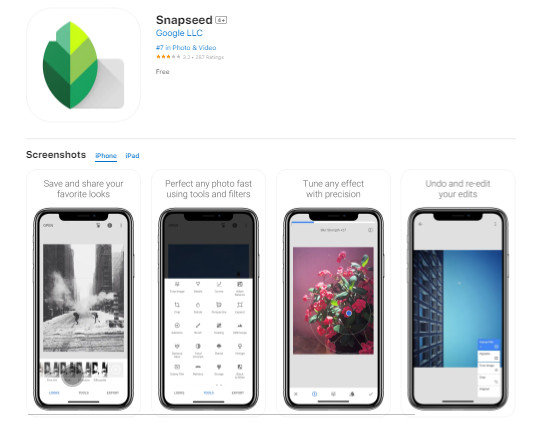 Snapseed is a fantastic app that offers a wide range of editing tools, including helpful tips and tricks for removing watermarks and accomplishing various tasks. While it provides more advanced editing options compared to other apps, it may not offer the same level of AI detection for certain tasks. Nonetheless, Snapseed remains a powerful tool for enhancing your photos and exploring creative editing possibilities.
Key Features
* Selective filter brush to remove all the blemishes and flaws from the picture.
* Compress the image in high quality and can convert it to JPG.
* Expand the frame of the image.

---
10. PhotoRoom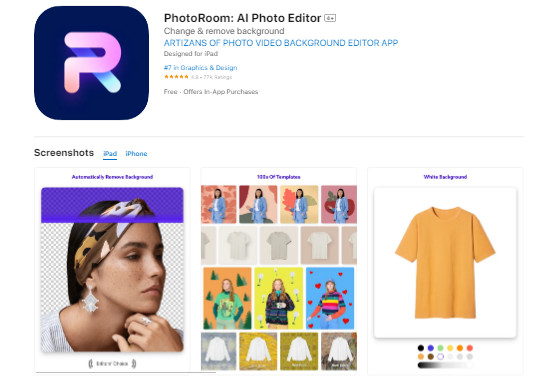 PhotoRoom's Magic Retouch and Background Removal tools combine for an easy and complete watermark removal. You can also add a watermark so that people don't steal your designs when you post them for sale on your website.
Key Features
* Erase any background.
* Remove objects with a swipe.
* Create backgrounds instantly.
* Edit hundreds of photos in seconds.
---
11. Object Removal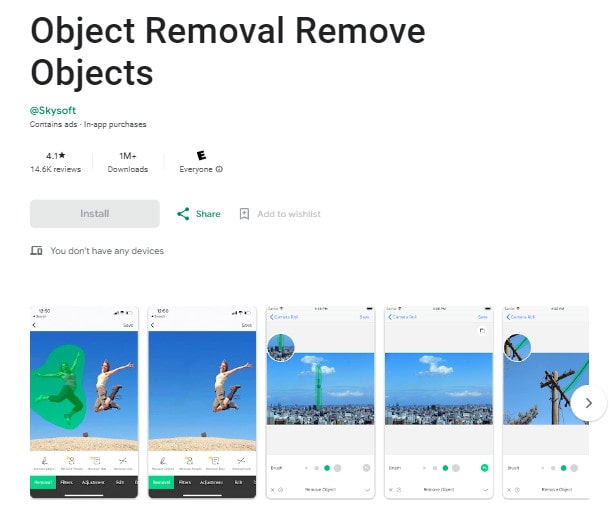 Object Removal app has an all-purpose object removal tool that lets you paint over the watermark to remove it. It is a manual editor, but its AI will fill in the space your watermark leaves behind, even if it takes up most of the page.
Key Features
* Retouch your photos when you have any item you want to remove.
* A great background object remover app
* Good for anyone at any skill level

---
Part 3: Steps to Remove Watermarks from Photos on Computer
This is a sample guide to instruct the operation of removing watermarks on a desktop computer step by step. AVCLabs PhotoPro AI is the tool applied. It embeds the popular AI technology to erase the watermark smartly.
Step 1
Download and install the program.
Visit the site and download the proper version. It supplies both Win and Mac versions. Install AVCLabs PhotoPro AI on your computer, and launch it.
Install AVCLabs PhotoPro AI on your computer, and launch it.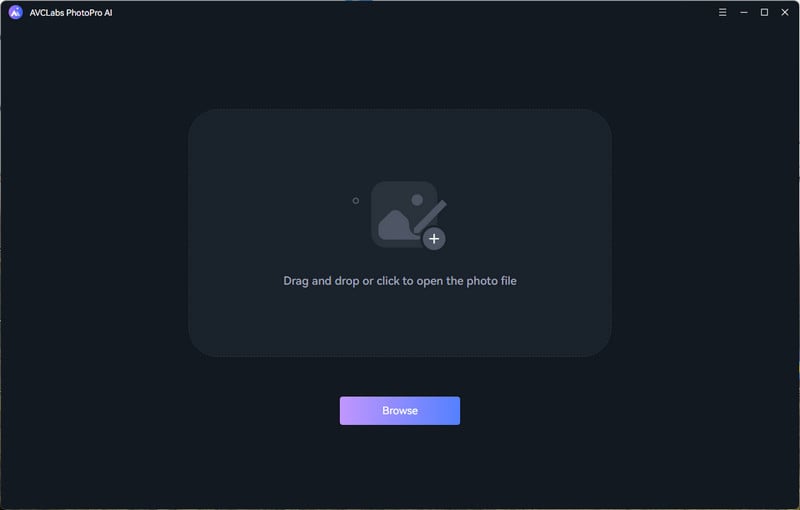 Step 2
Add the photo with watermark.
Import the photo to the software by clicking on the Browse button to select a photo or just dragging and dropping it onto the main interface.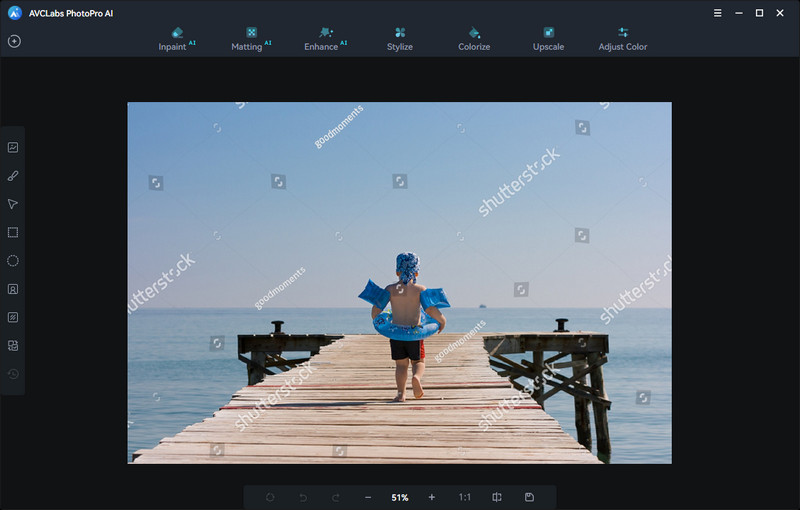 Step 3
Use a tool to select the watermark.
Use the Brush tool on the Selection Tools Panel on the left. Adjust the size of the brush. Then paint on the watermarks of the photo.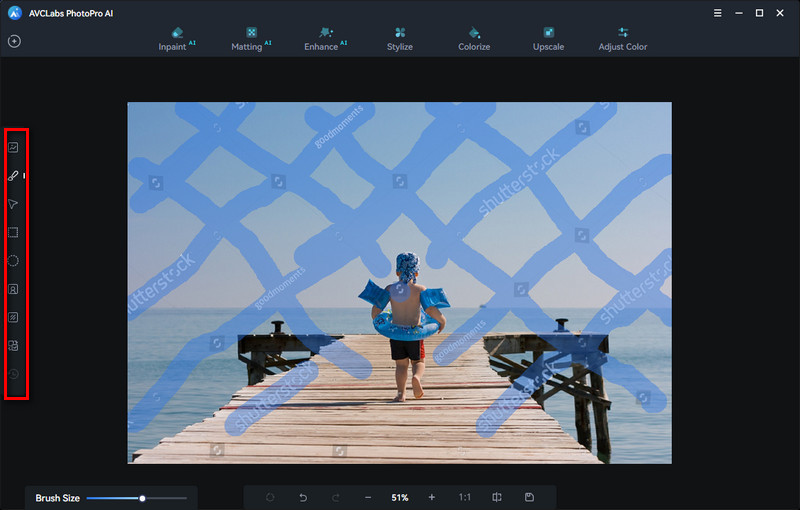 Step 4
Remove the watermark and save your photo.
When you finish the selection, click the Inpaint function that is listed at the top. And wait for the program to do the erasing work. After a moment, it will automatically remove the part of the watermark you applied. If you are not satisfied with the result, you can click the undo button and repeat the operation of selection and inpaint.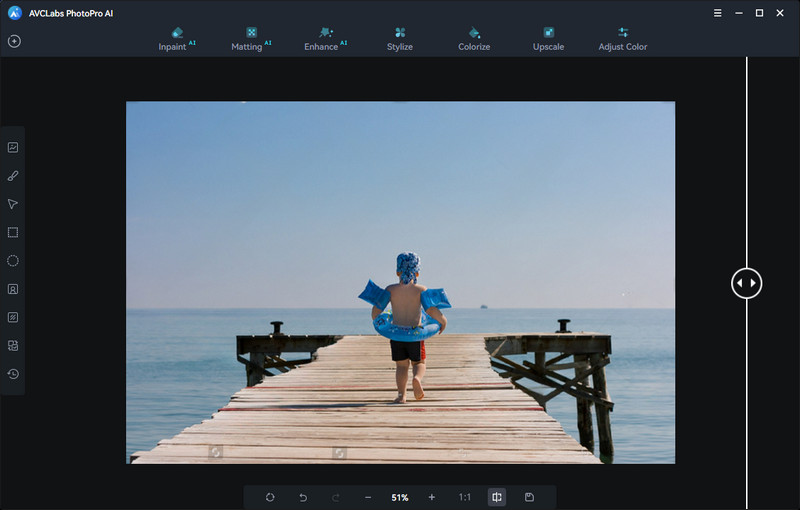 If you are satisfied with the effect, just click the Save to local disk button. The image without the watermark will be saved to your corresponding folder.
Video Tutorial: Remove Watermarks from Photo Online for Free
---
Final Words
In conclusion, the above content has explored a range of powerful tools that can effectively remove watermarks from your photos without using complex Photoshop. Each of the tools has its own features and all of them offer a variety of options to suit your needs. From advanced editing features to user-friendly interfaces, each tool brings its own unique strengths to the table. Now, you can choose the tool that best aligns with your requirements and get ready to enjoy watermark-free images. Be farewell to unwanted watermarks and unlock the true potential of your photos with these remarkable solutions.
---

Video Converter

DVD Converter

Video Editor

Enhance Video Quality

Enhance Image Quality

Remove Objects