Convert video to MP4 for iPhone, iPad, PSP and more...
Nowadays, more and more people want to find a free MP4 converter becasue most portable media players (iPod, iPad, iPhone 4S, iPhone 5S, iPhone 5C, Samsung devices, Roku player, HTC, etc.) can play MP4 videos. MP4 video is now the most widely used video format. Any Video Converter Free version is an excellent choice for mp4 conversion. With powerful capability of converting both SD video formats (AVI, MPEG, WMV, DivX, MP4, MKV, RM, MOV, RMVB, and VOB) and HD video formats (AVCHD, H.264/MPEG-4 AVC, HD AVI, AVCHD, HD MPEG4, HD MOV, and HD WMV) to MPEG-4, Any Video Converter helps all PMP users to better enjoy their digital life! This free MP4 Converter includes all optimized MP4 output profiles for iPod, iPhone, iPad, Samsung, Kindle Fire, NookHD and more. It's best free MP4 converter!
It's not easy to find a free MP4 converter for Mac OS, but here is the right place to download a free MP4 converter for Mac which is compatible with Mac from Snow Leopard to latest Marvericks.s
Any Video Converter Free is a versatile MP4 converter and can convert AVI, WMV, M2TS, FLV, MKV, MOV, MPG, 3GP, QT, RMVB and other video formats to MP4 video optimized for all kinds of portable media players.
The free MP4 Converter can convert videos to MP4 videos ready for use on iPod, iPhone, iPad, PSP, Apple TV, ZTE Grand S, Roku player, Samsung Galaxy S10, LG Optimus G Pro, mobile phones, etc.
Before converting to MP4, this free MP4 converter allows you to clip video segments, crop unwanted areas, merge multiple videos into one, add special effects, add subtitle and watermark. Also, you can use customized MP4 as output if specific device is not listed in output profiles. You can easily custom video size, bitrate, frame rate, audio bitrate, etc. to get customized MP4 designed for your MP4 players.
Tips: To download Netflix movies and TV shows in HD MP4, you can try Netflix Video Downloader.
Convert Videos to MP4 for PMPs
Tags: MPEG-4, video to MP4, Portable Media Player
How to convert any video to MP4 for PMPs?
PMP (Portable Media Player) is the multimedia device that can play digital audio, video, images, and even games. Some PMPs also provide functions and access to Internet and WiFi. Notable PMPs include Apple's iPod, Sony PSP, Archos and Creative Zen.
MPEG-4 was defined by the Moving Picture Experts Group (MPEG). The MPEG Group also set up the standards of MPEG-1 and MPEG-2. MPEG-4 delivers high quality of audio and video streams, especially for cell phone and broadband. Besides audio and video, MPEG-4 also supports 3D objects, sprites, text and other media types.
MPEG-4 is ready to stream incredible-quality audio and video today in QuickTime. With the free QuickTime Player or browser plug-in, you can play back any compliant MPEG-4 file. Upgrade to QuickTime Pro, and you can author your own MPEG-4 content. Inheriting QuickTime's stability, extensibility and scalability, MPEG-4 can transport media at any data rate, from media suitable for delivery over dial-up modems to high-bandwidth networks.
PMPs for MP4 video
Now, more and more PMPs include high definition screens, making on-the-go movie-watching a reality. PMPs that capable of displaying high definition MP4 are as follow: Creative Zen, iRiver, Sandisk Sansa, Archos, Nintendo Wii, Gigabeat, Sony Walkman, Xbox 360, GoGear, Kinder Fire, etc. So far, Any Video Converter has covered most of the PMPs that support high definition MP4, enabling you to easily enjoy your favorite movie in HD MP4 on the go.
Convert Videos to MP4 for iPod Touch/iPhone/iPad
Tags: MP4 for iPad, convert MP4 for iPod Touch
With Any Video Converter, you can convert video to MP4 for iPhone, iPad, iPod Nano/Classic and iPod Touch with Apple product output profile.
How to convert video for iPod Touch/iPhone/iPad with Any Video Converter?
Please download and install Any Video Converter Free first.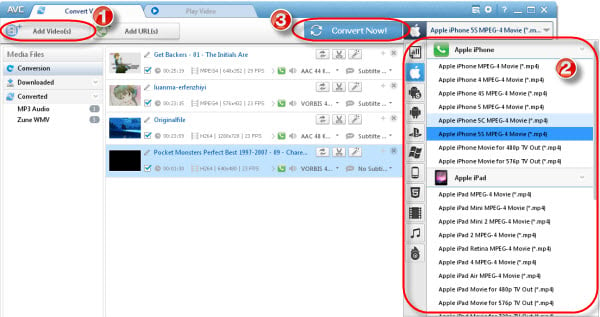 Step 1:
Simply click Add Video button to import the video files from your hard drive. Batch video conversion and merging videos are supported.
Step 2:
Click Output Profile drop down menu to select proper output profile for iPod/iPhone/iPad. Click "Output Profile>Apple iPhone/Apple iPod/Apple iPad" and choose one according to your need in the profile drop-down list.
Step 3:
Click Convert Now button to start converting videos. Once the conversion is finished, you can click "Output Folder" button to get the output files.
* Don't know how to transfer files to iPod/iPhone/iPad? We recommend you our free Syncios, which is the best alternative to iTunes to help transfer videos between iPod/iPhone/iPad and PC freely and easily.
Convert Videos to HD MP4 for Samsung Galaxy Phones
Convert video for Samsung Galaxy
Samsung Galaxy is a series of mobile devices that using Android operating system. Here are some of the most popular Samsung Galaxy devices supported high quality MP4 display and with great performance:
*Samsung Galaxy Note gained widely attention as soon as it hit the market for its quad-core CPU and 5.3" AMOLED display with RGBG-Matrix (Pentile) and WXGA (1280 x 800) resolution.
*Samsung Galaxy S features a 1 GHz ARM "Hummingbird" processor, 8–16 GB internal flash memory, a 4 inches (10 centimetres) 480×800 pixel Super AMOLED capacitive touchscreen display.
*Samsung Galaxy S III, which is powered by a 1.4 GHz quad-core processor with 1 GB of RAM with a screen of 1080p Full HD resolution, has now become one of the main rivals to Apple's iPhone 4S and HTC's One X. Its HD Super AMOLED display measures 4.8 inches (120 mm) on the diagonal, second to that of Samsung Galaxy Note.
*Samsung Galaxy S IV, which takes almost every specs to an extreme – the screen is larger (5 inches), the resolution is greater (1080p), the battery capacity higher (2600mAh), the processor faster (1.9GHz quad-core or 1.6GHz octa-core) and the rear-facing camera stuffed with more megapixels (13, to be exact).
Now, Any Video Converter includes well-set output profile for Samsung Galaxy Note, Samsung Galaxy S II and Samsung Galaxy S III, helping you convert video to samsung galaxy and enjoy the most advanced samsung galaxy mp4 video technology at no time.
* Don't know how to transfer files to Samsung Galaxy phones? We recommend you our free SyncDroid, which can transfer files and backup Android phones amazingly.
Free Download YouTube MP4 Video
Tags: download YouTube MP4, YouTube MP4 downloader
How to download YouTube video as MP4?
YouTube videos are available in a range of quality levels. The former names of standard quality (SQ), high quality (HQ) and high definition (HD) have been replaced by numerical values representing the vertical resolution of the video. The default video stream is encoded in H.264/MPEG-4 AVC format, with stereo AAC audio.
As leading video solution provider, Any Video Converter keeps pace with YouTube upgrading and added YouTube MP4 downloading funtion as well. Users can not only download YouTube FLV video and 3gp mobile phones video but can also download YouTube MP4 video for any PMPs without converting.
With Any Video Converter, you can simply click "Download +" Button and paste YouTube URL to the pop-out box. Then click Download Button, choose video download format and start downloading.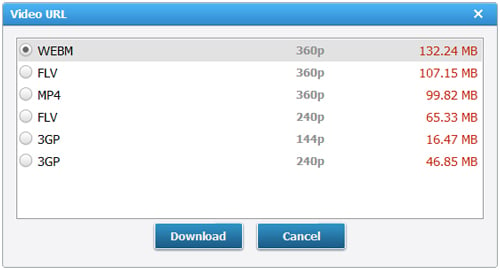 Tags: convert DVD to MP4, DVD to MP4 converter, record video in MP4
Convert dvd to mp4 for PMPs and smartphones
Converting DVD to MP4 is no longer mission impossible for Any Video Converter now. Any Video Converter has a most advanced version Any Video Convert Ultimate which is released as an individual program that includes all featues of Any Video Converter but also could be a DVD to MP4 converter. It comes pack with output profile for converting DVD into MP4 videos that supported by Apple product, Sony product, Microsoft product, Android product and more... Users are free to convert DVD to MP4 for any protable device as they want.
Record online video from Netflix and similar feed sites in MP4
Any Video Converter Ultimate is not only a video and DVD converting tool, but also a powerful yet simple screen recorder program. It performs perfectly in recording any local and online videos (such as Nico, Yahoo, iTunes, Google, Metacafe...) with high output audio and video quality. What's more, all the recorded videos are in MP4, which makes it easier for you to enjoy the videos on your portable devices.
What is MP4?
MP4 is a shortened name for MPEG-4 Part 14. Sometimes otherwise known as MPEG -4 AVC, the AVC standing for Advanced Video Coding. As this name suggests, it is a format used for encoding digital video files. It was created in 1998 and is now gaining ever more popularity in the mainstream market. The 'MPEG' part of the name is an abbreviation of Motion Pictures Expert Group, who are the body involved in setting industry standards for digital video and audio.
MPEG-4 is still a developing standard and is divided into a number of parts. Companies promoting MPEG-4 compatibility do not always clearly state which "part" level compatibility they are referring to. The key parts to be aware of are MPEG-4 part 2 (including Advanced Simple Profile, used by codecs such as DivX, Xvid, Nero Digital and 3ivx and by Quicktime 6) and MPEG-4 part 10 (MPEG-4 AVC/H.264 or Advanced Video Coding, used by the x264 encoder, by Nero Digital AVC, by Quicktime 7, and by high-definition video media like Blu-ray Disc).
You can get Mac version of this free mp4 video converter from here:
Read More:
How to Download Netflix Video to Windows PC?
To download Netflix video offline on Windows 7 or 8, you can turn to Netflix Video Downloader. It is a professional video downloading tool that offers enough horsepower to handle the downloads of Netflix videos. With the support of such a tool, you can download any movies, TV shows, documentaries and more from Netflix to your computers running Windows 10, 8 or 7.
Download Netflix Video Downloader to have a try!