How to Convert Live Photo to Video on iPhone, iPad and Mac
Have you ever taken a live photo on your iPhone and wished you could share it as a video with your friends or family? Live photos are a great way to capture a moment with sound and movement, but they are not compatible with some apps and platforms. If you want to convert your live photos to videos, you have come to the right place. This article delves into the process of transforming Live Photos into videos, empowering you to breathe new life into your captured moments.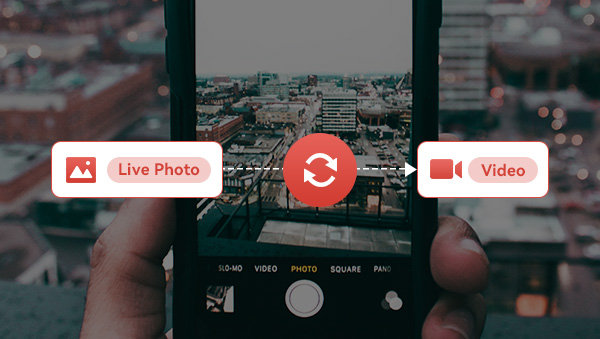 Part 1: What is Live Photo?
Live photo is essentially a hybrid between still photo and video. It capture a brief snippet of motion and sound in the seconds before and after the shutter is pressed, thereby injecting a touch of excitement into conventional photographs. These lively shots are stored in a distinct file format that sets them apart from typical JPEG images or MP4 videos.
---
Part 2: Why Choose to Convert Live Photo to Video?
There are many benefits of converting live photo to video. First, videos are more widely compatible than live photos and can be shared across various platforms. Secondly, videos provide greater flexibility for editing and enhancement, enabling you to trim, add effects, or incorporate them into larger video projects.
---
Part 3: How to Turn Live Photo into Video on iOS 13 or Later?
If you have iOS 13 or later, you can use the built-in option to save a live photo as a video. This is the easiest and fastest way to convert a live photo to a video, but it also has some limitations. For example, you cannot adjust the length, speed, or quality of the video.
Step 1: Open the Photos app and locate the live photo you wish to convert.
Step 2: Choose as many live photos as you want.
Step 3: Tap the Share icon, represented by an arrow pointing upwards from a box.(iOS13-iOS 15)/ Tap the More button (3 dots) at the top-right corner. (iOS 16 or later)
Step 4: Scroll down the sharing options and select Save as Video.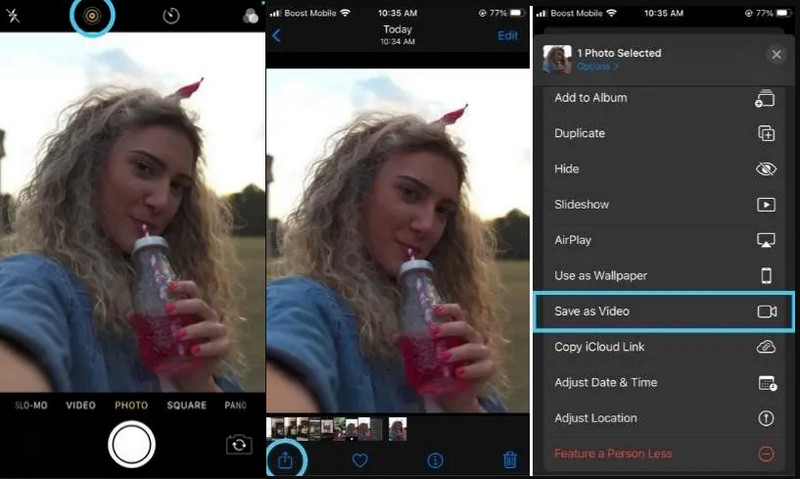 ---
Part 4: How to Convert Live Photo to Video for Users Running iOS 13 Earlier Version?
If you have iOS 13 or earlier, you can also use the effects menu to turn a live photo into a video clip. This method gives you more options to customize your video, such as looping or bouncing it. However, it also has some drawbacks. For instance, you cannot save the original sound of the live photo, and you cannot merge multiple live photos into one video.
Step 1: Open the Photos app and select a live photo that you want to convert.
Step 2: Swipe up on the live photo to get the effect. You will see three options: Live, Loop, and Bounce. Swipe up to get the effect.
> Live will save the live photo as a video without any effects.
> Loop will play the live photo in a loop.
> Bounce will play the live photo forward and backward, similar to a Boomerang video.
Step 3: Tap Save and you will find it as a video in the Animations folder.
---
Part 5: How to Convert Live Photo to Video on Mac?
Converting live Photo to video on a Mac is a relatively simple process. Live Photos are a feature primarily associated with iOS devices, but you can easily convert them to videos on your Mac still using the built-in Photos app.
Step 1: Launch the Photos app and scroll to live Photos under Media Types in the left sidebar.
Step 2: Select or open the live photo you want to convert.
Step 3: Click File > Export > Export Unmodified Original For 1 Photo from the menu bar.
Step 4: Choose the desired file format and file destination.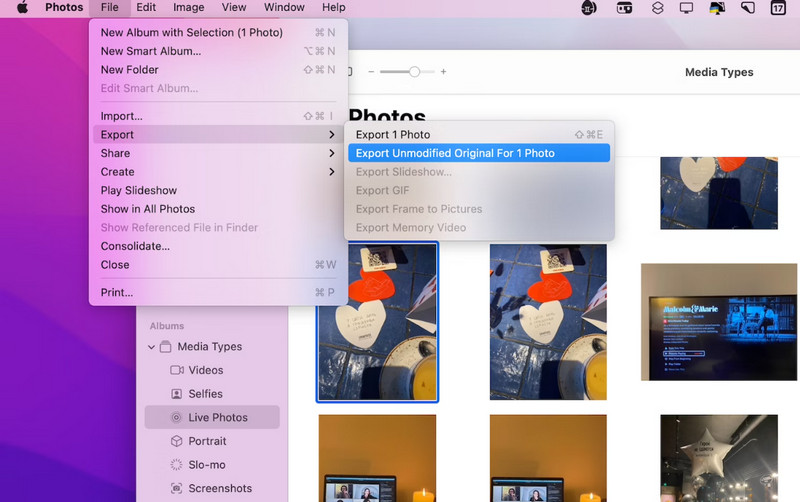 ---
Bonus: Achieve Conversion of Various Video Formats for Free with Any Video Converter
Any Video Converter, a powerful and cost-free video conversion tool, accommodates a plethora of video formats, including MP4, AVI, MKV, MOV, WMV, FLV, 3GP, etc. It serves as a valuable solution for individuals seeking to ensure their video content is compatible with different devices and platforms. Beyond format conversion, Any Video Converter offers an array of video editing features, encompassing cropping, trimming, subtitle addition, filter application, and more. Furthermore, it facilitates the downloading of online videos from over 100 websites. This versatile and user-friendly application proves to be a proficient means of expanding your video format conversion capabilities at no cost.
Features of Any Video Converter
Convert videos between any formats freely
Cut or trim a video into segments
Crop video file to delete unwanted portions
Merge multiple clips into one video
Adjust audio volume and add audio effects
Download online videos to 4K
Convert videos to 4K resolution
Download videos and music from 100+ sites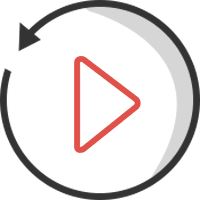 ---
Conclusion
Converting live Photos into videos offers a versatile means of sharing and enhancing your captured moments. Whether you're using an iOS device or a Mac, there are various methods available. Additionally, the mention of Any Video Converter highlights a valuable free tool for those seeking broader video format conversion capabilities. Regardless of your choice, the ability to convert enhances your flexibility in sharing and editing, making them more versatile for various multimedia projects.
---
Highly Recommended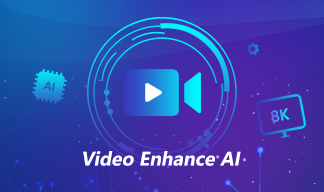 AVCLabs Video Enhancer AI
AVCLabs Video Enhancer AI is an AI-based video enhancement software to upscale video from 480p to 1080p, 1080p to 4K, and up to 8K. With AVCLabs Video Enhancer AI, you can upscale low-res videos to high resolution and bring your old videos a stunningly new look.
Learn More


Video Converter

DVD Converter

Video Editor

Enhance Video Quality

Enhance Image Quality

Remove Objects