8 Best Text to Video AI Generator You Must Know
Text-to-video AI generators are powerful tools that convert written content into engaging videos. They have gained popularity due to their ability to create visually appealing and informative videos for various purposes. In this article, we explore the best 8 text to video AI generators, offering a comprehensive guide to help you choose the right one for your needs.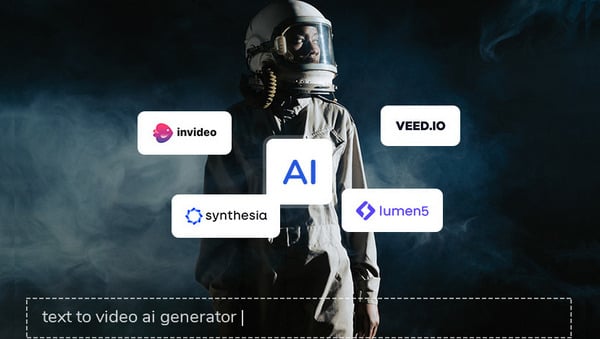 Part 1: What is Text to Video AI Generator?
A Text to Video AI Generator is an advanced and innovative AI-powered tool that empowers users to effortlessly transform plain text into compelling videos by harnessing the capabilities of artificial intelligence. This versatile tool offers two primary modes of operation: you can either input a concise textual prompt to initiate the video creation process, or you can convert an entire existing text document into a dynamic video presentation. The generated videos include stock footage, background music, text overlays, subtitles, and transitions, offering a comprehensive visual experience. This innovative tool revolutionizes video production by democratizing the process, making it accessible and efficient for a wider audience.
---
Part 2: What To Look For in Choosing the Best Text-to-Video AI Video Generator?
When looking for the best Text-to-Video AI generator, it's essential to consider several key factors to ensure that the tool meets your specific needs and requirements. Here are the crucial elements to look for:
1. Quality of Output
The generated videos should be of high quality, including resolution, visual aesthetics, and audio clarity. Assess sample videos or output provided by the generator to gauge its quality.
2. Customization Options
Look for a generator that offers flexibility in customizing the video's style, design, and branding. Features such as adding logos, changing colors, and selecting fonts should be available.
3. Text-to-Speech (TTS)
TTS technology can convert text into natural-sounding voiceovers. Ensure the generator supports multiple languages and accents for TTS if you require voice narration in your videos.
4. AI Capabilities
Understand the AI algorithms and technologies used by the generator. Deep learning models like GANs (Generative Adversarial Networks) can produce realistic visuals. Ensure the generator employs state-of-the-art AI techniques.
5. Ease of Use
The user interface should be intuitive and user-friendly. A steep learning curve can hinder your ability to create videos efficiently. Check if the generator provides templates or presets for easy video creation.
6. Content Length and Format
Check if the generator can accommodate your desired video length and format. Some generators are better suited for short social media videos, while others can handle longer, more detailed content.
7. Pricing
Evaluate the pricing structure, which may include subscription plans, pay-per-use models, or one-time purchases. Ensure the pricing aligns with your budget and usage requirements.
---
Part 3: What Are the Best AI Generators for Text to Video?
Now, let's dive into the best 8 AI Video Generators for Text to Video:
1. Pictory
(Price: Free trial with limited projects and video length; $19/month for a standard plan; $39/month for a premium plan; contact to book an enterprise plan)
Pictory is an AI video generator that allows you to easily create and edit high-quality videos. What makes this tool exceptional is that it doesn't require any prior knowledge in video editing or design. Simply supply a script or article as the foundation for your video content, and Pictory can systematically generate captivating videos. Additionally, Pictory offers user-friendly text-based editing features, enabling you to fashion shareable highlights effortlessly. This is particularly beneficial for individuals seeking to craft trailers or distribute brief clips on social media platforms.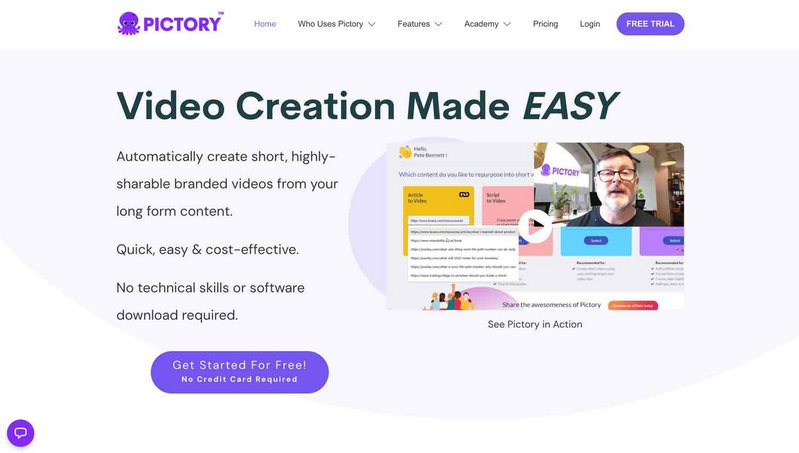 Pros:
• Zero learning curve and easy to use
• Various customized templates and material libraries
• Accessible from both computer and mobile phone
Cons:
• The free plan has limitations
• Only videos can be transcribed, not audio
---
2. InVideo
(Price: Free trial with limited function; $15/month for a business plan; $30/month for unlimited plan)
InVideo has gained recognition for its flexibility and user-friendliness. It offers a wide array of over 4,000 templates that can be customized, along with access to an extensive library of over 1 million royalty-free images and video clips. These features make it effortless to produce high-quality videos in a matter of minutes. Moreover, professionals can leverage the application to tailor templates according to their preferences, allowing for adjustments in elements like colors, animations, transitions, social media content, shapes, emojis, and more. This versatility has established InVideo as a favored tool among marketers and content creators.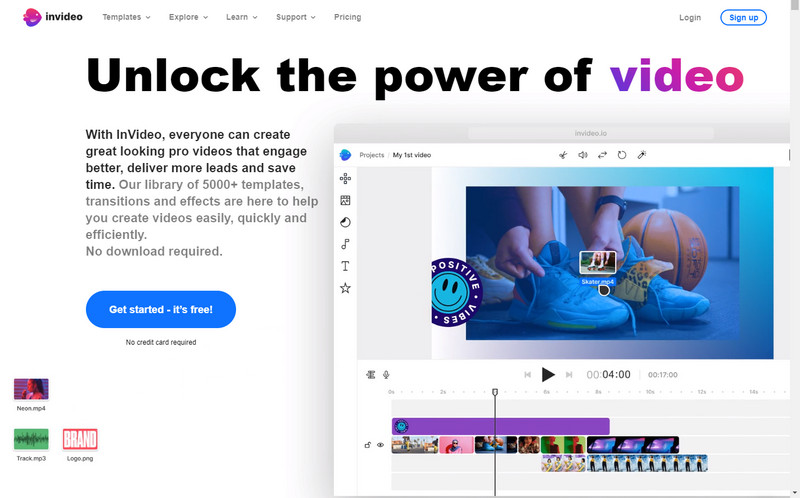 Pros:
• Video creation in multiple languages is supported
• Automatic text-to-speech conversion is available
• The free version allows for the creation of videos with a duration of up to 40 minutes
Cons:
• Requires stable internet connection
• Sometimes the processing speed is slower
---
3. VEED.IO
(Price: Limited trial version; $18/month for a basic plan; $30 per month for a premium plan; $59/month for a business plan)
Veed.io is an AI-powered video creation tool that empowers anyone to produce compelling videos and expand their audience reach without prior experience or design expertise. The tool generates videos automatically using the input you provide, including text, images, and footage. Moreover, you can select templates tailored to your industry, desired style, and preferences. Veed simplifies the process, allowing you to swiftly craft online video advertisements with personalized branding and compelling calls to action, making it a valuable asset for campaign success.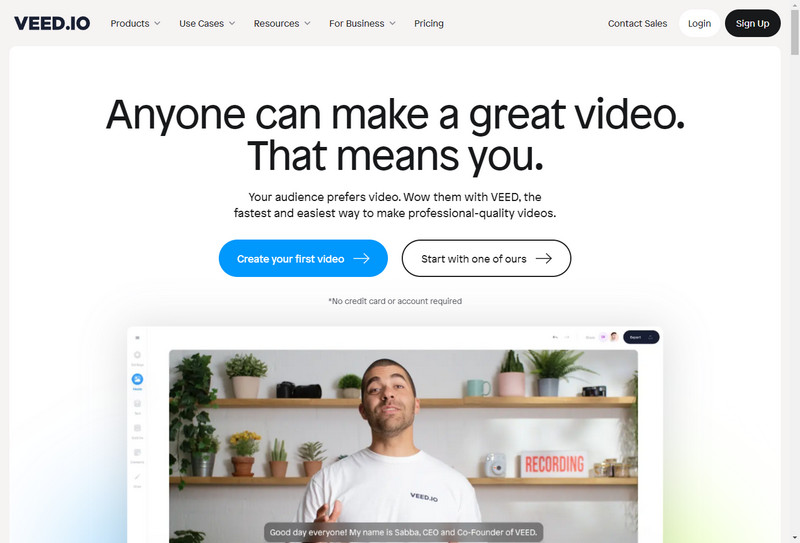 Pros:
• Polished UI and visually appealing timeline
• Provides a variety of templates and material libraries for use
• Excellent subtitle capabilities
Cons:
• The processing speed of large files is relatively slow
• Free version has limited features
---
4. Lumen5
(Price: Limited trial version; $19/month for a starter plan; $59 per month for a premium plan; $149/month for a business plan)
Lumen5 is a video creation platform powered by artificial intelligence (AI) that employs sophisticated AI algorithms in the background to transform your written content into videos, simplifying the video creation process to a level akin to creating a basic slideshow. Furthermore, Lumen5 enhances the appeal of the demo video by incorporating transitions, motion graphics, and sound effects, and it can further enrich your video through features like annotation, editing, and the automatic addition of subtitles.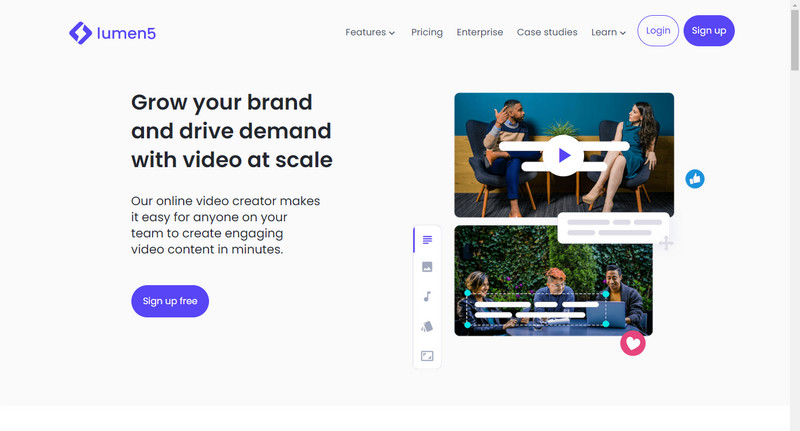 Pros:
• It excels in creating short-form social media marketing videos
• Its drag-and-drop interface is user-friendly and quickly mastered
• Converting written content such as blogs into videos is a straightforward process
Cons:
• The free version is restricted in its capabilities
• A significant portion of the template content is based on American materials
---
5. Synthesia
(Price: $30/month for personal use, contact to book an enterprise plan)
Synthesia distinguishes itself from other text-to-video AI generators due to its extensive language support and advanced customization features. This platform harnesses artificial intelligence to produce realistic avatars capable of speaking in numerous languages. Furthermore, it offers the ability to use 2D facial images, resulting in remarkably lifelike faces and top-notch video outputs. Synthesia's user-friendly interface empowers individuals to craft captivating videos effortlessly, even without any technical know-how.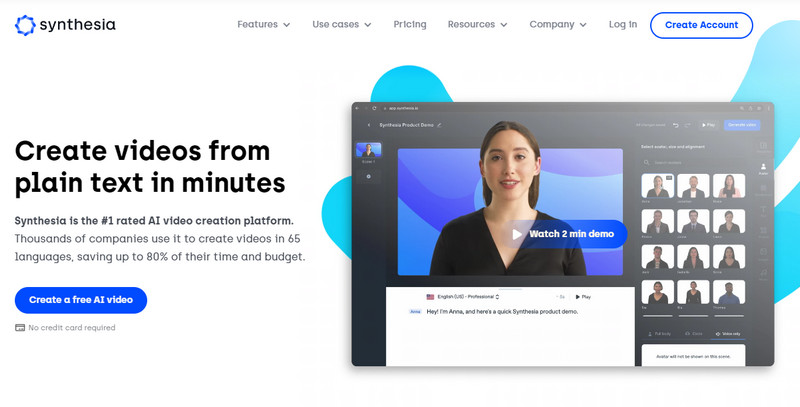 Pros:
• User-friendly, even for those lacking editing skills
• Provides the option to select regional narration styles and accents
• Offers a wide selection of customizable video templates and AI-generated avatars
Cons:
• Absence of a free version, with a comparatively high subscription fee
• Restrictions on the number of AI videos that can be created monthly
---
6. Designs.ai
(Price: Limited trial version; $39/month for a basic plan; $69 per month for a premium plan; $168 per month for enterprise plan)
Designs.ai is an online tool that utilizes AI to streamline graphic design processes and video creation. It's particularly well-suited for quick video production and promotional activities. The platform provides a range of customizable video templates, allowing users to efficiently generate logos, banners, mockups, and other design elements, all while achieving a professional appearance in a matter of minutes.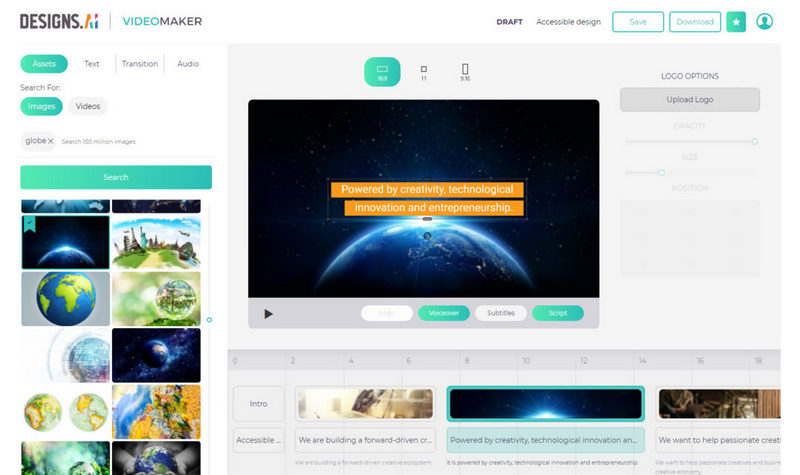 Pros:
• Operates seamlessly within web browsers
• Provides cloud storage for easy access to all creative content
• Offers a wide range of creative capabilities, including video creation, logo design, and voiceovers
Cons:
• Relatively higher cost compared to alternatives
• Occasionally inconsistent video quality in creations
---
7. DeepBrain AI
(Price: Limited trial version; $30/month for a starter plan; $225 per month for a premium plan; contact to book an enterprise plan)
DeepBrain AI is a text-to-video platform enabling users to generate AI videos from scripts. It creates realistic AI avatars for various video types, including training, marketing, and news. Features include custom avatars, multilingual text-to-speech, templates, and an online video editor. With over 100 licensed avatars in 55+ languages, it offers a global reach. Additionally, custom avatars cater to celebrities, politicians, and more. These avatars provide real-time, high-quality speech in any language.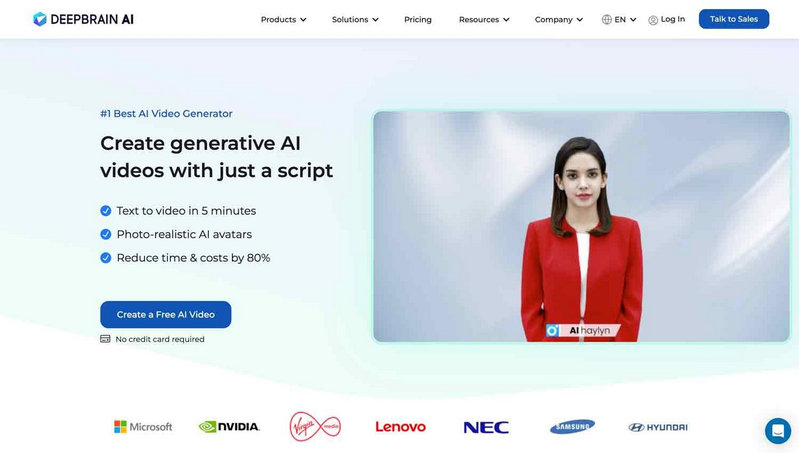 Pros:
• Extensive collection of more than 80 lifelike human avatars
• Multilingual support for diverse language options
• Offers a free trial for users to explore
Cons:
• Processing speed is comparatively sluggish
• The inability to preview AI-generated videos
---
8. HeyGen
(Price: Limited trial version; $24/month for creator plan; $72 per month for business plan; contact to book an enterprise plan)
HeyGen is an AI-powered video creation tool that enables users to produce videos quickly by converting text into content. It utilizes AI-generated avatars and voices to assist users in crafting polished videos with ease, even if they have no prior design or editing skills. HeyGen provides a variety of functionalities, including a diverse selection of 100+ avatars that encompass different ethnicities, age groups, poses, and clothing options. Additionally, users can pick from a range of premium voices or request a bespoke voice that aligns with their chosen avatar.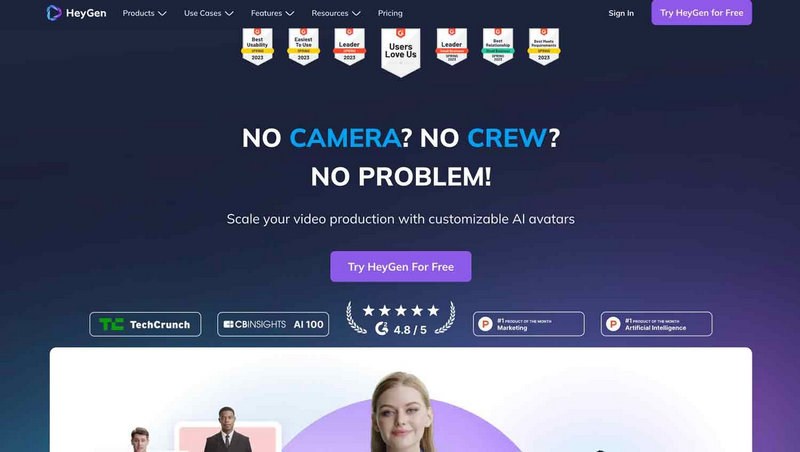 Pros:
• Over 300 voice options
• Supports face swap for videos and photos
• Extensive selection of icons, avatars, and backgrounds
Cons:
• Limited support for regional languages
---
Bonus: Best AI Video Enhancer to Upscale AI Generated Videos to 1080p, up to 4K, 8K
AVCLabs Video Enhancer AI is a valuable companion tool that can elevate the quality of AI-generated videos. This software specializes in upscaling videos to 4K resolution, providing a significant enhancement in visual clarity and sharpness. Users can take videos created with text-to-video AI generators and use AVCLabs to give them a professional, high-definition appearance. This is particularly beneficial for those looking to create polished, high-quality content for presentations, marketing materials, or other professional purposes.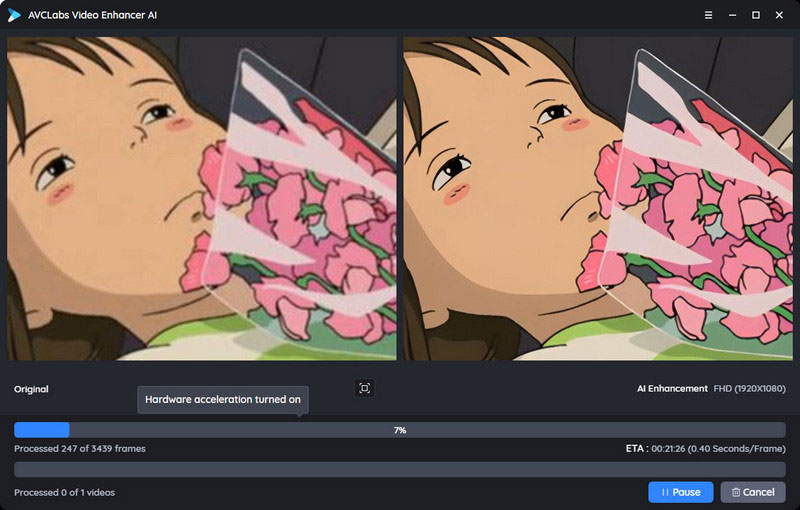 Video Enhancer AI
Upscale videos from SD to HD, HD to 4K.
Enhance video quality with multi-frame.
Support GPU & TensorRT acceleration.
Improves sharpness, detail, and visual fidelity.
Sharpen faces from blurry video and enhance facial details.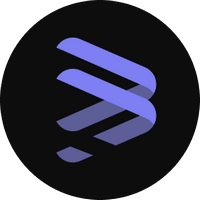 ---
Conclusion:
The world of text-to-video AI generators offers a variety of options catering to different needs and preferences. Whether you're a novice in video creation or a seasoned professional, there's likely a tool in this list that suits your requirements. Be sure to consider factors like pricing, features, and customization options when making your choice, and don't forget that complementary tools like AVCLabs Video Enhancer AI can further enhance the quality of your AI-generated videos.
---

Video Converter

DVD Converter

Video Editor

Enhance Video Quality

Enhance Image Quality

Remove Objects