MPEG-1 Converter - Convert DVD/Videos to MPEG-1
About MPEG-1
MPEG-1 is a video codec used for Video CDs, and also sometimes for online video. The quality is roughly comparable to that of VHS. Almost every computer in the world can play this codec, and very few DVD players do not support it.
Today, MPEG-1 has become the most widely compatible lossy audio/video format in the world and is used in a large number of products and technologies. Perhaps the best-known part of the MPEG-1 standard is the MP3 audio format it introduced.
Convert Videos to MPEG-1
If you have AVI, WMV, or DVD files that you want to convert to MPEG-1 files to use with other programs or devices or have problems with the Windows Media player playing QuickTime MOV files, you can use Any Video Converter which is a MPEG-1 video converter. Any Video Converter can not only convert videos to MPEG(1, 2, 4) with excellent quality, but also customize video/audio settings, including resolution, codec, frame rate, encoder, bitrate, and more.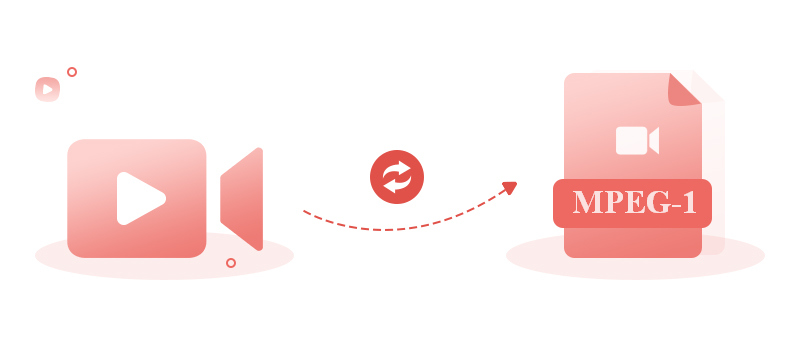 Any Video Converter is a complete solution for video file conversion. It serves not only as a powerful MPEG encoder software that can convert MOV to MPEG (MPEG1 and MPEG2), DivX to MPEG, M4V to MPEG1, RMVB to MPEG1, RM to MPEG1, QuickTime to MPEG1, etc., but also a great video editor with lots of features, including a choice of compression codecs, clipping, cropping, the addition of audio tracks, etc.
How to Convert Videos to MPEG-1?
Let's look at the simple three-step process to convert videos to MPEG-1.
Step 1
Add videos to Any Video Converter
Simply click the "Add Video(s)" button to import the video files from your hard drive.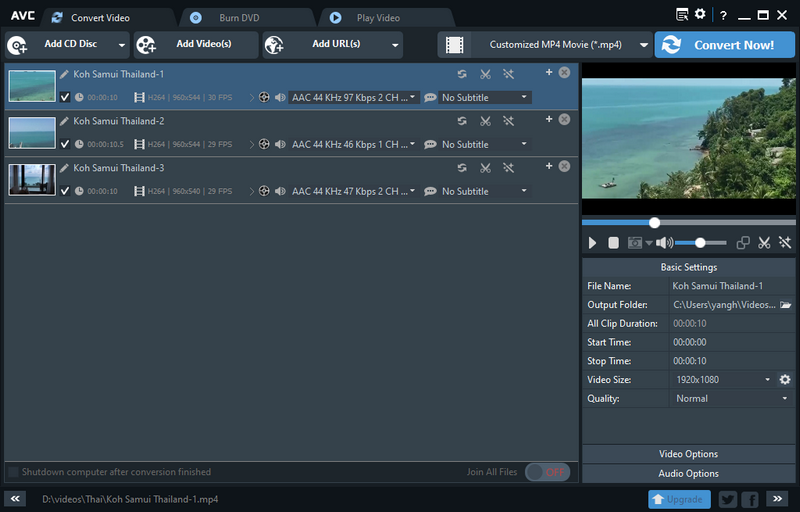 Step 2
Select the output profile
Click the Output Profile drop-down menu to select the proper output profile for your devices. Also, you can use MPEG-1 Movie (*.mpg) as an output format.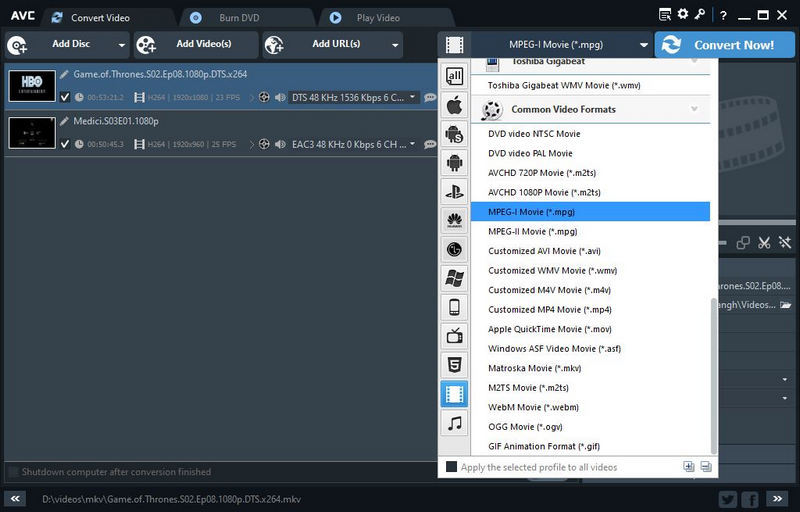 Click the "Convert Now!" button to start converting videos to MPEG-1. Once the conversion is finished, you can right-click the video and select "Open Destination File Location" to get the output files.
Any Video Converter is a world-class quality MPEG-1 Converter software. This MPEG-1 Converter makes it easy for you to convert videos from AVI to MPEG-1, WMV to MPEG-1, MKV to MPEG-1, MPEG-1 to MPEG-2 (PAL, NTSC), MPEG-1 to MPEG-4, MPEG-1 to AVI, MPEG-1 to MKV, MPEG-1V to FLV, etc. It also works perfectly for almost all popular video/audio players like iPhone, iPad, TV, PS5, and various video mobile phones, and many other digital video and audio players. You don't need to be a professional to use MPEG-1 Converter. The simple three-step process makes it easy: just select the files to batch convert, select the format to convert into, and start the conversion!
---
Related Articles & Tips
---
Highly Recommended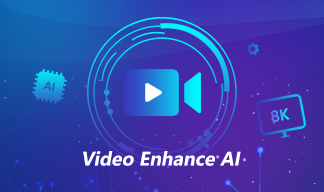 AVCLabs Video Enhancer AI
AVCLabs Video Enhancer AI is an AI-based video enhancement software to upscale video from 480p to 1080p, 1080p to 4K, and up to 8K. With AVCLabs Video Enhancer AI, you can upscale low-res videos to high resolution and bring your old videos a stunningly new look.
Learn More


Video Converter

DVD Converter

Video Editor

Enhance Video Quality

Enhance Image Quality

Remove Objects