Top 10 Best Free Video Compression Tools for Reducing File Size on Computer
Video compressors are essential applications that efficiently reduce the size of video clips by encoding digital content. Discover the top 10 free video compression tools that can help you reduce file sizes on your PC without compromising quality.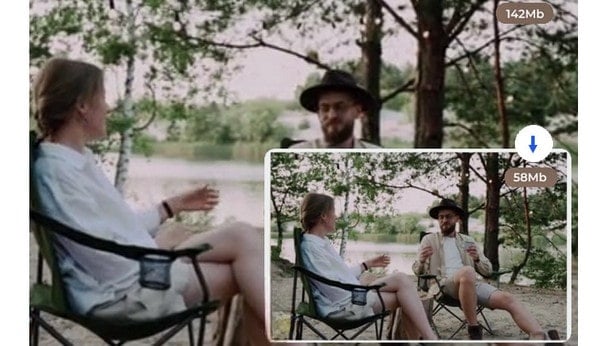 These tools support various popular video file formats such as MOV, MP4, FLV, and more. They offer a range of features and options to efficiently compress videos, making them easier to store, share, and stream. Below, you'll find a curated list of top video compressors, including both open-source (free) and commercial (paid) software, along with their popular features and website links. Whether you're a professional videographer or a casual user, this list will guide you toward the best software available, ensuring that you can optimize your video files while maintaining their visual integrity.
1. Any Video Converter
Any Video Converter is an incredible video compression software that has your back when it comes to handling various video inputs. With this versatile tool, you can effortlessly reduce the size of your video clips from any output device you can think of, including popular ones like iPhone, iPad, Apple TV, Samsung, OnePlus, and many more. The best part? It's completely free to use, and there's no pesky watermark on your output files.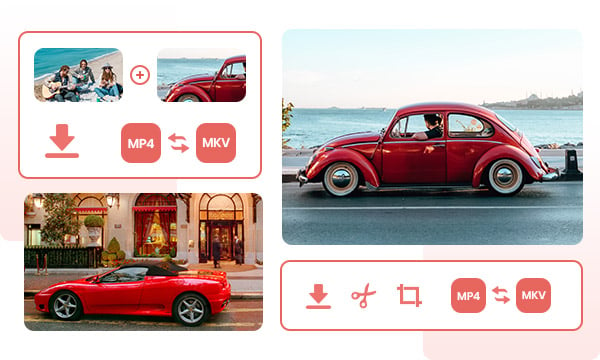 Features:
* Free to compress the video without losing quality.
* Use the latest video compression standard to convert video in high quality.
* Help you to download videos and music in one step.
* The tool is compatible with more than 200 video formats.
* You can shrink the video faster.
* The tool can preserve the original quality of the video.
OS:
MacOS X, Windows
Link:
https://www.any-video-converter.com/tools/compress-video.html
---
2. VLC Media Player
VLC is a remarkable open-source media player that goes beyond just playing your favorite videos. With its additional editing and converting features, VLC offers a comprehensive solution for media enthusiasts. Users often praise its intuitive and user-friendly interface, making it a breeze to navigate. While VLC is praised for its robustness as a media player, some users have reported occasional glitches. However, it's worth noting that updates may not be as frequent as desired.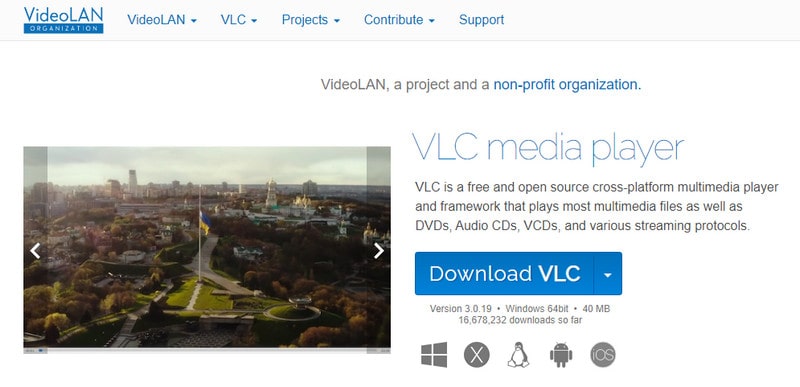 Features:
* Multiple video format outputs
* Media player
* Video editing features
* X264 encoding capabilities
OS:
MacOS X, Windows, Linux, Android
Link:
https://www.videolan.org/
---
3. Handbrake
HandBrake is the ultimate tool for reducing the size of your media files. With its simple and user-friendly interface, this program makes it a breeze to convert your clips into high-definition quality standards. Experience the convenience of batch scanning and compressing videos using this powerful application. Let HandBrake take care of your media file needs effortlessly.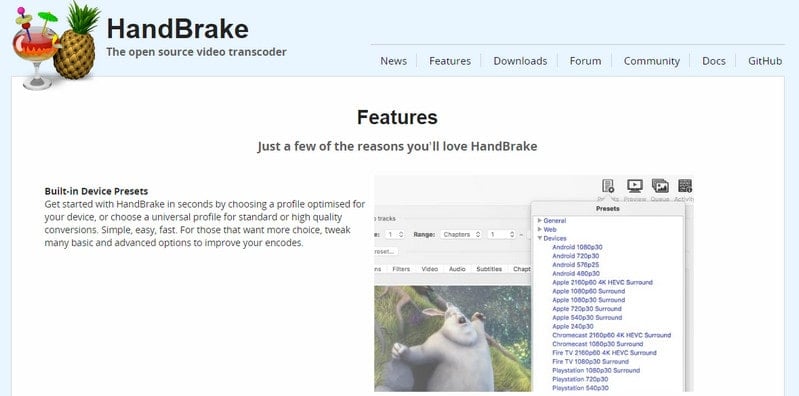 Features:
* It supports MKV and MP4 files.
* Provide a preview before compressing the clip.
* This MP4 compressor allows you to select a particular range in the video.
* HandBrake helps you to filter out the video.
OS:
MacOS X, Windows, Linux
Link:
https://handbrake.fr/features.php
---
4. Clipchamp
Clipchamp is a cutting-edge video compressor tool designed to make your life easier. With Clipchamp, you can compress your videos seamlessly and without any delay. It allows you to compress a wide range of file formats including AVI, MP4, MOV, and more. Whether you're working with large video files or need to optimize your videos for sharing, Clipchamp is here to help.
Features:
* Help you to save storage space.
* Compress clips in batches.
* Official video editor for Windows
OS:
Windows
Link:
https://clipchamp.com/en/windows-video-editor/
---
5. MiroVideoConverter
Miro is a free and user-friendly video converter available for both Windows 10 and Mac. It offers a simple drag-and-drop feature, making it popular among users. With Miro Video Converter, you can compress videos using custom settings or by selecting a format that minimizes file size. It also supports bulk video conversion.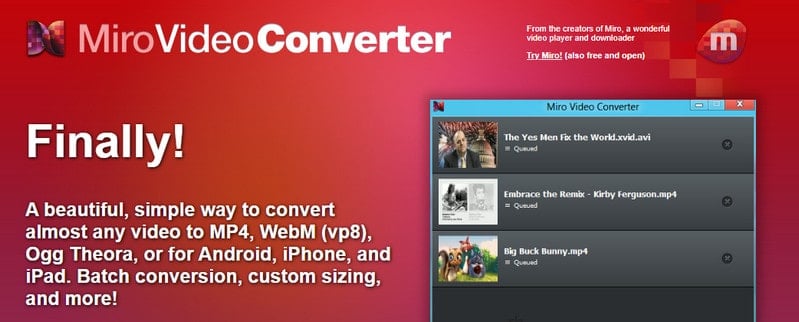 Features:
* Download and play almost any video.
* Convert any video.
* Converts and syncs to Android & Kindle Fire.
* Works with your current music library.
OS:
Windows, Mac
Link:
http://www.mirovideoconverter.com/
---
6. Shutter Encoder
Shutter Encoder, a powerful video converter developed by passionate video editors, offers a range of input and output formats, such as AV1, HEVC, VP9, and GoPro CineForm. While there isn't a dedicated compression button, users can easily shrink MP4 files to their desired size using settings for resolution, bitrate, file size, etc. Although the interface may seem intimidating at first, investing time to learn it is highly rewarding.

Features:
* Convert video format to HEVC/AVI to reduce the file size.
* Download video and audio files from websites.
* Rip DVDs and Blu-ray discs. Extract audio from the video.
* Add fade-in effects, put subtitles/LUTs, and trim video length.
OS:
Windows, Mac, Linux
Link:
https://www.shutterencoder.com/en/
---
7. Movavi Video Converter
Movavi Video Converter is an exceptional tool that allows you to compress videos without compromising their quality. It is renowned as one of the top choices for converting clips on any device while maintaining excellent video compression capabilities.

Features:
* It supports different media formats like AVI, MKV, MP4, MOV, and more.
* This application automatically detects devices with an instant recognition function.
* You can effortlessly drag and drop files to the working area.
* It allows you to rotate and insert a watermark in the video.
* Movavi enables you to easily change the format of video recognized by smartphone, TV, or tablet devices.
OS:
Windows and Mac
Link:
https://www.movavi.com/videoconverter-download/
---
8. Freemake Video Converter
Freemake Video Converter is a free video compressor for Windows 10. It's compatible with all Windows versions since 2006 and supports over 500 video file formats. You can use it to convert images and audio files into videos, compress Full HD and 4K videos without quality loss, and perform batch conversions.
Features:
* Convert between 500+ formats.
* Convert various visuals.
* Video converter for any device.
* Cut, join, and rotate clips.
OS:
Windows
Link:
https://www.freemake.com/free_video_converter/
---
9. VSDC Video Converter
VSDC Video Converter is a free, open-source tool for compressing videos. It supports all major formats, including MP4 and AVI, and is compatible with all Windows operating systems. It offers various features such as a built-in editor for deleting, splitting, and merging files, as well as advanced presets for exporting videos to popular devices and formats. Additionally, you can save individual video frames or audio tracks.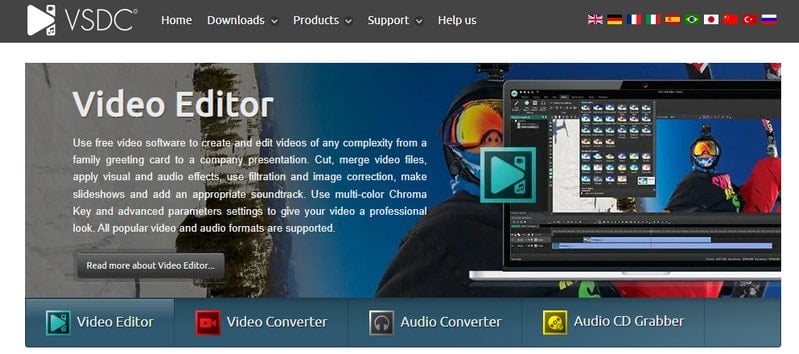 Features:
* Support for all key formats (including HD video)
* Advanced export presets
* Ability to save audio as well as individual frames from videos
* High conversion quality
* High conversion speed
* Rock-solid reliability and stability
OS:
Windows
Link:
https://www.videosoftdev.com/free-video-converter/download
---
10. VideoSolo Video Converter
VideoSolo Video Converter is a versatile program that allows you to compress videos according to your specific requirements. In addition to compression, it offers features like metadata editing, allowing you to modify details such as title, year, artist, and more. The tool also grants you the flexibility to adjust the compression ratio or resize the video to any desired size.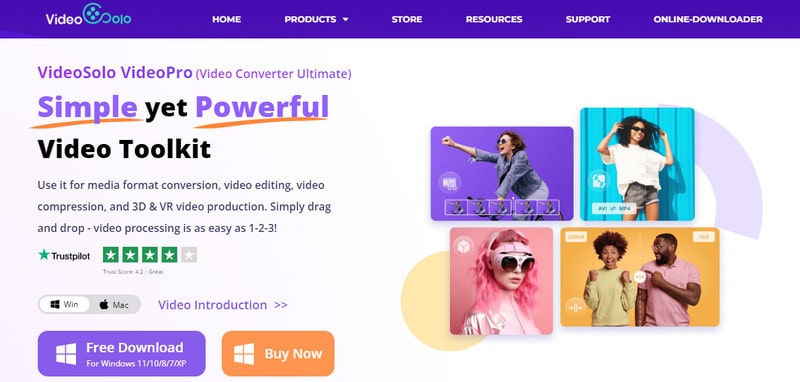 Features:
* It enables you to edit the video before you compress it.
* Compress and save the video to a hard disk with ease.
* It allows you to shrink video of MOV, MP4, MKV, and AVI.
OS:
Windows
Link:
https://www.videosolo.com/video-converter-ultimate/
---
Conclusion
The availability of free video compression tools has made it easier than ever to reduce file sizes on computers. By utilizing these top 10 tools, you can efficiently compress videos without sacrificing quality. Whether it's for saving storage space, optimizing uploading or sharing, or enhancing playback on various devices, these tools offer a range of features and capabilities. From user-friendly interfaces to batch conversion options, each tool brings its unique strengths to the table. Choose the tool that best suits your needs and preferences, and enjoy a more streamlined and efficient video experience on your computer.
Features of Any Video Converter
Compress video size without losing quality
Convert videos to higher resolution
Convert videos or images to GIFs
Cut or trim a video into segments
Crop video file to delete unwanted portions
Adjust audio volume and add audio effects
Download videos and music from 100+ sites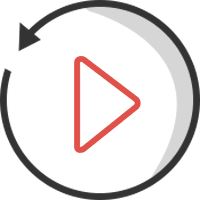 ---

Video Converter

DVD Converter

Video Editor

Enhance Video Quality

Enhance Image Quality

Remove Objects