Top 10 AI Video Maker for Creating Stunning Videos Automatically and Inteligiently
"Is there an AI that can create videos?" - Alex
In today's digital world, videos have become an essential part of content creation. They engage viewers, convey messages effectively, and leave a lasting impact. However, creating professional-looking videos can be time-consuming and require specialized skills. That is where AI video makers come in. In this article, we will explore the top 10 AI video makers that enable users to create stunning videos automatically. These tools leverage AI technology to automate various aspects of video production, including editing, effects, and customization.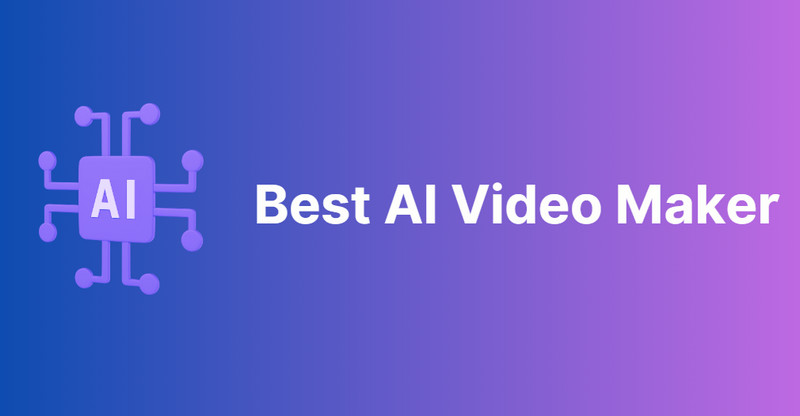 Part 1: Video Marketing in the Digital Age
A. The importance of video content in marketing
Video has become a vital component of successful marketing strategies. It engages viewers, conveys messages effectively, and drives conversions. Businesses across industries are leveraging video marketing to enhance their brand presence and connect with their target audience.
B. Challenges in creating high-quality videos
Producing professional-looking videos can be challenging, especially for those without extensive technical knowledge or resources. Factors such as video editing, visual effects, and storytelling need to be considered to create compelling and impactful videos.
C. How AI can revolutionize video production
AI-powered video makers automate time-consuming tasks involved in video production. From scene creation and text overlays to music selection and video editing, AI algorithms streamline the process and deliver high-quality videos with ease.
---
Part 2: Top 10 AI Video Maker
Now, let's check out the list of 10 best AI video maker:
1. Synthesia
Synthesia is a popular software platform that uses artificial intelligence to create and customize interactive video lessons. It uilizes advanced AI technology to generate realistic, high-quality video lessons. The AI creates lifelike avatars that can speak, gesture, and interact with the audience, making the learning experience engaging and immersive. It supports multiple languages, allowing users to create video lessons in different languages to cater to a global audience. This makes it easier for learners from diverse backgrounds to access educational content.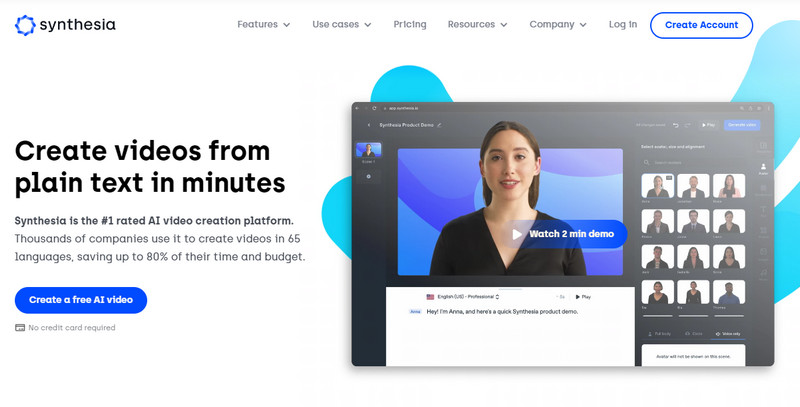 Pros:
• Allow for the automation of training videos, walkthroughs, and explainer videos without the need for recording or extensive editing
• Eliminate the need for a physical studio, actors, and video recording equipment, which can help save money and streamline the video production process
• Support multiple languages, allowing users to create videos in different languages, enhancing accessibility and reach
• Offer customization options, such as diverse AI avatars and voices, allowing users to create personalized and engaging video content
Cons:
• Limitations on video generation
• Robotic sounding voices
• API access limitations
---
2. SmartVideo by Videoremix
SmartVideo provides an intuitive and user-friendly interface where users can easily drag and drop elements to create personalized videos. The cloud-based nature of the software allows for easy access and collaboration from anywhere. With SmartVideo, users can create personalized videos by leveraging data such as visitors' Facebook information. This feature helps to create a more engaging and tailored experience for viewers.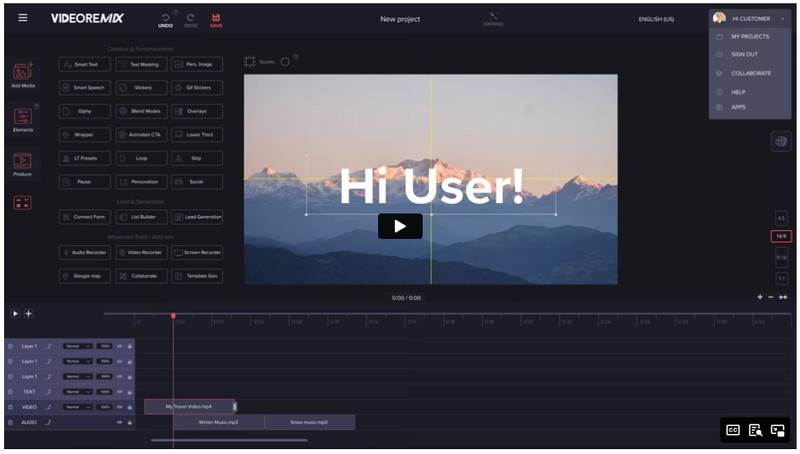 Pros:
• AI-powered personalization features for creating customized videos
• Integration with CRM and marketing automation platforms
• Dynamic text and image overlays for interactive videos
• Real-time analytics and performance tracking
• User-friendly interface with drag-and-drop functionality
Cons:
• More specialized for marketing use cases
• Pricing may be higher for extensive personalization
• Requires data and CRM integration for full potential
---
3. Lumen5
Lumen5 is a video creation platform powered by AI that offers several key features for users to easily create engaging video content. It utilizes AI technology to analyze text input and automatically generates scenes based on the content. This feature saves time and effort in scene selection and arrangement. With Lumen5, users can customize their videos to align with their brand identity. They can emphasize important keywords with their brand color, add logos or watermarks, and maintain consistency throughout their video content.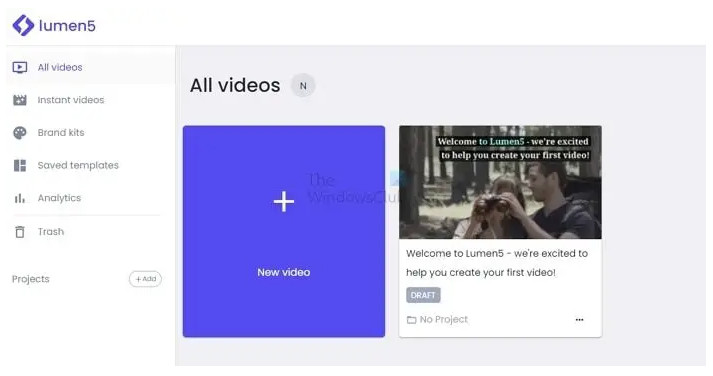 Pros:
• AI-driven content-to-video conversion with automatic scene creation
• Royalty-free media library with high-quality visuals
• Customizable branding elements to maintain brand consistency
• Social media sharing and publishing options for easy distribution
• User-friendly interface with simple text input and customization options
Cons:
• Limited customization for advanced users
• Some limitations in content adaptation
• Occasional audio quality issues
---
4. Wave.video
Wave.video offers a range of key features that make it a powerful tool for video marketing and editing. It allows users to convert their text content into engaging videos. This feature enables users to transform written content into visually appealing videos quickly and easily. With auto-captions, Wave.video automatically generates captions for videos, making them more accessible and improving viewer engagement. This feature saves time and effort in manually adding captions.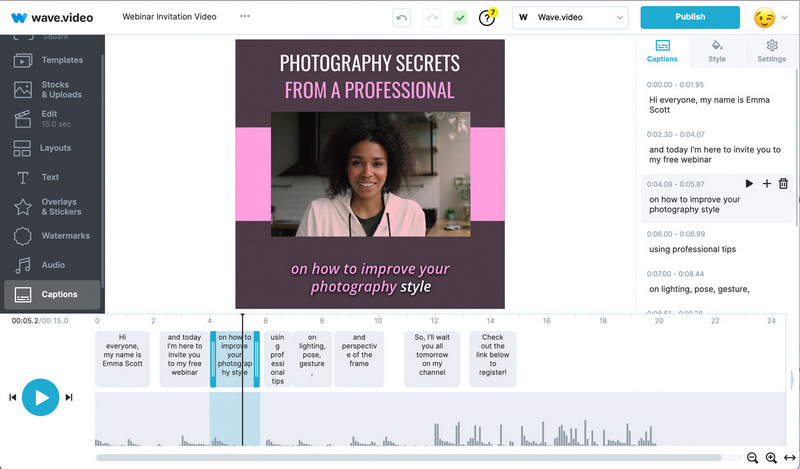 Pros:
• Extensive library of stock videos and images for easy access
• Video resizing for different platforms, saving time on manual adjustments
• Text and logo animations to enhance visual appeal
• Collaborative video editing features for team collaboration
• Social media scheduling and publishing options for seamless sharing
Cons:
• Limited AI-driven content generation
• Some advanced features may require a learning curve
• Pricing may be higher for extensive usage
---
5. Magisto
Magisto utilizes AI technology to automatically edit videos and photos. The algorithm analyzes the footage on multiple levels, including visual analysis, audio analysis, and storytelling, to create compelling and professional-looking videos. Magisto is available on multiple platforms, including web, iOS, and Android, allowing users to access and use the software across different devices.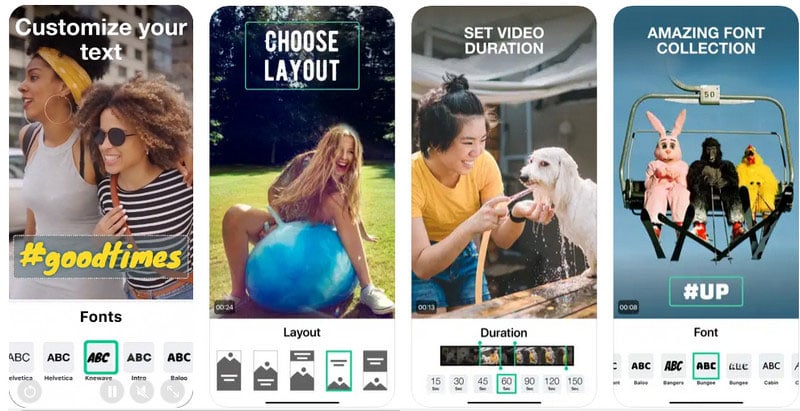 Pros:
• Smart video editing technology that automates the editing process
• Automatic video stabilization for smooth and professional-looking footage
• Video templates for various purposes and industries
• Music library and voiceover integration
• Social media sharing and publishing options
Cons:
• Limited customization options
• May not be suitable for highly specialized projects
• Occasional limitations in content adaptation
---
6. Animaker
Animaker provides a comprehensive suite of tools for creating videos. It offers a range of features and functionalities to help users bring their ideas to life. Powered by an HTML5 engine, it ensurs smooth playback and compatibility across different devices and platforms. Animaker includes a character builder that allows users to create and customize animated characters. This feature enables users to personalize their videos and add unique elements to their storytelling.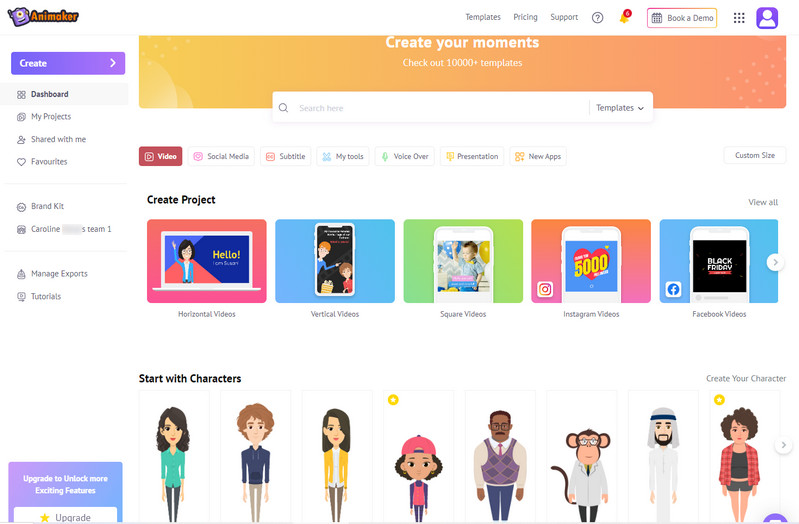 Pros:
• Extensive collection of character animations and assets for animated videos
• Drag-and-drop interface with easy-to-use editing tools
• Text-to-speech functionality for adding voiceovers
• Cloud-based, enabling users to edit their projects from anywhere with an internet connection
• Various tools that allow users to create content using different media formats, such as images, videos, and text
Cons:
• Limited template selectio
• Upgrading required for frequent users
• Loading times can be cumbersome, which could impact productivity for some users
---
7. Renderforest
Renderforest is praised for its easy-to-use interface, making it accessible for users with varying levels of expertise. The platform offers a wide range of animation templates and animations that are of high quality and professional standard. It allows users to create various types of videos, including intros, explainer videos, slideshows, and more, without the need for software installation.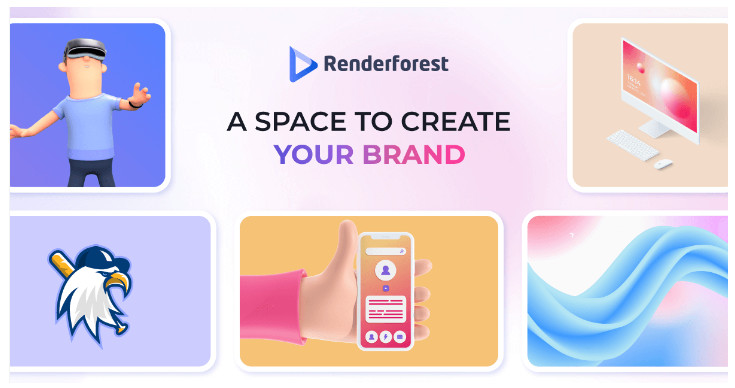 Pros:
• User-friendly interface
• High-quality animation
• Versatile video creation
• Brand-specific content creation
• Cloud-based platform
• Collaborative capabilities
Cons:
• Limited template selection
• Price limitations
• Customization limitations
---
8. Wibbitz
Wibbitz offers an improved media library that provides access to a wide range of licensed photo and video content, allowing users to create engaging videos with ease. It provides a centralized suite of brand management tools, enabling users to maintain consistent branding across their video content. It leverages patented artificial intelligence technology to automate the video creation process, empowering storytellers to quickly and efficiently create professional-looking videos.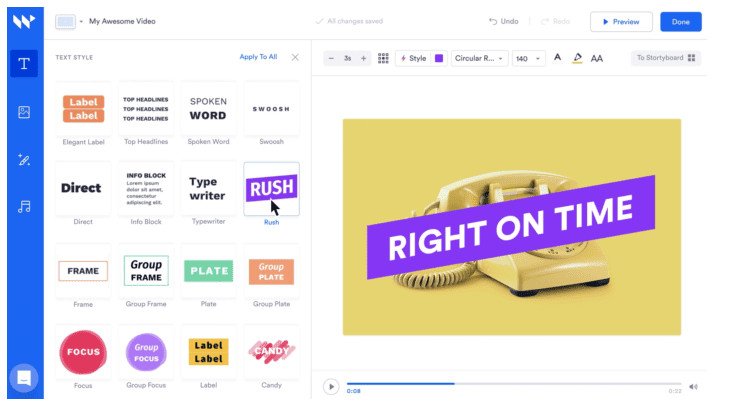 Pros:
• User-friendly interface
• Quick and easy video creation
• Cost-effective solution
• Customization options
Cons:
• Absence of 3D and VR editing
• Limited template selection
---
9. Moovly
Moovly Studio is a web-based video creation editor that allows users to create videos directly in their browser without the need for software downloads or plugins. It offers a user-friendly drag-and-drop interface, making it easy for users to add and arrange various elements such as characters, charts, objects, pictures, sounds, and music in their videos. Moreover, it provides animation tools that enable users to animate characters, charts, objects, and create whiteboard-style animations, allowing for engaging and dynamic visual content.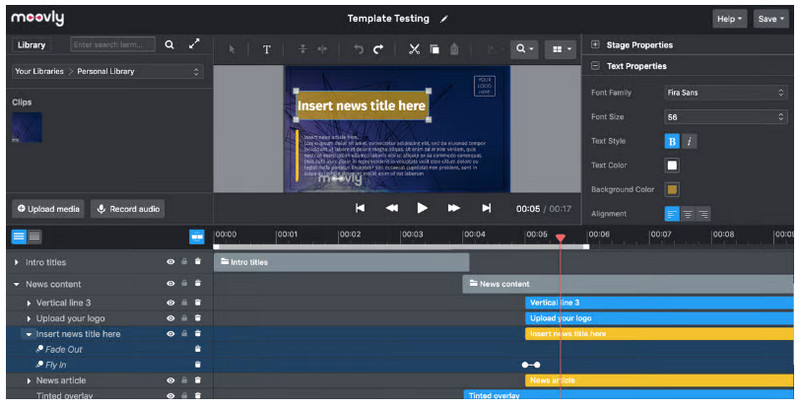 Pros:
• Easy-to-use interface
• Drag-and-drop functionality
• Wide range of tools
• Collaboration capabilities
Cons:
• Limited templates
• Moovly's pricing plans may not be considered cheap, especially for advanced features
---
10. InVideo
InVideo offers a user-friendly interface, making it easy for users to navigate and create videos. InVideo provides a range of customizable templates that users can modify to fit their specific needs. Users can upload images, logos, and edit text to personalize their videos. It offers access to a vast stock media library with millions of images, videos, and music tracks that users can use in their videos.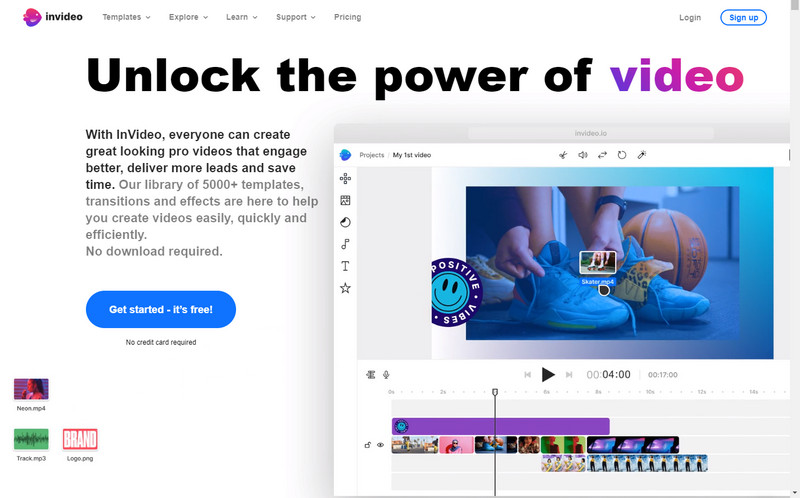 Pros:
• User-friendly interface
• Excellent customer support
• Creative features
• No watermarks
Cons:
• Limited template library
• The exporting process in InVideo is reported to be lengthy and time-consuming
• Reliance on stable internet connection
---
Bonus: Best AI Video Enhancer to Upscale Generated Videos to 1080p, up to 4K, 8K
AVCLabs Video Enhancer AI is an AI-based video enhancer software that aims to upscale video quality and increase video resolution automatically. The software utilizes neural networks to remove noise, refine faces, and enhance overall video quality.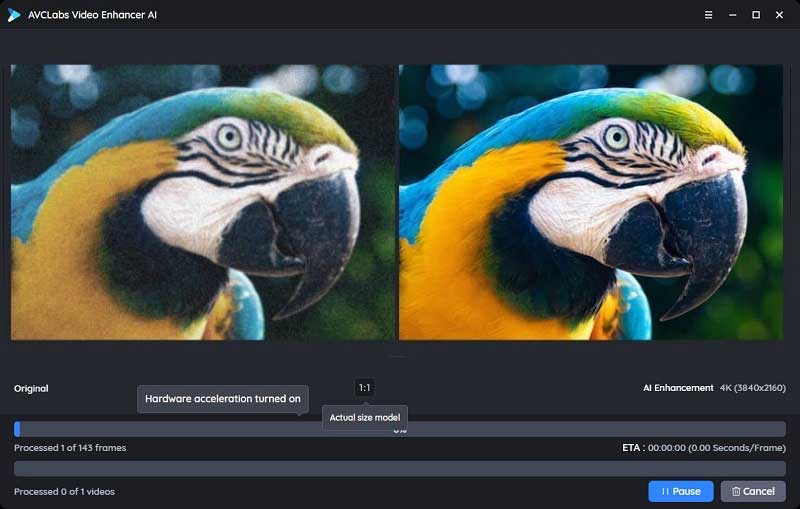 Video Enhancer AI
Enhance the video quality to make them more aesthetically pleasing.
Upscale videos from SD to HD, HD to 4K.
Sharpen faces from blurry video and enhance facial details.
Support denoising and deinterlacing videos as well as cropping videos to fill frame.
Support GPU & TensorRT acceleration.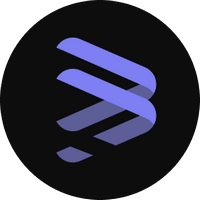 ---
Part 4: Criteria for Selecting AI Video Makers
A. Ease of use and user-friendly interface
A good AI video maker should be intuitive and user-friendly, catering to both beginners and experienced video creators. We'll evaluate the user interface of each tool to assess its ease of use.
B. AI capabilities and automation features
The strength of an AI video maker lies in its AI capabilities. We'll delve into the extent to which these tools utilize AI for automation, from generating video content to suggesting edits.
C. Template variety and customization options
Variety in templates allows for creativity and brand consistency. We'll explore the range of templates available and the degree to which they can be customized.
D. Video editing tools and effects
An effective AI video maker should offer a suite of video editing tools and effects. We'll assess the editing capabilities and the range of effects each tool provides.
E. Pricing models and affordability
Pricing plays a crucial role in choosing the right tool. We'll provide pricing details for each AI video maker and evaluate their affordability relative to the features they offer.
---
Conclusion:
In conclusion, video marketing is a must-have to advance your digital marketing strategies. To help you in getting started or further enhance the videos that you already have, there are several video makers and enhancers as shown above. Furthermore, make sure to refer to the criteria on selecting AI Video Makers when picking the right one for you. Magisto for instance is a great option if you want accessibility and usability. While AVCLabs Video Enhancer AI makes it possible for you to upscale generated videos from simple 1080p up to 4K or even 8K resolutions. Don't wait any longer and get ahead of the competition with AI video marketing today! Take action now by downloading one of these amazing tools!
Try AVCLabs Video Enhancer AI to breathe new life into your footage!
---

Video Converter

DVD Converter

Video Editor

Enhance Video Quality

Enhance Image Quality

Remove Objects