How to Watch Movies in 4K in Different Ways
"Can I watch 4K movies for free?" - Alex Lim
Nowadays, watching movies in 4K has become the preferred choice for many movie buffs. With its stunning clarity, vibrant colors, and high definition, 4K movies offer an unparalleled movie watching experience. But what exactly is 4K, and how can you watch movies in this super high-definition format? In this blog, we will answer all your questions about 4K movies and provide you with the best free 4K movie streaming sites and tips for watching 4K movies. We have also included a bonus section on how to watch downloaded movies in 4K with AVCLabs Video Enhancer AI.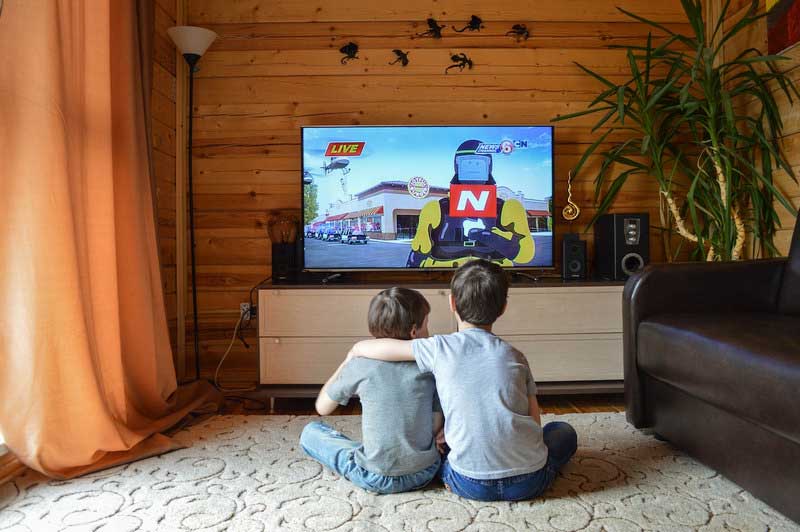 Part 1: Benefits of Watching Movies in 4K
If you're a movie enthusiast, you'll be delighted to find out that there are many advantages to watching movies in 4K. 4K, or Ultra High Definition, is a resolution that offers four times the clarity of 1080p Full HD resolution. With 4K, you can enjoy a cinematic experience at home with unparalleled picture quality and vibrant colors. The extra sharpness and depth of the picture make for an unforgettable movie-watching experience.
Another benefit of watching movies in 4K is that it allows you to enjoy the finer details of your favorite movies. You'll be able to see minute details of the location and characters, and the viewing experience will be much more immersive. The enhanced clarity also ensures that you can watch the movie from any angle without any loss of definition or clarity.
In addition, 4K movies also offer improved sound quality compared to the conventional Full HD resolution. The improved audio clarity ensures that you can enjoy the movie's soundtrack with greater depth and detail. With 4K, you can truly immerse yourself in the movie's atmosphere and feel like you're part of the action.
The last advantage of watching movies in 4K is that it is more cost-effective than conventional Full HD resolution. 4K movies can be watched on any 4K-compatible device, such as a smart TV, laptop, or tablet. This means that you don't have to invest in expensive hardware to enjoy 4K movies.
---
Part 2: Best Free 4K Movie Streaming Sites
If you're looking for free 4K movies, there are many streaming services that offer a wide selection of 4K movies.
1. Amazon
Amazon provides a huge selection of 4K movies, allowing you to choose between paying an annual subscription fee or buying individual titles. With Prime Video and Instant Video services accessible for just $99 per year, the savings are clear - but if you'd rather pick your favourites individually Renting or Purchasing single films gives unbeatable freedom!

Pros:
• Excellent original content
• 4K and HDR streaming
• Live Thursday Night Football and WNBA games
Cons:
• Continues to lose third-party content to other services
---
2. Netflix
Netflix has revolutionized the way we watch movies with its vast selection of 4K Ultra HD titles available for streaming. Paying just $14 a month gives you access to some of Hollywood's biggest blockbusters and Netflix Originals, including science fiction adventures, thrillers, documentaries, comedies and action-packed spectacles, many even offering 3D visuals in glorious 4K resolution! Even better: You can download all these amazing films straight to your device once you get a subscription. So take advantage today by searching "4K" or "UltraHD" on Netflix. It might be time to upgrade your movie night!

Pros:
• Simple and easy to use
• Affordable subscription model
• Ad-Free / No commercials
Cons:
• No HBO movies
---
3. Youtube
YouTube is the ultimate destination for all your movie-viewing needs with its great selection of 2160P 4K movies from romantic comedies to action packed thrillers, and everything in between. With a YouTube Red subscription costing just $10 a month, you can access unlimited hits at high resolution quality plus special offers like rentals or purchases that cost as low as two bucks!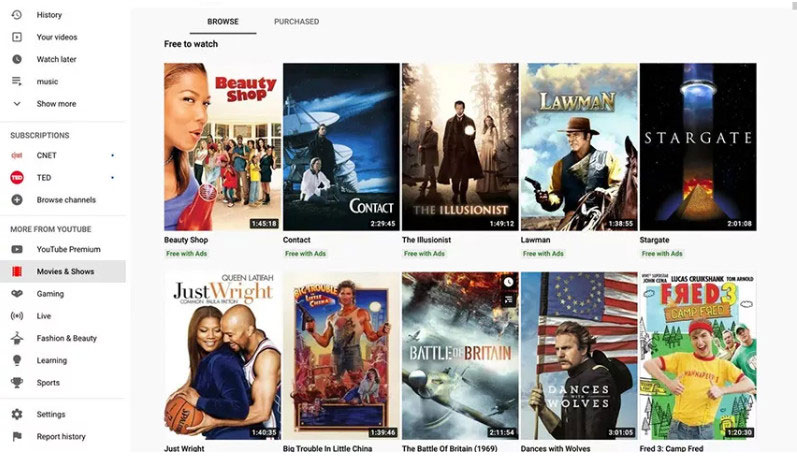 Pros:
• Simple, fast and reliable
• Best for watching movie trailers
• Premium version is affordable
Cons:
• Limited movies
• Free-version contain ads
---
4. Vudu
With Vudu, you no longer need to leave the house for a top-of-the-line movie night. The site offers 4K UHD movies at an unbeatable price – from $20-$30 for purchase and only $10 per rental! Plus, browse through their selection of free 2160P quality films with stunning clarity. Whether paid or complimentary viewing, there's something perfect for your next blockbuster evening!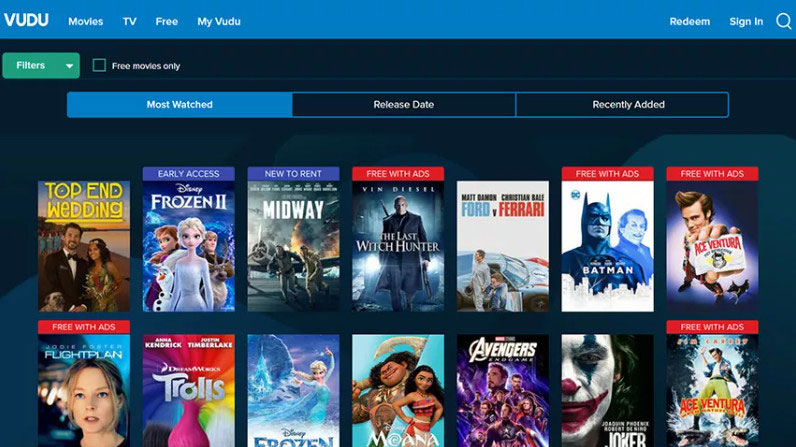 Pros:
• Free streaming with ads
• Rent and purchase current blockbusters
• Useful search filters
Cons:
• Mediocre interface and video player
---
5. UltraFlix
UltraFlix has quickly become a major player in 4K streaming, rivaling the likes of Netflix and Amazon. With hundreds of hours from top studios such as Magnolia Pictures, Warner Bros., MGM, Alchemy, plus an additional 100 free viewing options, you can enjoy UltraFlix's incredible selection at unbeatable prices ranging from only $1 to $10 for 48-hour access.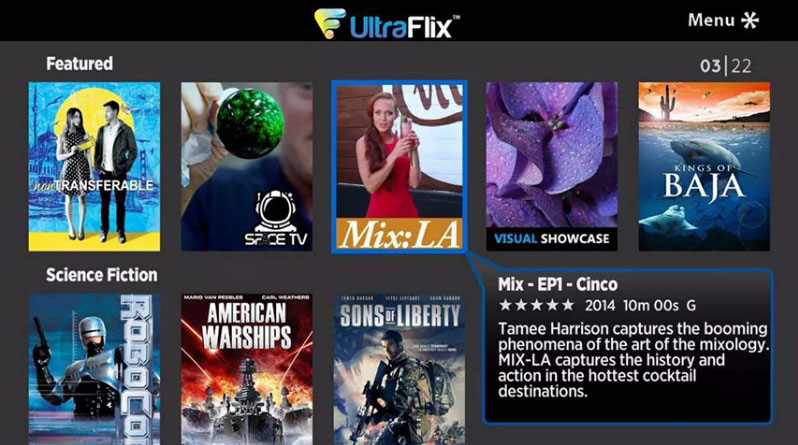 Pros:
• 100 hours of free content
• On-demand 4K movies
• Different movie categories
Cons:
• Limited movies with bad interface
---
6. Sony Ultra
Sony recently launched its own 4K Ultra HD movie streaming site, giving viewers access to over 100 movies and TV shows. Instead of renting films for a limited time, you can purchase them individually for an affordable price, but get ready because they're coming in HDR 10! And with your purchases stored safely in the cloud instead of on any devices, all that's left is to sit back and enjoy the show.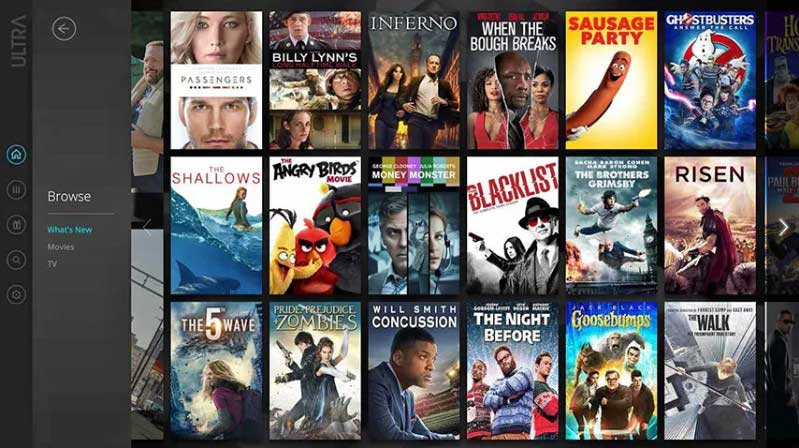 Pros:
• High quality movies
• Supports HDR 10
• 4K ultra HD movie streaming
Cons:
•Highly expensive
---
Bonus: How to Watch Downloaded Movies in 4K with AVCLabs Video Enhancer AI
If you've downloaded 4K movies, you can use AVCLabs Video Enhancer AI to improve the quality of the video. This powerful AI-based software uses advanced algorithms to automatically enhance the picture quality of your 4K movies. It can also upscale regular HD movies to 4K resolution, so you can enjoy a more immersive movie-watching experience. All you have to do is select the movie you want to enhance and the software will do the rest. The software also offers a range of customization options, so you can adjust the settings to get the best possible picture quality.
Video Enhancer AI
Enhance the video quality to make them more aesthetically pleasing.
Upscale videos from SD to HD, HD to 4K.
Sharpen faces from blurry video and enhance facial details.
Support denoising and deinterlacing videos as well as cropping videos to fill frame.
Support GPU & TensorRT acceleration.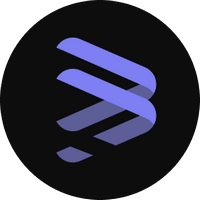 How to Watch Downloaded Movies in 4K with AVCLabs Video Enhancer AI
Step 1
Install and Launch AVCLabs Video Enhancer AI
Warm reminder: You are capable of clicking here to check the system and hardware requirements of AVCLabs Video Enhancer AI.
Download AVCLabs Video Enhancer AI from the link given above and then simply launch it after it has been installed on your computer.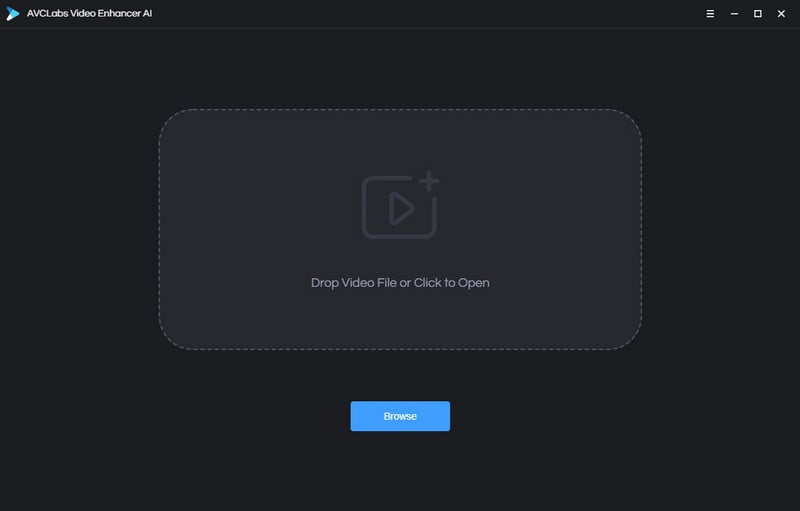 Step 2
Add One Or Multiple Movies You Need to Upscale and Select the AI Model and Set the Output Parameters
Upload one or multiple movies you need to upscale from your computer, then modify some critical parameters like processing AI model, output resolution, output format and output path, brightness, contrast, and saturation.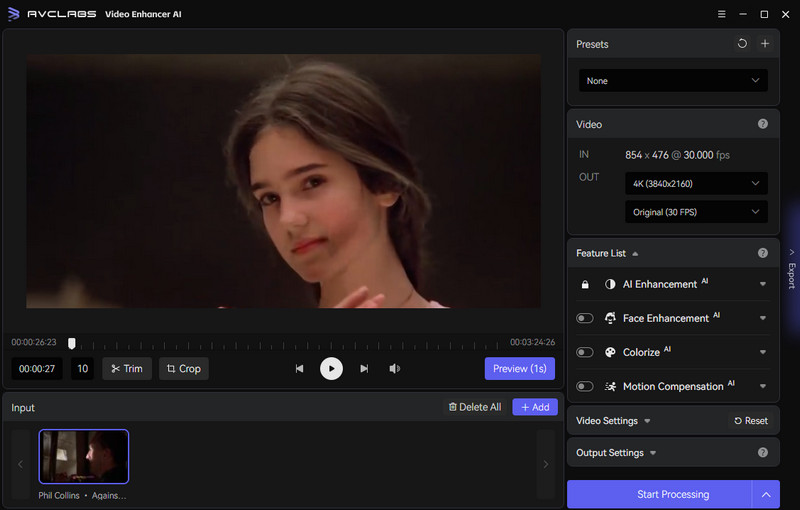 On the right panel, go to Presets section and select Upscale to 4K.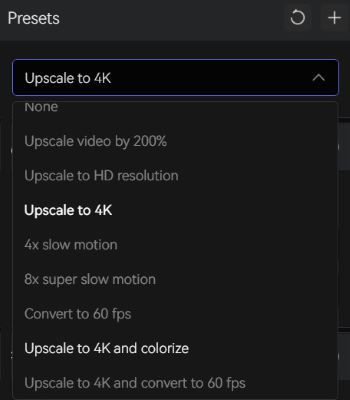 You are allowed to trim the unwanted parts frame by frame to save processing time before increasing the videos resolution and quality. You can also trim your video to the desired length by dragging the slider bar at the bottom of the program. Or simply input the start and end of the frames to set a clipping point accurately.
Step 4
Start Upsacling Downloaded Movies to to 4K, 8k
Once all the settings are done, simply click on the Start Processing button to upscale movies from 480p, 720p to 1080p, 4K, Even 8K. The final processing time depends on your computer's system configuration, video size.
After the AI movies upscaling process is completed, simply check and enjoy the upscaled movies with high-quality and high-resolution by opening the file folder.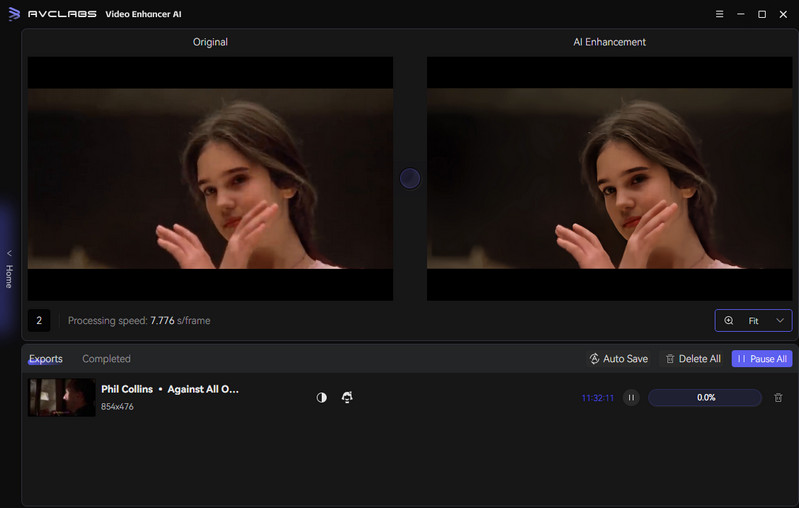 Warm tips: You are able to click on the Pause button to pause the process if the computer needs to be occupied for other tasks, and you can resume it when the computer is available.
---
Part 4: Tips for Watching 4K Movies
If you're planning to watch movies in 4K, there are a few tips you should keep in mind to ensure that you get the most out of your experience.
The first tip is to make sure that your device is capable of streaming 4K movies. Most modern devices, such as smart TVs, laptops, and tablets, are 4K-compatible, but you should double-check before you start streaming.
The second tip is to ensure that you have a good internet connection. Streaming 4K movies requires a lot of bandwidth, so you should make sure that your connection is fast enough to support 4K streaming. You should also make sure that your connection is stable and reliable, as streaming services may buffer if your connection is too slow or unstable.
Finally, you should also make sure that you have enough storage space to store 4K movies. 4K movies are much larger than regular HD movies, so you should ensure that you have enough storage to store the movies you've downloaded or rented.
---
Conclusion:
Watching movies in 4K is a great way to enjoy a cinematic experience at home. With its stunning clarity and vibrant colors, 4K movies offer an unparalleled viewing experience. There are many free 4K movie streaming sites and services, such as Netflix, Amazon Prime Video, ETC, that you can use to watch movies in 4K.
In addition, you can also use AVCLabs Video Enhancer AI to enhance the quality of downloaded 4K movies. This powerful AI-based software can automatically improve the picture quality of your 4K movies and even upscales regular HD movies to 4K resolution.
If you're looking for the ultimate viewing experience, 4K movies are the way to go. So, what are you waiting for? Get ready to unlock the ultimate viewing quality with 4K movies!
Try AVCLabs Video Enhancer AI to breathe new life into your footage!
---

Video Converter

DVD Converter

Video Editor

Enhance Video Quality

Enhance Image Quality

Remove Objects