[Ultimate Guide] All the Ways to Watch Amazon Videos on TV
Want to savor Amazon Prime videos on your TV? You've Come to the Right Place! This article will provide 7 effective methods as well as detailed steps to help you enjoy Amazon Prime video on your TV, whether your TV is smart or not. Choose the method that works for you and immerse in movies and TV shows to your heart's content!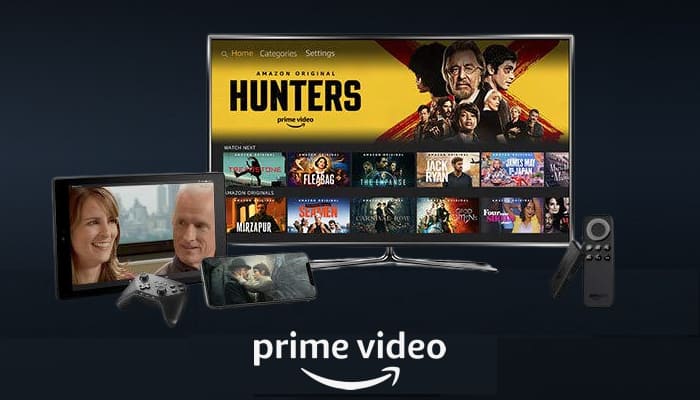 1. Use the Prime Video App on Smart TV
The Amazon Prime Video app works with almost every smart TV on the market, such as Sony, Samsung, Panasonic, LG, and more. Many smart TVs are also capable of playing Ultra HD content, and some of them support Dolby Atmos. Most manufacturers have the Amazon Prime Video app pre-installed, and if not, you can download it for free from your TV's app store, like Google Play Store and LG Content Store.
---
2. Use an HDMI Cable
You can use an HDMI cable to transmit video and audio signals between two devices, which is a traditional but practical method. Connect the HDMI port of your laptop or computer to the HDMI port on the TV to project the computer screen onto the TV. This method actually also works for iPhone and iPad, but you need to get an Apple Lightning to Digital AV Adapter to connect it with your device and HDMI cable.
How to Watch Amazon Prime Video from Windows with HDMI Cable?
---
3. Use the Streaming Media Device
If your TV is not a smart TV, or if your smart TV is unable to download the Prime Video app for some reason, you can make your TV "smart" with a streaming media player. As with smart TVS, almost every streaming media player on the market has the ability to play Amazon Prime Video, such as the Roku device, Apple TV, and Amazon's own streaming media player, Amazon Fire TV Stick.
How to Watch Amazon Prime Video with Amazon Fire TV Stick?
---
4. Use Chromecast
Chromecast is a media streaming device that can be plugged into your TV's HDMI port. However, unlike the third method, you need to use Chromecast on an iOS or Android device, or mirror your Windows or Mac computer in the Google Chrome browser. To use this method, the latest version of the Prime Video app or the Google Chrome browser is needed. And please note that your iOS or Android device or computer must be connected to the same Wi-Fi network as the Chromecast and TV.
How to Watch Amazon Prime Video with Chromecast on Computer?
How to Watch Amazon Prime Video with Chromecast on iOS Device?
---
5. Use the Game Console
With the Prime Video app in your game console, you can also easily watch Amazon Prime shows on your TV. The Prime Video app is compatible with the following consoles: Sony PlayStation 3, PlayStation 4, PlayStation 5, Microsoft Xbox Series X and Series S, and Xbox One.
How to Watch Amazon Prime Video with Xbox One?
---
6. AirPlay Amazon Prime Video on TV
You can use the Amazon Prime Video app on your iOS device or the browser/app on your Mac to stream Amazon Prime Video to your Apple TV via AirPlay, or to a compatible smart TV with the "Works with Apple AirPlay" label.
Make sure you have the AirPlay feature on your TV turned on before starting with the following steps: Settings > AirPlay & HomeKit > Turn on AirPlay. And your casting device is connected to the same Wi-Fi network as your TV.
How to Watch Amazon Prime Video from iOS Device Using AirPlay?
How to Watch Amazon Prime Video from Mac Using AirPlay?
---
7. Use an USB Drive
The above methods of casting or watching Prime Video videos directly have some limitations to a greater or lesser extent, such as network problems that may cause the video to lag or interrupt the projection. So we would recommend using the method mentioned next.
Most TVs nowadays are equipped with USB ports for connecting external devices, such as USB drives. Therefore, downloading the video, saving it to a USB drive and plugging it into your TV to watch is the most recommended. In this way, you can avoid a series of troubles caused by network problems and also realize watching videos on different devices.
How to Watch Amazon Prime Video with an USB Drive?
Next, we will use a tool called SameMovie Amazon Video Downloader, which can save Amazon Prime videos directly to your USB flash drive in MP4 format (or MKV format). It bypasses many of Amazon Prime's download restrictions, giving you more freedom to watch Amazon Prime videos anytime, anywhere. In addition, it supports customizing your video, like saving HD videos with audio tracks and subtitles in different languages.
---
Conclusion
The above seven methods can all help you watch Amazon Prime Video on TV. The specific steps have also been listed. You can choose a suitable method to watch Amazon Prime on your TV according to your actual situation. However, the last method - Using SameMovie Amazon Video Downloader to download videos to USB drive is the most recommended, because not only allows you to watch videos on any device, but also allows you to binge-watch the shows without considering network problems. Just have a try!
We Also Recommend
---