AI Image Upscaler Online | Make Images Bigger Online without Losing Quality
"How do I make an image bigger without losing quality? Is it possible to make a digital picture bigger without any loss of quality online?" - Alan Hoffman
We have all been there: you upload some images or a photo from your camera into your computer, and they're just too small. You need to upload it to another site, or send it to someone else in an email. But you can't because the image is just too small. The solution? AI Image Upscaler! AVCLabs AI Image Upscaler Online is a free and easy-to-use tool that will resize your images for you online with ease. It allows users to upload a picture and alter its dimensions with ease. It also does so without sacrificing quality – something that is not often available when resizing images manually on your computer. So let's take a look at how you can use AI Image Upscaler to make images bigger without losing quality.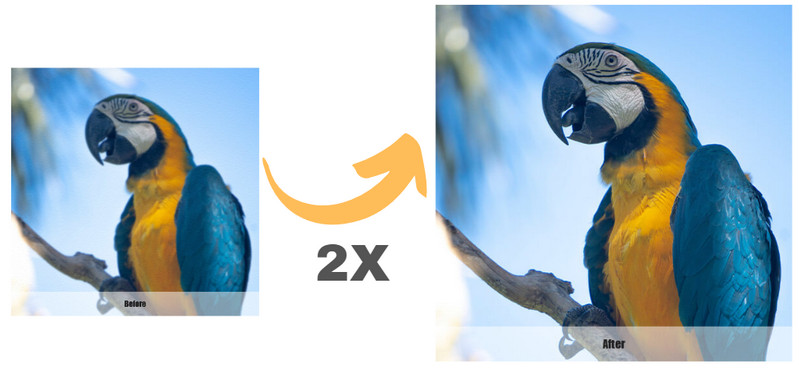 Part 1: Why Need to Make A Picture Bigger
There are lots of reasons why you might want to make a picture bigger. No one wants to send an email to someone with a teeny-tiny image that takes like 30 minutes to load just to see what it is. You don't want to post images on social media that are too small and get lost in everyone else's content. And you don't want to have to buy a new camera every time you want to take a picture but don't have your computer nearby. Luckily, there are several ways to make your photos bigger without having to use software that comes with all sorts of extra bells and whistles you don't need. There's no reason to go through the hassle of downloading images and then editing them on your computer just to make them slightly bigger. All you need is a simple online image resizer like AVCLabs Photo Enhancer AI Online that lets you upload pictures directly from your computer or smartphone. You can then resize the photo to the perfect dimensions with just a few clicks!
---
Part 2: How to Make Images Bigger without Losing Quality via AVCLabs Photo Enhancer AI Online
AI Image Upscaler Online - AVCLabs Photo Enhancer AI Online is a user-friendly online tool powered by AI. It can upscale the size and resolution of small images automatically and intelligently. Driven by super-resolution AI technology, this Image Upscaler Online could make images bigger without losing quality. It helps upscale low-resolution images by 2X, 3X, and 4X online for free, enlarging images without losing quality.
Photo Enhancer AI
Upscale images with super-resolution.
Sharpen images online 100% automatically.
Fix blurry photos by removing noise & grain.
Face Retouching tool to make portraits beautiful.
Naturally turn B&W photos into colors.
Calibrate and fix the color issue of photos.
Make the images' backgrounds transparent.
No editing skills are needed.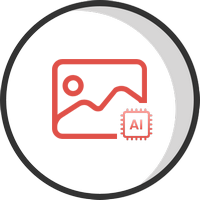 Upscale Images Without Losing Quality Online for Free via AVCLabs Online AI Image Upscaler
Just follow the steps below to make pictures bigger without losing quality using the best free AI image upscaler: AVCLabs Photo Enhancer AI Online.
Step 1
Go to the Official Page of AVCLabs Photo Enhancer AI Online
Navigate to the free online image upscaler with any browser (such as Google Chrome, Firefox, Safari). Please keep a good network condition during the whole process.
Step 2
Upload One or Multiple Small Images to AVCLabs Online AI Image Upsaler
On the main website of AVCLabs Photo Enhancer AI Online, you can immediately see the Upload Image button and choose images from your computer. You can also directly drag and drop low-res images to the online tool.
Note: The supported input formats are: *.png, *.jpg, *.jpeg, *.bmp, *.jfif and *.webp.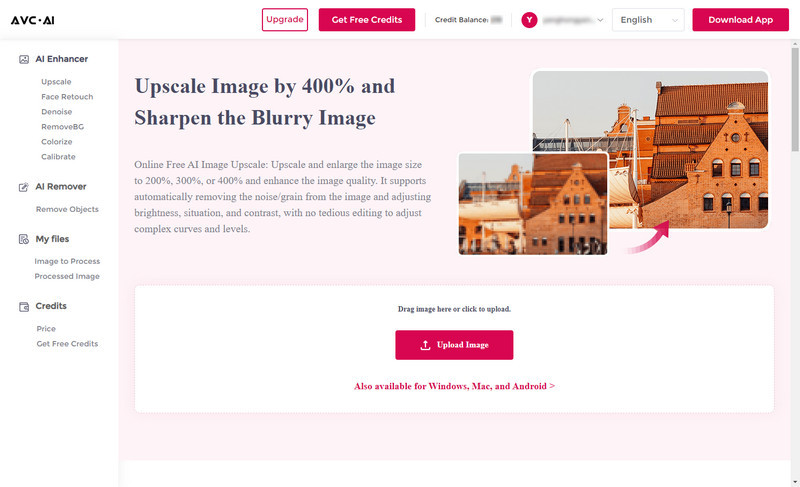 Step 3
Choose the AI Model to Start Making Images Larger
After uploading your small photos, you can see the image is displayed as the ready state. You can choose the AI Model, upscaling scale size, face refinement, etc.
To upscale small images, you are suggested to turn on the Upscale model here. It offers 100% to 400% options for scale size, just choose the size according to your need. If necessary, you are able to switch on the Face Refinement option to retouch portrait photos.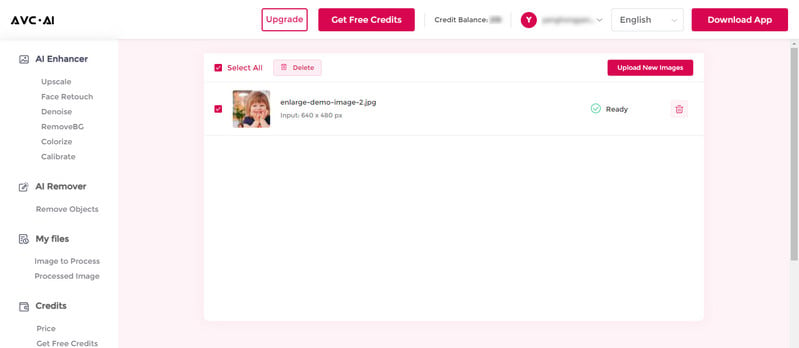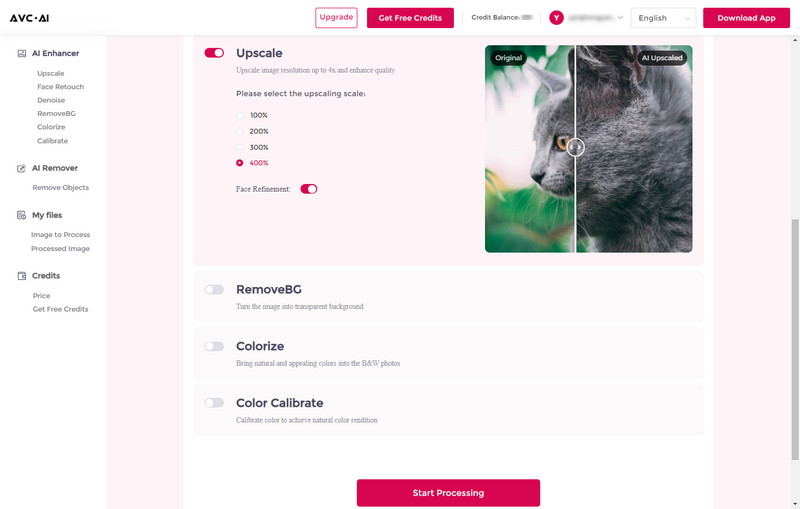 Once all the settings are done, click on the Start Processing button to start enlarging images.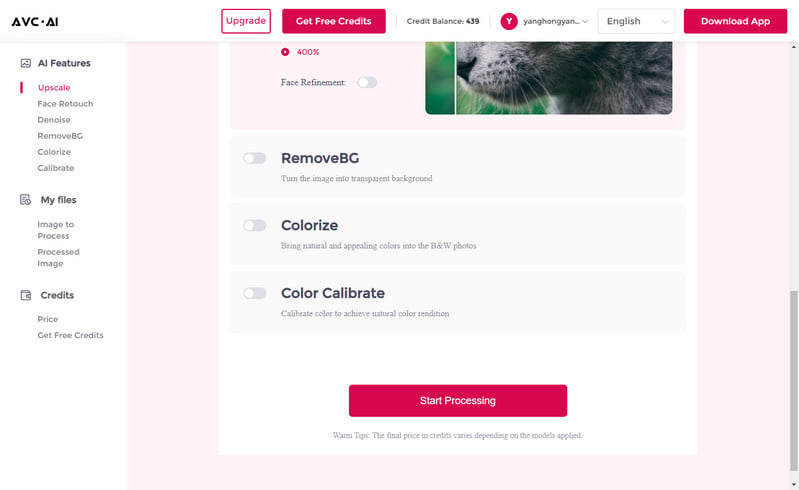 Step 4
Preview the Result And Save the Bigger Images to Your Computer
After the upscaled process is completed, simply switch to the Processed Image tab and tap on the Eye icon to preview the original and upscaled bigger images' result by dragging the slider bar.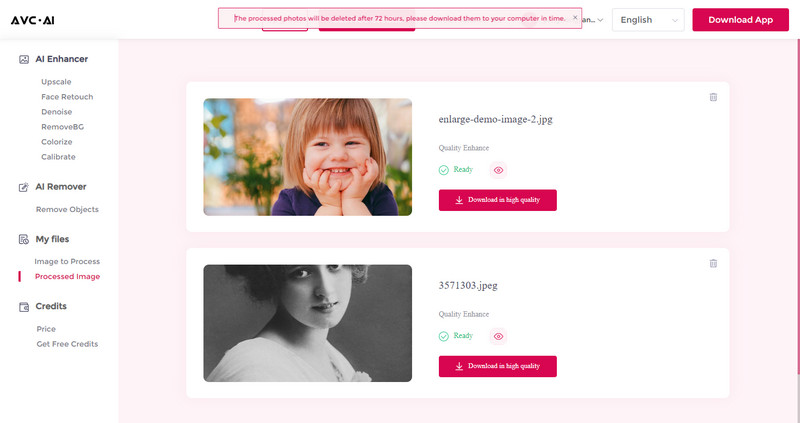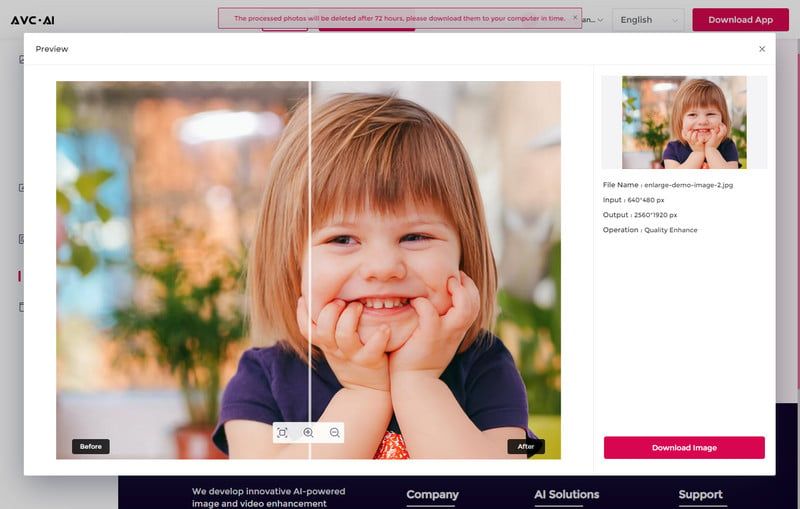 If the results can meet your need, simply click on the Download Image button to save larger images to your computer. The output format is *.jpg.
Note: The processed photos will be deleted after 72 hours, please download them to your computer in time.
---
Conclusion:
Thankfully, there is an easy way to make your photos bigger without any tedious third-party software. Try AVCLabs Photo Enhancer AI Online now, and you will have satisfying output images.
---
Extra Tips: Crop and Upscale Images without Losing Quality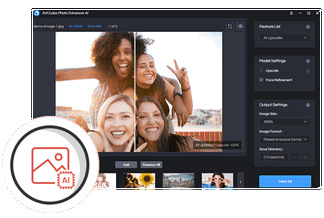 AVCLabs Photo Enhancer AI
If you wanna get better-quality pictures, process multiple photos more stably at the same time or crop photos, the desktop AI Photo Enhancement tool - AVCLabs Photo Enhancer AI is highly recommended. It comes with advanced features, such as adjusting the brightness, contrast, and saturation of photos.
Learn More

---

Video Converter

DVD Converter

Video Editor

Enhance Video Quality

Enhance Image Quality

Remove Objects