Any Video Converter -- Help You Watch Any YouTube Videos without Ads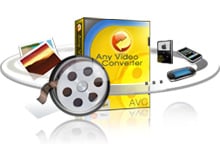 If you are a regular YouTube viewer, then I'm sure you will be annoyed by all those ads and cheesy 'not worth a dime' comments. Although advertisements are a great way for Web sites that provide free services to help recoup the cost of operation, the annoying thing is the ads which pop up inside the video. Sometime there are also comments on the video which is more irritating. Is there a way to prevent ads from showing up on our YouTube videos? Any Video Converter is a ways to help you watch YouTube videos without ads.
Any Video Converter is an excellent YouTube video downloader, but it also acts as an ad blocker. By downloading the YouTube videos with Any Video Converter, the ads are disappeared automatically. So you can enjoy watching YouTube videos without the ads interruption. You can also download and convert YouTube video to mp3, wma, wav, avi, mp4, wmv, 3gp and other audio and video formats in one step so that you can put the YouTube video on your Apple iPad, iPod, iPhone, Zune, PSP, Sony PS3 and other portable video devices and smart phones, like Nokia N-series cell phones, BlackBerry and Gphone.
YouTube is gradually turning into a replica of your local TV channel. When ads pop up on YouTube, they're not too much of an issue, and are generally viewed as inevitable. However, if you're trying to find a specific video, waiting through a 20- to 30-second ad each time can become very frustrating. Let's see what the difference between watching YouTube online and downloading YouTube video with Any Video Converter.
This is how your YouTube video page currently looks like:
This is the YouTube video downloaded with Any Video Converter:
How to Download YouTube Video without Ads by using Any Video Converter
1. Copy the YouTube video URL from the YouTube website.
2. Run Any Video Converter, click Add URL(s) button and paste the video URL to the pop-up panel.
3. Click Start Download! to begin downloading the YouTube video.
Note: you can choose the YouTube video downloading quality before downloading.

YouTube originally offered videos at only one quality level, but now YouTube videos are available in a range of quality levels. Any Video Converter supports multiple quality levels for YouTube videos. You can go to Options > Online Video > Select Format and choose Manually Select, Best Quality or Smallest File Size for your YouTube videos.
Any other ways to block ad in YouTube video?
AdBlock can remove YouTube video ads before you see them. You can install AdBlock Plus for Firefox or for Chrome to use it. But there is a problem, that is, AdBlock also disables all other advertisements which is not fair for webmasters. Advertisements are a great way for Web sites that provide free services to help recoup the cost of operation.
In view of this, Any Video Converter is a good choice to watch YouTube videos without ads. With Any Video Converter, you can also download videos from 100+ sites for free. Besides, you can use it to convert videos to other formats at ease.
Copyright ©2021 Anvsoft Inc. All Rights Reserved.