Q1: How to start and stop the recording function?
Run program, click "Record Video" tab on the top of the program to the video recording panel and click "Record Now" button to start recording. To stop recording, you can press hot key "Ctrl+F7" or check the option "Stop in.." and input the time in the tab to specify when to stop recording.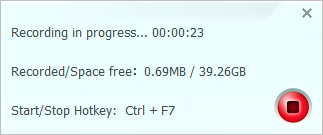 Here is a detailed tutorial on how to use the video recorder for recording desktop activities and streaming video online.
Q2: After recording, there is no audio in my PC? How can I fix it?
If there is no playback sound after installing Any Video Converter Ultimate or using Any Video Converter Ultimate to record videos, please follow the steps below.
Step 1. Right-click speaker icon in task tray to open sound control dialog. If you can't find the speaker icon, please click "Start > Control Panel > Hardware and Sound > Sound".
Step 2. Click Playback, set Speakers to Realtek High Definition Audio, click "Set Default".
Step 3. Click Recording , set Microphone to Realtek High Definition Audio, click Set Default.
Step 4. Click OK to apply.
Q3: Nothing happen after clicking record button?
Please go to the video recorder folder with path similar to this
C:\Users\Iris(your user name)\Documents\Any Video Converter Ultimate\Video Recorder
Delete video file inside or transfer to other location. And then try to record video again.
Q4: How can I find my recorded video?
After video recorded, please select and right click on the video that listed in the center panel, select "Open Source File Location". Then you will find the video output which is stored in "Video Recorder" folder.
You can also find your recorded items by dragging down the side bar on the left and clicking on "Recorded" icon, then all the recorded items will list on the center panel. High line the video item and right click to open file location as above.
Q5: My recorded video and the audio is out of sync, how to fix it?
Please try to reduce the recorded frame size and see if it works better.