Nokia's newest flagship Windows Phone in the US, the Lumia 928, launches this week as a Verizon exclusive. If you have been waiting for PureView Phase 2 in a lighter package, Lumia 928 is for you, as long as you are a Verizon subscriber. Lumia 928 is still noticeably thicker and heavier than other top-tier phones like the iPhone 5, Samsung Galaxy S4 and HTC One.
Nokia Lumia 928 bears the same 4.5-inch, 1,280 x 768 PureMotion HD+ display (ClearBlack OLED), 1.5GHz dual-core Snapdragon S4 processor with 1GB RAM, 2,000 mAh battery, integrated wireless charging, NFC and 1.2-megapixel front-facing / 8.7-megapixel rear camera setup as the Lumia 920 & Lumia 925. Naturally, Lumia 928's made to run on Verizon's network, so you'll find support for LTE / CDMA.
If you have trouble in playing videos/DVDs on Lumia 928, simply take a look at the following guide, which will focus on how to download YouTube video and how to convert videos/DVD movies to Nokia Lumia 928 for playback.
Why Choose Nokia Lumia 928 Instead of Lumia 920?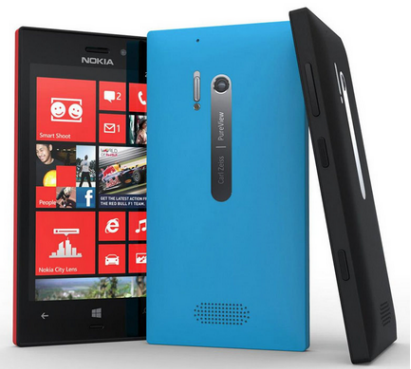 The new Nokia Lumia 928 will be exclusive to the Verizon network in the US. Let's take a closer look to see if its considerable advantages make it superior than Lumia 920.
Lumia 928 features a 4.5-inch OLED display rather than LCD IPS one as seen on 920.
Lumia 928 powers a Xenon flash rather than the LED flash as seen on the 920.
Lumia 928 enjoys three high audio amplitude capture microphones for audio recording.
Lumia 928 comes with a new and improved speaker that goes up to 140 db.
Lumia 928 is slightly taller (133.0mm vs 130.3mm), but it is thinner (162.0g vs 185g).
Nokia is promising improved battery life for the Lumia 928 over the Lumia 920.
Convert Various Videos to Nokia Lumia 928
Tags: convert avi to mp4, mp4 to Nokia Lumia 928, Nokia Lumia 928 video converter
The new Nokia Lumia 928 only supports MPEG4, WMV, 3GP, H.263, H.264 videos. If you want to play your various videos on Nokia Lumia 928, Any Video Converter Ultimate would be your top pick. With advanced video coding technology, it allows you to convert all video files to MP4/WMV/3GP for playback on Nokia Lumia 928.
Convert DVD Movies to Nokia Lumia 928
Tags: convert DVD to mp4, DVD to Nokia Lumia 928, Nokia Lumia 928 DVD converter
Any Video Converter Ultimate is also an excellent DVD to Nokia Lumia 928 Converter, which can convert DVD to MP4 for Nokia Lumia 928. Besides, the program can convert DVD to Nokia Lumia 920, Lumia 925, Nexus 7, iPhone 5, Kindle Fire HD, HTC, etc.
Download Online Videos to Nokia Lumia 928
Tags: Download YouTube, YouTube to Nokia Lumia 928, YouTube to mp4
It can not only download YouTube to Nokia Lumia 928, but also download online videos from Vevo, Veoh, Vimeo, Liveleak, Facebook, Howcast, etc. for Nokia Lumia 928. Download and convert web videos to iPhone, iPad, PSP, HTC, Kindle Fire HD, etc. are also available.
How to convert video or DVD movie to Nokia Lumia 928
"Anyone has a confirmed tutorial on how to convert videos to my new Nokia Lumia 928? Got some fantastic YouTube FLV videos on my hard dirve, but the FLV videos cannot be played on my Lumia 928. If you get any tip, just share with me."
Step 1:
Download and install Any Video Converter Ultimate. The downloading and installation should be fairly self-explanatory. Once you are done with this, boot the Nokia Lumia 928 Video Converter up and you are ready to go.
Step 2:
Click Add Video Files to select the videos you want to convert. You can also add batch video files by clicking File > Batch Add Video Files. Click the Add DVD button or click File > DVD. It will start scanning your DVD, you can also choose skip.
Step 3:
Nokia Lumia 928 supports MPEG4, WMV, 3GP, H.263, H.264 video formats, so you can free to click Output Profile to select Customized MP4/WMV Movie or Mobile Phone 3GP Movie (*.3gp) as the output video format.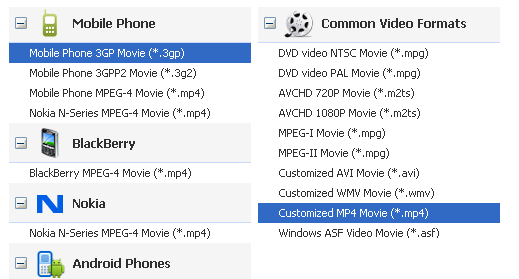 For better enjoying videos on Nokia Lumia 928, you can customize video and audio options, such as Video Codec, Video Size, Video Bitrate, Audio Bitrate, Sample Rate, etc.
Video Size: 1280 x 768 pixels
Video Bitrate: 2500K or 3000K
Frame Rate: 29.97fps or 30fps
Audio Sample Rate: 48000
Audio Bitrate: 128K or 160K
Step 4.
Simply click Convert Now! button to convert videos/DVDs for Nokia Lumia 928 . Once the conversion is finished, you can click "Output Folder" button to get the output files. Then connect your Nokia Lumia 928 with PC, import output videos into it, and have fun!
Reviews for Nokia Lumia Video Converter
"You Guys are Awesome ! ! ! Your product saved a project that was getting crazy and confusing - The simplicity of operation is just that -- simply unbelievable ! ! ! Please know that I will buy Your product and tell everyone I know to buy it ! ! ! !"
-- -- Lawrence Slesinger
"Firstly, can I say that I am hugely impressed with the program in general. It is easy to use, reasonably quick, and the quality of the rendering of the output is second to none. This is a World-class piece of software.... "
-- -- Stuart Falcone