If you're going to buy an iPod for yourself, there are plenty of things to recommend the fourth-generation iPod Touch. Why? The most obvious being the $100 you get to keep in your wallet. New software and a boost in capacity have been upgraded. The fourth-generation Apple iPod Touch is the winner of CNET's 2011 Editors' Choice Award for portable media players.
The 3.5-inch capacitive touchscreen is called a Retina Display, which means it has resolution (960 x 640) and pixel density (326 ppi). And it has only 7.2mm in depth. To play videos and listen to the music on iPod Touch 4 would be wonderful. However, not all the video/audio formats can be supported by iPod Touch 4. If you try to copy an incompatible file to your iPod touch 4, the only solution is to convert these files to iPod Touch 4 supported formats. Any Video Converter Freeware will be your best choice to finisht the conversion task.

Supported Audio/Video Formats by iPod Touch 4th Generation
The iPod touch 4 supports a range of audio formats, including 8-320Kbps AAC (and the protected variant that you get from the iTunes Store). You can also play HE-AAC, regular and VBR MP3, AIFF, Apple Lossless, WAVE and Audible (2, 3, 4, Enhanced Audio, AAX and AAX+).
Video-wise, the iPod touch 4 plays a range of formats including up to 720p H.264-encoded formats such as .mp4, .mov and .m4v. It also likes MPEG-4-encoded .mp4, .mov and .m4v, as well as Motion JPEG .avi files.

How to convert video to iPod Touch 4?
Here the following is a brief guide on how to convert unrecognized video files to supported format of iPod Touch 4 via Any Video Converter Freeware.
Step1:
Click "Add or Drag File(s)" Button or "Video(s) +" Button to add video.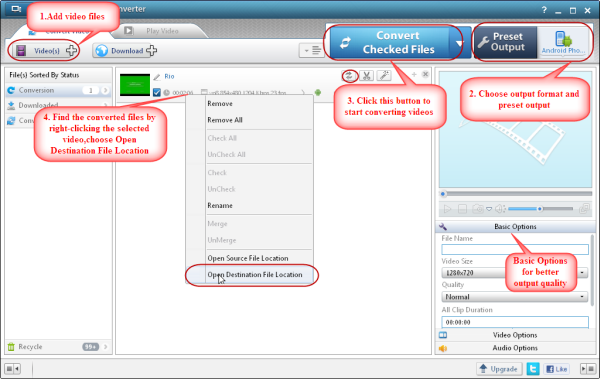 Step 2:
Click "Preset Output" and choose your output device and output format. Then click "CONFIRM" Button to confirm. You can scroll to Apple iPod then choose "Apple iPod Touch 4 MPEG-4 Movie(*.mp4)".
Step 3:
Click "Convert All File(s) NOW" Button to start converting. Once the conversion is completed, right click on the video thumbnail select "Open Destination File Location", there will show you the converted video files.
Then you can transfer the converted videos to your iPod Touch 4. Apart from converting videos for iPod Touch 4, you can also download video from YouTube, facebook, nicovideo, myvideo, vevo, veoh, dailymotion, break and more online streaming video with this Free iPod Touch 4 Video Converter.
Comparsion between iPod Touch 4 and iPod Touch 5-- YouTube