Verizon has just announced a trio of new Droid-branded Motorola smartphones: the Droid Ultra, Droid Maxx, and Droid Mini. The Ultra and Maxx follow up last year's Droid Razr HD and Razr HD Maxx, while the Mini, a smaller entry-level device, is the new version of the Droid M.
The smallest member of The Three Droidsketeers, the DROID Mini is aimed squarely at smartphone lovers looking for Android device that is, well, smaller. The Mini comes with a 4.3-inch LCD display, that's also 720p.
The resolution is 720x1280 pixels, so it should be well suited to watching good quality video content when you're away from home. If you would like to transfer your favorite videos, audios or movies to the Moto Droid Mini, you may need a Video Converter to help you convert them onto the supported formats or display first of all. And Any Video Converter Ultimate is specific designed for you to convert any video formats to Moto Droid Mini.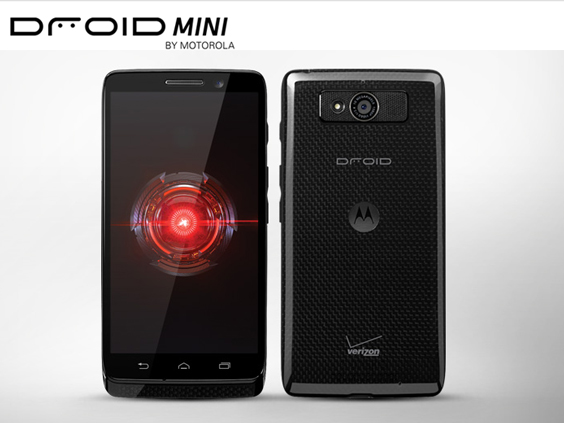 Droid Mini Tech Specs
Operating System:

Android™ 4.2.2 Jelly Bean

Display:

HD 720p (720x1280 pixels)

Memory:

2GB DDR RAM, 16GB storage

Camera:

FRONT-FACING CAMERA: 2 MP
REAR-FACING CAMERA: 10 MP with LED Flash Clear Pixel Technology

Battery:

2000 mAh, 28 hours of mixed usage

Processor:

Motorola X8 Mobile Computing System, which is comprised of a Qualcomm Snapdragon S4Pro family processor (1.7GHz Dual-Core Krait CPU, 400 MHz quad-core Adreno 320 GPU), a natural language processor and a contextual computing processor.

Connectivity:

WI-FI: 802.11 b/g/n
BLUETOOTH® TECHNOLOGY:Bluetooth Class 2 Version 4.0 LE+EDR
GPS AND LOCATION SERVICES: eCompass/Standalone GPS/aGPS (assisted)/AGPS (autonomous)/sGPS (simultaneous)

SIZE

61.3mm (x) x 121.25mm (y) x 8.9mm (z)

Weight

130g

DISPLAY SIZE

4.3 in

SIM CARD OPERATION

Nano SIM
Smaller not just than the Ultra and bigger-battery-toting Droid Maxx but also the last compact model, the Droid Mini still feels like an essential component to the line up and not an obligatory offering.
FOR:
• Mini price with full size specs
• Very light
• Snappy GPU
• Lightning fast operating speed
AGAINST:
• Battery life untested
• Droid Zap is slow
• Not as thin as the Ultra
• Unsure how Touchless Control will perform in the wild
Not because it's cheaper, not because it feels like a more convenient device than the Ultra, but because it's both of those things while also having the exact same feature set and processing power.
Pocket-size and powerful
The Droid Mini is said to contain all the power and capability of its larger Droid Ultra sibling. That means it contains Motorola's just-announced X8 mobile computing system, which the company promises offers a faster CPU, more capable GPU, and increased memory compared to last year's hardware. Unfortunately buyers won't be getting the impressive 48-hour battery life of the new Droid Maxx. But there is one key addition: built-in support for wireless charging.
Touchless Control, which we've seen leaked about the Moto X, seems to work well too. It lets users make phone calls, request directions, and search Google without ever touching the handset. The trigger is "OK Google Now," at which point it'll listen for instructions. It works even if the screen is off, and worked in a crowded room. It learns from you as you speak, so it won't respond to someone else's instructions — Nilay couldn't hijack the demonstrator's phone, no matter how hard he tried to sound like a Midwestern white guy.
Convert videos to Moto Droid Mini
In this tutorial, you'll learn how to convert videos to Moto Droid Mini compatible videos step by step to play videos or DVD movies on Moto Droid Mini with the help of the best Moto Droid Mini Video Converter.
Step 1:
Download and install Any Video Converter Ultimate.
Step 2: Add Video Files to Any Video Converter Ultimate
Simply click Add Video Files button to import the video files from your hard drive. Batch video conversion and merging videos are supported.
Step 3: Choose proper output format for Moto Droid Mini
Click Output Profile drop down menu to select proper output profile for Moto Droid Mini. It's recommended to choose Video Files > Customized MP4 Movie (*.mp4) option.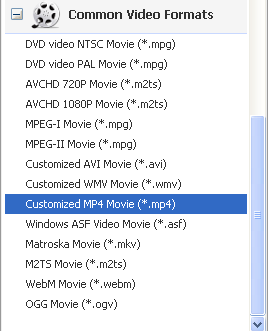 Step 4: Set proper Video Size
For the Super AMOLED display with resolution of 720 x 1280 pixels, better to change the Frame Size to be 720 x 1280.
For better enjoying videos on Moto Droid Mini, you can customize other video and audio options, such as Video Codec, Video Bitrate, Audio Codec, Audio Bitrate, Audio Channel, Disable Audio, etc.
Step 5: Start converting
Click Convert Now! button to start converting videos for Moto Droid Mini. Once the conversion is finished, you can click "Output Folder" button to get the customized output MP4 files. Then connect your Droid Mini with computer, import output videos into it.
Motorola DROID MINI VS DROID ULTRA, and MAXX
The Motorola DROID MINI, DROID ULTRA and DROID MAXX are three very closely related Android smartphones except for the size of the display and the size of the battery. These phones all run the same chipset, the same camera (10.1MP with ClearPixel*), the same software, have the same Kevlar wrapping, the same display resolution, and - apart from wireless charging - the same features.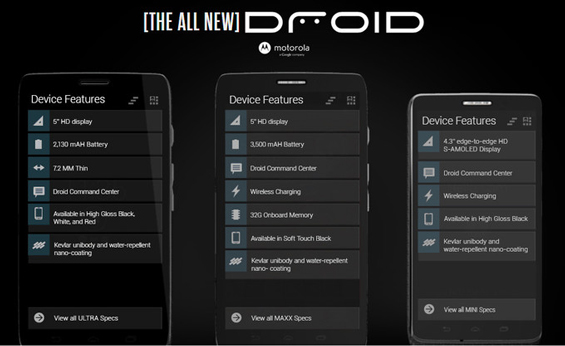 The Ultra is slimmest of the three (it's also the only not packing Qi wireless charging, because it would make the phone thicker). The MAXX is the same as the Ultra, but with a beefier battery, 32GB of storage (as opposed to 16GB), and a sateen-like finish (the Ultra is super glossy). The Mini is... smaller. Its display is only 4.3" across, and its battery is, of course, a bit less robust as well.
Available:

August 2013

Size:

121 x 61 x 8.9mm / 130 grams (MINI)
138 x 71 x 7.2mm / 137 grams (ULTRA)
138 x 71 x 8.5mm / 167 grams (MAXX)

Bluetooth:

Yes

Internal memory:

16GB

CPU:

1.7GHz dual-core

RAM:

2GB

GPS:

Yes (plus GLONASS)

OS:

Android 4.2.2

Battery life:

Varies. 2000 / 2130 / 3500 mAh cell.

Camera:

10 megapixels (main)
2 megapixels (sub)

Data:

GPRS + EDGE + UMTS (3G) + HSPA + LTE + EVDO + WiFi
All three smartphones are up for pre-order now and will be available starting August 20th. The Droid Mini will cost $99 on-contract, the Droid Ultra is priced at $199, and the Droid Maxx will set you back $299 with a two-year agreement.