Explore more cool features in Any Video/DVD Converter
Any Video Converter is not only a video converter/dvd ripper, but also a handy video utility. There are many special cool features which you can explore in Any Video/DVD Converter, including adding .srt subtitle to output videos, one-step online video download and specifying YouTube video quality, cropping video as you like, clipping video into segments you need, adding video effects, taking snapshots, etc.
Rip copy protected DVD directly
Any Video Converter can rip copy protected DVD movies directly and convert to iPod, iPhone, PSP and mobile phones. You don't need to remove the DVD copy protection and copy the DVD to your hard drive first. The smart DVD structure analyzing feature will also help to show the true titles.
The newly released DVD movies including Transformer 2, Star Trek, Up, District 9, G.I. Joe: The Rise of Cobra, etc. can be easily ripped by Any Video Converter.
Burn videos to DVD or AVCHD DVD
If you are a registered user, both Any Video/DVD Converter provide you a new characteristic: burn videos to DVD or AVCHD DVD. With the video converter and DVD ripper, you will be prompted to choose DVD menu when the program finishes video conversion process. So just with a few clicks you can easily and quickly burn your desired videos to a playable DVD. Learn how to burn video to DVD or burn video to AVCHD DVD.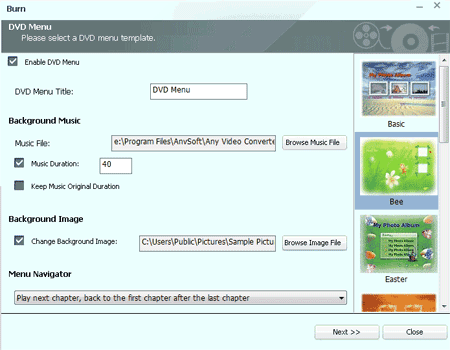 NVIDIA CUDA Accelerate the Conversion Speed
Optimized by NVIDIA CUDA computing technology, Any Video Converter accelerates conversion to revolutionary fast. Converting video now is in minutes. Any Video Converter will automatically detect your CUDA/ATI-enabled graphics card if your computer is with NVIDIA CUDA. By enabling NVIDIA GPU Acceleration, the video conversion will be processed with supercomputing on NVIDIA's GPU/ATI Stream instead of your computer's CPU, making your computer run 5x speedups. more...
Add "Flatten and add Faststart to MP4 files" to enable MP4 streaming
If you want to upload your videos to the website such as YouTube, you can choose MP4 output format, and then please check Flatten and add Faststart to MP4 files under Options-->--Video. When you upload the converted MP4 videos to the online video-sharing Websites, you can play the file in the stream way while you are downloading the videos from the website. For MP4 Faststart fixes the files so they can be streamed. It adjusts the MP4's metadata to allow for Flash players to play them right away (Fast Start), while it is downloaded. Read More>>
Add .srt subtitle to output videos
If you have recorded a video clip and want to add your own dialog or description to the video, you can prepare a .srt subtitle and embed it to the video by Any Video Converter. Click HERE to read the full instruction.
You can set subtitle encoding, subtitle position, subtitle size and font by menu Edit --> Options --> Subtitle.
Specify YouTube video quality
The video converter and DVD ripper provides one-step YouTube downloading and converting feature. What you need to do is just pasting the URL links of your favorite YouTube videos. Besides, You can specify YouTube video quality from 3GP mobile, standard FLV, high quality MP4, 720p (1280x720) HD and 1080p (1920x1080) full HD. You can also login YouTube account with Any Video/DVD Converter. Additionally, you can download Japanese Nico videos and Google videos.
To specify YouTube video quality or login YouTube account or Nicovideo account, go by menu Edit --> Options --> Online Video.
Video Cropping & Effects
You can use this video converter and DVD ripper to crop video as you like. Cropping video can help you to remove the black sections of the video and DVD movie, or crop any area as you like.
Add a video and highlight it, click Video cropping & Effects button
under the preview window in the upper-right of the application. Move your mouse to the edge of the preview window and simply drag the cropping window to any area and apply.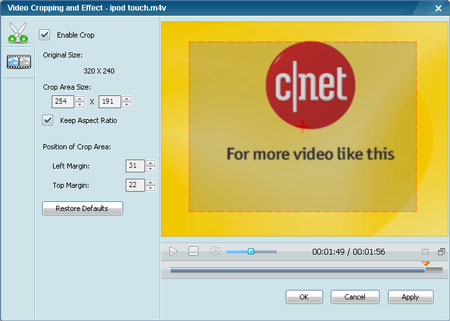 The another tab in the above picture is video effect. You can adjust brightness, contrast and saturation of the video, you can flip the video, rotate the video either clockwise and counterclockwise, make a mirror image, etc.
Video Merging
With Any Video Converter, you can easily merge multiple video in different formats into a single video. Add videos to the converter, select the videos you need to merge with CTRL or SHIFT key, right-click and select Merge Output. You can use drag-and-drop to change the sequence of the videos.
Clipping video into segments
There are some segments in the movie you are interested in and you wanna save them into separate video clips? It's an easy job with Any Video Converter.
Add a video and highlight it, click Video clipping button

under the preview window in the upper-right of the application.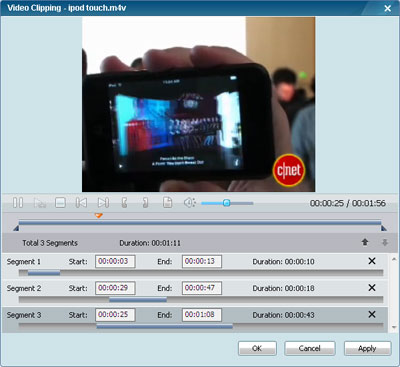 Taking Snapshot
When you preview a video in preview windows, click

button and the current picture of playing video will be saved as a snapshot in .PNG format. The snapshot size will be the same as the original video size. Click

button and you can open and change snapshot folder.
Rename Files before Converting
With Any Video/DVD Converter Professional, you can rename you videos as you like before converting. After you have added the videos to the program, please select the video you desire to rename, right-click and choose Rename, then you can modify the file's name as you like.
Explore More...
Many more cool features are provided, why not download and try it now? The trial version will only convert first 3 minutes of each video, once you purchase a license key, you can remove the limitation and enjoy all the cool features.
Copyright ©2021 Anvsoft Inc. All Rights Reserved.