Top 13 MKV to MP4 Converters (Free and Paid)
You probably have come across a situation where you wanted to watch a video on your device, but it was saved in an MKV format. Or maybe you are planning to share a video with someone who does not have the software to play MKV files. In such cases, converting your video from MKV to MP4 can be the solution. In this article, we will explore why we need to convert MKV to MP4, present the top 13 MKV to MP4 video converters, and show you how to convert MKV to MP4 using Any Video Converter Free.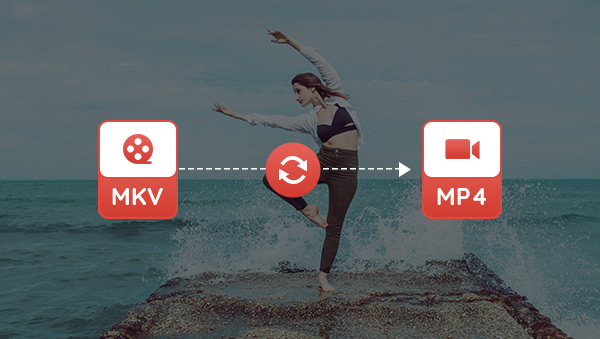 Part 1: Why Do We Need to Convert MKV to MP4
The need to convert MKV files to MP4 arises from the fact that MKV, while superior in quality and capable of carrying multiple subtitles, audio tracks, and very high-definition content (like 4K), is not as widely accepted as MP4. MP4's universal compatibility makes it a preferred format for sharing and streaming on various devices, applications, and platforms. So, if you're dealing with a device or platform that can't handle MKV files, using a reliable MKV to MP4 converter will ensure your videos are playable and accessible to a wider audience.
Part 2: Comparing Between Different MKV to MP4 Video Converters
There are many dependable MKV to MP4 converters on the market, each offering unique features. We've curated a list of best MKV to MP4 converters for you. Before diving into the details, let's check out some basic information.
| | | | | |
| --- | --- | --- | --- | --- |
| Program | Platform | Offline Version | Watermark | Download |
| Any Video Converter | Windows/Mac | Full Version | No | Free Download |
| VLC Media Player | Windows/Mac/Linux | Full Version | No | Read More |
| Freemake Video Converter | Windows/Mac | Free Trial | Yes | Read More |
| Handbrake | Windows/Mac | Full Version | No | Read More |
| AceThinker Video Master | Windows | Free Trial | Yes | Read More |
| Movavi Video Converter | Windows/Mac | Free Trial | Yes | Read More |
| Aicoosoft Video Converter | Windows/Mac | Free Trial | Yes | Read More |
| Prism Video Converter | Windows | Free Trial | No | Read More |
| AVS Video Converter | Windows | Free Trial | Yes | Read More |
| Avidemux | Windows, Mac, Linux, BSD | Full Version | No | Read More |
| CloudConvert | Any | / | No | Read More |
| FreeConvert | Any | / | No | Read More |
| Video Candy | Any | / | No | Read More |
---
Part 3: Top 13 MKV to MP4 Converters (Free and Paid)
1. Any Video Converter
Any Video Converter is a versatile multimedia software that integrates more than 20 editing tools in a toolkit and the number of tools is still growing. It allows users to download, convert, record, compress, clip, crop, merge videos/audio, change playback speed, add subtitles, and create gifs, etc. The innovative part of the program is that it offers a workflow option, allowing users to combine different single tools to achieve diverse editing purposes. For example, if a user wants to convert a video first and then change the playback speed, simply join the two tools to streamline the process. There are endless possibilities for maximum output with this program.
Pros
Flexibility to apply a single tool or combine different tools for custom workflow
A magnitude of features
Most features are available with the free version
Support batch processing
Hardware acceleration
Cons
Compatibility with Win 10 and above
Workflow tool may be a little challenging for beginners
Verdict: Compared with other dedicated video converters, Any Video Converter is an all-in-one video editor with a wide array of tools. The free version can satisfy most video editing needs. The workflow tool is an added bonus.
---
2. VLC Media Player
VLC Media Player is well-reputed for its capability to cope with different codecs and play videos of all formats with universal compatibility on Win, Mac, Linux, Android, and other operating systems. However, it also excels at converting media files between a variety of formats for easy playback. You can also preview the output during the conversion process.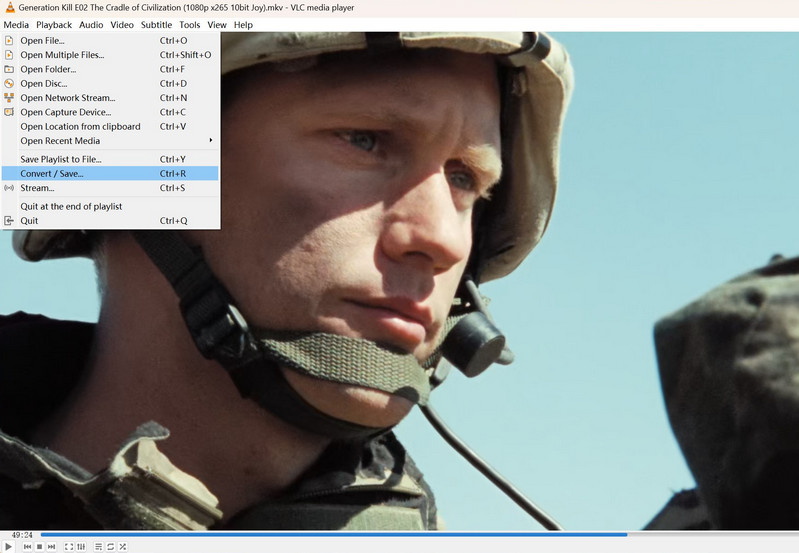 Pros
The software is completely free
Work with all codecs and plays almost all videos
Support video deinterlacing and preview
Cons
No device-specific output options
Lack of customer support
Verdict: If you already own a VLC media player, you can use it for easy format conversion.
---
3. Freemake Video Converter
Freemake Video Converter is one of the most popular choices for converting video and audio files to your desired formats. It allows users to convert and edit videos, rip and burn DVDs, or create photo slideshows easily with a beginner-friendly interface.
Pros
A variety of source and destination formats including DVD
Offer presets for output
Flexible pricing option including a family pack
Cons
Only one video can be processed for free users
With a watermark for trial users
Verdict: It used to be a free program and had many happy users with its dumb-easy interface, now it only allows one video for trial and the output has a watermark. With a relatively cheap price, it is still a good choice to go if you want to convert your videos and audio easily.
---
4. Handbrake
Built by a volunteer, Handbrake is an open-source non-profit website to transcode video and audio files between a variety of formats. There are many available presets that let you choose the output conveniently based on the device model, or choose a universal profile for standard or high-quality conversions. You can also dive into advanced settings to tweak your encodes. It recognizes most common file types including propriety-free DVD or BluRay files.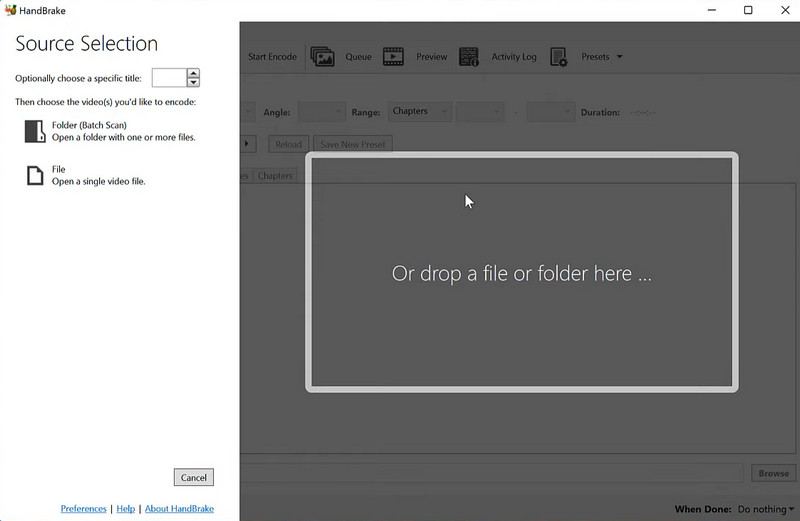 Pros
A free software
Multiple video filters: deinterlacing, denoise, detelecine, deblock, grayscale, colourspace, cropping and scaling
Preview feature to check your settings
Cons
Does not support merging multiple clips into one
Cannot create Blu-ray, AVCHD, or DVD discs
The interface seems a little out-of-date
Verdict: Though a free program, it is an easy-to-use converter with device presets. Suitable for beginners and those looking for free programs. But since it is an open-source program, it always comes with some glitches that need to be improved. For some long videos, the speed is really slow.
---
5. AceThinker Video Master
AceThinker Video Master is a powerful multimedia tool that allows users to download, convert, record videos or even make MVs. The program supports flexible video playback and allows you to take screen captures at any time during playback.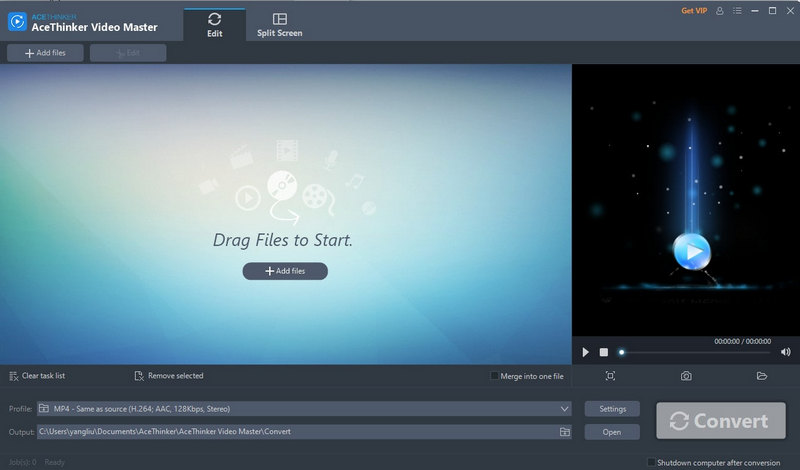 Pros
Easy-to-use interface
Multiple video editing options including trimming, merging, speed changing, audio insertion or removal, compressing
Hardware acceleration
Cons
Do not support DVD
With a watermark in trial mode
Free users can only convert 5 minutes
Verdict: While it greets users with a friendly interface, it does not support DVD as the source file. Besides, it is a bit pricey compared to other free programs that offer the same features.
---
6. Movavi Video Converter
Movavi Video Converter is a professional format conversion tool that works with video, audio, images and DVDs. User can also compress, trim, rotate, adjust color or add effects to their videos. The unique part of the software is that it offers users the option to upscale video quality with AI, but this feature requires demanding computer software and a considerably long time.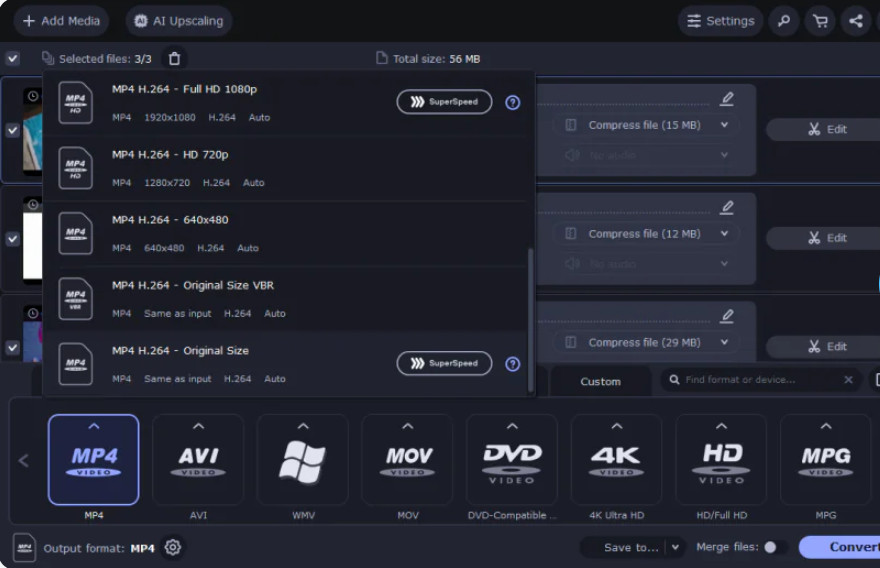 Pros
Powerful video compression technology with a slider to adjust output size
AI upscaling feature
Cons
Does not support the DVD conversion
Cannot download videos from the Internet
Verdict: Movavi Video Converter is most praised for its quick video conversion by many users. But it lacks the DVD conversion and video download features.
---
7. Aicoosoft Video Converter
Aicoosoft Video Converter is a comprehensive video converter platform that allows users to record, edit, download, and convert videos. It supports a wide range of formats, including MP4, MOV, MKV, AVI, and more. With excellent video editing capability, the software is ideal for home video creators, photographers, movie enthusiasts, YouTubers, influencers, students, and teachers.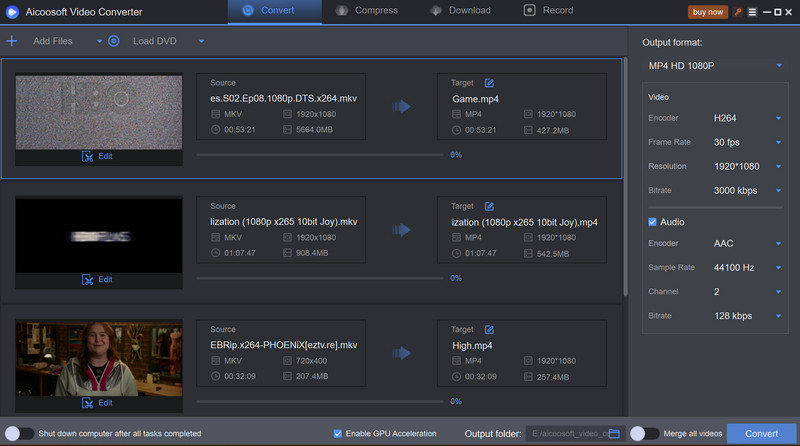 Pros
Wide Format Support
An all-in-one video editor, downloader, compressor, recorder, etc.
With GPU acceleration to increase the conversion speed
Cons
With some ads
Without a video player
Verdict: This software has all the essential features of a video converter, and but it is resource-intensive during the conversion process.
---
8. Prism Video Converter
Featuring a low-key interface, Prism Video Converter is a simple and easy-to-use video converter that supports all popular video formats and works perfectly with various modern gadgets. The program allows you to add a watermark to identify your ownership. A free version is available but supports fewer decoding formats.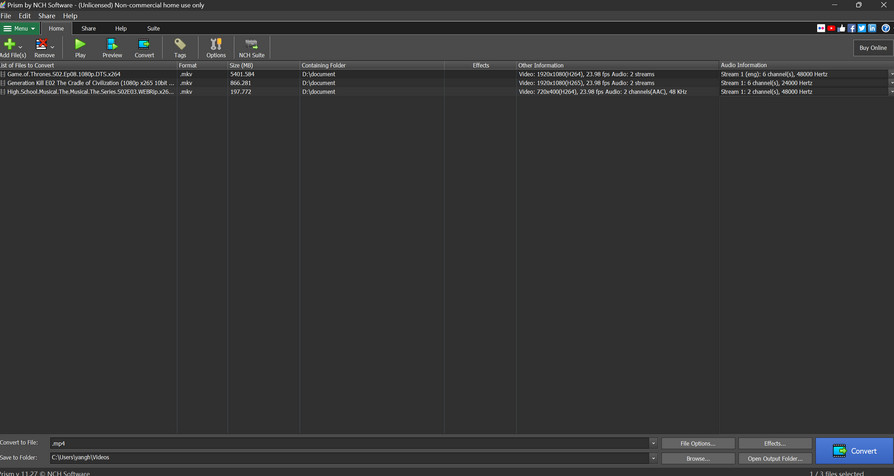 Pros
Allow simple editing before conversion such as trimming, cropping, rotation, etc
A preview before conversion to make sure all settings are affected
Cons
No GPU acceleration
Cannot merge video file
Verdict: There are excessive download links embedded on the website, which may result in downloading the software with an accidental click. The conversion speed for 4K video is not satisfactory.
---
9. AVS Video Converter
Designed with easy navigation, AVS Video Converter lets users convert videos to a variety of formats that are device-compatible or optimized for sharing on popular websites including YouTube, Vimeo, and Dropbox. It is equipped with hardware acceleration to deliver fast results whether you have a dedicated GPU, intel GPU, or other old AMD processors. The Command Line Mode can automate your workflow without having to click the button.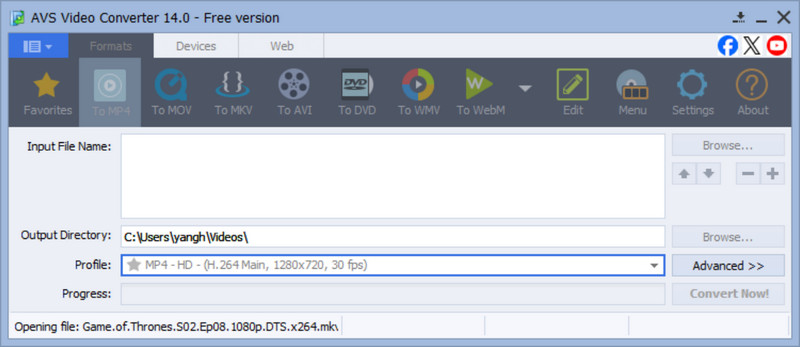 Pros
Intuitive interface with tips and hints
Can convert videos for sharing on the website
Convert from to Blu-ray or DVD formats
Batch processing available
Cons
Watermark on the output video for the free version
With only the Windows version
Do not support other multimedia formats, such as audio, images, etc
One license for one computer only and not transferable
Verdict: As a simple yet powerful video conversion tool for Windows, it can automate the conversion process using command line mode.
---
10. Avidemux
Avidemux is a free and open-source program for video processing and editing. It supports non-linear video editing, applying visual effects to video, and transcoding video into various formats. Users can also use this program to add audio streams to a video or extra audio streams from a video. While it is primarily a GUI program, Avidemux can also be run from the command line.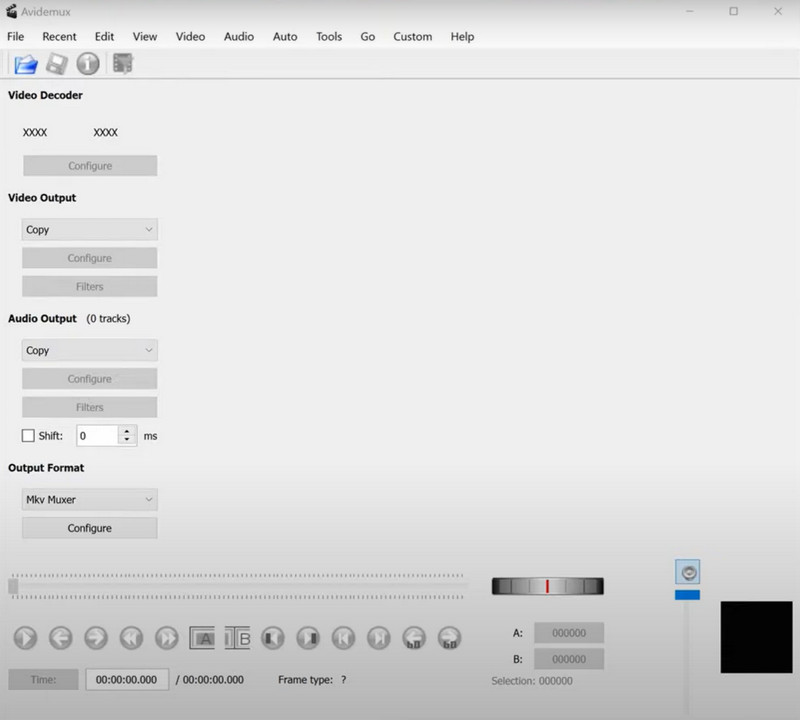 Pros
Free and open-source program
With advanced filtering, processing, editing, and filtering controls
Support adding subtitles
Cons
Weak support for modern open formats, like Opus, WebM, VP8, VP9 and AV1
Verdict: Tasks can be automated using projects, job queues and powerful scripting capability, but this feature may be a little difficult for beginnings.
---
11. CloudConvert
CloudConvert is a one-stop online format converter for not just video files, but also a variety of other file types, such as audio, ebooks, images, presentations, spreadsheets, etc. When converting mkv to mp4 files, you can set video and audio parameters in the Options menu according to your own requirements. The file can be uploaded from a local computer, URL, Dropbox, or Google Drive.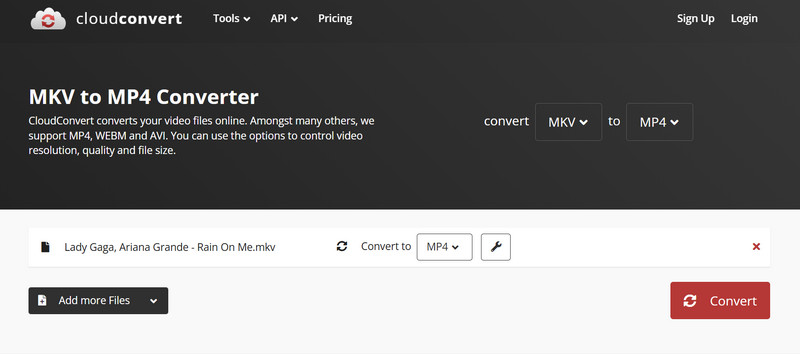 Pros
Easy website navigation
No file size limit for paid users
With a website-capturing feature
Support batch conversions
Provide API service
Cons
Need to buy credit for conversions
Verdict: The online tool is almost as versatile as a desktop program can be but it is not free. Suitable for those who do not want to download an application.
---
12. FreeConvert
FreeConvert provides safe and high-quality MKV to MP4 conversion online. You can convert videos, images, audio files, and books. There is also an optional Advanced Settings if you want to customize your video parameters. As an online converter, it can work on Windows, Mac, Linux, or any mobile device. All major browsers are supported.  256-bit SSL encryption is employed to guarantee file safety when transferring. Add files locally or from Dropbox, Google Drive, etc.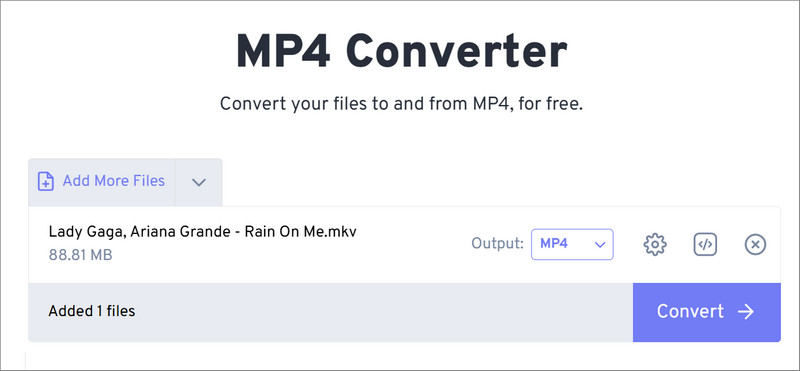 Pros
Batch processing up to 20 video files
Offer API service
Cons
File size limit varying from 1G to 9G depending on the purchased plan
Heavy ads on the website
Verdict: While the site has some ads, you can enjoy 25 free conversions per day. It even has a trim feature to convert only the needed parts. Other more complex editing features are missing.
---
13. Video Candy
Video Candy is a convenient platform that offers users a set of tools including video converter, video compressor, trimmer, screen recorder, slideshow maker, etc. Compared with other online tools, the conversion is even simpler. You just need to upload the video and that's all. The website will automatically start to convert the uploaded file without interruption. After conversion, users can either download the converted file or continue editing by choosing an editing tool from the tool list provided.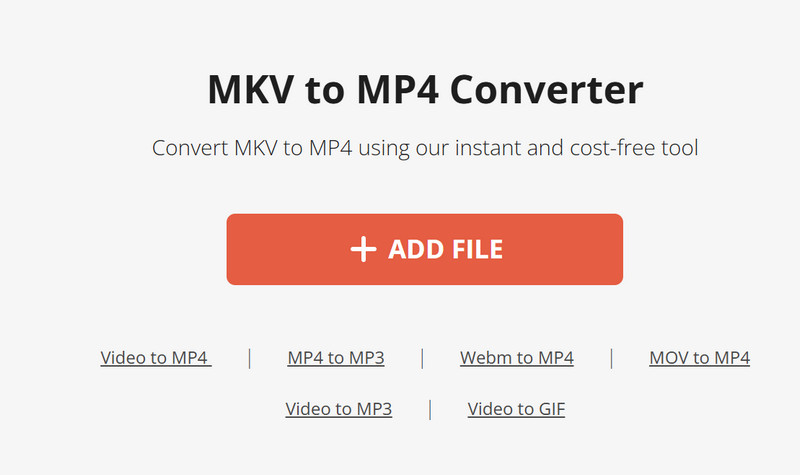 Pros
A highly streamlined conversion process
Completely free tool and ads-free
Can continue to edit the video after conversion
Cons
Lack of customization options such as bitrate, framerate, etc.
Relatively longer time to convert the file
Verdict: Although a free video converter website, it is not plagued with ads. But the conversion is somewhat simple, with no customization options.
---
Part 4: Sample Guide to Convert MKV to MP4 via Any Video Converter Free
Below are steps of converting MKV to MP4 format easily and quickly with Any Video Converter Free.
Step 1
Download and launch the program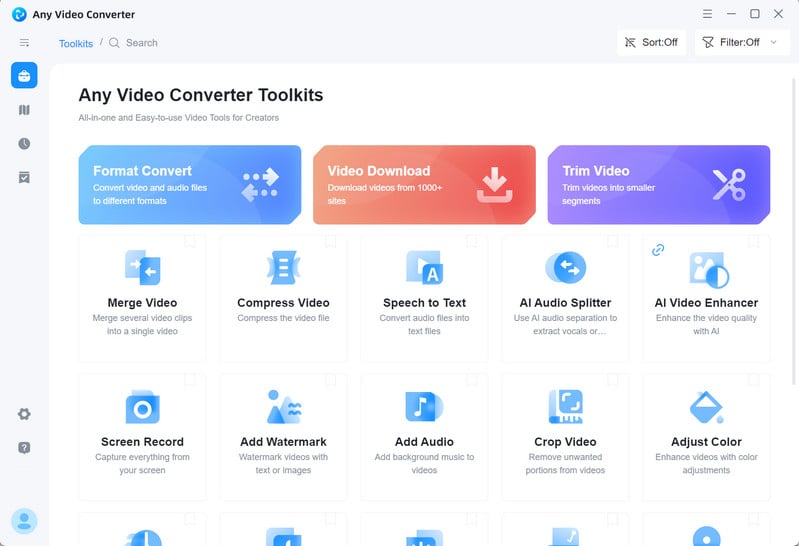 Step 2
Choose the Format Convert tool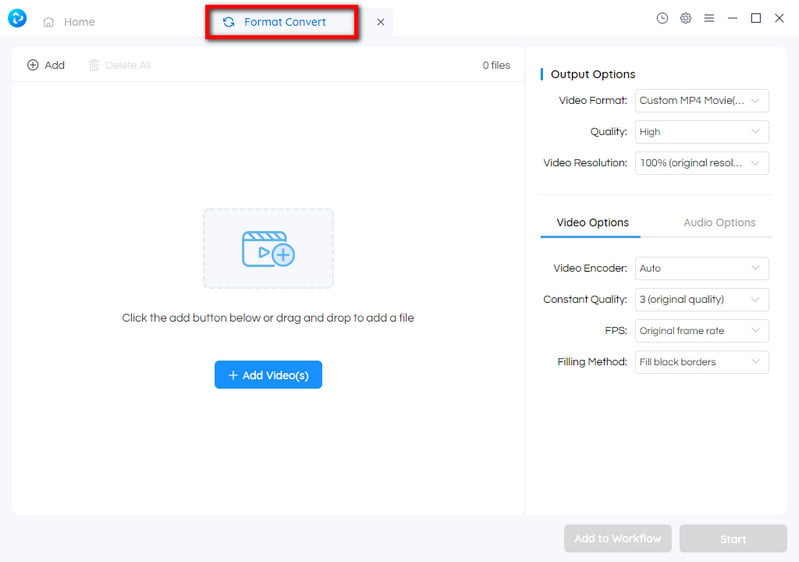 Step 3
Import the MKV file and configure output parameters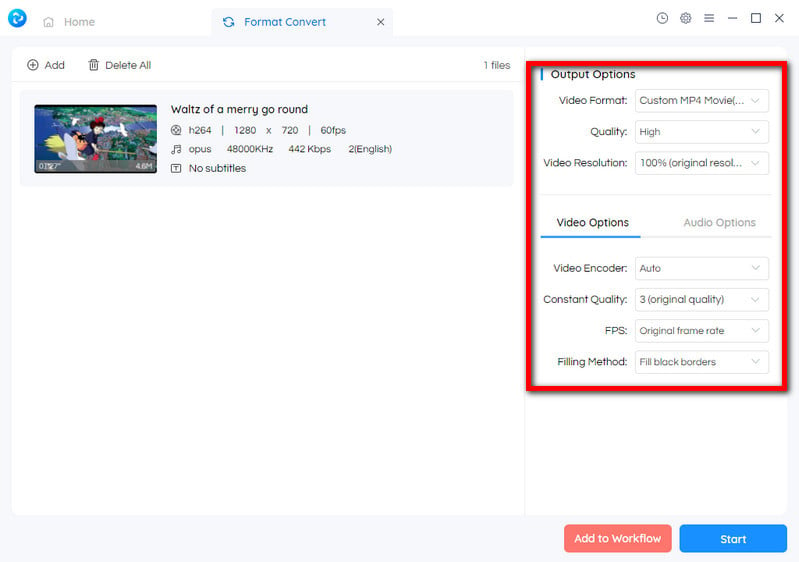 Step 4
Start converting the video to your desired format
Now, click on the Start button to start converting the MKV to MP4 file.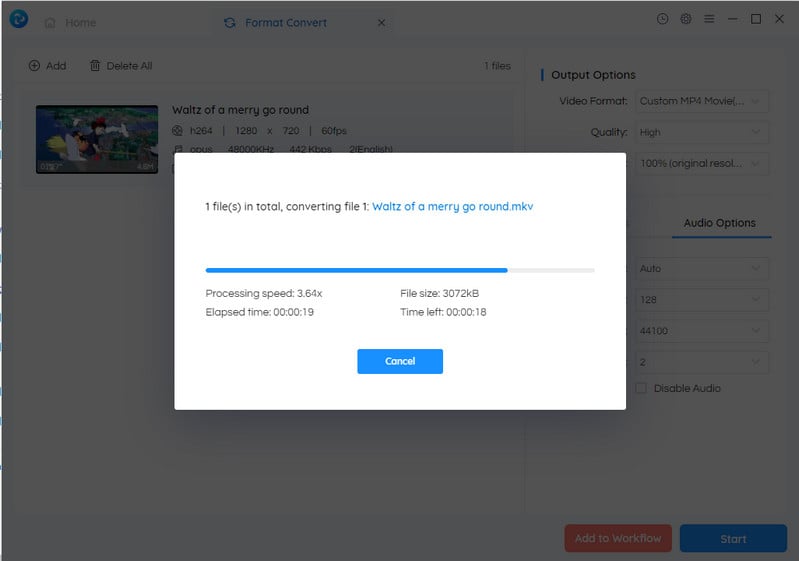 ---
Conclusion:
Converting your videos from MKV to MP4 can open up a world of possibilities, making them accessible on various devices, platforms, and applications. With the help of reliable conversion software, you can enjoy your videos without worrying about compatibility issues. Ultimately, the choice of which converter to use depends on your specific needs.
Try Any Video Converter to edit your videos with ease!
---

Video Converter

DVD Converter

Video Editor

Enhance Video Quality

Enhance Image Quality

Remove Objects