FREE YouTube to 3GP Converter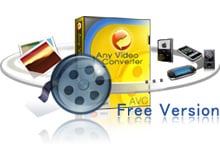 Any Video Converter - An Amazing YouTube Converter to 3GP
Any Video Converter is an easy-to-use and versatile application for downloading and converting videos from such services as YouTube, Nico Video, Google Video and many others.
Although YouTube provides a great access for us to watch the videos, it is a pity that we can only watch them through the Internet on our PC. How wonderful if I can enjoy my favorite videos on my mobile phone, so that I could watch them on the trip or any place! Download the video is just a piece of cake, the problem is how to watch them on mobile phones. Any Video Converter, which, is borned to deal with the problem, would do all for you. Wait, there's a thing: it is FREE!
This powerful YouTube to 3GP Converter is great to convert or download YouTube videos to popular audio formats like 3GP, wmv, wma, mp3 and other. The YouTube to 3GP Converter is fast and easy to operate. All that you need is a link to a page with a video and our software.
If you are running on Mac OS X, go to YouTube to 3GP Converter -- Any Video Converter Freeware for Mac. It supports downloading & converting YouTube video to 3GP, AVI, MP4, MPEG, WMV, MKV, ASF, etc. for enjoyment on all popular portable devices anywhere and anytime. If you are looking for a Mac YouTube to 3GP Video Converter, Video Editor and Audio Extractor. Any Video Converter Freeware for Mac will be the best choice for you.
YouTube is an online video-sharing website which enables its users to upload videos, and watch videos at their discretion. It has become what many in the online community view to be the defacto medium for the online sharing of video. At present, Justin Bieber "Baby and Lady Gaga "Bad Romance" are fairly hot for their million views. Watch these hot and wonderful videos on mobile phones is nice, but be sure, the quality should be as good as YouTube shows.
YouTube Covnerter to 3GP uses the latest technology to convert YouTube to 3GP with high quality. It's simple and it's fast. When choosing the YouTube file to convert to 3GP, you have to be sure to choose the highest quality video possible. This is because the YouTube to 3GP conversion will only turn out as good as the file you select to be converted. In other words even though you may select the high quality output selection on our YouTube to 3GP converter, the quality can only be equal to the quality of the FLV file.
Now, you can download and install the Free YouTube to 3GP Converter to get your conversion on!
How to download YouTube video to 3GP?
Please follow these easy steps to learn how to download and convert YouTube video to 3GP with the powerful and free YouTube to 3GP Converter:
• Step 1: Choose the format
Go to the right panel and choose 3GP as the output format from the output profile.
• Step 2: Copy the YouTube Link
Go to YouTube or your favorite video site and search for the video your would like to convert to 3GP. Copy the YouTube video download link from YouTube webpage.
Generally speaking, the video URL will be displayed on the box when you click the Share button.
(for example: http://www.YouTube.com/watch?v=eCeahsbZk14)
• Step 3: Paste the URL and few click
Paste the URL into our super high speed and super awesome YouTube to 3GP Converter.
Click on the Download button, and paste the download link to the pop-out box. Then click Add to Download List button. You can continue to paste more YouTube video links as the previous steps.
Please note, if you paste the download link and click Start Download button, the YouTube to 3GP Converter will download the YouTube video without converting.
• Step 4: Convert successfully
Press the Convert button to save file to your computer. Magically your YouTube to 3GP conversion will begin. Clicking Convert button will lead to both downloading and converting.
Depending on the size of the file, process may take few minute or so—please have patience.
What is 3GP?
3GP (3GPP file format) is a multimedia container format defined by the Third Generation Partnership Project (3GPP) for 3G UMTS multimedia services.
The 3GP file format stores video streams as MPEG-4 Part 2 or H.263 or MPEG-4 Part 10 (AVC/H.264), and audio streams as AMR-NB, AMR-WB, AMR-WB+, AAC-LC, HE-AAC v1 or Enhanced aacPlus (HE-AAC v2).
Most 3G capable mobile phones support the playback and recording of video in 3GP format (memory, maximum filesize for playback and recording, and resolution limits exist and vary).
Mac OS X 10.5, 10.6, 10.7 or 10.8 Mountain Lion Go to Any Video Converter Freeware for Mac.
Copyright ©2013 Anvsoft Inc. All Rights Reserved.