Any Video Converter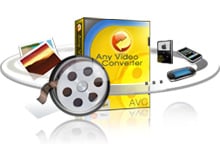 Any Video Converter Professional
is an All-in-One video converting tool with easy-to-use graphical interface, fast converting speed and excellent video quality. It can convert video files from avi, divX, mpg, vob, wmv (Windows Media Video formats), 3gp (mobile phone format) and more into mp4, avi, mpeg and wmv files. If you have iPod, iPhone, Zune, PSP, Any Video Converter is right for you! You can also download and convert YouTube videos and Google Videos.
Any DVD Converter Pro.makes batch file conversion simple.
Create a batch list of any different formats and convert them all to a single selected format. The converted files will be saved to a pre-selected directory folder and the original files will remain untouched. "Absolutely Brilliant !" -- Reviewed by Steve Jones " Just purchased and used Any DC with my Sony NWZ-A818 - Absolutely brilliant. Whats more it even allows me to burn videos to my Sony-Ericsson 800i mobile phone, which is an unexpected bonus!" " Can I recommend that
you change your advertising SOON to make it clear to those like me
who got an A818 this Christmas and also run Vista that your product does all that is needed. Can't find many references on the Web yet and seems like a great selling point for you ." "Excellent value for money!" -- Reviewed by CNET
" I have just got a Samsung D900 and was looking for something to make avi files in to mp4. I first download ImToo MP4 converter and that did the job. Then saw Any DVD Converter Pro. and gave it a try. Not only was is soooo much quicker, but the files were on average 60% samller! Wonderful softwear, no spy/ad-ware get it now before you have to pay for it!"
"The program supports just about every video format known to man, including AVI, DivX, FLV, RM, and VOB. It also comes with output profiles for devices like the iPod and PSP, though you can easily create a custom profile with the audio and video specs of your choosing. Any Video Converter couldn't be much easier to use, and it supports batch conversions--always a nice perk. You'll definitely want to add this utility to your video arsenal. " -- Review from Rick Broida
Copyright ©2019 Anvsoft Inc. All Rights Reserved.