MP4 to PSP Video Converter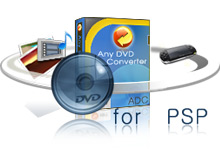 PSP Video Converter is able to convert MP4 to proper MP4 that is supportable by PSP device including Sony PSP 1000/2000/3000, PS3, PSP walkman.
Besides that, PSP Video Converter is also a professional PSP video converter, PSP DVD converter and PSP YouTube video converter. It converts AVI, mov, MP4, MPEG, mwv, vob,3gp, mkv, xvid, rmvb and much more video formats, as well as converts movie DVD to PSP and put YouTube, Google, Nico online videos to your PSP.
MP4 to PSP video converter Supportable formats
Input formats:
Windows Media Files (avi,wmv,asf,dvr-ms,ms-dvr)
MOV/MP4 Files (mov,mp4,3gp,3g2,m4v,qt)
Real Media Files (rm, rmvb)
Flash Video File (flv)
Matroska Video files (mkv)
AviSynth Scripts (avs)
Sony High Definition Video File (m2ts)
MPEG-1 Video Files (m1v,mpe,mpg,mpv,dat)
MPEG-2 Video Files (m2v,mpe,mpg,mpv,vob)
Divx Video Files (divx)
Ogg Media Files (ogm)
DVD-VR Video Files (vro)
DVD disc
DVD folder
Online video (YouTube, Google, Nico videos)
Other Video Files (dv,amv)
Output formats:
MP4-1, MP4-2, MP4, MP4, WMV, FLV, SWF and 3GP
iPod, Zune, PSP, Archos, Sandisk Sansa, iRiver, Creative Zen, PS3 and Apple TV
iPhone, Nokia Nseries, BlackBerry, Gphone, Palm Treo Series and other mobile phones
HP iPAQ, HTC Touch Diamond, and other Pocket PC
MP3, ogg , WMA, AAC and WAV audio files
Download MP4 to PSP video converter
How to convert MP4 to PSP video?
Download MP4 to PSP video converter
Second, Add MP4 video clips to PSP Video Converter
Press "Add Video" in the menu, then select the files you need to convert to PSP.You can add more than one video file a time.
Download MP4 to PSP video converter
Then click "Open" . The selected MP4 files will be inserted to the PSP Video Converter. You can merge video clips before converting to PSP mp4 format.
Download MP4 to PSP video converter
Third, click "profile" to select the proper PSP format
Download MP4 to PSP video converter
(please note that you can set output folder before conversion. Select Edit->option, then change the set output folder)
Fourth, Press "Convert" to start the conversion
The conversion begins and will convert MP4 to PSP with fast encoding speed. However, if you need to convert a large amount of video files while you are out, you can check the option "Shutdown computer when encoding finished"
Download MP4 to PSP video converter
After the conversion, you can find the output file in the set output folder. Select "File->Open output file" to open the output folder.
What is MP4?
MPEG-4 Part 14, formally ISO/IEC 14496-14:2003, is a multimedia container format standard specified as a part of MPEG-4. It is most commonly used to store digital audio and digital video streams, especially those defined by MPEG, but can also be used to store other data such as subtitles and still images. Like most modern container formats, MPEG-4 Part 14 allows streaming over the Internet. A separate hint track is used to include streaming information in the file. The official filename extension for MPEG-4 Part 14 files is .mp4, thus the container format is often referred to simply as MP4. (Detail information from WikiPedia)
What is PSP?
PSP( PlayStation Portable) was developed in the U.S. in 2005 by the Song Computer Entertainment Company. It soon became a highly desireble, portable and handheld wireless device for multiple entertainment purposes. More……
Copyright ©2013 Anvsoft Inc. All Rights Reserved.