GoToMeeting Video Converter: Convert WMV Video with G2M3/G2M4 Codec
Any Video Converter - Help Convert G2M3/G2M4 Codec Video to MP4, AVI, WMV, FLV
Any Video Converter is an all-in-one video converter that may convert almost all videos to wmv, mpg, mp4, avi, asf, m2ts, 3gp, 3g2, flv, mkv, swf, webm, mp3, ogg, wav, aac, m4a, wma for iPhone, iPod, iPad, Apple TV, Android devices, PSP, PS3, XBOX360, ZUNE, Nokia, BlackBerry, Motorola, Samsung, Blu-ray disc, NTSC DVD, PAL DVD and more.
Any Video Converter Professional features an astonishing characteristic: it can convert WMV G2M3/G2M4 Codec Video for your iPod, iPhone, iPad, PSP and many other devices. If you have a GoToMeeting recorded WMV G2M3/G2M4 Codec Video, Any Video Converter would be your best solution.
Keep reading this page and follow the instruction to learn how to convert a GoToMeeting WMV video with G2M3/G2M4 Codec to MP4, AVI, WMV, FLV, ASF, MKV, M2TS, DVD, etc.
How to Convert WMV G2M3/G2M4 Codec Video with Any Video Converter?
Part I: Convert Source WMV G2M3/G2M4 Codec Video to WMV WMV3 Codec Video
Step One:
Please click here to download and install the gotomeeting codec.
Step Two:
Please go to C:\Program Files\Citrix\GoToMeeting\723 (a folder with numbers, which is the version of GTM you have installed). There will be a file called "g2mtranscoder.exe". This is the utility that GoToMeeting uses to convert the file to a generic WMV file after recording.
Step Three:
Now follow the instructions below to use command line to convert the WMV G2M3/G2M4 Codec Video file:
1. Copy g2mtranscoder.exe AND g2m.dll files and paste them onto the ROOT C: drive (ie not in a folder).
2. Place the GoToMeeting recorded WMV G2M3/G2M4 Codec Video file on the ROOT C: drive as well.
3. Launch the command prompt (start -> run -> cmd).
4. If the command prompt launches and shows a file/folder path (ie C:\Documents and Setting\etc) then type "cd.." (without the quotes) until you are seeing just the root C: in the command prompt line (will look like C:\>).
5. Now, type the following at the prompt: "c:\g2mtranscoder.exe source=c:\videofilenamehere.wmv". (Of course put the name of your video file instead of those words and don't forget the .wmv).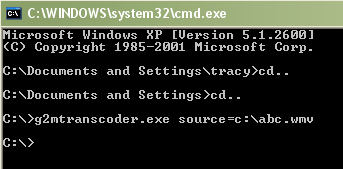 6. This should have kicked off the conversion, but there is no visual indication of this. You can make sure it's working though - open Task Manager and click on Processes then sort by CPU usage, you should see the g2mtranscoder hogging all your CPU cycles. It's working!

Please note it would take about 20-30 minutes for g2mtranscoder.exe to convert a one-hour long file to a generic WMV file.
7. When the g2mtranscoder.exe process stops, you would get the WMV WMV3 codec video in ROOT C: drive, which has replaced the source WMV G2M3/G2M4 codec video.
Part II: Convert WMV WMV3 Codec Video to MP4, AVI, WMV, FLV for PMPs with AVC
Step One:
Simply click Add Video button or drag and drop the WMV WMV3 Codec Video from ROOT C: drive to Any Video Converter. Batch video conversion and merging videos are supported.

Step Two:
Choose MP4(or AVI, WMV, FLV, etc) as output format from the Profile list. You can customize video and audio settings (e.g. Video Codec, Video Bitrate, Audio Codec, Audio Bitrate, Audio Channel) in the GoToMeeting Video Converter to enhance the experience of enjoying output videos.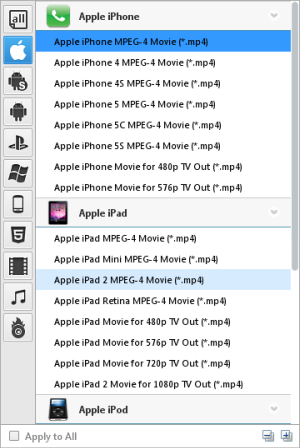 Step Three:
Click Convert button to start converting WMV WMV3 Codec Video to MP4 format. Once the conversion is finished, you can click "Output Folder" button to get the output files. Just copy it to your Creative Zen, Archos, iRiver, Sandisc Sansa, Xbox 360, and have fun!
What is GoToMeeting?
GoToMeeting is a Web-hosted service created and marketed by Citrix Online, a division of Citrix Systems. It is a remote meeting and desktop sharing software that enables the user to meet with other computer users, customers, clients or colleagues via the Internet in real-time.
GoToMeeting was designed to allow the desktop view of a host computer to be broadcast to a group of computers connected to the host through the Internet. Transmissions could be protected with high-security encryption and optional passwords. By combining a Web-hosted subscription service with software installed on the host computer, transmissions could be passed through highly restrictive firewalls.
Copyright ©2012 Anvsoft Inc. All Rights Reserved.