Amazon Music HD vs. Tidal HiFi: Which Lossless Streaming Service You Should Subscribe to?
Amazon launched a new tier of its music service – Amazon Music HD on Sep 17, 2019. This new streaming music service offers users the lossless audio files for streaming and downloading on multiple devices. Before it happened, Tidal was the first music subscription-based service that offers CD-quality music streaming. For audiophiles and people who care about the sound quality, Amazon gives them another option if they have an idea about which high-resolution music streaming service they should subscribe to. Each service offers a 30-days free trial, so before you make a final decision, you can refer to the comparison between Amazon Music HD and Tidal HiFi.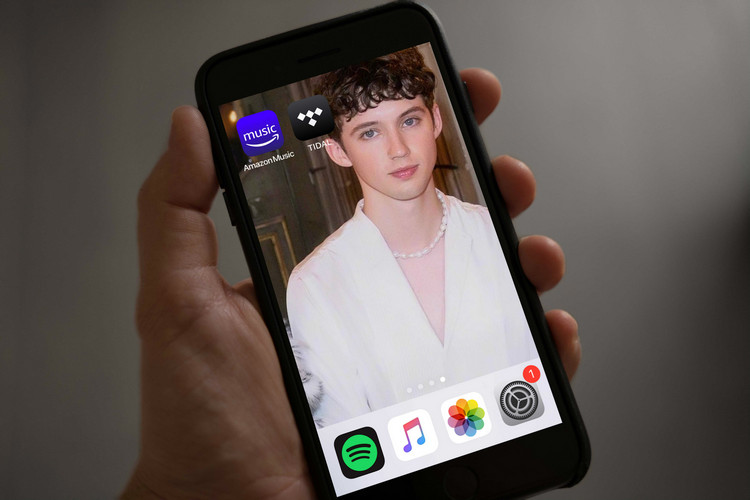 • Part 1: What is HD Music and Do You Need to Play HD Music?
• Part 2: What's the Difference between hi-res and HiFi?
• Part 3: Amazon Music HD vs. Tidal HiFi: Side by Side Comparison
Part 1: What is HD Music and Do You Need to Play HD Music?
High-resolution music, hi-res music, or HD music is a type of "compact Disc digital audio that is capable of reproducing the full range of sound from the recording that has been mastered from better than CD quality music sources". To put it simply, the high-resolution refers to the music files that have a higher sample rate of 96kHz or 192kHz at 24bit and bitrate up to 9,216kbps. So, the simplest way to judge the digital sound quality is by looking at its bitrate and sample rate, the higher bitrate and sample rate, and the better audio quality. The popular music streaming services like Spotify allows users to stream high-quality OGG at the bitrate of 320kbps, and Apple Music 256kbps AAC. This is a substantial difference, but in most circumstances, we can not hear this difference, unless we have the special equipment to listen to the hi-res audio, the device has a digital-to-analog converter (DAC) that is capable of processing hi-res audio files. Hi-res audio quality is more than double the quality of standard streaming services.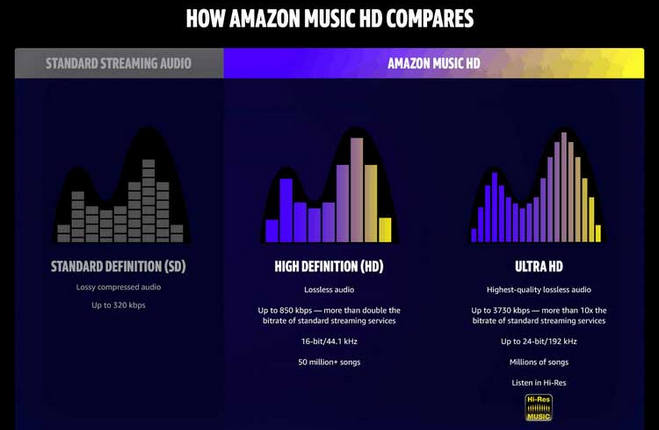 Because the hi-res audio retains more information or data and boasts subtle detail and texture, it brings the listeners closer to the original performance in a recording studio and brings your favorite songs to life. Now the question is that you should continue to use Spotify or Apple Music which offers the compressed audio, or buy CDs and subscribe to Tidal Hi-Fi, Amazon Music HD, and Qobuz. It all depends that you have enough budget to afford the special equipment and subscription fees, and the way you mostly use to listen to music, casually or audiophile. Luckily, more and more Android smartphones support hi-res playback. The Windows, Mac, Linux desktop also supports storing and playing back hi-res music.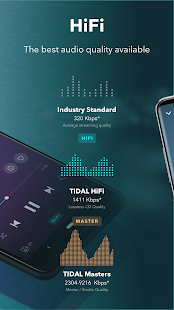 Part 2: What's the Difference between hi-res and HiFi?
Actually, the terms hi-res (high resolution or HD) and HiFi (High fidelity) basically express the same thing, referring to the high-quality audio file, but with different definitions. Hi-res audio refers to "lossless audio that is capable of reproducing the full range of sound from recordings that have been mastered from better-than-CD-quality music sources". HiFi is a term used by listeners, audiophiles and home audio enthusiasts to refer to high-quality reproduction of sound. The high-fidelity sound is achieved by using equipment that minimizes distortion as much as possible.
Part 3: Amazon Music HD vs. Tidal HiFi: Side by Side Comparison
Amazon Music HD
Amazon Music HD is Amazon's new high-resolution music service. It allows listeners to stream high-quality music (850 kbps for HD, and 3730 kbps for Ultra HD) on desktop, Android, iOS, Echo devices, Sono speakers, Amazon Fire TV, and more. Users can download Amazon Music app on the supported device, then log into the Amazon Music HD account. Once the subscription, you can stream over 75 million songs in lossless HD quality and over 2 million songs in Ultra HD quality.
Tidal HiFi
Tidal is a Premium based music streaming subscription service that allows customers to stream music at 320kbps, the same as the audio quality offered by Spotify, Apple Music, Deezer, and others. It also offers the more expensive HiFi option which allows users to stream 1411kbps FLAC uncompressed audio files. Tidal is an artist-owned global music streaming platform that offers users unique original content and exclusive experiences. The artist owners are Alicia Keys, Arcade Fire, Beyoncé, Calvin Harris, Claudia Leitte, Clifford "T.I." Harris, Coldplay, Daft Punk, Deadmau5, Jack White, Jason Aldean, J. Cole, Kanye West, Madonna, Nicki Minaj, Rihanna, Shawn "JAY Z" Carter, Damian Marley, Indochine, Lil Wayne, and Usher.
1. Amazon Music HD vs. Tidal HiFi: Price
Both Amazon Music HD and Tidal HiFi provide different subscription types based on the different types of users, like individual and family. But Tidal offers a wider array of discounts for students and the military. If you have an Amazon Echo or Amazon Fire TV, Amazon Music HD also offers a cheaper Single Device subscription for users who have Amazon Echo or Fire TV device.
Individual
$19.99/month
$12.99/month for Prime members
$14.99 for Amazon customers
Family Plan
$29.99/month for up to 6 family members
$19.99/month for up to 6 family members
Student Discount
$9.99/month
/
Military Discount
$11.99/month
/
By comparison, when it comes to the subscription fees, Amazon Music HD is more competitive, because Amazon Music HD charges $12.99 for Amazon Prime members and $14.99 for other customers. Tidal, with charged $19.99 for individual HiFi, is a little bit expensive than Amazon Music HD. So, if you want to save your budget, and enjoy the high audio quality at the same time, Amazon Music HD is the best choice.
2. User Experience on Desktop and Mobile Devices
You can use Amazon Music HD and Tidal HiFi on PC and Mac desktop, iOS & Android devices, and Apple TV. They have a similar main interface as its completing platforms, like Spotify and Deezer.
After launching Tidal app on the desktop, you will see the dark black color on the main interface which presents the banner of the featured content (including some Tidal exclusives), below the features banners, it presents the Mixes, Radios, New Albums, New Tracks, Mater Quality Authenticated Albums and Playlist, Popular and Featured playlists, albums, Tidal Rising, The Charts, Podcasts, and some recommendations based on what you recently played or added media. On the grey left panel, it presents Explore tab in which you can find the Featured artists, Genres, Moods & Activities, and Suggested contents based on your preferences; The Video tab lists the Live Video Channels, Living Room Sessions, Live Performances, Featured video, Tidal Originals, and other more related music videos. The final tab is My Collections which organizes your favorite mix, playlists, albums, tracks, videos, and artists. Thanks to the clean, simple, and black interface, you can easily find the things you might be interested in and navigate the page. The app also has gotten more stable, but compared to Spotify, sometimes it still gets slowly to load the stuff you are playing and downloading.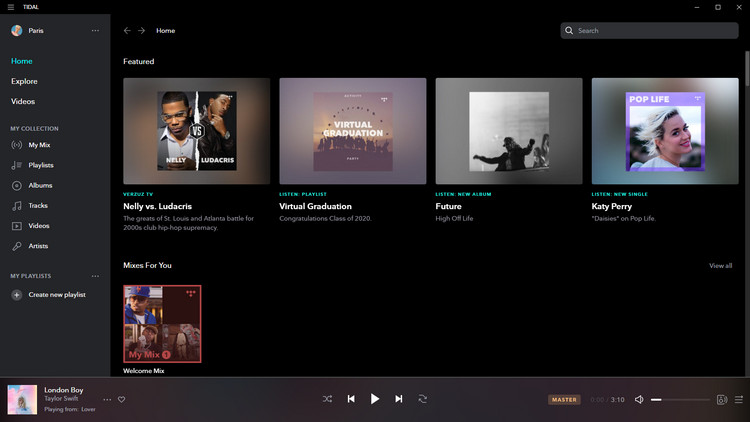 To access Amazon Music HD, you can download the Amazon Music app on your desktop or mobile devices, then log into your Amazon Music HD account. It shares a similar user interface as Amazon Music Unlimited and Prime Music. Actually, the apps looking is not so beautiful and attractive as Spotify, Tidal, or Deezer, probably because the images showing off the musical content. By contrast, Tidal presents the tracks, albums, and music videos by the eye-catching and bold image, and the images arranged in the interface in a clean and fascinating way.
On the top left corner of the main interface, you can find the main tabs: Browse, Recents, My Music and Store, and below are Home, Stations, Playlists, New Releases, and Charts. Browse shows the main home screen contents including Featured This Week, Recently Played, Amazon Original Songs, and the Ultra HD Playlists, Albums, Tracks, top songs, playlists, stations for you based on your tastes. Recents shows the contents you recently played. On My Music tab, you can find the tracks, playlists, or albums you added, purchased and downloaded, and the songs you uploaded to cloud or imported for offline listening. Click on the New Release tab, you can quickly find the newly released songs.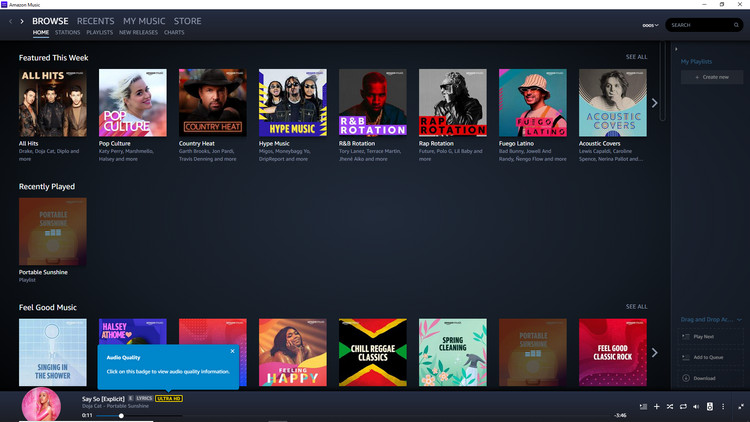 As for the mobile app for Amazing Music HD and Tidal, personally, it is not as easy-to-use as Spotify's. The mobile apps are just the scaled-down version of the desktop app, unlike Spotify which presents the liked songs, played tracks, playlists, albums, and suggestions in an organized way so you can quickly find what you want to play. And under the network environment and the same device, the app of Amazon Music HD runs more smoothly and steadily.
Tidal HiFi and Amazon Music HD mobile app: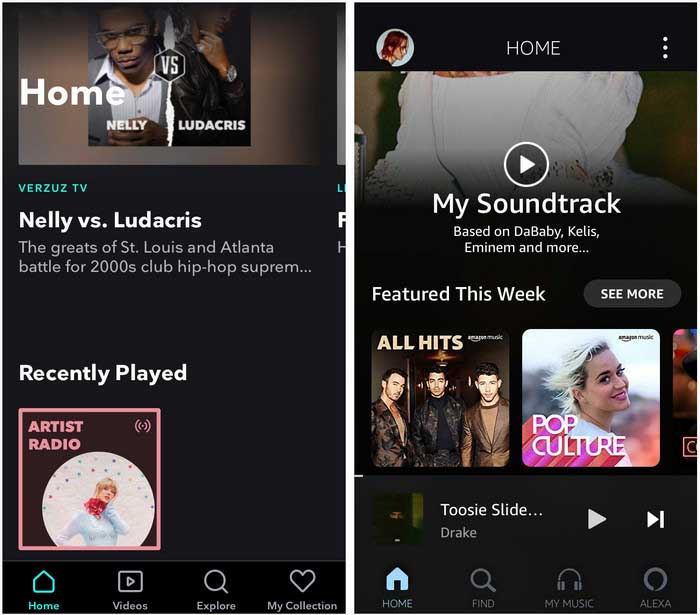 3. Library & Music Discovery
High fidelity and CD-quality streams and downloads are the best features that Tidal offers, what's more, Tidal now is offering "master quality recording" audio files, but not all audio files are Master quality. Tidal HiFi is also the tier that offers limited selections of Sony 360 Reality Audio and Dolby Atoms Music tracks. Except for the music quality, you can enjoy the exclusive songs, videos (including music videos, movies, documentaries, live concert streams, TV shows, interviews, and video podcasts), albums (Jay-Z's 4:44, Beyoncé's Lemonade, and more) on Tidal. So to speak, Tidal delivers content and experiences that no other service is currently able to deliver.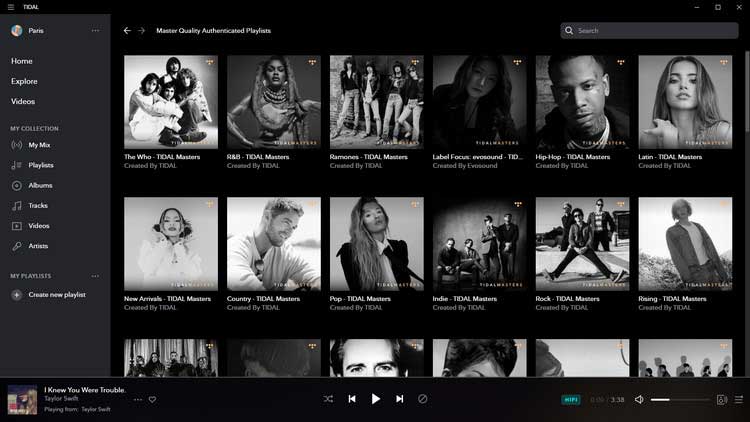 As the feature of discovering new music, Tidal does a better job than Amazon Music HD, but not as sophisticated and impressive as Spotify's. Spotify focuses on the recommendations and curated playlists based on the time of day or week to keep the new content and discovery fresh, and on your preferences relying on its powerful algorithm, so Spotify is the place I usually go to discover something new. Tidal put more emphasis on the featured contents, Master Quality Authenticated playlists and albums, and the suggested tacks, playlist, albums, then the recommendations based on what you recently played. Even though the way of discovering new music is not as good as Spotify employing, Tidal is doing a great job to offer you the unique and special contents based on its over 50 million songs in HD, over 2 million songs in Ultra HD, over 250,000 HD videos and the Master Quality Authenticated playlists and albums.
Indeed, the main music streaming services including Spotify, Tidal, Apple Music, Amazon Music HD, or Deezer are almost always the same on the number of music catalog, because you can find almost all your favorite music on each platform, except the exclusives or originals. The main difference is the way how they recommend the songs to you and the way to arrange the music library which decides you can deep into the playlist or albums and discover more music. It seems that Amazon Music HD just lists the featured content, the top playlist, tracks, albums, or the stations, but lacking the elaborate recommendations based on the mood, the specific scenarios, genre, and etc.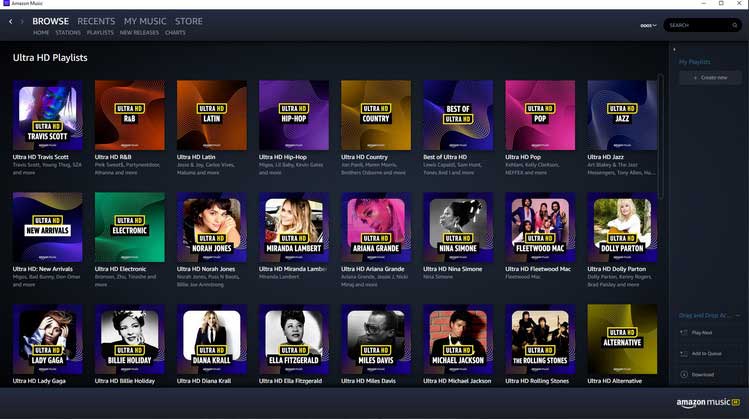 As for the library and music discovery feature, I prefer Tidal HiFi, because it offers the more dedicate and elaborate recommendations, and podcasts, what's more, it featured the high-resolution music videos, live performances, so I can discover more from my favorite artist, track or album.
4. Sound Quality
Here we go to the beckons: Amazon Music HD and Tidal HiFi are the HD audio files providers, but which one delivers the best sound quality? So far, most music streaming services offer the audio quality at 230kbps or 256kbps, because most of us can not hear more details delivered by high-resolution audio files, unless by the virtue of the professional audio output devices. In most occasions, we can still hear the bass drop, full-bodied sound, and some important details at the lower quality.
Over 60 million songs on Tidal can be streaming in HiFi, the CD-quality, lossless FLAC at 1,411kbps or 16bit / 44.1kHz, a more robust and crisp streaming format that delivers for mora data (4.4 times the bitrate) than the lossy streams offered by Spotify, Apple Music, and other services. Tidal also has partnered with MQA to deliver audio in an authenticated and unbroken version (96 kHz / 24 bit) with the heist possible resolution, compared to Hi-Fi, a lot of minor details are audible and sparkled throughout the whole song. You can find the limited number of the recommended Master-quality contents including Prince & The Revolution, Josh, Groban, Lil Baby, JAY-Z, Kenny Chesney. MQA is a way to record the original sounds. If the MP3 recordings retain just 10% of the data from the original studio recording, MQA captures and reveals 100% of the performance. It will playback on any device to deliver higher than Tidal HiFi audio quality. If you have a device with MQA capability it will decode an MQA to deliver studio-quality sound. Lacking the right device, so I can not hear the difference between the HiFi and MQA.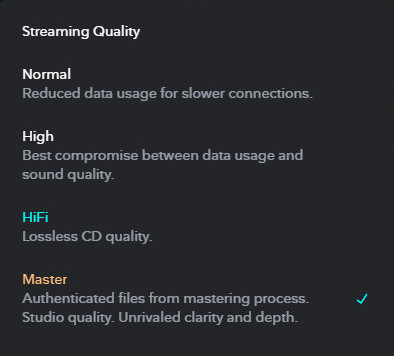 As with Tidal, Amazon Music HD offers two types of streaming quality: HD and Ultra HD. You can enjoy over 50 million songs in HD quality (850kbps, 16bit/44.1kHZ in FLAC), and over 2 million songs in Ultra HD quality (3730 kbps, 24bit/192kHZ in FLAC).

For comparison, I listen to Katy Perry's "Daisies" on Spotify, Tidal, and Amazon Music HD. Tidal and Amazon Music HD streamed the audio with the fuller-bodied tempo, timbre, and full of rhythm, and enthusiasm, so the more details and vocals inflection can be dug up, especially sitting in the quiet room and listening to the music with the wired high fidelity headphones, speakers (Bluesound's Powernode 2i), and the portable DAC plugged into your computer or mobile phones.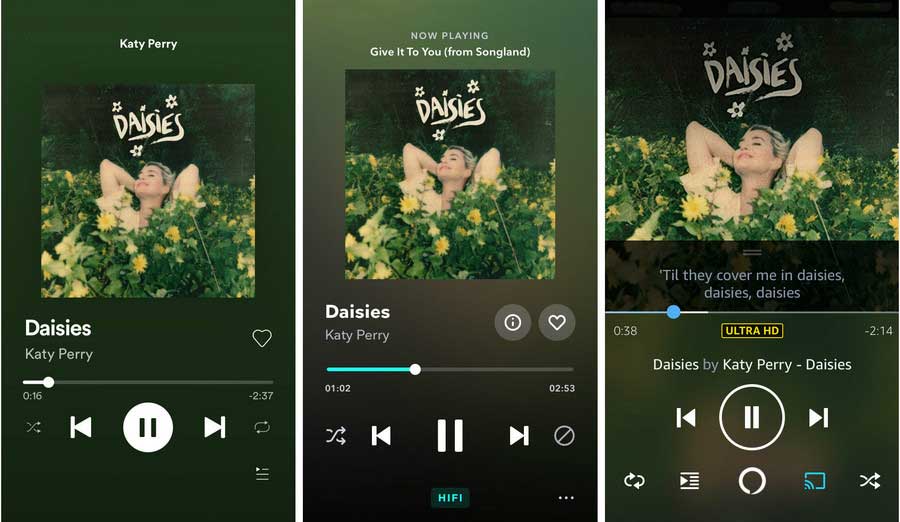 Conclusion
The HD music streaming services are not for everyone, but for the enthusiasts and audiophiles who care about the nuances. For the casual listeners and people who will not pay for the expensive audio devices, Tidal HiFi, Amazon Music HD, and Qobuz do hardly appear to them. However, if you have experienced it once and been aware of the benefits of the high-resolution audio files, I believe it is hard for you to be back. If you are particular about the quality and want to purchase the subscription of Tidal or Amazon Music HD but do not know which one is the best, I want to say that the audio quality that they deliver is a slight difference on my part, but Tidal is more dedicated in music and cares about the music, so if you choose Tidal HiFi, that is not a bad experience, at least.
Are you looking for a Amazon Music HD Recorder?
NoteBurner Amazon Music HD Recorder is a reliable multifunctional audio converter to convert Amazon Music Unlimited, Prime Music, Amazon Music HD & Free songs to MP3/AAC/FLAC/WAV/AIFF format at 5X speed with zero quality loss. Except for the basic function of music conversion, NoteBurner is also built-in with some handy tools, like a local audio converter, ID3 information editor, and music player, improving your user experience of music recording.
This Amazon Music Recorder needs to work with the Amazon Music app. You can directly drag & drop the playlist or single music link from Amazon Music client to NoteBurner for parsing and downloading tracks offline. The most important is that up to Ultra HD & HD audio quality is supported to preserve after the fast downloading process.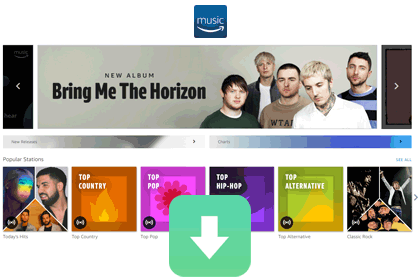 ✔ Download Amazon Music Unlimited, Prime Music, Amazon Music HD & Free Offline.
✔ Keep 100% original audio quality & retain up to Ultra HD output after conversion.
✔ Preserve import ID3 tags, including track number, artist, album, artwork, title, etc.
✔ Built-in tools of "Audio Converter", "ID3 Tags Editor", etc.
✔ Highly compatible with the latest Windows 11 & macOS 12.