The Best 5 Amazon Music Downloaders for Windows and Mac
Amazon Music (including Amazon Music Unlimited, Amazon Prime Music and online music store) is an on-demand music streaming service plus online store for purchasing digital music, which is featuring millions of songs and thousands of expert-programmed playlists and stations. With Amazon Music, you can listen to any song, anytime, anywhere on your devices including mobile phone, tablet, desktop, Amazon Fire TV, and Amazon Echo.
If you often listen to music or stations with your Amazon Music account, you may want to download or record your favorite tracks or stations for later offline playback. For this purpose, a right software is required to help you download or record songs from Amazon Music to digital audio formats which are compatible with most of portable devices.
Here we reviewed the best Amazon Music Downloaders, some of them are streaming audio recorders only, but also works for Amazon Music service. Now you can see the details about the best 5 Amazon Music Downloaders or Recorders, including the features, pros and cons.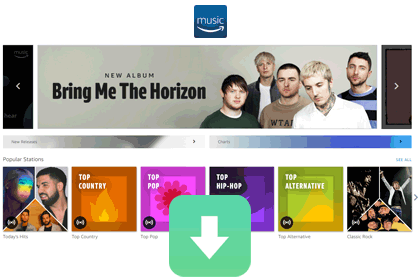 TunePat Amazon Music Converter is the best Amazon Music Downloader which helps you losslessly download songs from Amazon Music to Windows PC or Mac OS X. It is capable of downloading songs, playlists, artists and albums from Amazon Music (Amazon Music Unlimited and Amazon Prime Music) without losing the original sound quality. In order to help you stream songs on any device, this software enables you to download the songs in different digital formats including MP3, WAV, AAC, and FLAC, and these files are playable across different devices and platforms.
Unlike the traditional streaming music recorders, this Amazon Music Downloader runs incredibly smoothly on your computer, and works perfectly without needing to install Amazon Music client or any virtual sound device on your desktop. The application will load the web player of Amazon Music and automatically detects all songs, playlists, albums, artists from your Amazon Music account. The downloading process is also fairly fast, and you can select tons of music from Amazon Music to download them to computer in batch.
Pros:
✔ Support download all songs from Amazon Music Unlimited and Amazon Prime directly.
✔ Fairly fast conversion speed with 100% original sound quality kept.
✔ Keep almost all ID3 tags including title, artwork, artist, album, track number for organizing your music library.
✔ The application works without needing to install Amazon Music client and other virtual sound drivers.
✔ This program allows you to pick from multiple languages and enjoy using a localized version of Amazon Music Downloader.
Cons: Need the higher version of Google Chrome to make the application works.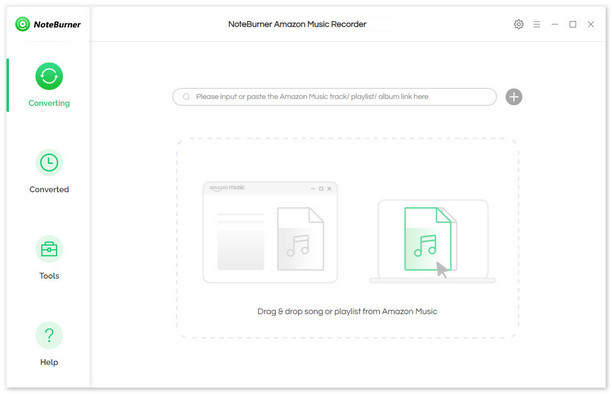 2. Audacity
Audacity is an incredible free, open source and comprehensive audio recorder and editor which competes with many paid applications in the market. You can use this freeware to record any audio playing on your computer to MP3, WAV, AAC, and etc, and also remove noise, cut and combine clips, apply special effects and much more to achieve more professional results.
This amazing audio recorder and editor is available for a wide variety of platforms, including Windows, Mac OS X, Linux, and etc. If you are finding an audio recorder to capture the audio from streaming music like Amazon Music simultaneously, Audacity is a nice option, because it is amazingly powerful and feature-rich.
Pros:
✔ Record and edit audio for free and support multi-track recording technology.
✔ Packed with many special effects and plugins to support advanced audio editing.
Cons: You will need to download additional programs to access the full features like output format and editing tools. It uses audio record technology, but not 1:1 input to output conversion without any loss in quality.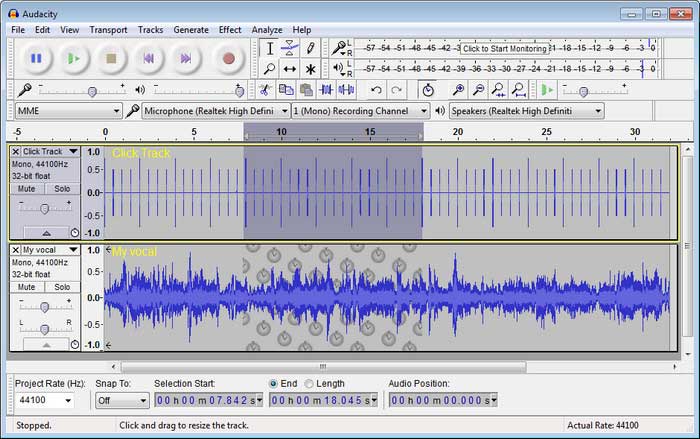 3. Apowersoft Streaming Audio Recorder
Apowersoft Streaming Audio Recorder provides a perfect way to record streaming audio from music sites like Amazon Music, video platforms, radio stations or capture sound from audio chats. It outputs the recorded audio files in formats like AAC, MP3, WAV, WMA with the ID3 tags information including title, artist, album, genre and release year retained. Apowersoft Streaming Audio Recorder is also embedded with audio converter which helps you convert audio between various of file formats to enables you play the recorded audio files on other more portable devices.
This streaming audio recorder also provides some practical features, for example, with the built-in MP3 search engine, you can search for the specific music by inputting related key words and select the songs to download.
Pros:
✔ Support recording streaming audio, videos, radio stations or capture sound from audio chats.
✔ Retain the ID3 tags after recording the streaming audio files.
Cons: It records the audio at 128 kbps, so the output audio quality is not that ideal. A little bit expensive, you need to pay $39.95 a year or $79.95 a year.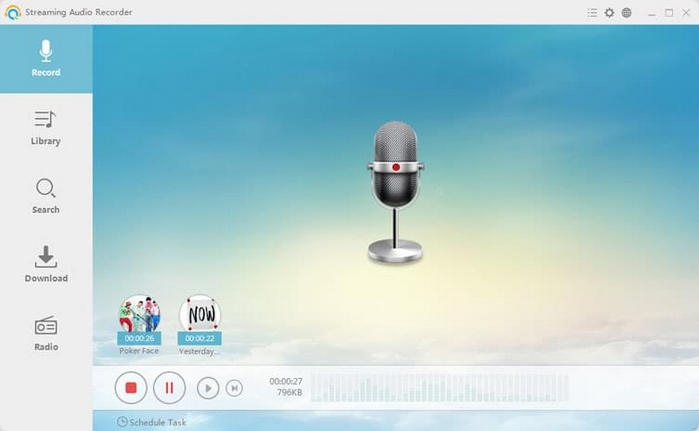 4. Wondershare Streaming Audio Recorder
Wondershare Streaming Audio Recorder is capable of recording audio files from streaming music resource including Amazon Music, Apple Music, Spotify and more, or online music sites like Last.fm, SoundCloud, or record audio from video sites. The ID3 tags like title, album, year, artist, genre and cover will be preserved after recording the audio.
The recorder records the audio files to MP3 or M4A which is compatible with devices like iPod, iPhone, iPad, Android devices, MP3 players. And you can use this recorder to create your own ringtone from your favorite tracks.
Pros:
✔ Keep ID3 tag including song title, artist, and album title.
✔ Customize and create your favorite tracks as ringtone.
Cons: Support limited output formats. Need to install virtual sound device and not working with all music resources.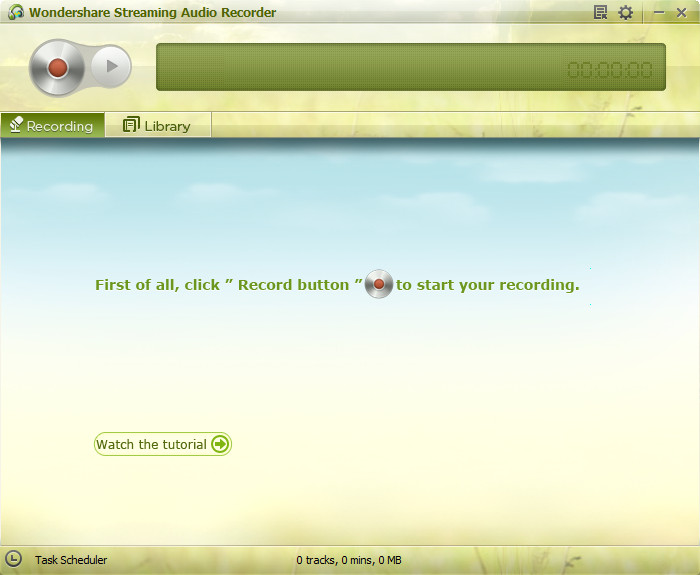 5. AudFree Audio Capture
AudFree Audio Capture is a recording tool which is specialized in recording and editing any sound playing on your computer. This streaming audio recorder can grab audio clips from streaming music sites, like Amazon Music, Pandora, Spotify, Tidal, or local media players, or extract audio file from in-game sound, video sites, voice chats, live course and more. With AudFree Audio Capture, you can convert and save the recorded audio files to MP3, WAV, AAC, FLAC, M4A, M4B, etc. Multiple audio tracks grabbing from different sources simultaneously is also supported.
In addition to the audio recording feature, AudFree Audio Capture is also an audio editing tool, which split and trim the recorded audio files into small segments and merge multiple audio recordings into one.
Pros:
✔ Record songs from multiple streaming music source.
✔ Manage audio recordings by fixing and editing artwork cover, title, artist, year, album and genre, etc.
Cons: The recording window quickly disappeared and did not record audio sometimes.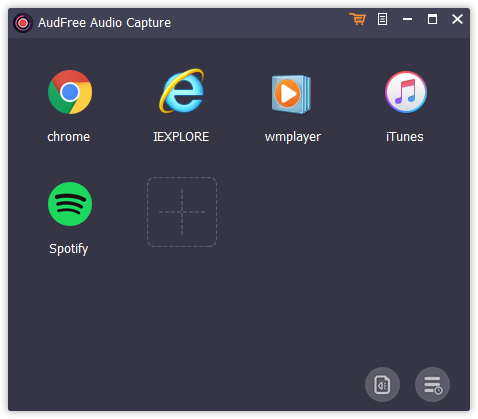 Conclusion:
Here are the best 5 Amazon Music Downloaders or recorders in the market, among which TunePat Amazon Music Converter is specialized in downloading songs from Amazon Music with 100% original audio quality kept. Yes, it did as the company advertised a 1:1 input to output downloading without any loss in quality. And it works amazingly without needing to install any virtual sound device and even Amazon Music client. If you are just looking for streaming audio recorders which works for other more resources, Audacity, Apowersoft, Wondershare or AudFree are good options, but you may compromise to the lose of original quality.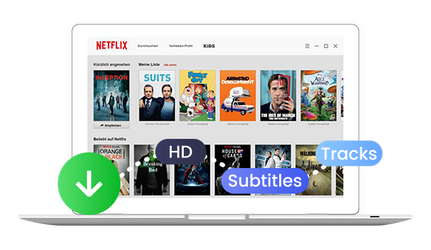 ✔ Download Netflix movies, TV shows documentaries and more
✔ Download Netflix videos with HD (1080p and 720p) quality kept
✔ Support downloading subtitles and audio tracks
✔ Support fast multi-stream and multi-video downloading
✔ Smart search for Netflix movies, TV shows, documentaries
✔ Modern, clean and user-friendly interface
Related Articles & Tips