WMV to Android Video Converter - Any DVD Converter for Android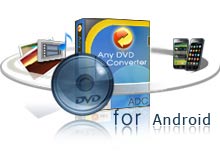 This WMV to Android Video Converter is an all-in-one video converter and DVD converter to convert videos to Android. Rip DVD to Android, and convert YouTube video, video in various formats, including mpeg, avi, divx, wmv, mov, vob, flv, 3gp, mkv, etc to play on your Android, Nexus One, Sony Ericsson Xperia, HTC Desire, IS01. You can also merge or clip videos, crop videos, take snapshots of your favorite videos, etc with this WMV to Android Video Converter. New! The WMV to Android Video Converter could burn videos to DVD.
With WMV to Android Video Converter, you are now able to enjoy YouTube video, DVD movie, and all kinds of video clips on your Android. Take ANY video on the go!
How to convert WMV to Android with Any DVD Converter for Android?
Firstly, please download WMV to Android Converter from our website. Then install and launch it, you will see the main window interface as follows.
WMV to Android Video Converter
Secondly, click "ADD VIDEO" or go to menu "File > Add Video Files" to select your desired WMV video clips from your hard drive. If you want to rip DVD to Android, please click "Open DVD" in the menu. If you want to download the online YouTube videos to your Android, please click "Download" to past the YouTube links.
Add DVD video
Press Ctrl or Shift to select more than one video at one time in file folder. Or go to menu File > Batch Add Video Files to add WMV video clips from single or multiple folders.
Add WMV files
Thirdly, select profile. Please select the proper output profile for your Android.
All video profile
Android profile
There are some segments in the movie you are interested in and you wanna save them into separate video clips? It's an easy job with WMV to Android Video Converter. Add a video and highlight it, click Video clipping button under the preview window in the upper-right of the application.
Clip videos with WMV to Android Video Converter
Fourthly, press "Convert" in the menu to start the conversion. When the converting process ends, you can find the converted files in the output folder of WMV to Android Video Converter. (the output folder will automatically popup after conversion finished or you can select File->Open Output Folder)
About WMV
Windows Media Video (WMV) is a compressed video compression format for several proprietary codecs developed by Microsoft. The original video format, known as WMV, was originally designed for Internet streaming applications, as a competitor to RealVideo. The other formats, such as WMV Screen and WMV Image, cater for specialized content. Through standardization from the Society of Motion Picture and Television Engineers (SMPTE), WMV 9 has gained adoption for physical-delivery formats such as HD DVD and Blu-ray Disc.
About Android
Android is a mobile operating system initially developed by Android Inc. Android was purchased by Google in 2005. Android is based upon a modified version of the Linux kernel. Google and other members of the Open Handset Alliance collaborated to develop and release Android to the world. The Android Open Source Project (AOSP) is tasked with the maintenance and further development of Android. Unit sales for Android OS smartphones ranked first among all smartphone OS handsets sold in the U.S. in the second and third quarters of 2010, with a third quarter market share of 43.6%.
Copyright ©2013 Anvsoft Inc. All Rights Reserved.